Razer Kraken X Review
Razer Kraken X isn't just any other budget gaming headsets since this headset comes with a lot of features that a premium headset would have. The Kraken lineup has been growing over the years, but this the cheapest one they've released so far. Our Razer Kraken X Review will provide more details about what it features.
Razer Inc is one of the best gaming companies out there for decades. Each year, they apply many changes within their product lines. For headsets, I think they have improved drastically in terms of design, quality, comfortability and sound quality.
On a budget, Razer have released a good headset with a low price that can easily beat other headsets out there. If you're on a tight budget, but you want to get a premium-quality headset, then this Razer Kraken X Review is right for you.
Razer Kraken X Packaging
At the front of the box, the Razer logo is shown on the top right. There is also a sample of how the headset looks like, along with the features that it supports.
To start off with the unboxing, we're going to take off the seal on top. The box is quite sturdy, and the headset itself is covered with a solid plastic that shapes the headset. Shipping this item online isn't a big problem.
Inside, you'll get the headset with non-detachable mic, Single 4-pole to 3.5mm 3-pole headphone and mic splitter, the manual with 2 razer logo stickers, and the card with scratchable code for Virtual 7.1 Surround Sound software on PC.
The splitter is very important if you're going to use this on your PC, so make sure to keep it somewhere safe.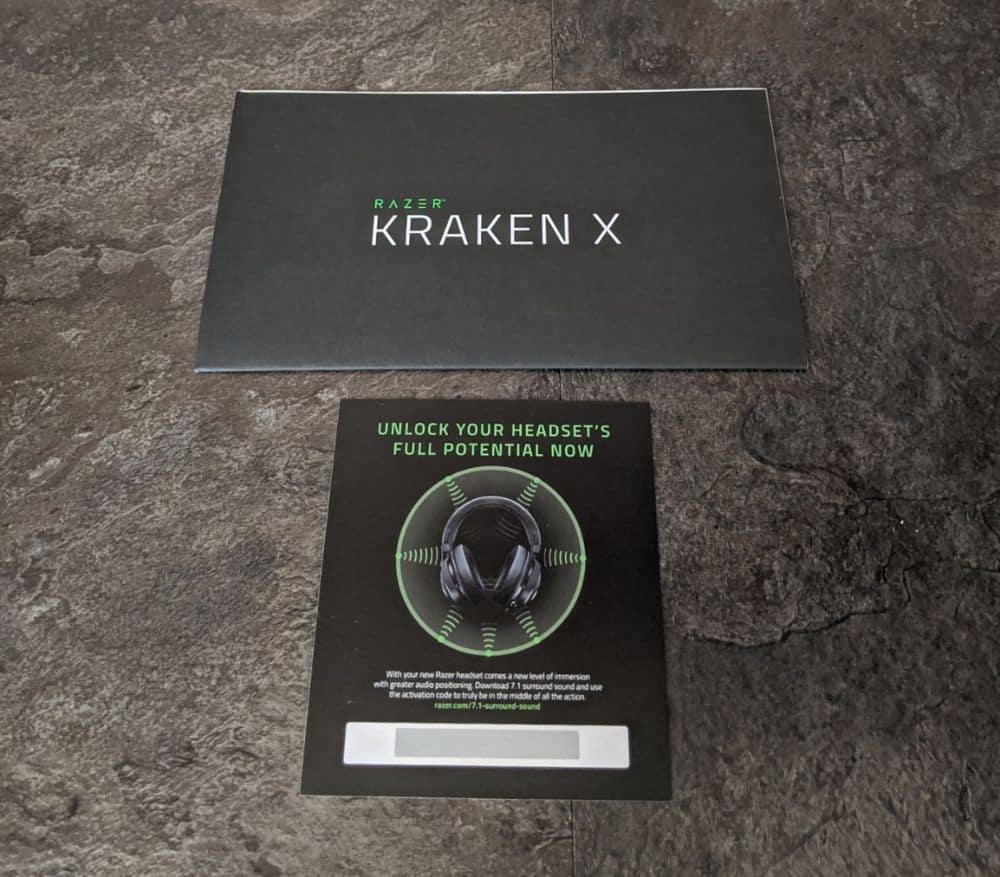 Razer Kraken X Review – Design and Functionality
This section of our Razer Kraken X Review, we are going to describe all the features and the build quality.
Kraken X's design looks simple yet elegant. It doesn't look cheap, but it's made out of plastic. Adjustment level is excellent, and it can fit on large heads. Flexing the headband doesn't look like it would easily break, but be sure to use it correctly with care.
It resembles the older Kraken models when it comes to the ear cushion, and comfort is not an exception.
This headset is available in three colours, but the Classic Black version is used for advertising. There's also the Console (Black & Blue), and Mercury (White & Gray).
On the left ear cup, there is a microphone attached and isn't removable. Despite being non-removable, it's adjustable and can easily be hidden when pushed inside. At the back, you'll see a disable microphone button and an adjustable wheel for sound level. Things like this make it simpler when adjusting your volume level on the go.
Overall, the advertised functions are valid, and the design is excellent.
Connectivity
The wire is not detachable, non-braided, and short. It can be used with a microphone instantly on any devices with 4-pole 3.5mm jack, mostly mobile phones, tablets, new laptops, and PS4/Xbox One Controllers. If you want to use it on your PC that only works with two separate jacks, you'll have to use the splitter included.
Key Features of the Razer Kraken X
On this part of our Razer Kraken X Review, we will be discussing its unique features. Most cheap headsets have lesser features. But Razer ensures gamers that this headset will pack a lot of features that most cheap gaming headsets don't have.
Virtual 7.1 Surround Sound
Razer products always depend on their software called "Razer Synapse". The card with scratchable code you get inside the box is for the Virtual 7.1 Surround Sound feature. All you have to do is go to the website to type in the given code. You'll get a download link afterwards.
Excellent Microphone
You get an excellent microphone. The quality is overall high, and it focuses on picking up your voice rather than the background noise. It's generally good for communication, even when you're not gaming. It picks up bass tones as well, and it's clear.
Great Audio Quality
This headset comes with 40mm drivers. It focuses more on the bass rather than the treble. When you use it on FPS games, the high's and the mid's aren't that wide, but you'll still narrow down the directions and footsteps accurately. It's the standard for closed-back headsets like this to have a mediocre treble, as it focuses more on isolating the background sounds. Overall, the quality is still pretty neat, and it does the job well.
Lightweight and Comfortable
The Kraken X's ear cups and headband have a leatherette padding, making it comfortable when you game for hours. The clamping pressure is excellent, and the ample padding on headband makes it better to wear. If you're someone who needs to wear their glasses most of the time, this headset doesn't bother with your comfort.
Now in our Razer X Kraken Review, we're going to briefly explain its specifications. Let's begin with the dimensions.
Specifications
This headset measures 7.5 x 6.5 inches, and only weighs 8.8 ounces. The cable is 4.3 feet long and adds another 4.3 feet when you put the splitter cable.
The headset itself is mostly made out of plastic, and the texture is rather smooth.
When it comes to sound and technical specifications, it has 40mm drivers with Neodymium magnets. It has an impedance of 32 ohms @ 1 kHz, and a frequency response from 12 Hz to 28 kHz. The sensitivity is at 106 dB.
With a unidirectional pickup pattern, the mic does not come with foam.
The size is small, but it doesn't interfere with your head movement at the very least. It has a frequency response of 100 Hz to 10 kHz, and the signal-to-noise ratio is ≥ 55 dB. The sensitivity is at -42 ± 3 dB.
Hands-on with the Razer Kraken X
This time on our Razer Kraken X Review, we're going to do more hands-on with the Razer Kraken X. Let's start by describing the quality of its audio first.
The headset sounds excellent as a closed-back headset. If you want to focus on what's going on with your computer, music, or game sounds, then this headset will do a great job. Everything seems to be entirely accurate, especially the bass.
Using the Virtual 7.1 Surround Sound feature made it fantastic for gaming as it feels more immersive.
For the microphone, background noise is always repelled. Things like electric fans, keyboard typing noise, and other noises are not picked up on the mic that much. I like how the mic is built, even if it isn't detachable.
As a gamer who plays for long periods, I like the way the headset is built. They made the material plastic, and that makes the weight of this headset really light. The clamping pressure is good, and it does not stress me out when I play for hours. Other cheap headsets that are really heavy and have a lesser adjustment level can prevent you from playing long sessions.
Overall, the sound is excellent, and it performs excellently on games and music. You can get a lot from this headset for a seemingly low price.
Razer Kraken X Review Summary
It now comes down to our Razer Kraken X Review's Summary.
The Razer Kraken X is an excellent gaming headset that produces high-definition audio, and it's compatible with many devices.
It's really comfortable even when you're wearing glasses, which I personally prefer. The pressure is quite lovely, and it fits nicely. For me, this is the best lightweight gaming headset. I'd give it a ten out of ten if I were to rate it.
For the affordable price, the performance and features are absolutely fantastic! The price-performance ratio is excellent, and I'd love to see lots of these on an Internet Cafe or Gaming Computer Shops.
To summarize our Razer Kraken X Review, we're highly satisfied with this product, and we recommend it to everyone who needs a gaming headset that has a tight budget. If you're looking to purchase a Razer Kraken X yourself, click here to buy one from their official website.