Razer is known as a trusted gaming brand, so their first in-ear monitors surprised everyone. In our Razer Moray Review, we will discuss everything about it and what makes it a product worth considering. 
To give you an idea, the Moray offers cinematic audio immersion to guarantee top-notch standards for vocals. It also lets you enjoy superior noise isolation and a distortion-free experience. It is a product that delivers outstanding audio quality without streaming interruptions. 
Continue reading this review to learn more about its features, functions, design, specs, and how it performs. 
Razer Moray Packaging
Our in-ears arrived in time for this Razer Moray Review. Like other Razer products, it ships in a black box with hints of neon green – a theme standard for Razer products.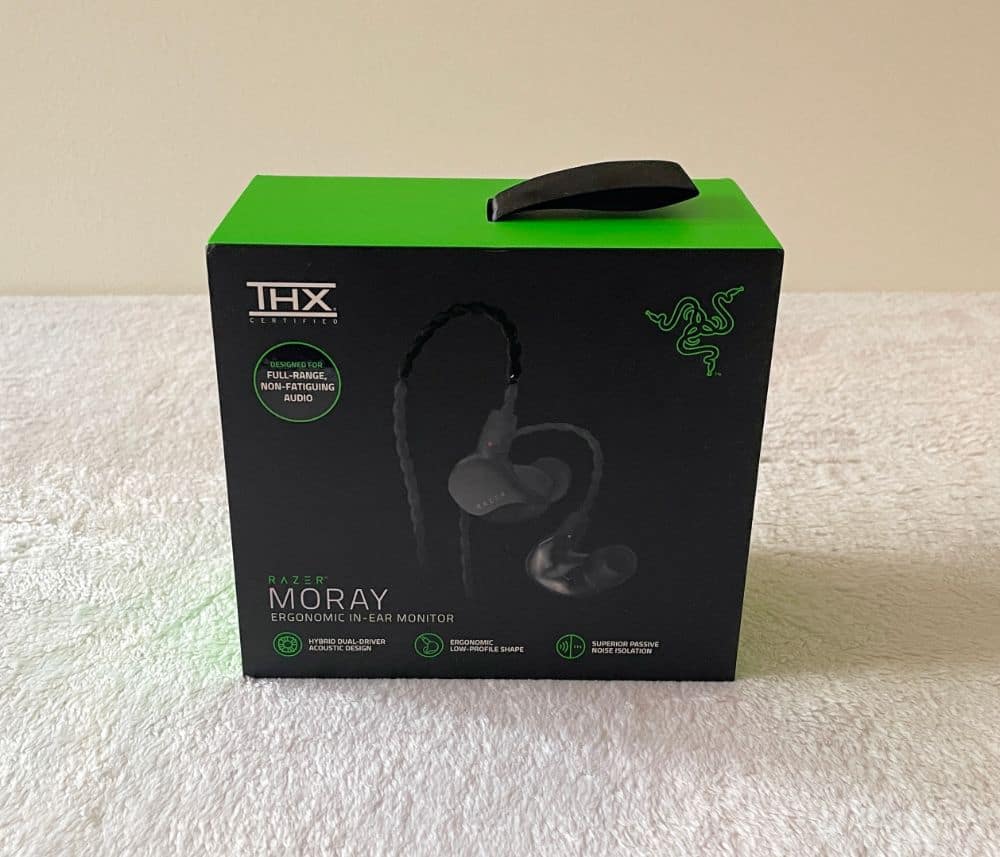 The front displays an image of the Moray, its name, the company branding, and several features. Other details about the product are at the back of the box.
Inside, the Moray ships with several other accessories, including the following: 
Splash-resistant Leatherette Zipper Pouch

Razer Carabiner

A Set of Silicone Ear Tips in Three Sizes: Small, Medium, and Large

A Set of Memory Foam Ear Tips in Three Sizes: Small, Medium, and Large
Razer Moray Review – Design and Functionality
Our Razer Moray Review will provide detailed information about the product, including its functions and design. Generally, it sports a design by professionals related to cinematic audio immersion to guarantee the highest standards for the following:
Vocals with Clarity

Distortion-free Experience

Top-notch Noise Isolation
These elements ensure the product offers outstanding audio quality for non-stop, uninterrupted streaming. 
The hybrid dual-driver acoustic design is among its primary selling points since it offers non-fatiguing, full-range audio streams. You can experience these thanks to its dynamic driver for rich bass and a balanced armature driver for crisp trebles.
Moreover, the Moray boasts an ergonomically designed low-profile shape, ensuring a natural and comfortable fit. Unlike conventional headphones that exert pressure on your head and ears, these conform to your ear anatomy. 
It means you can enjoy extended streaming sessions without any fatigue. Now, you can engage and entertain your audience for hours without discomfort.
Its ergonomic design moulds seamlessly to the contours of your ear, delivering a snug and pleasant fit that minimises pressure. Additionally, it reduces high frequencies, providing a more enjoyable and soothing listening experience.
Carrying Case
The carrying case is compact and square with round edges. It has a simple yet elegant black colour with the Razer branding engraved on one side. Also, it has a hard shell to protect the IEMs and a zipper to keep the case closed.
Inside, you will find a tiny pocket for storing extra ear tips. 
Key Features of the Razer Moray
Razer is a notable gaming and streaming brand, and the Moray is its first pair of IEMs. What features make it better than other similar products? Let us learn more by discussing its unique elements.
Non-stop Streaming and All-day Comfort
If you stream or game all day, you can enjoy non-stop with Moray from Razer. These in-ears sport an ergonomic design to provide comfort thanks to its hybrid dual-driver acoustic style and non-fatiguing tuning. 
These elements will allow you to experience high-fidelity and top-notch audio, whether streaming or gaming. 
Hybrid Dual-Driver Acoustic Style of the Razer Moray
Enhance your listening experience with the help of its acoustic design and two-way crossover. You will also enjoy crisp, smooth trebles with its balanced armature drivers, plus deep, rich bass from its dynamic drivers. 
THX-certified for a Naturally Expansive Soundstage
THX is a tech entertainment leader that made a headphone certification program. They considered it necessary to better define the premium audio quality of this product in the space of personal entertainment. 
THX ensures that your headphones can playback high-resolution audio even on max volume without producing unwanted distortion. 
Incredible Passive Noise Isolation – Complete Streaming Immersion
The Moray blocks up to -36dB of noise and shuts out all distractions. We experienced it while testing it for our Razer Moray Review, allowing us to stay focused during in-game battles.
Ergonomic Low-profile Form of the Razer Moray
It has an ergonomic shape that moulds to the anatomy of your ears. That means you get a snug, comfy fit for long streaming sessions. 
Premium Braided Wires 
Unobtrusive and offering high-fidelity streaming, the Moray presents a seamless audio experience. These in-ears have detachable OFC MMCX wires adorned with flexible memory loop tubing. They will remain securely over your ears, allowing you to focus on your streaming/gaming activities without distractions.
Customised Ear Tips + Carrying Case for Your Needs 
When we unboxed the product for this Razer Moray Review, we saw its package consisted of customised ear tips. In the box, you can choose from two types in three sizes, allowing you to enjoy total comfort and audio isolation. 
Razer also included a splash-resistant and portable carrying case, which you can use when taking the IEMs wherever you go.
Specifications
General Specifications
Dynamic Type:

Hybrid, Closed

Wearing Style:

In-ear

Impedance:

32Ω @1kHz

Sensitivity:

106 dB

Frequency Response:

  20Hz – 24 kHz

Drivers:

Hybrid Dual Drivers (Dynamic and Balanced Armature)
Moray Connector
Cord type:

Y-type MMCX detachable cable

Plug:

L-shaped three-pole gold-plated mini plug

Cable Length:

approx. 1.6 m
Hands-on with the Razer Moray
Our Razer Moray Review will focus on our experience while using the product during our tests. First, we will discuss the setup process before its audio quality and performance.
The Moray is a straightforward plug-and-play pair of IEMs. It does not require an amp and is ready for use with any compatible device with a 3.5mm jack. This feature is one of the things we appreciate about this product since it makes everything more convenient.
Also, choosing the appropriate ear tips that fit your ears is essential. It is a factor that affects the noise isolation performance of the Moray.
Audio Quality of the Razer Moray
We played various video games and noticed the natural and immersive bass. Although it was not bass heavy, it performed excellently.
These IEMs focused more on the highs, which were bright, detailed, lively, and crisp. Also, it was not overwhelming or overdone. Weapon slashing, dialogue, and other sounds remained crystal-clear and well-separated, making the product excellent for FPS games.
The mid-range was present, and we highly appreciate its clarity. 
While the audio focused on the highs, the less prominent bass and mids worked well together. As a result, the Moray delivered a fuller, well-represented sound that was highly enjoyable.
With its rich highs, the audio of the Moray made locating opponents and hearing their footsteps easier. We played different games and enjoyed the clarity of these sounds, which increased our chances of winning.
The Moray delivered full-range audio with rich vocals and dialogues thanks to its hybrid dual-driver design. The speech was highly intelligible, even with background music playing in-game. Plus, it balanced different sound elements across a broad spectrum, including deep bass and high-pitched trebles.
The soundstage of the Moray was natural, lifelike, and broad, which delivered more accurate audio. Its accuracy also makes these IEMs excellent for streamers.
Passive Noise Isolation
Aside from the audio, another thing about the Moray that impressed us was its superior passive noise isolation. As Razer promised, it blocked noise effectively and eliminated all distractions, allowing us to concentrate better on our games. 
The noise isolation results improved when we used THX while testing for our Razer Moray Review. Aside from using the correct ear tips, THX made sounds more sealed in and effectively blocked out external noise. As a result, we had a more enjoyable and immersive gaming experience.
Overall, Razer continues to please gamers and creators with the Moray. It is an excellent choice for IEMs that deliver realistic and accurate audio. Its non-fatiguing sound makes gaming or streaming for long hours a fun experience.
Razer Moray Review Summary
Razer entered a new exciting chapter upon launching the Moray, the first pair of IEMs from the company. This product significantly improves gaming audio and the streaming experience of content creators with high-definition sound. We enjoyed its audio quality and our entire experience with this product while testing it for our Razer Moray Review.
One of the things we loved about this product is its professionally tuned audio. Its non-fatiguing, accurate sound significantly improved our listening experience.
Aside from superior audio quality, the Moray delivers high comfort levels, making the IEMs ideal for all-day use. It has a comfortable and snug fit, which helps in passive noise isolation performance. Of course, it works best when you use the appropriately sized ear tips for optimal blocking of external noise.
Razer also included all the accessories you would need when using the Moray. The compact carrying case was handy, especially when travelling to different places. It keeps the IEMs safe from damage when inside the bag, and we could carry extra ear tips.
The Moray is ideal for gamers and content creators who want a broad, non-fatiguing, lifelike soundstage for better audio accuracy. Its ergonomic and low-profile design makes it comfortable to wear and convenient for travelling. We highly recommend this product for its superior quality and excellent performance.
Learn more about the Moray by checking out more details on the official product page of Razer.