Reolink is an established name in the market for outdoor security cameras. Today, we will share our Reolink Argus 3 Pro Review to discuss one of their notable products. 
The Argus 3 Pro balances outstanding outdoor security cam features and has a reasonable price below the usual premium ones. You can get the same features, but your pockets will not burn with this security camera.
Continue reading this Reolink Argus 3 Pro Review to discover its features, design, functions, specs, and how it performs. But before anything else, let us start unboxing. 
Reolink Argus 3 Pro Packaging
The security camera ships in a simple cardboard box sporting a blue and white theme. In front, you will find an image of the product, the company branding, and how many MPs it has.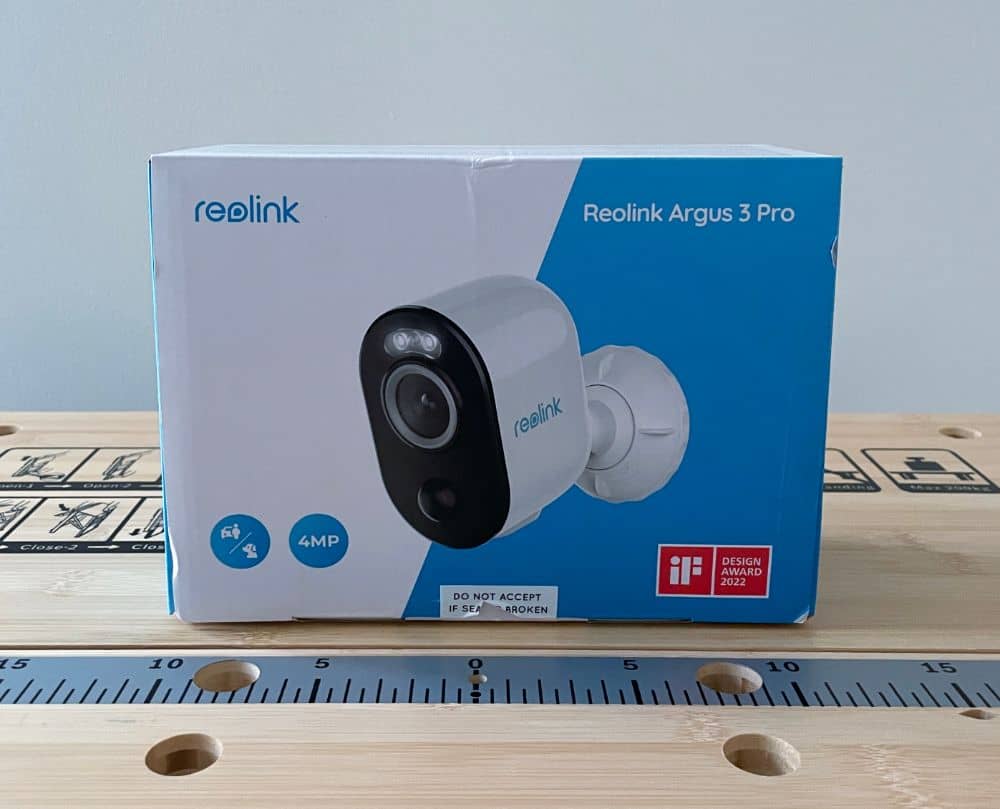 You can find more details related to the product on the sides and behind the box. Inside, the Argus 3 Pro ships with several accessories, including the following: 
Security Bracket

Strap

Stand Bracket

Mounting Template

Surveillance Sticker

USB Cable

A Pack of Screws

Reset Needle

Quick Start Guide
Reolink Argus 3 Pro Review – Design and Functionality
Upon observing its design for this Reolink Argus 3 Pro Review, it appears similar to the Arlo Pro 3. However, their size differs, and this security cam is not as deep. 
The Argus 3 Pro has an outdoor design with an IP65 waterproof rating and is powered by a 6500mAh rechargeable battery. 
The front of its enclosure houses a 2K camera with a 122-degree field view. It can capture 2560 x 1440 px videos @ 15fps and features a 16x digital zoom. 
You will find a status LED that lights red when offline and blue when online. There is also a 230-Lumen LED spotlight, PIR motion + daylight sensor, and microphone.
Six little IR LEDs give you a black-and-white night vision feature. It reaches up to 33 feet and can use the spotlight to provide colour night vision. 
Behind the rubber gasket at the camera base are micro SD slots and an on/off switch. The former is for locally storing recorded videos. The slot can accommodate up to 128GB cards; however, you must provide your media. 
Behind the Argus 3 Pro, you will find a speaker, battery status LED, and a micro USB charging port. The light becomes orange while charging, then turns green when fully charged. 
Inside, you will find a siren and a dual-band WiFi radio for linking your home network. 
Reolink Cloud
Reolink includes a free Basic cloud plan for every purchase of the Argus 3 Pro. It includes 1GB of recorded video storage and seven-day history for one camera. You can also upgrade if you want to enjoy more plan benefits.
The Standard plan offers 30GB storage with a 30-day history for five cameras. Another option is the Premier plan, which gives 80GB with a 30-day history for ten cameras. Finally, the Business plan has 150GB with 60-day history for 20 cameras.
Does this product have elements that make it stand out from its competition? What makes it better than other security cameras? Continue reading our Reolink Argus 3 Pro Review to learn more about its features. 
Key Features of the Reolink Argus 3 Pro 
Standalone Operation That is Intelligent & Efficient
Enjoy features without complex settings, a base station, or subscription fees by installing the fully-equipped battery camera. Once set, take advantage of vehicle/person detection, colour night vision, etc. 
New Smart Detection Tech
The product offers precise detection, which we experienced while writing our Reolink Argus 3 Pro Review. Thanks to its in-cam technology, it analyses people and vehicle shapes to reduce false alarms on movements. 
Rechargeable Battery of the Reolink Argus 3 Pro
This security camera can work without cables because of its long-lasting rechargeable battery. Additionally, it can also run effectively during blackouts. 
Solar Powered 
The Argus 3 Pro will never run out of power with the Reolink Solar Panel. This feature eliminates the need to replace and recharge.
Spotlights and Sirens for the Unwelcome
The Argus 3 Pro activates spotlights and its siren when it detects an intruder. You can also manually activate these to send a warning.
2K 4MP – High-Quality Recordings During Day & Night
The 2K resolution (2560 x 1440) and built-in spotlights keep the Argus 3 Pro recording in full colour. The camera can produce clear footage with better clarity and sharpness, whether day or night.
Fun Time Lapse for Recording Long-Term Events
Argus 3 Pro can capture dynamic long-term events like blooming flowers or the rising sun more quickly with timelapse.
Flexible Storage Options of the Reolink Argus 3 Pro
Expand your local storage for added playback up to 128GB with a microSD card. You can also keep event videos in the encrypted Reolink Cloud.
Accurate and Immediate Motion Alerts
Our Reolink Argus 3 Pro Review will discuss one of the intelligent features of this security camera.
Using the Argus 3 Pro, you can adjust the motion sensitivity and PIR schedule to prevent false alerts. The camera immediately alerts you when it detects motion, allowing you to take quick action.
Dual-Band WiFi for Faster Network Performance
With stronger signals and faster speeds offered by 5GHz WiFi, enduring long waits is unnecessary. Switch between 2.4GHz and 5GHz bands for optimal network performance in different scenarios.
Live View and Two-Way Audio
Aside from viewing, the Argus 3 Pro lets you hear and speak with its built-in microphone and speaker.
Hands-Free Camera Control
The Argus 3 Pro works with Google Assistant and Alexa, allowing you to use voice commands. Plus, you can see your camera view via Google Nest Hub, Chromecast-enabled TVs, Echo Show, Echo Spot, and Fire TVs.
Focus on Specific Spots
The Argus 3 Pro lets you customise the motion zone and erase unnecessary areas. With this feature, the camera can detect the areas you set to trigger recording and notifications.
Specifications
Camera Type:

Outdoor WiFi Security Camera

Wireless:

802.11 b/g/n at 2.4Ghz or 5GHz

Video Resolution:

2560×1440 at 15 frames per second

Infrared Range:

10m

Dimensions:

102x62x115mm
Hands-on with the Reolink Argus 3 Pro 
We tested the security camera for our Reolink Argus 3 Pro Review for two weeks. During the tests, we observed its recording options, mobile user experience, and video quality (in varying lighting conditions). 
After installing the Argus 3 Pro, you can set it up via the Reolink app. Once installed, launch the application and tap the plus button to add a new device. Scan the QR code at the back of the camera to link the app and your device with the camera.
You can manage the Argus 3 Pro via devices supported by the Reolink app, which includes Android and iOS. It is also accessible via Windows using a web browser.
The Reolink app opens to a screen with panels that show all installed and linked Reolink cameras. Each panel shows a still image of what the camera last captured. When tapping on the camera panel, it shows a screen with a live stream viewable on full screen. 
Below the live video panel are the following buttons: Start/Pause, Mute/Unmute, Manual Record, Snapshot, and Video Quality. In addition, you will find Clip, Talk, and Playback at the bottom of the screen.
Talk initiates two-way audio and uses a Clip to zoom in on a specific video image area. Playback launches a timeline of the captured videos, allowing you to scroll to a specific event.
The screen of this app displays the device and schedule settings, plus live feeds. On the top right corner are buttons to alert the siren and activate the spotlight. 
A gear icon is also available, taking you to the settings option. Here, you can check its battery life, display the camera options/settings, and configure WiFi. This section also lets you create custom alarms to alert you when it detects motion. 
Moreover, you can watch time-lapse videos, set up alert schedules, adjust the levels of motion sensitivity, etc.
The Argus 3 Pro impressed us with its video quality as a security camera. It delivered clear and vivid footage during the day and at night.
During daytime recording, the video exhibited exceptional image clarity while displaying colours in rich, true-to-life tones. We loved that there was no noticeable barrel or pincushion distortion.
Moreover, the black-and-white night video was sharp and evenly illuminated, ensuring excellent visibility in low-light conditions. The colour night video was also sharp. However, remember that its vibrancy will not match natural daytime lighting.
There were no distortions in the recordings/live footage during our tests in varying lighting levels. Its motion detection worked excellently, and false alerts were not rampant. 
Moreover, the Argus 3 Pro accurately identified motion caused by passing cars, pets, or people. Push alerts/emails reached us immediately, and our voice assistants worked efficiently with the camera giving out commands. 
Reolink Argus 3 Pro Review Summary
The Argus 3 Pro from Reolink is an impressive outdoor security camera available at a reasonable price. It has many superb features like motion detection, 2K video, dual-band WiFi, cloud storage, and voice assistant support.
The camera delivered high-quality daytime and nighttime videos during our product tests for this Reolink Argus 3 Pro Review. Its other features worked perfectly, and we had no issues with these.
Overall, the Argus 3 Pro is an excellent battery-powered security camera. We highly recommend this product if you want a camera with a spotlight that does not need HomeKit integration. 
Learn more about the Argus 3 Pro by visiting the official product page of Reolink.