RODE is known for creating quality audio products at prices that will not burn your pockets. RODE recently revealed the NT-USB+, a solid, excellent-sounding condenser mic, at a very affordable price. 
RODE gave the mic all the necessary upgrades it requires, which we will discuss in this RODE NT-USB+ Microphone Review. Here, we will focus on its design, functions, specs, features, and performance.
But before looking into those, let us check what is inside the box. 
RODE NT-USB+ Microphone Packaging
Before discussing the details of the product, our RODE NT-USB+ Microphone Review will focus on its packaging and contents.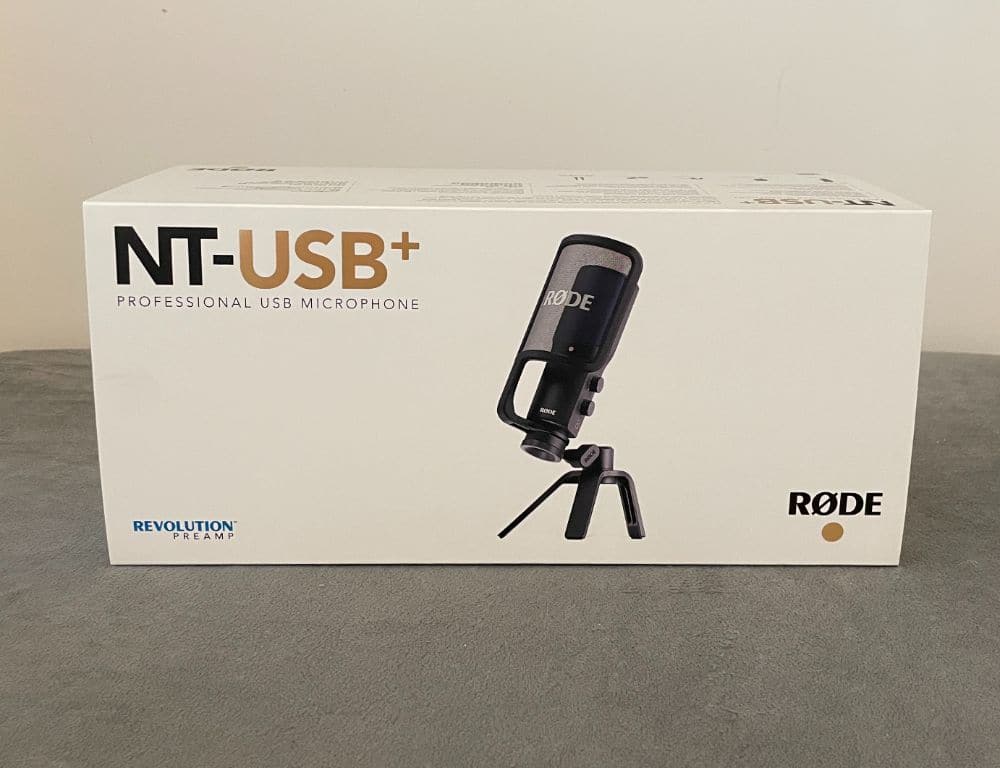 RODE packed the NT-USB+ in a rectangular white box. In front, you will see a product image with its name and company branding. The back of the package shows more information, including its features and package contents.
Inside the box, you will find the NT-USB+ with some accessories. These include a ring mount, desktop tripod, pop filter, and a USB-C cable.
RODE NT-USB+ Microphone Review – Design and Functionality
Our RODE NT-USB+ Microphone Review will discuss the design and functions of the product. This part will give you an idea of its aesthetics and upgraded functions. 
The company designed the NT-USB+ based on the original NT-USB, a microphone released in 2014. Over the years, the original model has been an industry-standard USB microphone for podcasters, musicians, streamers, and other content creators. 
The NT-USB+ features the same form factor and studio-quality sound as the original model. But RODE added some next-generation enhancements to meet the modern-day needs and requisites of different users.
Aside from having the same form factor, the design of the NT-USB+ is identical to its predecessor. It has a solid-black metal body with the RODE logo printed on the housing. 
Under the metal mesh grille is a blue mesh internal pop filter. It is the main aesthetic difference between this product and the older NT-USB.
Connection and Accessories
The right side of the NT-USB+ features a 3.5mm high-power headphone output. Here, you can plug your headset for zero-latency monitoring. You will also find two dials to control the headphone volume level and the audio mix.
Since this USB-powered product is a plug-and-play microphone, it does not have a mute button or on-mic gain control.
As we mentioned, it comes with a 3m USB-C to USB-C cable. It plugs into the port at the bottom of the NT-USB+. The included detachable pop shield for filtering plosives is a rounded metal screen with a plastic frame. 
Key Features of the RODE NT-USB+ Microphone
We put together the product features of this mic in our RODE NT-USB+ Microphone Review. These details will help determine if the microphone suits your needs and preferences, so let us check these. 
Studio Sound in the Comfort of Your Home
The NT-USB+ combines an excellent audio quality of a pro condenser microphone with the convenience of USB connectivity. Thus, making it an ideal solution for home recording studio sound. 
It features a studio-grade condenser capsule with a tight cardioid pick-up pattern to produce rich-quality audio recordings. Also, the product has an ultra-low-noise, high-gain Revolution PreampTM and high-resolution analogue-digital conversion for 24/7 clean-sounding recordings.
RODE NT-USB+ Microphone – Versatile and Portable
The NT-USB+ excels at recording everything from vocals to voice-overs and guitars to podcasts. It delivers high-definition audio in any application, whether you are a musician, streamer, podcaster, or professional working from home. 
It is also plug-and-play compatible with Smartphones and tablets. Thus, allowing you to produce high-quality recordings wherever you go.
Plug in for Pro Audio
The NT-USB+ makes recording professional-quality audio a breeze. Plug it into your computer, smartphone, or tablet, and you are all set since it is ready to use.
To take your recordings to the next level, the NT-USB+ has an efficient internal DSP. It helps add advanced audio processing and effects to your voice. 
You can unlock it via the RODE Connect podcasting and streaming software. You can choose from the RODE Central desktop and mobile companion app, RODE Reporter, or UNIFY (subscription required).
All-In-One Desktop Studio
The NT-USB+ comes with everything you need to get started right away. These include a desktop stand and a high-quality pop filter to keep your recordings perfect. 
It also has a zero-latency headphone output with dedicated volume and mixing controls. These allow you to listen to audio without echo or delay.
RODE Central for Configuring the RODE NT-USB+ Microphone
RODE Central is a user-friendly desktop and mobile app for configuring the NT-USB+. It allows you to access the onboard processing, which includes the noise gate, compressor, and high-pass filters. Plus, you can unlock the APHEX Aural Exciter & Big Bottom and update the device firmware.
RODE Connect – A Streaming and Podcasting Solution
RODE Connect is a free streaming and podcasting software solution compatible with the NT-USB+. It makes recording or streaming professional-quality audio from your computer. 
With this software, you can have up to four physical guests connect to a single computer using various devices. These include NT-USB+, NT-USB Mini, VideoMic GO II, and Wireless GO II.
RODE Reporter for Broadcast-grade Sound
RODE Reporter is an iOS and Android app for recording broadcast-quality audio. It is an intuitive interface that works with the NT-USB+ and provides access to onboard processing like with RODE Central. You can also save settings to the microphone so you can use your configurations after unplugging it.
Specifications
Our RODE NT-USB+ Microphone Review will share a list of the product specifications for this microphone. You can refer to this to determine if the mic is compatible and if it can work with your system. 
This cardioid, pressure gradient microphone has a 20Hz to 20kHz frequency range, plus a 97dB dynamic range (@10% THD). The microphone has an input SPL @10% THD of 118.0dB (per IEX 60268).
Its outputs include a 3.5mm headphone USB-C and a 3.5mm headphone jack analogue connection. Computer connectivity is also possible using a USB-C. 
Using the mic requires 5V @500mA (USB Bus Power). It has a 24-bit depth, 48kHz sample rate, and the following minimum OS requirements: 
Windows 10

MacOS 10.14

Android 11

iOS 14
Lastly, the mic measures 184 x 62 x 50mm and weighs 730g with all its accessories. The weight of the NT-USB+ on its own is 540g. 
Hands-on with the RODE NT-USB+ Microphone
We tested the product to share our experience in our RODE NT-USB+ Microphone Review. But before that, we will discuss setting up the product and the RODE Central software.
Setting up the NT-USB+ was quick. Once plugged in via USB-C, it took over the audio of our system and worked like an external sound card. 
The microphone received and sent audio at 24-bit/48kHz, which was an improvement from the 16-bit/48kHz of its predecessor. Although it was not highly noticeable for podcasting and voice-overs, it was recognisable when recording instruments. Also, the higher rate is ideal for compliance with different audio standards of producers for professional voice-over projects.
The native USB-C connectivity was highly beneficial since it allowed connecting directly to Android devices, which immediately recognised the NT-USB+. Once plugged in, the microphone was ready for recording. 
While it is compatible with mobile devices, the NT-USB+ is ideal to use with a PC. On a computer, the RODE Central software and the built-in DSP effects are accessible. 
RODE Central offers features like Compressor, Noise Gate, High Pass Filter, and the studio-grade APHEX Aural Exciter and Big Bottom. The first three are common ways for levelling out and tuning audio. APHEX features give body and presence to recorded voices while retaining natural clarity and crispness.
The NT-USB+ produced excellent vocals during our tests. It was rich and detailed with a solid low-end. Plus, it had minimal noise, thanks to the ultra-low-noise feature and high-gain Revolution Preamp technology of RODE. These elements allowed the microphone to capture louder, crisper, and cleaner audio.
This microphone delivered full-bodied sound with clear mids and highs. Audio was airy and natural, and the NT-USB+ retained the warmth of its sound. It is ideal for home recording since its performance in our tests was on par with an XLR microphone.
The NT-USB+ is a condenser microphone like its predecessor and has a broad frequency response, which makes it sensitive. As a result, it delivered natural, lifelike audio, which makes it perfect for vocals and instruments. However, the microphone can pick up the sound of a mechanical keyboard and the AC unit.
With its cardioid pick-up pattern, it is best to record directly in front of the microphone. Also, it is most suitable for quiet environments, especially if the room has sound dampening, like carpeted floors.
RODE NT-USB+ Microphone Review Summary
The NT-USB+ proves that RODE continues to make quality microphones that make broadcasting easier. With DSP chips and the new preamp, it is a worthwhile upgrade, especially for content creators who want professional-quality audio.
Although this microphone is more expensive than its competition, the audio quality makes it worth purchasing. Aside from superior sound quality, it is easy to use, thanks to USB-C connectivity and compatible RODE apps. When we used this product during our tests for our RODE NT-USB+ Microphone Review, we had an enjoyable experience.
Overall, we highly recommend the NT-USB+ for its excellent performance and user-friendliness. It is ideal if you plan to upgrade from the original NT-USB or want broadcast-quality recordings.
To learn more about the NT-USB+ Microphone, visit the official product page of RODE for additional information.