RODE recently released a new microphone for content creators. Today, we will discuss everything you need to know about this product in our RODE Podmic USB Microphone Review. 
The original Podmic from the company is the best XLR microphone for content creators, streamers, and gamers. Its latest version is a dynamic mic supporting many applications like content creation, podcasting, video production, etc. It integrates an XLR and USB-C terminal, allowing it to connect to various devices better.
In addition, it can perform high-quality recordings thanks to the Revolution Preamp, noise reduction technology, and DSP. 
RODE Podmic USB Microphone Packaging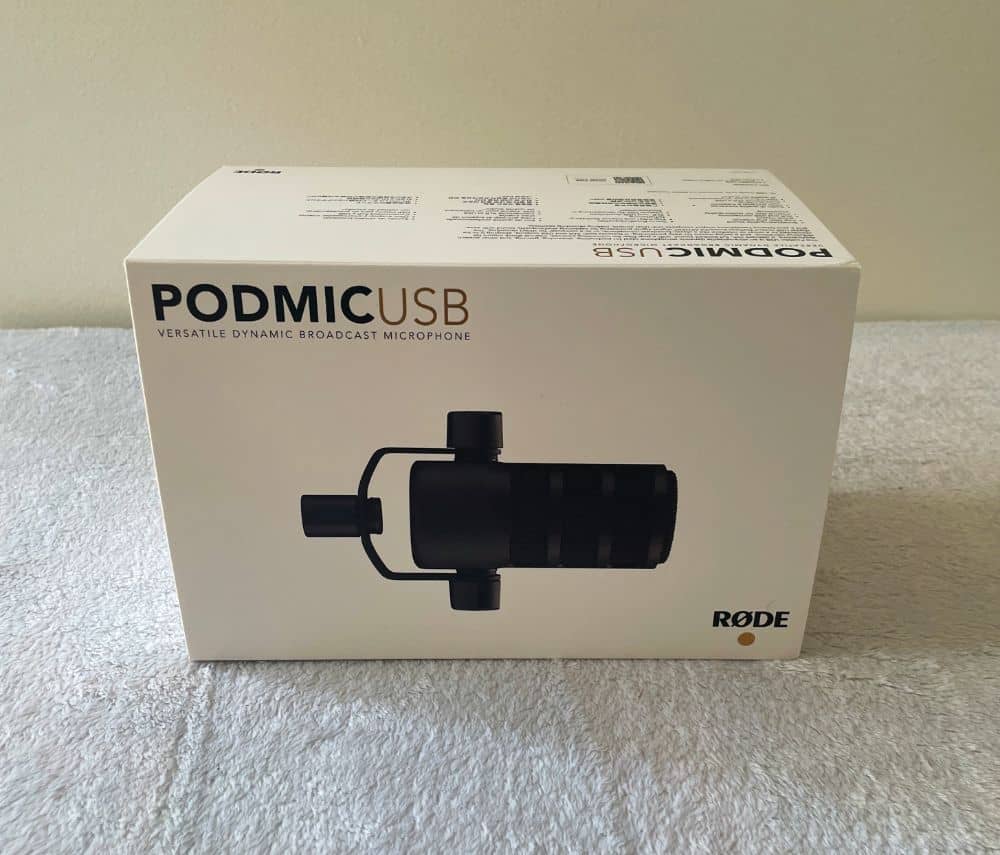 Our RODE Podmic USB Microphone Review will focus on its package and contents before discussing more details about the product. 
It ships in an all-white box that sports a minimalist aesthetic. On it, you will find an image of the mic in front and at the centre of the package. Also in this area are the product name and company branding.
Inside the package are the following items: 
PodMic USB

Pop Filter

SC29 (3m USB-C to USB-C Cable)
RODE Podmic USB Microphone Review – Design and Functionality
This product differs from the original because it sports a USB-C interface with its XLR connector. It also has an integrated amp and a headphone jack for zero-latency monitoring. These allow you to hear yourself and the audio from your host PC. 
As a dynamic microphone, the Podmic USB distinguishes itself from the prevalent trend among microphones. The latter often aims at streamers, gamers, and the broader consumer base. 
While the contemporary landscape primarily favours condenser capsules, the Podmic USB provides a distinct technological path. Notably, these are housed within the mic and are similar to those in microphones used on stage.
Dynamic microphones prove to be more suitable for the everyday individual. Most of us do not inhabit acoustically optimised spaces or enjoy the luxury of absolute silence in our surroundings. 
While writing this RODE Podmic USB Microphone Review, we noticed that RODE omitted one notable feature from the original mic. They removed the monitor mic knob. So if you plan to adjust the number of each signal, you have to do this via software.
Its body integrates a robust material for use at recording studios where lots of durability is needed. The mic surface sports a matte black paint job, providing a classy and elegant aesthetic. 
Key Features of the RODE Podmic USB Microphone
Highly Versatile Microphone with Impressive Audio
The Podmic USB is a highly versatile dynamic microphone that captures broadcast-quality sound. Its dual USB and XLR connectivity offer a recording studio experience in the comfort of your home. You can plug it into your computer or smartphone and enjoy a plug-and-play recording rig.
This microphone is perfect if you want a flexible option for making impressive audio for your content.
Professional-Grade Sound When Creativity Calls
The Podmic USB uses a high-power neodymium capsule to deliver highly detailed and warm sounds. Its audio has unparalleled clarity, which makes it excellent for recording speech.
This microphone also has an internal shock mount for minimising vibrations and an internal pop filter that effectively reduces plosives. RODE also included a studio-quality external pop filter for clean, crisp recordings.
All-in-one Recording Solution
The onboard DSP (Digital Signal Processing) of the PodMic USB makes capturing professional audio easy. With VoxLab, you can achieve optimal sound by tweaking in-depth controls for the noise gate, high-pass filter, and compressor. Aside from that, you can also fine-tune your audio with the Aural Exciter and Big Bottom.
The headphone output on the Podmic USB allows you to monitor your audio with zero latency. It also has an onboard level control for adjusting volume levels. This microphone is an all-in-one recording solution.
RODE Podmic USB Microphone for Studio Sound on the Road
As mentioned earlier, RODE added a USB port to the Podmic USB. As a result, you can connect to your computer, laptop, or smartphone. You can also plug it into your favourite mixer or audio interface since it retains its XLR connector.
This microphone is an excellent tool for capturing broadcast-quality sound, even if you do not go to a studio. We enjoyed its high-quality audio, which we will discuss in detail later in this RODE Podmic USB Microphone Review.
What makes this product better is its compact setup. It is easy to carry around and record studio-grade audio on the go.
Sleek Appearance and Durable Build
The Podmic USB sports a design of a classic broadcast microphone. It has a sleek matte black finish that exudes sophistication, making it surprisingly rugged and durable. 
RODE used premium components in constructing this microphone and housed these parts in a highly durable body. It can withstand the rigours of daily recording, no matter where you go.
Specifications
We made a list of the elements you need to know if the mic is compatible with your setup.
Address Type:

End

Acoustic Principle:

Dynamic

Polar Pattern:

Cardioid

Frequency Range:

20Hz – 20kHz

Output Impedance:

460Ω (XLR)

Maximum SPL:

148dB 

Equivalent Noise (A-Weighted):
– Analogue: 26dBA


– Digital: 19dBA
Sensitivity:

-57 dBV/Pa (1.4 mV @94 dB SPL) +/- 3dB

Processing:

APHEX digital signal processing

Digital Power Requirements (USB):

5V @100mA

Bit Depth:

24-bit

Sampling Rate:

48kHz

Analogue Output Connectors:

3-pin XLR and 3.5mm Headphone Jack

Output Connection:

USB-C

Operating System Requirements:

Windows 10 / macOS 10.15 or later

Weight:

900g

Dimensions:

123 x 109 x 110mm (L x W x H)
Hands-on with the RODE Podmic USB Microphone
The Podmic USB delivers impressive performance out of the box and when connected via USB. However, you can do more with the RODE Central App to maximise the features of the Podmic USB. 
One of the benefits of the RODE Central App is it allows using the Podmic USB on the go. When we plugged it into an Android phone, the app instantly detected the microphone and made it available for recording. The Podmic USB allows plugging into any compatible device without compromising quality. 
Another benefit of the mobile application is access to advanced settings. The Podmic USB has an integrated digital signal processor, allowing access to the APHEX vocal FX. These include a noise gate, compressor, high-pass filter, the Aural Exciter and Big Bottom effects. 
The tools in APHEX vocal FX help eliminate background noise and bolster the sound. It also provides ample presence in the lows and highs of frequencies, offering clarity and crispness. To access these features, you will need the RODE Central App.
The FX suite highly resembles the RODECaster Pro, Pro II, and Duo, comprehensive podcast and recording consoles. 
The app requires an understanding of audio parameters to make tweaking settings easier. Of course, taking the time to adjust these settings helps enhance the quality of the mic. Also, it will make your recordings more professional.
The USB connectivity also allows access to RODE Unify, a digital version of the RODECaster Pro series or the GoXLR. It creates virtual audio tools, allowing you to route your sound to various channels in unique mixes. 
You can access a digital production suite with all these features via the RODE Central App.
How did it sound while testing it for our RODE Podmic USB Microphone Review? It performed superbly thanks to the Podmic USB receiving some refinements and optimisations over the original. 
Out of the box, its audio was fuller, more detailed, crisp, and less compressed. Overall, it gave us the radio-like, full-bodied audio you will get with the original Podmic.
You can plug it in and record without tinkering with settings, and you will receive a classically-dynamic and crisp sound. However, doing that will leave plenty of quality and performance. 
We experimented with its USB connectivity. To our astonishment, the PodMic USB reached a maximum capacity of 24-bit and 49kHz resolution. In contrast, alternative USB microphones extend up to 193kHz.
Nonetheless, when it comes to podcasting or broadcasting applications, this restriction in resolution holds minimal significance. Musicians might incline towards a tad more leeway.
RODE Podmic USB Microphone Review Summary
The RODE Podmic USB is a top-notch microphone for content creation, remote work, virtual teaching, and gaming. It is also unique since its DSP features significantly enhance its already impressive audio.
As we mentioned in our RODE Podmic USB Microphone Review, the product retains most features of its predecessor. These include its build quality, XLR connector, frequency response, and superior sound quality.
If you create content like podcasts or video streams, the Podmic USB offers excellent versatility. It delivers superior audio quality out of the box, and you will not need additional accessories for sound enhancement. Plus, it is ideal for remote workers who want to improve their sound in virtual meetings.
The Podmic USB is a highly versatile microphone. It works for a multi-guest podcast with its XLR connection and allows convenient, on-location recording for content creation. Plus, it offers excellent value for money, making it easy to recommend.
Learn more about Podmic USB by visiting the official product page of RODE.