In this day and age, live streaming and gaming merged into one new massive medium. So creating your broadcast using diverse software and hardware is easier and more convenient than ever. In this RODE X XCM-50 Condenser Microphone Review, we will talk about this gaming/streaming mic from RODE.
RODE is a renowned audio manufacturer, and the company is well-known for producing high-quality mics and equipment. But lately, the company is aiming towards a more professional market. And it is focusing on growing the audience with the RODE X division. 
The XCM-50 went on sale with Unify, its accompanying audio software suite, which we will also discuss later. 
This product from RODE seems promising, but is this gamer-centric mic as good as claimed? Is it also worth the upgrade over the standard range from the company? 
We spent over a week testing the product for our RODE X XCM-50 Condenser Microphone Review to find out.
RODE X XCM-50 Condenser Microphone Packaging
Before tackling the elements that make the mic an exceptional product, we will discuss its packaging and contents. RODE shipped the XCM-50 in a red and black-coloured cardboard box, sporting a minimalist design.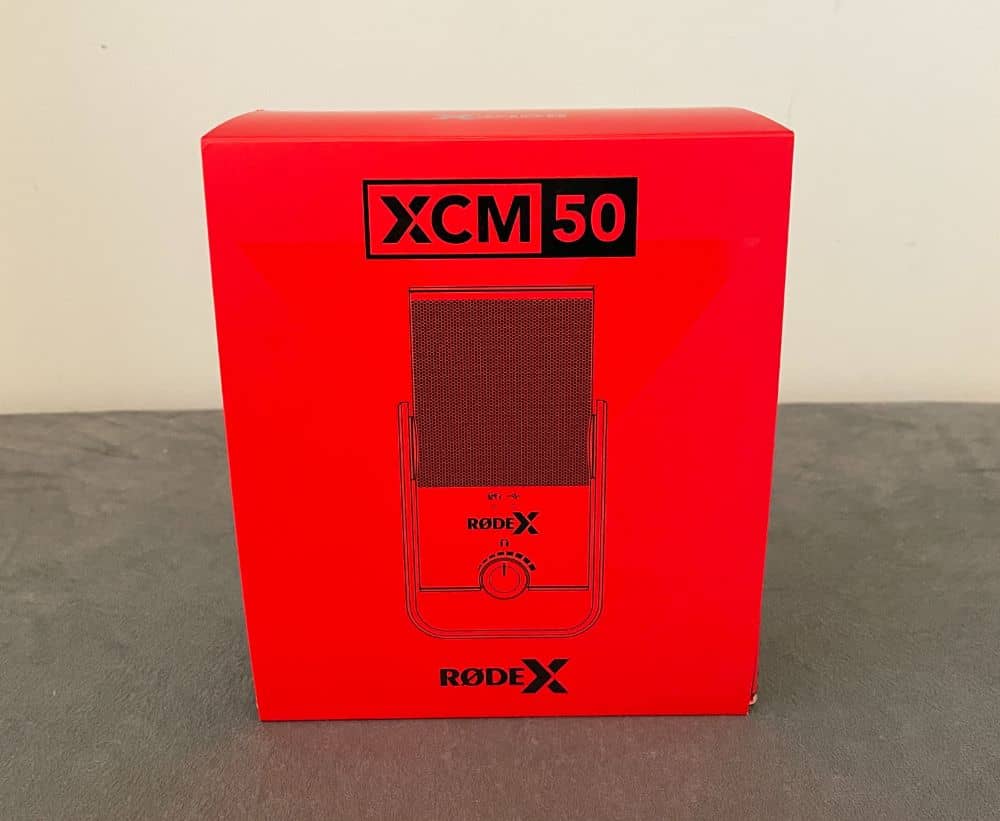 The front displays an illustration of the mic, along with its name and "RODE X" written in bold black fonts. There is not much to see, so we focused on its contents instead.
The company packed everything securely, so the XCM-50 and other inclusions are safe during shipping. And for this part of our RODE X XCM-50 Condenser Microphone Review, we will share what RODE included in the package.
Inside, you will find the XCM-50, a tripod, one headphone cable, and a USB cable. RODE added everything you will need to start using the product.
RODE X XCM-50 Condenser Microphone Review – Design and Functionality
We love the premium design of this product. So we are discussing the style and functions in this RODE X XCM-50 Condenser Microphone Review.
The XCM-50 has excellent design and build quality. The combination of black, red, and white labels is visually appealing, thus giving it a premium look and feel.
Our first impressions of this product were positive. It is incredibly well-built and sturdy enough to withstand more than a few knocks and bumps while streaming.
In many ways, the product appears similar to the NT-USB Mini. The similarities start from the RODE X branding and the red shades under the mic grille. Then there is a ring at the end of the capsule, plus a headphone volume knob. 
Additionally, you will find the XCM-50 fixed in a rotating cradle featuring an extremely stiff grip. This setup allows you to conveniently access the 3.5mm and USB-C ports situated on the rear. 
Its cradle links to the tripod mount included in the package. However, you can also go for any compatible mic arm by using the included screw thread. You can utilise it after removing the rubber cap.
On the XCM-50, you will find a USB-C port and headphone jack on the mic rear. There is also one headphone volume knob that runs flush with the front part of the mic. However, it slightly sticks out from the base to allow adjustments.
This knob clicks in, but strangely, there is no specific function behind it. We thought it would work as a mute for the mic, but that was not the case. 
Moving forward, the top of the mic is flat, which features the RODE X branding. We think it would be better if RODE placed a capacitive mute button at the top. It would be an ideal upgrade from the classic NT-USB Mini design. 
Key Features of the RODE X XCM-50 Condenser Microphone
What makes this microphone worth purchasing? Our RODE X XCM-50 Condenser Microphone Review will discuss its features to see what it offers.
The XCM-50 Made for You and UNIFY
The XCM-50 and UNIFY are comprehensive audio solutions for gaming and streaming that provide professional sound quality. You can adjust your audio with advanced mixing, processing, and routing via the UNIFY software. Plus, it has on-the-fly sound effects and other unique elements to enhance your recordings.
Loud, Clear, and Audible
The XCM-50 has a premium condenser capsule that captures speech perfectly. As a result, it delivers loud, clear, detailed, and natural voice reproduction. The microphone reduces background noise and keeps the focus on your recording, thanks to its tight cardioid polar pattern.
This microphone also has an internal pop shield and shock mounting to ensure pure and clean audio.
Plug-and-play
The plug-and-play design of the XCM-50 allows you to use it out of the box immediately. Once connected to your computer via USB-C, it works instantly.
The condenser microphone also has a 3.5mm output to plug your headphones. Hear all details in full definition as you monitor and adjust the sound with the integrated level controls.
360-degree Swing Mount for Versatile Placement
You need to place your microphone at the best spot and perfect angle when achieving optimal audio. Since the XCM-50 has an integrated 360-degree swing mount, you can position it anywhere. It also has an included desktop tripod for more convenient installation.
Craft Your Signature Sound with the XCM-50 Condenser Microphone
Make your voice shine with the advanced voice processing of the XCM-50. It has a high-pass filter for clarity and a compressor for enhanced smoothness. Plus, the legendary APHEX Aural Exciter adds depth to your audio.
It also perfectly works if you do not have a soundproof recording space. This product removes background noise with the noise gate and fine-tunes processors with granular control.
Specifications
Our RODE X XCM-50 Condenser Microphone Review will now discuss the product specifications of the XCM-50. These aspects will help determine if the condenser mic is compatible with your system and setup. 
The XCM-50 is a compact condenser mic with a side-address pickup pattern. It has a 20Hz to 20kHz frequency range, 24-bit depth, and uses USB-C for connectivity. Additionally, RODE included a zero-latency 3.5mm analogue headphone output to the mic. 
Finally, the XCM-50 works with Windows 10 (or later) and macOS 10.12 (or higher). It also measures 62 x 42 x 118mm (WxDxH) and weighs 492g. 
Hands-on with the RODE X XCM-50 Condenser Microphone
Before we discuss our hands-on experience in this RODE X XCM-50 Condenser Microphone Review, let us talk about UNIFY. 
UNIFY Software
To achieve professional-quality audio for streaming, you need mixing to balance out the volume of multiple sound sources. Windows has built-in tools for mixing, but these do not offer adequate settings to improve the audio quality significantly. As a result, streamers use third-party audio solutions like the RODECaster, which have independent volume sliders for different audio sources.
For the RODE X microphones, the company offers the UNIFY software. It has a virtual control surface for mixes, levels, sound effects, and other elements.
UNIFY has the same functions as the RODECaster. What makes this software unique is it has the configuration options of hardware mixers for XLR mics to adjust USB mics. When using it with an interface, you can take advantage of it by adding the interface to its virtual audio channels. 
UNIFY gives you complete control over your streaming and gaming audio. With it, you can route up to four microphones and six virtual audio devices into one simple audio mixer. 
Create separate mixes for each output, including what you, your audience, and your team hear. Enhance your voice with advanced processing and effects, multitrack audio recording and much more.
Features of the UNIFY Software
The UNIFY software works how it should, and its user-friendly layout makes it even better. But other than its design, it has multiple features that make it one of the best. 
Here is a list of features to give you an idea of what it does. 
Completely Control Your Audio
UNIFY offers control over audio inputs and outputs from a simple software mixer. You can mix up to four microphones and six virtual audio devices, including your game, chat, music, system, and browser. 
With independent sub-mixes for all your outputs, you can create the ideal audio experience for everyone. 
Create Your Sounds
Customise the sound signature of your microphone to suit your preferences and voice by using advanced APHEX processing. It includes the popular Big Bottom and Aural Exciter. 
You can remove background noise and make the audio sound detailed, smooth, and punchy. It allows you to use it with a compressor, high-pass filter, and noise gate. 
Additionally, you can fine-tune using granular controls over each processor, like how it works on pro audio mixing software. 
Manages Audio Processing
A powerful DSP chip within the microphone manages all audio processing when using UNIFY with RODE mics. The chip relieves loads on the CPU, allowing you to hear the audio in your earphones while it works its magic. 
Go Live in Just Seconds
UNIFY is incredibly intuitive and takes seconds to set up. Using it is super simple. So even with the most complex streaming or gaming setups, you can go live with outstanding audio in seconds.
Ability to Record Everything
Conveniently capture live stream audio using the onboard recording function of this software, then optimise it for extensive audio platforms. You can also record in a multitrack/studio for enhanced flexibility in content creation.
Bypassing UNIFY, Will Recordings Still Sound Great? 
If you do not want to use UNIFY for whatever reason, raw recordings from the XCM-50 will still sound great. Without using the internal DSP, the audio was appropriately flat but crisp.
Even the default UNIFY settings sound great. It will help elevate your voice while providing professional broadcast quality, so there is no reason not to use it. 
Performance of the RODE X XCM-50 Condenser Microphone
In terms of recording quality, the microphone did an excellent job, thus, providing us with pleasing results. Also, it had low levels of noise which was an unexpected yet pleasant surprise. 
Its warm sound profile is perfect for its shape since it has that old timely aesthetic we expected. 
And even with its warmth, the mic offered excellent levels of fidelity, with the lowest amount of audio compression. The latter sometimes makes users, specifically gamers, steer clear of USB microphones, so its great to see this was not a issue at all with the XCM-50. 
The XCM-50 picked up more noise than the Dynamic XDM-100. So, it only means that proper placement is necessary. Thankfully, the product has a cardioid polar pattern, so it acquired most noise from the front. 
Upgrading to a good microphone will boost audio quality. But when you start getting serious about streaming, you will realise that an HQ mic is vital for the task. And with how the XCM-50 performed, we highly recommend it. 
RODE X XCM-50 Condenser Microphone Review Summary
We are closing this RODE X XCM-50 Condenser Microphone Review positively because of the product performance. Overall, the RODE XCM-50 Condenser Microphone is an excellent, all-in-one product. It is perfect for content creators and streamers wanting a functional, quality, and compact mic that looks good and premium. 
At a glance, the product is highly similar to the regular NT-USB Mini from RODE. However, it has all the best features kept within. 
Remember, RODE X is not something that will instantly appeal to gamers. It is a collection of hardware enhancements paired with the UNIFY app. The combination helps make things more convenient for creators and streamers.
Its DSP effects provide a studio-quality voice that is perfect for narration. Also, submixing all sources in a single place make volume organisation seamless.
Again, it is easy to recommend the XCM-50 to anyone who needs a quality mic for streaming. The live processing effects are equally impressive as those of top-notch XLR mics with physical preamps. 
Get more details on the XCM-50 Condenser Mic by visiting the official website of RODE X.