This informative Schiit Mani review will offer all the essential details you'll need to know about this phono stage.
Schiit released their latest budget phono stage, and this is the Schiit Mani. It's aimed specifically for every budget and entry-level user looking into this new format called vinyl.
The Mani is basic, simple, and easy to use. Although it was built and designed in the US, the Mani comes with a China-made power supply (wall wart).
If this phono stage has somehow piqued your interest, then continue reading through our Schiit Mani review to learn more. But first, let's check out its packaging and what's included in the box.
Schiit Mani Packaging
This part of our Schiit Mani review focuses on the phono stage's packaging. We will also check out what Schiit included in the box.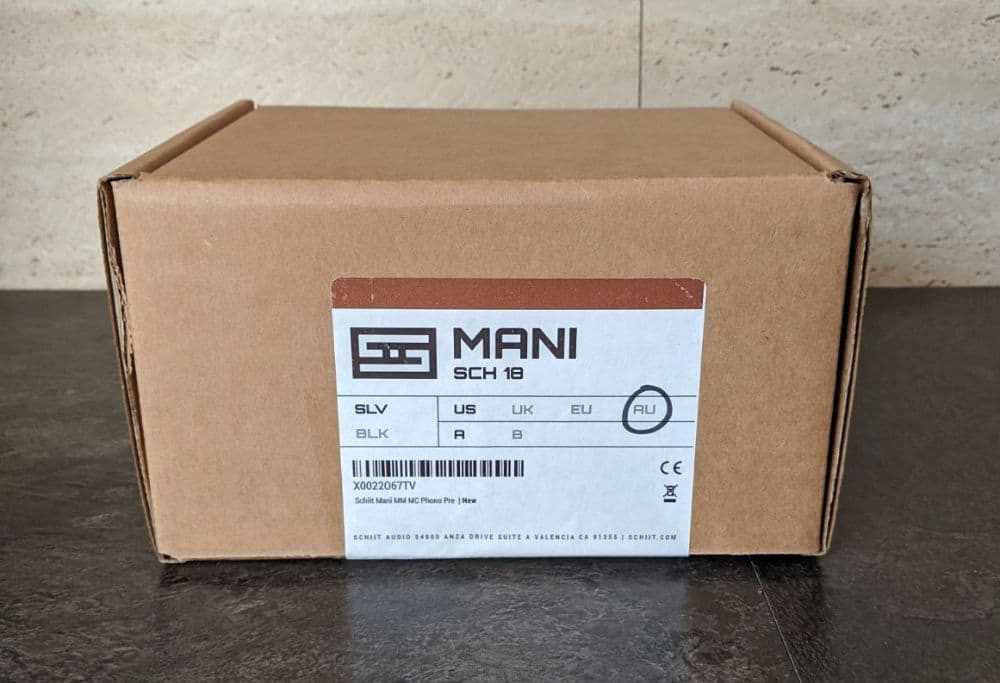 The Schiit Mani came in a very simple-looking white cardboard box that's thick enough to protect it inside. You'll only find "Mani" written in bold, black letters, and bar code of the product on the box.
Inside, you will find the Mani neatly and protectively kept in place. Other than the phono stage, you will also find rubber feet for the unit, a power adapter, and user manual.
Schiit Mani Review – Design and Functionality
This part of our Schiit Mani review is all about the functionality and design of the Mani.
What we love about the Mani is how well-built and designed it is. It has a somewhat frosted-like metal chassis and a small, compact form.
Because of its size, you won't have to worry about it taking too much space on your desk or cabinet. It only measures 5 x 3.5 inches and weighs a pound, so you can easily carry it around.
You'll find the Schiit logo on the front-left portion of the faceplate, plus a white light indicator on the right. There are RCA connectors located on the rear, as well as a thin metallic power switch that's easy to flip.
Additionally, there are other switches set at the bottom of the Mani. These allow you to select between four gain settings and two loading options.
Main Functionality
The Mani enhances and boosts the performance ratio for versatile and small MC and MM phono preamps with no compromises. Its RIAA stage is entirely passive and is the most efficient and best way to do RIAA.
Mani utilises precision parts throughout, and it includes 0.5% thin-film resistors, and 2% tolerance film capacitors.
It comes with enhanced flexibility for both moving magnet and moving coil cartridges. Generally, it's the only phono preamp with an excellent price that offers two switchable and independent gain stages. And notably, it's for four selectable stages of gain.
It utilises extremely low-noise gain stages for notably quiet performance. Mani has a linear power supply, no switches, plus an AC off-board wall wart for even lesser noise.
All in all, it sounds great. And even if you compare it to other similar products that cost a lot, we still think it's better.
The next portion of our review will focus on the product's key features that make it a unique phono preamp.
Key Features of the Schiit Mani
This time on our Schiit Mani review, we will focus on all the key features of this phono stage amp.
High Versatility, Accepts All Cartridges
A lot of low-cost phono preamps only work well with the standard MM (Moving Magnet) cartridges. Those phono preamps usually don't have the gain necessary for MC (Moving Coil). Also, they don't have the versatility for high-output MM cartridges.
With Mani, you can use any cartridge since it comes with four switchable gain modes. These include 30, 42, 47, and 59dB.
Precise and Quiet Passive RIAA Network
The RIAA Network of the Schiit Mani is completely implemented passively. With that, the feedback loops don't have poles to deliver more consistent sonic performance.
Additionally, Mani has 0.5% thin-film resistors, extremely low-noise gain stages, and 2% film capacitors. As a result, it delivers impressive accuracy and exceptional performance, which is beyond its affordable price.
Built and Designed in California, USA
Schiit's products, including the Mani, are all built and designed in California. Most of its production cost goes to companies in the United States for manufacturing. The boards, chassis, transformers, and other parts are all built in the US.
For Schiit's PCBs, these are made in the US, while wall warts are made in China.
Guarantees Future Proofing
When buying anything technology-related, it's best to consider future proof products. This also applies with your audio devices.
As mentioned, the Schiit Mani can work with both MM and MC cartridges. With that, you won't have to purchase another phono stage even if you only use MM cartridges for now. Since it's compatible with both types of cartridges, you don't need another phono preamp when upgrading to MC.
Also, keep in mind that you get this versatility for an affordable price.
2-Year Limited Warranty and 15-Day Returns
Schiit covers the Mani with a limited warranty for two years from the date you've purchased it. The coverage includes its parts and labour, which is twice the coverage of most amplifiers in its price range.
If you aren't satisfied with Mani's performance, you can ship it back to Schiit within 15 days of receiving your amp. You'll get your money back, minus 15% for restocking fees
Specifications
Now, our Schiit Mani review will show you the different specifications of the Schiit Mani.
Decca Mode
On Decca Mode, it has Gain 1=L and Gain 2=L, while its overall gain is 30dB. THD is < 0.005% | A-weighted @ 1V RMS, with > 90dB, A-weighted | inputs shorted for SNR.
Its crosstalk is at -75dB, 20-20kHz, and comes with a 9mV for 300mV output for its sensitivity. The Mani's overload margin is > 20dB.
Standard MM Mode
When on standard MM Mode, the Mani achieves Gain 1=L and Gain 2=H, while overall gain is 42dB. THD is < 0.008% | A-weighted @ 1V RMS while SNR is > 82dB | A-weighted with inputs shorted.
The Mani's crosstalk in this mode is -75dB, 20-20kHz with a sensitivity of 2.3mV for a 300mV output. Its overall margin is > 20dB.
Low Output MM or High Output MM Mode
This mode has the Schiit Mani with Gain 1=H and Gain 2=L, and its max gain is 48dB.
Its THD is < 0.01% | A-weighted @ 1V RMS, with an SNR > 80dB | A-weighted, inputs shorted. Sensitivity is at 1.3mV for 300mV output while crosstalk is -75dB, 20-20kHz. The overload margin is > 20dB.
MC Mode
The MC Mode has a Gain 1=H and Gain 2=H, with a total of 59dB for its gain. Its SNR is > 70dB | A-weighted with inputs shorted, while the THD is < 0.03% | A-weighted, @ 1V RMS.
For the crosstalk, the Mani hits -75dB, 20-20kHz, with a sensitivity of 0.3mV for 300mV output. Its overload margin is at > 20dB.
Other Specifications
The Mani has selectable 47 ohms for its input impedance, and it's typical for MC cartridges. Or, you can also have 47k ohms which is ideal for MM cartridges.
Its RIAA accuracy is +/- 0.2dB | 20-20kHz, while output impedance is 75 ohms. The Schiit Mani comes with a fully passive RIAA network topology having an ADA-4897 and AD-8066 gain stage. There are also film capacitors and thin-film resistors throughout.
Mani uses a wall wart power supply with a 16VAC transformer plus regulated +/- 5V rails, and consumes 4W of power.
For its measurement, the Mani is 5 x 3.5 x 1.25 inches and weighs 1 pound.
Hands on with the Schiit Mani
Now on our Schiit Mani review, we will get more hands-on with this phono stage. Here, we'll see how well it performs, and if it's as good as what Schiit claims it to be.
We tried Mani with a variety of musical genres, and voices were outstanding during the tests. Vocals were warm, deep and very natural sounding, everything was smooth and pleasing to the ears.
Other than boosting the voice, the Schiit Mani did an excellent job of producing a solid soundstage.
We didn't experience any feedback in any of the audio we played, with low ends and solid rhythms which we loved. We were highly impressed by how well and detailed we could hear the area in which the music was recorded.
The Schiit Mani did a great job presenting soundstage and depth, thus, making us love it even more.
Percussion sounded snappy, crisp, and clear with a great amount of bass, leading to very natural sounding instrumentation.
We were pleasantly surprised by how good the audio sounded and being a very affordable product we highly recommend this to any Vinyl enthusiast.
Schiit Mani Review Summary
The Schiit Mani is a compact and user-friendly phono stage that offers excellent value for money. It has a well-constructed body, and it delivers exceptional audio quality. Also, we've proven in our tests that the Schiit Mani can reproduce a lot of good music.
One of the most impressive things about the Schiit Mani is its flexibility. It accepts both MC and MM cartridges, which is great for future use for those who don't use both cartridges. Its versatility allows for tinkering and experimentation, which is excellent if you like doing this.
Overall, we were more than happy with the Schiit Mani. No matter what type of music we played, it delivered enhanced and high-quality audio. This simple, compact box offers all of these at an affordable price, which makes it easy to recommend.
To conclude our Schiit Mani review, we highly recommend this phono stage. If you want to have this product, it's available for online purchase from the official website.