Today, our Seagate Backup Plus Portable review will be all about this portable drive from Seagate. It's especially vital in this day and age since people require more storage for a variety of files.
Even a device with 128GB will eventually fill out with tons of files like photos and videos, which is why additional storage is needed. With that, Seagate introduced their Backup Plus Portable drive that can keep thousands of images and videos. Not only that, but it can also store important files from your desktop or laptop.
This newly enhanced drive offers top-quality storage space combined with fast performance. It's also something that won't wreck the budget and has helpful backup software included. The software is for your social media content, local data, and even your mobile devices.
If the Backup Plus Portable piqued your interest, then continue reading our Seagate Backup Plus Portable review for more information.
Seagate Backup Plus Portable Packaging
This part of our Seagate Backup Plus Portable review will talk about the packaging and contents of the Backup Plus Portable.
Our unit came in a sturdy and durable cardboard box. It has a huge "Backup Plus" written in front, while the Seagate logo is found on the upper-left corner. The opposite corner displays the total storage space.
Below "Backup Plus", you'll find an image of the drive itself. It gives you an idea of how the storage device looks even before opening the package.
Inside, you will find the Backup Plus drive itself, and an NTFS driver for Mac. There's also an 18-inch USB 3.0 cable, quick start guide, and the Seagate Dashboard backup software.
Seagate Backup Plus Portable Review – Design and Functionality
This is the portion of our Seagate Backup Plus Portable review that focuses on the drive's design and functions.
The portable drive makes backing up files easier for people who want to protect their data adequately.
Its slim metal design offers extensive portability that lets you slip the drive in your pocket or purse.
What we liked is the high-speed USB 2.0 and 3.0 connectivity. It offers a plug-and-play function on your computer without requiring an external power supply.
The drive comes in different colours. Namely, these are silver, blue, and black.
Generally, colour-coded drives come in handy for people who usually store separate projects. It's also formatted for Windows computers. However, when installing the NTFS driver, you can interchangeably use the drive between Mac and Windows without needing to reformat.
Key Features of the Seagate Backup Plus Portable
Now, our Seagate Backup Plus Portable review will give you insights on the drive's essential features.
High Capacity Plus Stellar Style
The Backup Plus Portable drive sports an understated and refined look that's both textured and cozy. It comes with a collection of styles that compliments your aesthetics.
Whether you're keeping tax documents or your growing collection of high-quality images, space will never be an issue.
USB-C and USB 3.0-Ready
Choosing a Backup Plus drive that matches your choice of interface is straightforward.
The Ultra Touch works with the USB-C and USB 3.0 computers whereas Portable functions with USB 3.0.
What's notable about this is they all work and function interchangeably with Mac and Windows out of the box.
Advanced Security Data
Because of its hardware encryption and password protection, you can relax knowing that your digital life is protected and secure.
Convenient Backup and Tools
The Backup Portable drive gives you a collection of convenient software tools that you can use.
Backup on Demand with a Single Click
Automatically schedule hourly, daily, weekly, or monthly backups. Not only that, but you can also mirror folders for quick file management. With Seagate Backup Plus, you can easily organise, edit, store, then share your full-resolution images from anywhere.
Seagate also offers a redeemable complimentary membership to Adobe Creative Cloud Photography. Here, you can edit photos via Lightroom CC and combine images into artworks using Photoshop CC.
Specifications
This part of our Seagate Backup Plus Portable review will focus on the drive's specifications.
The Seagate Backup Plus Portable is a 2.5-inch external USB hard drive. It's compatible with USB 3.0 and 2.0. When it comes to its storage capacity, it's a total of 4TB, which is large enough for media files.
For its dimensions, it measures 14 x 13 x 5 centimetres, and it weighs a total of 200g.
For its supported operating systems, these include Microsoft Windows XP or later, and Mac OS X 10.4.6 or later.
Hands on with the Seagate Backup Plus Portable
This section of our Seagate Backup Plus Portable review is where we'll focus on drive installation, its software, and performance.
Setting up the Seagate Backup Plus Portable
When we set up the Backup Plus Portable Drive, we didn't have issues with it. The process was similar to the setup procedure of the basic Seagate portable drive. If you've used this before, setting up the Backup Plus Portable will be easy.
Windows automatically detected the drive when we connected it. Immediately, it assigned a drive letter and a matching icon for the Backup Plus Portable.
Aside from the pdf file with the warranty information, we also found two apps on the drive. These applications were labelled with "start here" for users to know what to do first.
When we launched the app, we saw a registration window, which will link the drive to the user. From here, we were able to download the Seagate Toolkit. While downloading the software, we suggest going to the last part of the three-step registration process.
The final page is where we saw "Getting Started", which is the extensive guide for the Backup Plus Portable. We also found the Rescue Data Recovery page, where you can purchase the two or three-year Data Recovery plans. Aside from that, we were also offered to redeem two free months of a Photography Plan for Adobe Creative Cloud.
Rescue Data Recovery Service Plan.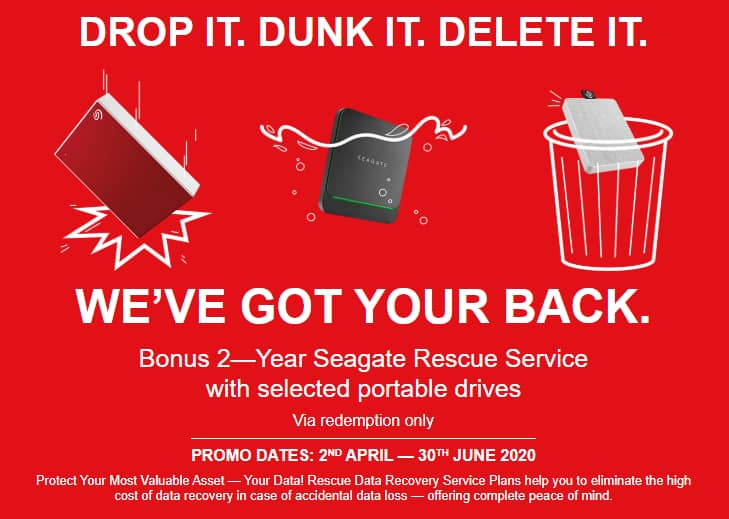 In case of unexpected things like accidentally spilling your drinks on your drive, you can still keep your files safe. Seagate Backup Plus Portable comes with the Rescue Data Recovery Plan. With this, the company's team will help you recover your data, and it's suitable for two years. Seagate is currently offering a 2 year bonus on the Seagate Rescue Service if you redeem the offer by the 30th of June 2020. For more information head on over to the Seagate Recovery Service promo page.
Seagate Dashboard Software
The Seagate Dashboard software offers tools for local, cloud, mobile, and social media backup. To keep your files in your portable drive protected, run a one-click backup or schedule an automated backup plan.
You can also install the free Seagate Mobile Backup application on Android or iOS. From your smartphone or tablet, you can back up your photos from the device to the drive or the cloud.
Seagate Dashboard allows for automatic backup in a simple interface. The functionality and interface for Mac and Windows are different, but both are user-friendly. With that, it will be easy for first-timers to use this software since the tools are easy to find.
Additionally, Seagate Dashboard lets you share media files directly to your social media accounts. Click on the share option in the software then choose from the social media platforms available. Log in to your account and share your files.
Since Seagate Dashboard only shows shareable files, it's easier to find what you need. Also, logging in to your social media accounts once is enough, unless you choose to log out.
Now, let's proceed to talk about the performance of the Backup Plus Portable drive.
Performance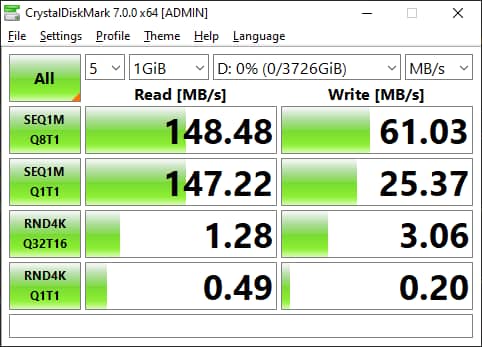 Like most portable drives in the market, the Backup Plus Portable is bus-powered. With that, it only requires a single Micro-USB 3.0, and it also comes with a standard USB cable. This cable will handle data and power connections when linked to a computer's USB ports.
When we tested this 4TB portable drive, it worked excellently with both USB 3.0 and 2.0 ports. It performed fast when writing and reading both large and small files. Also, this portable drive was NTFS-formatted.
Overall, the Seagate Backup Plus delivered an excellent performance, so we're highly recommending it for file storage and backup.
Seagate Backup Plus Portable Review Summary
Large capacity hard drives have become more popular on the market today. However, these do not have a lot of hardware improvements since the new technologies are designed for smaller disk drives. With that, a lot of people don't know which hard drives are the best.
If you're looking for high capacity drives that won't break your budget, 4TB is an excellent choice. This Seagate Backup Plus Portable hard drive doesn't only have ample storage space, but it also works fast and efficiently. Aside from that, you can take it wherever you go, and it comes with a personal cloud.
Additionally, the drive comes with a lot of impressive features at a reasonable price, which is worth the purchase. Also, you can choose from three eye-appealing colours.
In conclusion to our Seagate Backup Plus Portable review, we were satisfied with this product, and we highly recommend it. If you want to purchase this portable drive, it's available from the company's official website. If you want to buy this from a shop in your area, check out the store locator.