This Sennheiser Momentum True Wireless 2 review is perfect for anyone searching for quality true wireless earbuds. The brand is a well-known name in the industry of earphones, earbuds, and headsets. And for the past 75 years, it continues to put sound and quality first in the products they create.
With their new Momentum True Wireless 2, it's definitely not an exception.
The Sennheiser Momentum True Wireless 2 earbuds are the brand's second attempt at the market of true wireless earbuds. The original appeared around the end of 2018, offering outstanding balance, great battery life, and a plethora of notable features. It added up to being one solid and a bit of a pricey yet excellent package.
Upon moving to this year, the arrival of the Momentum True Wireless 2 was welcomed. It's a new pair of top-notch earbuds that promise a wide range of improvements and enhancements.
Yet as time passed, the earbud market has progressed due to the likes of Apple, Sony, and Samsung. So with Sennheiser's upgrades, have they done enough?
Come and let's find out here in our Sennheiser Momentum True Wireless 2 review. Let's begin with the packaging.
Sennheiser Momentum True Wireless 2 Packaging
Looking at the packaging of our black Sennheiser earbuds, it's actually quite similar to that of other Momentum series models. It sports a blue and white theme, plus an image of the product in front of the box is present.
The name of the earbuds are written above the image, while "Sennheiser" and its logo are on each top corner.
We consider this standardisation as the company's approach to improve its branding. It will allow you and everyone else to instantly identify Sennheiser's products from afar.
Taking a look inside the box, you will find the earbuds itself and a charging case. There is a USB-A to C charging cable, plus silicone ear adapter sets in different sizes. The sizes range from extra small, small, medium, and large.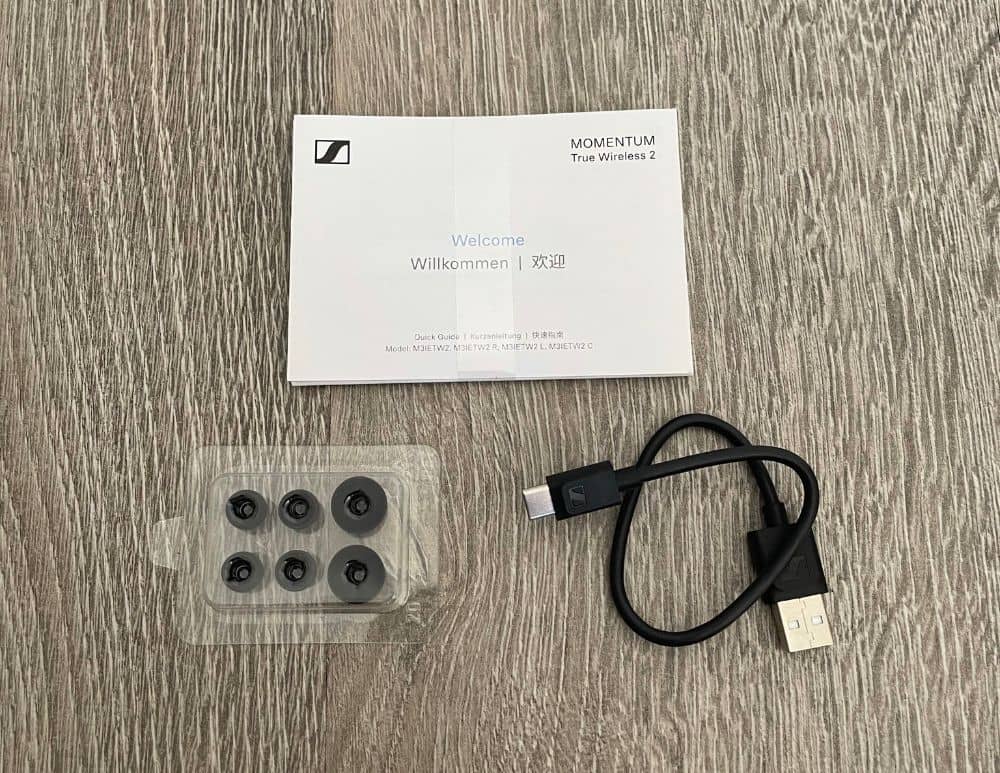 Next, our Sennheiser Momentum True Wireless 2 review will discuss everything related to the earbuds' design and functions.
Sennheiser Momentum True Wireless 2 Review – Design and Functionality
The Sennheiser Momentum True Wireless 2 looks similar to the original ones. They have metallic and shiny touch-sensitive bodies with a finely rounded shape.
These buds appear sleek, and the finish gives off an attractively premium feel without making it overly ostentatious. Even inside the buds, they look great. These sport gold-plated charge pins plus LEDs indicating the pairing status.
The company included a microphone on each earbud for its noise-cancelling feature. It sports a beamforming mic on each bud to capture your voice when making calls or utilising the voice assistant.
We must say that we're impressed with the company's utilisation of materials on their Momentum True Wireless 2 earbuds. It's not only because of the use of top-notch quality metals, but because each ear piece is lightweight yet durable.
Some may get taken aback by its lightweightedness relative to its size; however, it's a good thing. It only means that each bud will stay on your ears without having too much pressure on the sensitive bits.
Thanks to today's leading audio innovation and technology, the Momentum True Wireless 2 delivers outstanding listening experience anytime, everywhere. It comes with enhanced ergonomic designs to allow for full day wearing. Not only that, but it also sports refined touch controls to give you a more personalised experience.
These earbuds are undeniably crafted and designed for discerning listeners like you.
The Momentum True Wireless 2's charging case is a sophisticated piece that features a stylish grey woven finish. It's an attractive addition to the earbuds which adds more to its premium aesthetics.
At the back of the case, you'll find the USB-C charging port. Also, there is a little button to let you see the battery's status and how much you have consumed. You'll get to see this via a small LED light that glows orange, green, or red.
Controls
For its touch-sensitive housing, you can easily reject/answer calls, control your music playback, call your voice assistant. We saw that the controls worked efficiently; and if you want, you can even assign various functions to the controls. To do this, you will need to access the Sennheiser Smart Control App.
Additionally, you'll find a marvellous, auto-pause feature that stops your audio whenever you remove the Sennheiser Momentum True Wireless 2. This is a handy feature especially when you're in a rush.
To toggle its noise-cancelling on/off, you can utilise the earbuds' touch-sensitive controls. If not, you can flick the switch of the Smart Control app for Android or iOS devices.
Companion applications are becoming more common in the market of wireless head/earphones. They're worth getting into for a couple of reasons. One is that it allows you to customise your touch controls to do various functions.
For its left touchpad, it will handle the playback by tapping once on play or pause. Double-tapping this would skip forward while tapping three times skips back.
A complimentary mix of taps on the right earbud enables the voice assistant. It also functions by disabling active noise-cancelling, or switching the Transparent Hearing on/off.
Generally, the earbuds' controls are more responsive and user-friendly compared to that of the older version.
If you want to shift the volume down, simply press then hold the left earbud's surface. Increasing the volume would need you to do the same procedure but on the right earbud instead.
When you are not satisfied with the touchpads, you can easily arrange your personal control presents on the application.
This time, our Sennheiser Momentum True Wireless 2 review will focus on the Momentum True Wireless 2's key features.
Key Features of the Sennheiser Momentum True Wireless 2
The Sennheiser Momentum True Wireless 2 are impressive earbuds that come with various features, which make it a great product.
Unparalleled Stereo Sounds
From classical to contemporary tunes, every type of music is enhanced by the earbuds' 7mm dynamic drivers. This is all thanks to the deep bass, clearly detailed treble, and the natural mids.
Moreover, you can tailor your audio listening experience using the integrated equalisers, allowing you to enjoy excellent sound quality.
Comfortable Listening All-Day
With the Momentum True Wireless 2, you can enjoy up to 28 hours of continuous playtime. Get uninterrupted music with its 7-hour battery life that you can extend up to 28 hours via the charging case.
Enhanced Ergonomic Design
If you're planning to do a music marathon, you will fully enjoy the Momentum True Wireless 2's ergonomic design. With this, you can readily experience marvellous sounds in excellent comfort.
You won't feel any discomfort even when listening for longer periods.
Intuitive Enough to Match Your Needs
The Sennheiser Momentum True Wireless 2 has customisable controls that allow you to manage your music, volume, and calls. You can do this via the customisable touchpad technology that is integrated on both earbuds.
Voice assistant support allows you to readily activate Google Assistant and Apple Siri with just one touch of a button.
Smart pause is available as well, and it keeps you from missing even a second of your favourite tunes. The feature will instantly stop when you remove the earbuds, and it resumes once you put it back on.
Carefully Designed and Confidently Delivered
Our Sennheiser Momentum True Wireless 2 review will also discuss the earbuds' IPX-4 rating. With this feature, you can fully enjoy great music no matter where you go.
Take advantage of its splash-resistant design. You can utilise these earbuds while working out or even when walking under the rain.
Specifications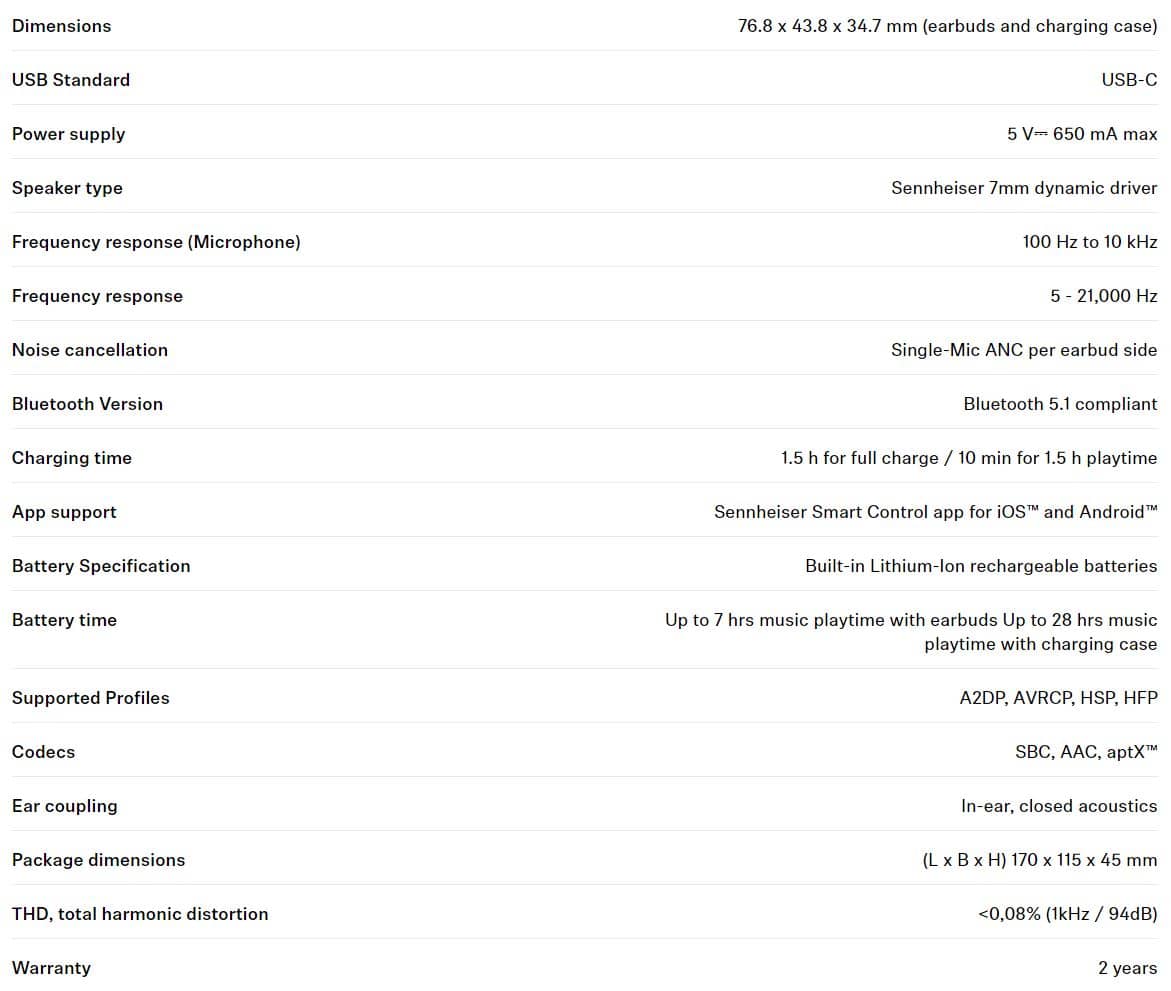 This is where we focus on the earbuds' specifications in our Sennheiser Momentum True Wireless 2 review.
The earbuds and charging case measure 76.8mm x 43.8mm x 34.7mm, and utilises the standard USB-C. For its power supply, it is 5V = 650mA max.
Sennheiser utilised their 7mm dynamic driver for the earbuds' speakers. It has a frequency response ranging from 5 to 21,000Hz, while its mic is 100Hz to 10kHz.
These earbuds utilise integrated Lithium-ion rechargeable batteries that gives you up to 7 hours of music playtime with the earbuds. With the charging case, you'll get up to 28 hours of audio listening.
The total time for a full charge is 1.5 hours. Ten minutes of charge will allow you to have 1.5 hours of music playtime.
Sennheiser utilised the Bluetooth 5.1 compliant for these earbuds, and it supports the A2DP, HSP, AVRCP, and HFP profiles. For the codecs, these include aptX, SBC, and AAC. The Momentum True Wireless 2's THD (total harmonic distortion) is less than 0.08% (1kHz/94dB).
For configurations, these are all done in the Sennheiser Smart Control App, which supports both Android and iOS devices. Lastly, the company included a 2-year warranty with the Momentum True Wireless 2, which is something we appreciate.
Hands on with the Sennheiser Momentum True Wireless 2
Now in our Sennheiser Momentum True Wireless 2 review, we'll get more hands on with the Momentum True Wireless 2. But first, let's look at the Smart Control App from Sennheiser.
Smart Control App
Sennheiser provides everyone with a free companion app for both Android and iOS devices called Smart Control. It allows you to easily customise your Momentum True Wireless 2's controls while adjusting the Transparent Hearing and ANC modes.
The application is also where you can instantly activate or deactivate the Smart Pause function and auto-accept call. Not only that, but you can switch off the voice in favour of a tone instead.
Additional Settings for the App
You can opt to activate the sidetone – a feature that lets you hear your own voice in the buds. It's essential if you want to modulate your voice when taking a call.
There is an equaliser in-app that allows you to tweak your audio's bass and treble levels depending on your preference. You can utilise it to create your own custom sounds. Or, you can go for the available presets if you are not into tweaking the settings.
The application lets you see the status of the battery, and how much charge is left.
Configuring the Sennheiser Momentum True Wireless 2
Setting up the Momentum True Wireless 2 is extremely easy since you only need to link them to your device. Then, the earbuds will get into pairing mode the instant you remove them from the case.
A voice will then say "pairing" once you set the earbuds in your ear. This is when you should go into the buds' Bluetooth menu.
Once inside, a voice will notify you that the pairing has been completed. Do note that it isn't as fast as the AirPods Pro, but it's still fast.
Audio Quality
The Momentum True Wireless 2 earbuds also sport the same 7mm dynamic drivers. An advantage of this appears in the buds' sound quality. Plus, it has enhanced digital processing because of the software and chip upgrades.
The audio quality produced by these earbuds was excellent. Additionally, the sounds were richer, cleaner, and more detailed compared to other similar products in the market. We noticed that it produced natural sounding mids, well-defined bass, and some good sparkle in the treble.
When it comes to high frequencies, the Momentum True Wireless 2 sounded balanced and clean. With the help of its noise-cancelling features, we were able to hear impressive details from any genre of music. We also noticed that the earbuds have excellent control over low frequencies.
Aside from the noise-cancelling microphone, the Momentum True Wireless 2 also features the beam-forming microphone on each bud. When we tried using it for calls, it was able to easily capture our voices. Plus, it worked efficiently when talking to the digital assistant as well.
Overall, the audio quality of the earphones during calls has greatly improved compared to the original set of earbuds. It had enhanced noise reduction so taking calls even in noisy environments is alright.
Though do note that ambient noise is muffled yet it's still present. However, it's not something that's highly disturbing in any way.
Aside from delivering excellent audio, the Momentum True Wireless 2's noise cancelling was also great. It effectively cancelled the noise in the surroundings even with our music playing.
The noise-cancelling performance of the Momentum True Wireless 2 matches the efficiency of the Airpods Pro. But what makes the former better than the other is it comes at a cheaper price.
We also tested the Transparent Hearing mode to see how it works while using the earbuds' noise-cancelling feature. When we enabled it, we were able to hear ambient noise while listening to music.
In fact, this feature works depending on your configurations in the Smart Control app.
Battery and Connectivity
When fully charged, the buds offer 7 hours of playtime, and the charging case offers additional 21 hours. This makes the earbuds on par with top-selling true wireless earbuds released this year.
Its battery drains faster when using the noise-cancelling feature, but it still lasts longer than most true wireless earbuds.
For its connectivity, pairing the earbuds with our smartphone was quick and easy, thanks to its Bluetooth 5.1 support. With its Qualcomm aptX codec, we were able to stream high-res audio using Bluetooth without experiencing any issue.
Overall, the Sennheiser Momentum True Wireless 2 delivered excellent performance, and we were satisfied with it. The audio quality in both music and calls were great, plus its noise-cancelling feature was highly effective. Also, its battery life was long, and there were no issues with its connectivity.
Now, it's time to sum it all up in the last part of our Sennheiser Momentum True Wireless 2 review.
Sennheiser Momentum True Wireless 2 Review Summary
The Sennheiser Momentum True Wireless 2 earbuds are one of the best models in the market today. Its features are truly impressive, making it worth it. It also beats some of the most popular models from competing brands in terms of audio quality and battery life.
The Momentum True Wireless 2 also has an excellent design and long-lasting battery, plus it delivers excellent sounds. It may be a bit pricey, but it's still cheaper than high-end models, and you're getting a lot with what you pay for.
To sum up our Sennheiser Momentum True Wireless 2 review, we're highly recommending these true wireless earbuds.
If you want to get your hands on these earphones, you can purchase it from the company's official website.
We hope you found our Sennheiser Momentum True Wireless 2 review helpful!