Our Sound Blaster AE-9 review has all the vital information to know if this sound card is worth the purchase.
In the past, sound cards were necessary to enjoy media and games on your computer. But as motherboard manufacturers started including enhanced onboard audio, these cards became less vital for PC owners today.
Today, these are still considered as a niche, and only selected by the serious audiophiles or people requiring advanced features. Often, it's only needed when certain aspects and features aren't present on the motherboard.
The latest Sound Blaster AE-9 follows suit, and packs a couple of serious hardware, yet commands quite the price. This PCIe sound card can handle 32-bit audio, while its ACM (audio control module) comes with an integrated mic amplifier.
If you're wondering if installing this sound card is necessary, then read our Sound Blaster AE-9 review to learn more.
Sound Blaster AE-9 Packaging
This Sound Blaster AE-9 review will focus on the contents and packaging of the AE-9. When it arrived, the sound card came in a clean-looking simple cardboard box. It sports a white and brown theme that's pretty minimalist and easy on the eyes.
The front of the box has an image of the main card and audio control modules. On the upper left corner, the unit's name is in huge brown fonts, while Creative is on the top right.
Below the image, you'll find a short description of the product and what it does. In addition to this, you'll find a list of some key features beneath the description.
The sides of the box provide more information about the AE-9. Additional images are present as well, but in different angles to display each of the parts there.
Inside the box, you'll find the Sound Blaster AE-9 and an audio control module. There are also two stereo to RCA cables, an optical TOSLINK cable, quick start leaflet, plus warranty leaflets.
Sound Blaster AE-9 Review – Design and Functionality
This is the part of our Sound Blaster AE-9 review where we look into the sound card's functions and design.
If you take a look at the Sound Blaster AE-9, you'll see that a lot is going on with it. For the sound card itself, it's generally a PCIe protected by a metal wrap, making it look cool and interesting. Despite that, its design is functional and made to decrease the EM interference.
It'd be better if your chassis comes with a clear window. This is because the logos for Sound Blaster and AE-9 on a metallic housing will illuminate marvellously. Beneath the metal shield, the sound card keeps ESS's DAC, a flagship ES-9038-PRO SABRE.
To make things easier, it means that the sound card supports eight channels of 32-bit audio at 384KHz playback. In addition to that, it comes with a Total Harmonic Distortion of 120dB (0.0001%) which makes for impressive specs.
The card has a couple of operational amplifiers often referred to as op-amps. These elements drive the right and left headphone channels separately.
Furthermore, there are ¼" and ⅛" headphone inputs available, as well as 3-position impedance switches. These can handle various things like earbuds to high-impedance and high-end headphones. Its ⅛" input supports the earbuds with built-in microphones, so the port serves as an additional potential input.
Lastly, a huge multipurpose volume knob is present, which continuously and smoothly spins without dents. Quickly pushing it mutes audio, while a push then hold switches between headphones and speakers. Hold this for over four seconds to switch off the illuminated ring encircling the knob.
Key Features of the Sound Blaster AE-9
This part of our Sound Blaster AE-9 review is all about the sound card's unique features.
Clear and Detailed Audio
The Sound Blaster AE-9 features the best components to produce the highest quality audio. This sound card will satisfy even the most discerning audiophiles.
CleanLine Technology
CleanLine Technology isolates and filters noise along the mic path to deliver crystal clear audio with uncompromised voice chats. Even if your system's GPU is pushing its limits, you can enjoy high-quality audio.
This technology features circuitry and components with a unique design to prevent voltage rail issues. Creative used a differential drive for the mic signal for less common mode noise that other electronic sources may induce.
Incredible Sound Processing
Sound Blaster has been part of the audio processing market since 1989. For the AE-9, it has Sound Blaster's comprehensive suite of audio enhancements. These include Surround for immersive sounds, Crystallizer for dynamic range, and Bass for a bigger punch on the low end.
Crystal Voice technology enhances voice for clear recordings and in-game voice chats. On top of that, the AE-9 also supports Dolby Digital Live and DTS Connect Encoding.
Brings out the Best in Headphones
The Sound Blaster AE-9 features the Xamp Headphone Bi-amplifier that individually boosts each audio channel to deliver clear audio. It works with all kinds of headphones. This feature utilises a push-pull output stage design for excellent amplification.
Powerful Sound All-Around
The AE-9 soundcard supports discrete 5.1 to 7.1 virtual surround channels. Its Surround virtualisation technology is fully customisable, and you can also switch this off.
Scout Mode Support
Scout Mode is a technology that boosts in-game audio cues like weapon switching sounds and footsteps. This feature allows you to easily spot your opponent's location and predict their moves, putting you to an advantage.
Power at Your Fingertips
A lot of Sound Blaster AE-9's features are within the Audio Control Module, which sits on your desk. The sound card works best with phantom-powered condenser mics, making it ideal for streamers and content creators.
Control and Convenience with the Audio Control Module
The Audio Control Module allows for quick control of audio settings. The large multifunction control knob is for volume control and switching from headphones to speakers or vice-versa. Users of different headphone models will enjoy the convenience that the Audio Control Module provides.
The SBX button switches the Sound Blaster processing on or off. A large LED display is also present for easy reading of speaker or headphone volume.
Specifications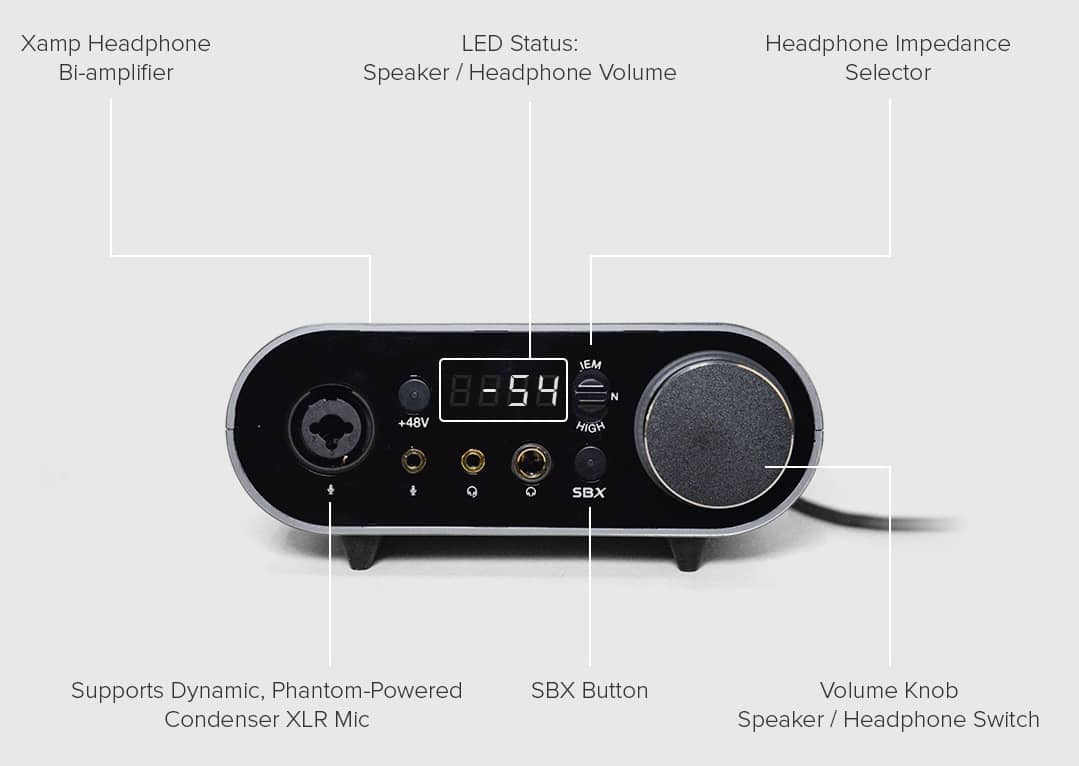 This time on our Sound Blaster AE-9 review, it will all be about the product's specifications.
The AE-9 is 178 x 22 x 127mm and weighs 230g for the main card. When it comes to the audio control module, it's 150 x 128 x 65mm and weighs 480g. The headphone amp has an output impedance of 1Ω, while its supported impedance is 16–600Ω.
The sound card utilises a Sound Core 3D audio technology and a PCIe platform.
Main connectivity options include TOSLINK optical in/out, ⅛" centre/sub-out, and  ⅛" rear-out. Plus, it has a 6-pin PICe power header needed for the ACM.
For the connectivity options, its line-in has the RCA (L & R) ⅛″ Microphone-in (Mono), ⅛″ HP-out (3-pole), and ¼″ HP-Out (3-pole).
Lastly, Creative included a one year warranty for the Sound Blaster AE-9.
Hands-on with the Sound Blaster AE-9
Now in our Sound Blaster AE-9 review, we'll get more hands-on with the Sound Blaster AE-9. However, before we check out how well it performs, let's take a look at the Sound Blaster AE-9's software.
SoundBlaster AE-9 – Software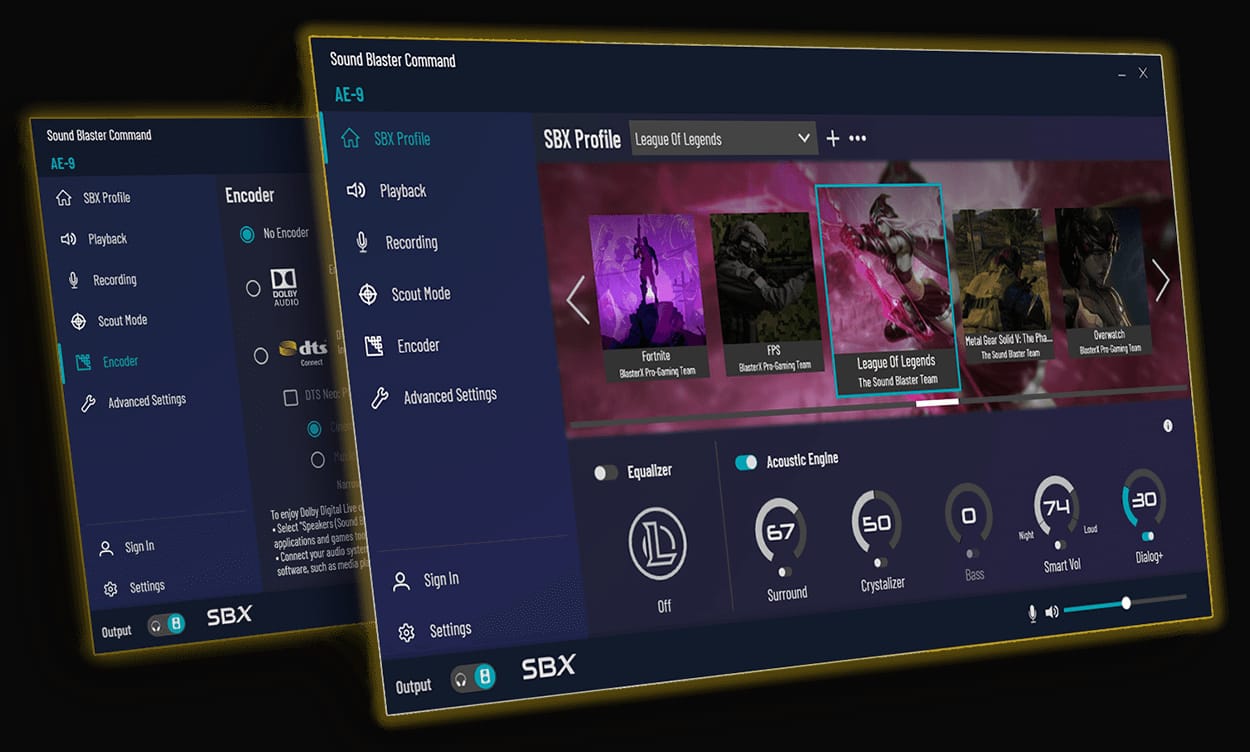 To take full control of the PCIe sound card, you'll have to install the Sound Blaster Command. It's an optimised version of the Sound Blaster Connect application.
The ACM only provides you with the option to switch on/off the SBX audio profiles. But if you need to select various cinema, music, and game profiles, you'll have to go to the application. The app comes with user profiles for multiple games such as Call of Duty, Global Offensive, Counterstrike, and more.
Here, you'll be able to create and personalise your profiles, whereas you can tweak characteristics based on your preferences. The things you can customise include dialogue enhancers and virtual surround sounds. Plus, you'll gain access to a complete parametric equaliser which is cool.
Performance
During our performance test, we noticed a significantly cleaner and crisper sound compared to utilising our board's integrated solution.
With its other new features, the Sound Blaster AE-9 sounded excellent. Using this with our speaker and headphones only resulted in louder and fuller audio without distortion.
When we listened to music, we heard enhanced bass that boomed and rumbled, but it didn't sound distorted. Even if the bass is enhanced, it doesn't overpower the audio's percussion.
For SBX, it worked better than we expected. This feature increased emphasis on footsteps, gunshots, and other sounds that allowed us to easily detect opponents in games. When we turned this off, these sounds weren't as loud and pronounced.
Overall, the Sound Blaster AE-9 significantly boosted our audio, so we're giving it five stars for its performance.
Sound Blaster AE-9 Review Summary
If you're looking for an affordable sound card for your movies, games, and music, the Sound Blaster AE-9 is not the product for you. But if you're searching for a single audio package that functions efficiently, the AE-9 is your best option. Also, it's an excellent choice when you create music or podcasts since it's the so-called Jack of all trades.
With that said, the Sound Blaster AE-9 sounds amazing, works efficiently, and excellently.
To conclude our Sound Blaster AE-9 review, we highly recommend this sound card from Creative. If you want to get your hands on this, it's available from the company's official website.