Today, we're writing our TP-Link Deco X68 AX3600 Mesh WiFi review. It's a good read especially when you're out shopping and scouting for wireless routers. 
The first element you have to consider when looking for an ideal wireless router is WiFi 6. This format gives you the best speed to simultaneously power up all your devices at home.
That means, there won't be any interference when someone's streaming, gaming online, taking conference calls, etc. 
There are tons of brands on the market that offer, according to them, the best mesh WiFi for your home.
And as you'd expect, their prices range from hundreds to over thousands of dollars. All of them also claim to have heightened speed than what they really have. Or, they claim that these can cover the impossible.
The thing here is to stick with a brand that you're familiar with and know the quality of their products. Hence, why we're discussing the Deco X68 in this TP-Link Deco X68 AX3600 Mesh WiFi review. 
TP-Link is a known and trusted brand, and we've tried a number of their products in the past. We got good results from these, so we're expecting good ones too from this mesh WiFi. 
TP-Link Deco X68 AX3600 Mesh WiFi Packaging
Of course, our TP-Link Deco X68 AX3600 Mesh WiFi review will first check the packaging and contents of the product. It arrived in your standard-looking TP-Link box that has a lot going on on it.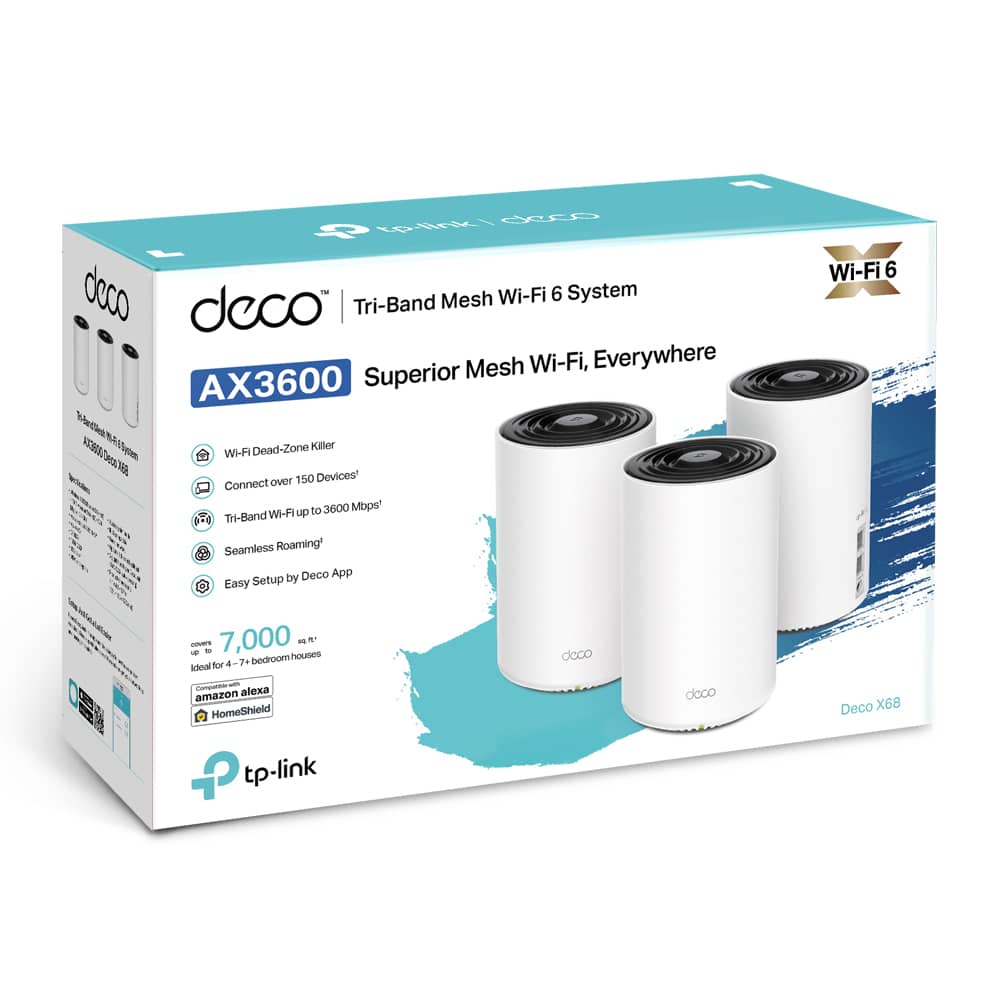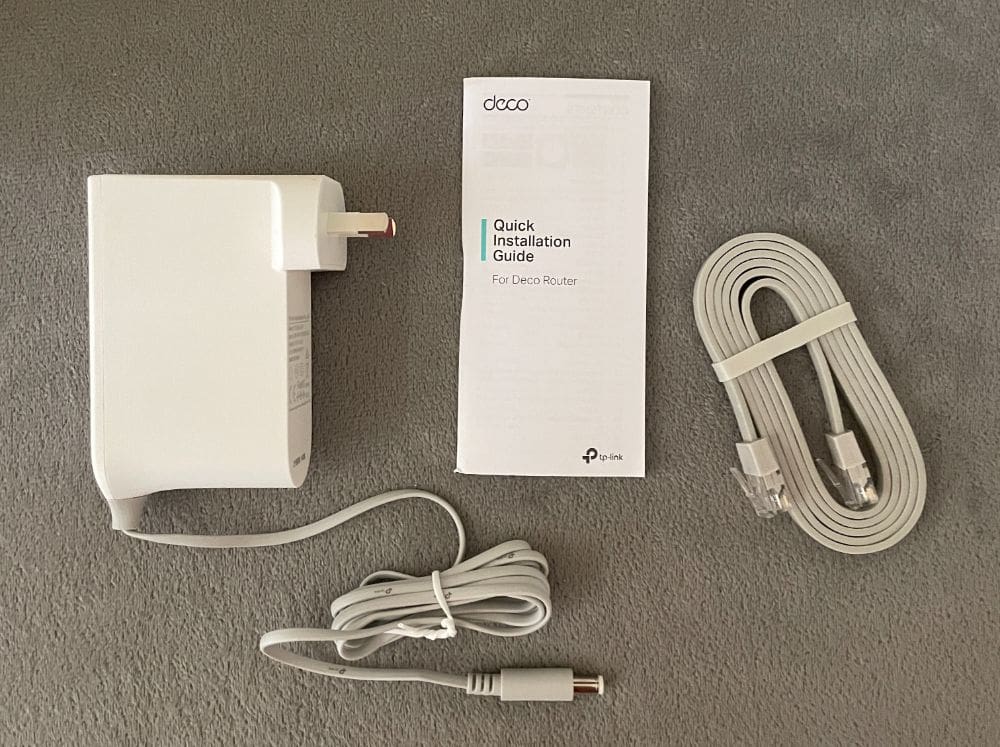 Like usual, the front displays an image of the product, its name, key features, TP-Link's branding, and more. The sides and the rear portion showcase more details and information about the mesh WiFi. 
It's pretty useful if you're out and want to have one last quick look at what it offers before purchasing. 
Inside, the three-pack Deco X68 is set neatly and securely together with the other inclusions from TP-Link. These are three power adapters, an RJ45 Ethernet cable, and a quick installation guide.
TP-Link Deco X68 AX3600 Mesh WiFi Review – Design and Functionality
There's a lot to say about this tri-band mesh router from TP-Link. It's designed to prevent you from having to use LAN cables while wirelessly powering up your home. Plus, you'll get the proper node placements and there are two of these nodes included. 
It's actually a good feature since it can give your home adequate coverage of up to 2,000 sq. ft.  
In this TP-Link Deco X68 AX3600 Mesh WiFi review, we compared the product with the more classic routers. The latter needs to stay in a single spot and require network boosters to cover the whole home area.
For mesh routers, these link wirelessly with each node. And when more nodes are added to a network, they boost the coverage area. 
It doesn't matter if it's a huge apartment or a two/three-storey home that extends upwards. Mesh routers work more efficiently compared to traditional ones.
Each node comes with two gigabit Ethernet ports. They're positioned at the back and can be utilised as either WAN or LAN.
A port on the primary router is used as a standard WAN from the internet source. The remaining ports can be utilised as a LAN for linking wired devices or for linking with wired backhauls.
Wired backhauls are ideal for homes that have numerous interferences such as concrete walls and the like.
The Deco X68 sports a basic, minimalist, and clean white aesthetic. Each of these appears a bit like a bigger glass cup that can be placed anywhere in your home.
With its simple yet premium-looking design, it can fit perfectly no matter what your home's theme is. And the best part is, it works to serve its purpose, and that's to connect your whole home online.
Each node measures below 17.78cm and is 11.43cm in diameter, so they're quite compact. Plus, they also look good and premium with the white matte finish combined with its glossy black top. 
TP-Link HomeShield
The company made critical changes to their bundled HomeShield software suite for parental controls and network security. That means, subscribing will allow you to enjoy and take advantage of features like real-time intrusion prevention and DDoS security. 
On older models like the Deco X60, these features used to be free. This was when the suite was still called "HomeCare".
Although TP-Link has a free version of their HomeShield software, it only offers basic features. These include network security scan, blocking/pausing the internet, etc.
Key Features of the TP-Link Deco X68 AX3600 Mesh WiFi 
Key features are essential for anyone looking to purchase a mesh WiFi. That's why we're including and discussing these in our TP-Link Deco X68 AX3600 Mesh WiFi review. 
Massive Coverage
The tri-band mesh WiFi eliminates dead spots in your home. Deco X68 provides a 5GHz band that works exclusively as a powerful backhaul between the units. As a result, the mesh WiFi delivers seamless coverage and a stronger home network.
Ultra-Fast Speeds for Nonstop Entertainment
The Deco X68 comes with WiFi 6 technology which provides multiple data streams simultaneously. This frees up more bandwidth and increases network speeds up to 3600 Mbps.
With Deco X68, you can enjoy 8K streaming and highly responsive gaming without buffering and drops.
Connect Multiple Devices
The Deco X68 creates a more efficient network with four times the average throughput on connected devices. It offers faster loading even with dozens of connected devices.
Seamless Roaming with a Single WiFi Name
Enjoy a smooth WiFi experience with the Deco units that form a single unified network. If you move through your home, your device automatically connects to the fastest unit when using the Deco X68.
Smart Security with HomeShield
TP-Link Deco X68 uses HomeShield, the company's premium security software suite. It protects your home network with its advanced network features and IoT protection. 
Real-time IoT protection detects IoT devices like cameras to block potential security holes. This feature protects your privacy.
HomeShield also comes with QoS or Quality of Service which prioritises your bandwidth needs. It also comes with robust parental controls that allow you to manage online schedules and block inappropriate content. 
Lastly, HomeShield provides you with comprehensive reports. This will let you see complete details on your home network and each device connected to it.
Straightforward Setup Process
When you unbox the Deco X68, you can readily install the application and simply follow the on-screen instructions. The Deco app will get your network up and running in just a few minutes.
WiFi Made Easy
The Deco X68 makes managing WiFi easier. With the Deco app, you can check all connected devices no matter where you are. You can also prioritise or set a guest network.
It works with Voice Control so you can pair it with Alexa for simple voice commands. Plus, the Deco X68 works with other Deco models and can form a mesh network with these.
Functional and Stunning
We thoroughly checked the product for our TP-Link Deco X68 AX3600 Mesh WiFi review. And doing so, we can say it's both functional and stunning which makes it even better. 
Although it sports a simple design, its white theme and delicate exterior let it virtually blend with any home aesthetic. 
Specifications
The TP-Link Deco X68 AX3600 mesh WiFi uses WiFi 6 with IEEE 802.11ax|ac|n|a 5GHZ. Its standards also include IEEE 802.11ax|n|b|g 2.4GHz. 
The product has AX3600 WiFi speed, hence, its name. There's 5GHz – 1201 Mbps (802.11ax) for dedicated backhaul and 5GHz – 1802 Mbps (802.11ax). It also includes 2.4GHz – 574 Mbps (802.11ax) for speed.
TP-Link used a 1.5GHz quad-core CPU for the Deco X68 and has 12V = 2.5A of power. Plus, its software protocols include IPv4 and IPv6. 
For its dimensions, this mesh WiFi from TP-Link measures 105 x 105 x 168mm (W x D x H). 
Hands-on with the TP-Link Deco X68 AX3600 Mesh WiFi 
Before discussing its performance, our TP-Link Deco X68 AX3600 Mesh WiFi review will start with setting up the mesh WiFi. 
Setting up the Deco X68 was fairly easy, and it's mainly done via TP-Link's mobile app. You can find this on Google Play Store or on the App Store. 
Speaking of the app, it's easy to use and understand; plus, it's intuitively convenient too. It guided us during the whole setup process so we were able to complete it in under 10 minutes. 
We had a choice between the 5GHz and 2.4GHz wireless range. The former offered faster speeds but with a much shorter range. For the latter, it offered the opposite results. 
If we were undecided or didn't know what to choose, we could opt to have the system choose instead. Allowing the system to do this will create a guest network that can be utilised when people are around.
We welcome and appreciate this feature since it lessens the trouble of guessing when setting up WiFi systems. 
Once we got things up and running, positioning each node became our main priority. And to get the best out of the Deco X68, we didn't set these on the floor. We also didn't keep it hidden in the corner or concealed by furniture. 
The trick here is to keep the nodes in a high area. This allows the original network signal from the main node to easily travel and link to the other nodes.
For a home with, let's say, four rooms, going for three nodes will be most sufficient to maximise coverage. But of course, this still depends on the home's layout and the concrete walls around. 
Performance of the TP-Link Deco X68 AX3600 Mesh WiFi

Now our TP-Link Deco X68 AX3600 Mesh WiFi review will focus on its performance.
First off, all our devices were already fixed in their respective areas. And the nice thing is that these were able to link reliably and easily to the nearest node. Then for portable devices, these eventually migrated to the nearest node.
If a device has trouble spotting and keeping the best connection available, manually disabling the mesh technology is an option. This is done per device so keep that in mind. 
This is a good option for those with smart TVs that have an equal distance between the Deco X68 nodes.
Throughout the tests, aside from its excellent connectivity and wide coverage, the product's greatest strength is speed. It has adequate performance for gigabit connections whether we were connected to the primary router or remote mesh node.
And since it comes with two WiFi 6 nodes with tri-band AX3600 connections, it really provides outstanding speed. 
Having a tri-band connection lets the mesh deliver content to all devices at full speed. And that's without needing to share bandwidth with the mesh link. 
Because of this, we were able to support a number of connections and devices. From content streaming, gaming, to voice conference, everything went smoothly and without any issues. The Deco X68 was able to deliver consistent and extremely fast speed all over the area.
So to put it simply, the TP-Link Deco X68 performed exquisitely and we love everything about it.
TP-Link Deco X68 AX3600 Mesh WiFi Review Summary
The Deco X68 from TP-Link is a well-balanced mesh WiFi. It offers AX3600 speed and 5,500 sq. ft. of coverage, making it ideal for large homes and multiple devices.
This tri-band mesh router eliminates the need for LAN cables and manages to deliver high speeds. You also won't need antennas and since it doesn't have a large build, it's easy to integrate into your home. 
Aside from the mesh WiFi's excellent design and performance, we liked the simplicity of the Deco App. We didn't have a hard time using it thanks to the user-friendly interface. Although it doesn't allow complex tweaking of settings, its proficient system sets the network on its own.
The Deco X68 offers a balanced combination of modern design, great features, high speeds, and wide coverage. All of these come in a single package at a lower price point, making it a compelling choice. TP-Link may not be a top brand, but their products always deliver solid performance without breaking the bank.
To get the Deco X68, check out the company's store locator for official sellers in your area.