We have another Gigabyte product today, and we will discuss it in our Z790 AORUS ELITE AX Motherboard Review. It is one of the latest offerings from the company that sports a DDR5 design with multiple features. This motherboard provides numerous upgrade paths with new component interfaces.
This Z790 AORUS ELITE AX Motherboard Review will discuss its design, features, functions, specs, and how it performs. Before these, let us discuss its packaging and the extra items Gigabyte included. 
Z790 AORUS ELITE AX Motherboard Packaging
The motherboard arrived in a box that looks like a typical AORUS cardboard container. The front showcases an image of the AORUS logo, the product name, and some features. 
When you flip the box, this is where you will find all the essential product information. It showcases four specific features, including the fully-covered MOSFET covers, 5GbE LAN, and the 16+1+2 power phases. The details on WiFi 6E and PCIe 5.0 X16 slot are also here.
Inside the box, the Z790 AORUS ELITE AX comes with other inclusions like the WiFi antenna and two SATA cables. You will also find a front panel G connector and one paper leaflet.
Z790 AORUS ELITE AX Motherboard Review – Design and Functionality
The motherboard we are discussing in this Z790 AORUS ELITE AX Motherboard Review is a mid-range segment. It has a standard ATX size yet is still feature-rich. The product also sports the same stencilling and style as the B650 AORUS ELITE AX, which we also tried recently.
Generally, Gigabyte did an excellent job on its design to provide users with a solid and efficient product. 
The Z790 AORUS ELITE AX is a simple-looking board sporting a large heatsink with numerous cooling elements on its VRMs. You can see more of the PCB on this motherboard, and this design keeps its price low. 
Its PCB is black, while the heatsinks sport a black and grey colour. Underneath the chipset cover, you will spot some RGB elements which can be customised using the RGB Fusion 2.0. Also, we appreciate Gigabyte for putting effort into its cooling requirements.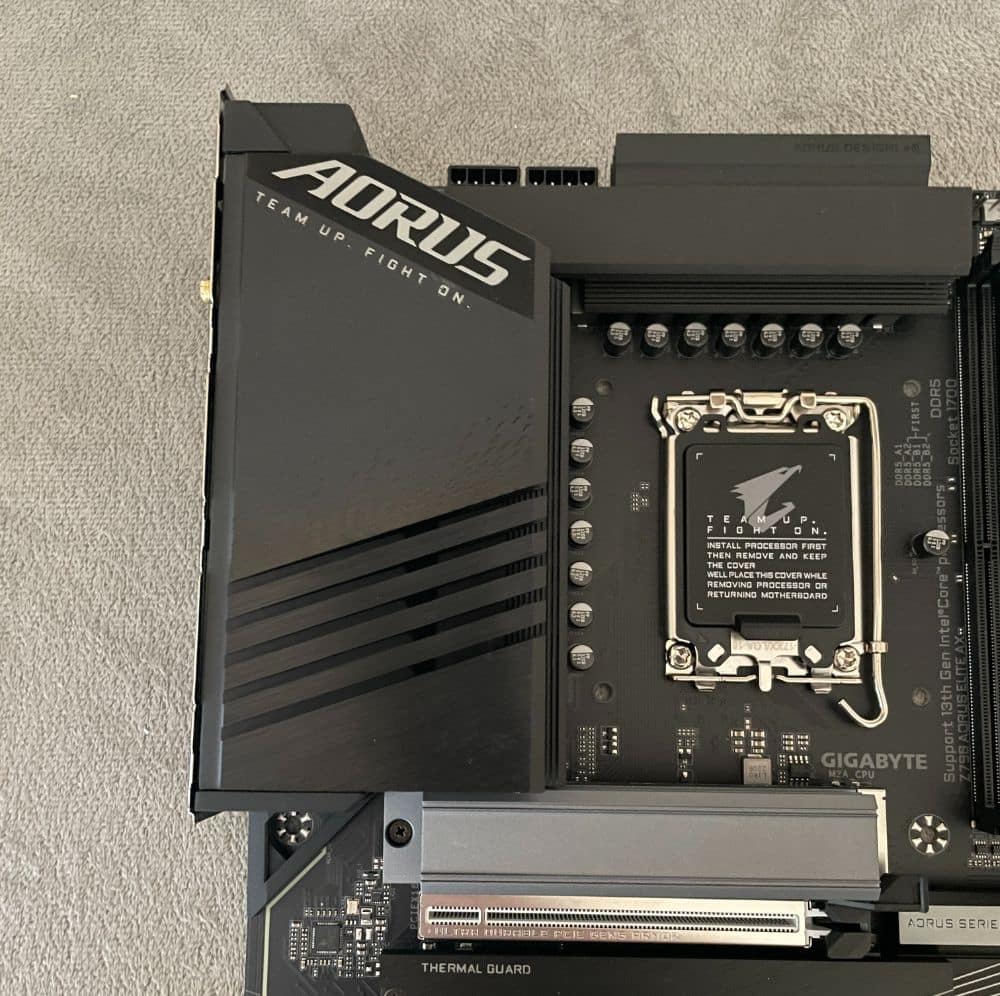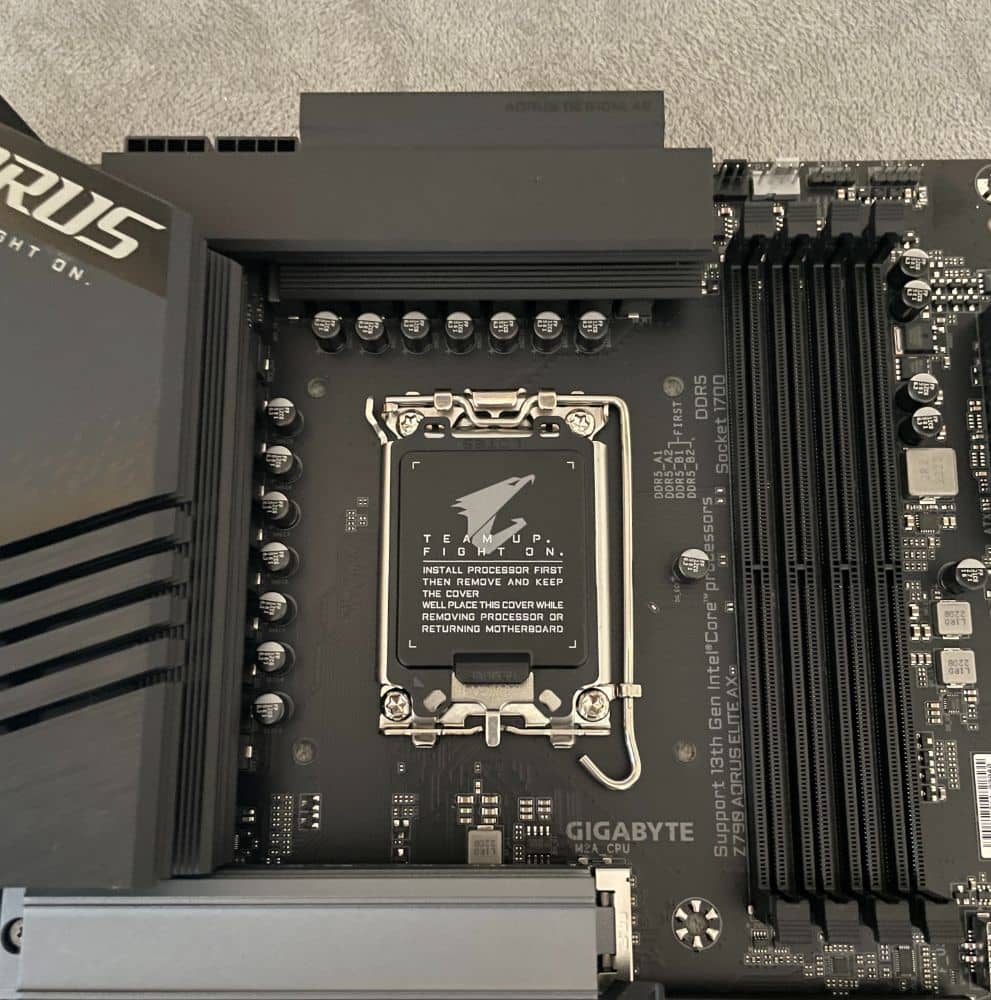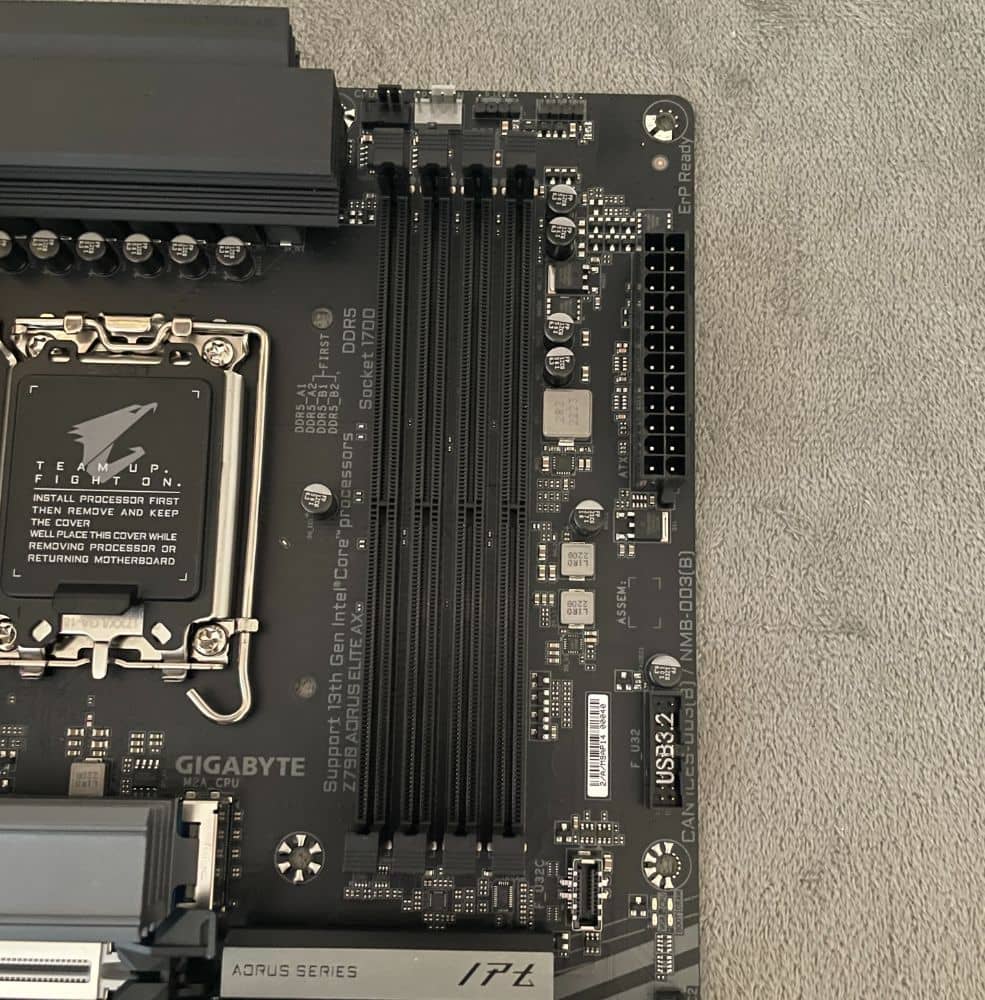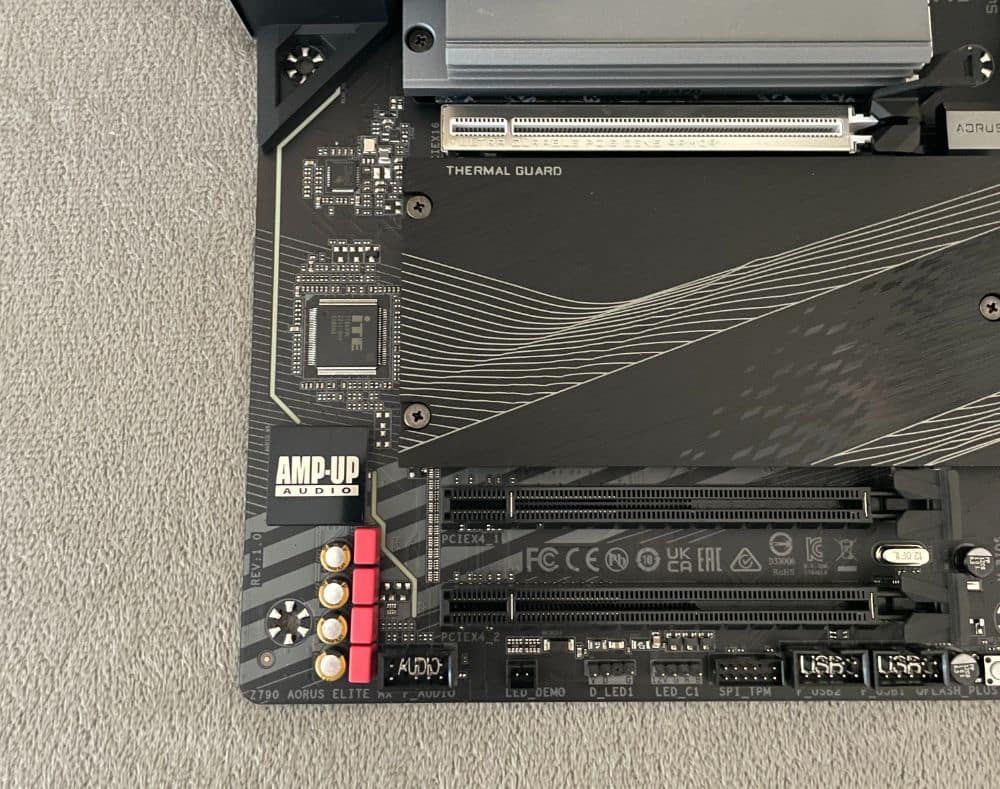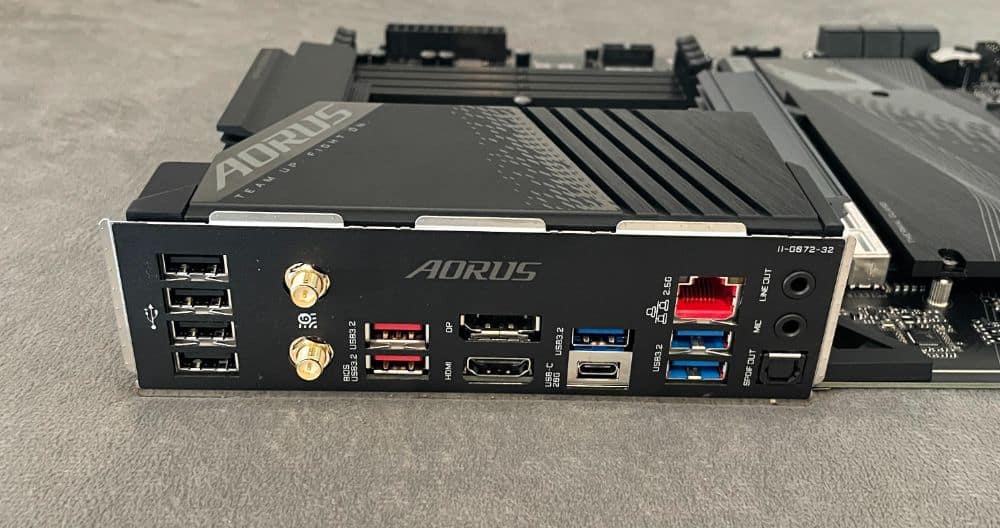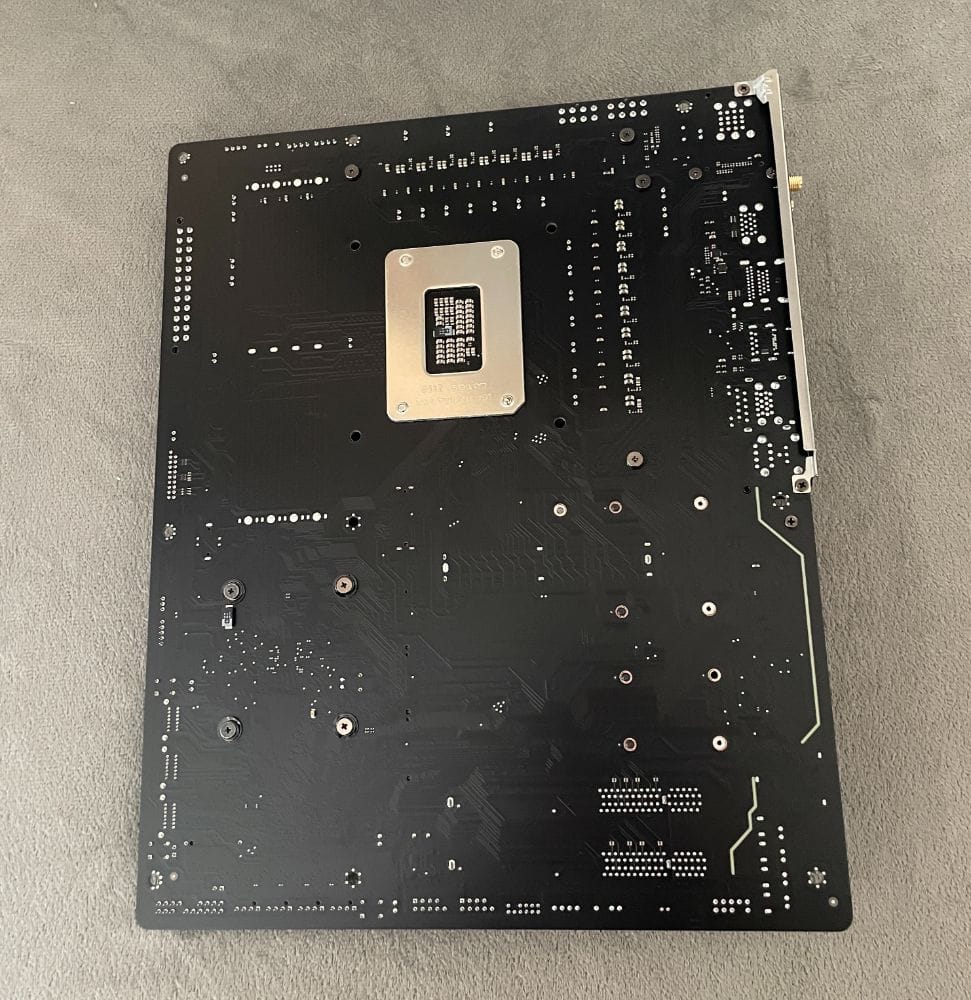 And design-wise, the covered chipset area and the M.2 port covers offer an aesthetic yet subtle appearance.
Its rear I/O plate has a heatsink that conceals a 6mm heat pipe. The latter is necessary for diverting heat away from the CPU. 
The Z790 AORUS ELITE AX uses the same LGA1700 socket as the Intel 12th-generation platform. It enables cross-generation compatibility between the 12th and 13th-generation platforms. 
Additionally, coolers that are compatible with the Intel LGA1700 will also work with the platform.
Cooling-wise, the company implemented an ideal solution by including a big heatsink that covers the power delivery circuit. The cover features built-in moulding heatsinks to enhance heat transfers with optimised airflow. 
Both heatsinks link via 6mm thick copper heat pipes and have thermal pads rated up to 7.5W/mK.
The motherboard features adequate digital power phases: 16 phases in parallel for the VCore. It utilises the Infineon TDA-21472 SPS 70A to make it 1120A. 
It has a GT MOSFET using a 5×5 footprint 60A to deliver stable power to the iGPU. Then, there are two MOSFETs with a max of 120A to provide adequate power to the PCIe lanes. The board seems enough in power delivery, but the twin digital phases seem like a doubler design.
Lastly, two 8-pin EPS connectors are available for a smooth and seamless power supply. 
The Z790 AORUS ELITE AX has four DDR5-based DIMM slots. Remember that these do not have SMD stainless steel and anti-plate bending support.
The DDR5 supports up to 7600MHz, but make sure that the BIOS is updated. By default, the motherboard works with 4400 and 4800MHz. Plus, it supports 128GB RAM capacity with one stick density of 32GB.
Its dual-architecture works with and can handle un-buffered DIMM 1Rx8 / 2Rx8 / 1Rx16 memory modules. And additionally, these support AMD EXPO and XMP. 
For the motherboard to support DDR5 Auto Booster to 5000MHz, a one-click operation is necessary on the UEFI/BIOS. You can create and define your SPD profile in XMP 3.0 and native memory modules. 
You can save and load one user-defined profile either locally or to/from an external storage device. Doing this will let you load the saved profile to another system and have that system set up immediately. 
Moreover, the board supports fast memory performance simulation according to timing parameters and user input clock. 
Like the AMD Zen 4, Intel included M.2 Gen 5 support on its 13th-generation platform. But the thing is, only those high-end Z790 Gigabyte models offer this type of support. 
But on this motherboard, it has four M.2 ports. And although these support the 221100 form factor, these are not Gen 5. All the ports are PCIe Gen 4, and only the top slot has wiring with the CPU socket. The remaining three are all wired to the chipset. 
Each of the M.2 ports has the EZ-Latch Plus. 
When it comes to PCIe slots, this motherboard has three of them.
The top PCIe slot is wired to the CPU socket and is a fully-functional PCIe Gen 5 x16 slot. It has a theoretical bandwidth of 128GB/s and has SMD stainless steel reinforced. This type of steel is an ultra-durable PCIe armour stainless steel with high tensile strength. 
Like previous GIGABYTE motherboards, the product employs a double locking bracket for the uppermost slot. The company even offered an extended PCIe locker at the top of the standard locker called EZ-Latch. 
This feature is convenient for removing the graphics card from its slot. And since the extended locker reaches the top NVMe slot, it becomes easier to access despite being a space-constrained spot.
You will find non-stainless steel PCIe slots, which are PCIe Gen 4 types. There are two of these, and both have ratings of x4 speed. 
The audio solution on this motherboard is adequate and runs using the Realtek ALC897 codec.
WIMA and Fine Gold capacitors power the audio, ensuring a studio-quality experience. There is also a line-out and mic-in on the back IO. Plus, there is a S/PDIF to get plenty of options for speaker setups or surround sound systems. AORUS motherboards feature an audio noise guard, which isolates sensitive analogue audio components from potential PCB noise pollution.
The Z790 AORUS ELITE AX uses a single 2.5GbE LAN chip that uses Realtek RTL8125BG. It has one RJ-45 port on the rear panel for wired network connection to support 10/100/1000/2500Mbps. This LAN chip offers twice the speed of 1GbE.
Gigabyte implemented the Intel WiFi module on the mSATA NGGF port, which you can find on the rear IO panel. 
The Intel AX211 chip, which supports WiFi 6E connectivity, is the main driving force. The latest 802.11ax WiFi 6E wireless solution with a new dedicated 6GHz band enables gigabit wireless performance. Thus, providing smooth video streaming, a better gaming experience, fewer dropped connections and speeds up to 2.4Gbps. 
Additionally, the motherboard supports the Bluetooth 5.3 protocol, which offers an extended range compared to Bluetooth 5.2. It also provides faster transmission speed.
Z790 AORUS ELITE AX Motherboard USB Connectors
When it comes to high-speed USBs, the rear IO has a variety of choices. A Type-C format USB 3.2 Gen2x2 rated up to 20GB/s is your fastest USB port. Networking is also excellent, with high-speed 2.5 Gigabit LAN and onboard WiFi 6E.
Key Features of the Z790 AORUS ELITE AX Motherboard
While writing our Z790 AORUS ELITE AX Motherboard Review, we noticed the motherboard sports notable features. So, we are listing these to give you an idea of what the Z790 AORUS ELITE AX has to offer. The information will also help you decide if it is adequate for your system. 
DDR5 Overclocking up to 7600 and More
AORUS provides a tried-and-tested platform with memory overclocking capabilities beyond 7600. To achieve high memory performance boosts with DDR5 XMP memory, ensure that the memory module is XMP-capable. Plus, the XMP function on your AORUS motherboard needs to be activated and enabled.
Once set, you can enjoy DDR5 overclocking for over 7600MHz. 
Shielded Memory Routing of the Z790 AORUS ELITE AX Motherboard
For protection against external interference, all memory routing happens beneath the PCB inner layer. And this is shielded by a large ground layer.
Impedance Optimised Topology
The decrease of overall impedance between the CPU memory controller and memory modules is necessary to achieve higher DDR5 speed. It happens by optimising memory trace width, length, and style from HPC simulation to actual implementation.
Server-grade PCB
Gigabyte chose server-grade PCB material for low-loss signal and to maintain the high-speed signal transmission of DDR5.
Instant Boost with DDR5 Auto Booster
A single click allows you to boost the native frequency of DDR5 to 5000MHz automatically. You can also do this while the system is under heavy load.
DDR5 Memory Upgrade
Enjoy the fast performance with pre-defined and retrievable profiles based on a database to optimise the modules. This time-saving feature instantly upgrades memory performance and eliminates the need to input memory parameters.
Create, Save, and Load an XMP 3.0 User Profile
Create an SPD profile into native and XMP 3.0 memory modules or use the pre-tuned profiles. You can save and load up to two user-defined profiles locally or via an external storage device.
New-generation Ultra Durable SMD PCIe 5.0 Armour
Gigabyte uses its exclusive stainless steel PCIe shielding for the Z790 AORUS ELITE AX. The new-generation PCIe 5.0 armour is 20% wider to provide reinforced tensile strength. Its stainless steel pins have multiple points to penetrate the PCB and increase the durability of the SMD.
Z790 AORUS ELITE AX Motherboard – Ready for PCIe 5.0
This PCIe 5.0-ready motherboard supports twice the bandwidth of PCIe 4.0 and guarantees compatibility with the upcoming GPUs.
M.2 Thermal Guard III for Superior Cooling
The M.2 Thermal Guard III features 6X optimised heat dissipation surface and double-sided M.2 heatsinks to prevent bottlenecks and throttling. 
The enlarged heatsink prevents high-speed PCIe 3.0 and 4.0 SSDs from throttling caused by overheating.
High Coverage MOSFET Heatsink
With the full cover on the MOSFET and integrated moulding heatsinks, there is better airflow for improved thermal efficiency. The surface area of the heatsinks is four times larger than conventional versions for better heat dissipation.
2X Copper PCBs with Higher Thermal Conductivity
The copper PCBs on this motherboard decrease the temperature of components thanks to their high thermal conductivity. With this material, you can ensure low temperatures are maintained even under heavy load and when overclocking.
TMOS-based Heatsinks
Gigabyte used TMOS-based heatsinks on the Z790 AORUS ELITE AX for efficient cooling on the VRM and MOSFET. For improved thermal performance, the MOS has a single-piece design with numerous inlets and channels on the heatsink. This layout allows airflow to enter for better heat transfer.
Also, a 6mm nickel-plated copper heat pipe connects both heatsinks.
Faster than Ever with Excellent Connectivity Features
We will also discuss the connectivity features of the product in our Z790 AORUS ELITE AX Motherboard Review. These elements allow the motherboard to deliver the optimal connection experience with the highest speed for data transfer and WiFi connectivity.
802.11ax WiFi 6E and Bluetooth 5 – Better Coverage and Faster Speeds
In the current WiFi environment, spectrum congestion is a big issue since many devices use 2.4GHz and 5GHz. As a result, connection speeds are slow and unreliable. WiFi 6E solves this problem by providing a spacious spectrum for more connected devices to enjoy a faster connection.
The Z790 AORUS ELITE AX uses the 802.11ax WiFi 6E, the latest wireless solution with a dedicated 6GHz band. It allows gigabit wireless performance, seamless video streaming, and fewer dropped connections. Plus, you can enjoy up to 2.4Gbps speeds.
With Bluetooth 5, you can take advantage of extended range and faster transmission.
The antenna design on this motherboard offers twice the signal strength of traditional ones. It has a Smart function for the best WiFi signal transmission.
The Ultimate VR Experience with WiFi 6E
Aside from lower latency and faster network speeds, WiFi 6E offers better battery life for VR devices. As a result, wirelessly streaming VR games are smoother, so you will enjoy the higher-quality video.
Onboard 2.5GbE LAN 2X for Faster Transfer Speeds
By adopting 2.5G LAN, the  Z790 AORUS ELITE AX offers up to 2.5GbE network connectivity. It also delivers two times faster transfer speeds than 1GbE, making it perfect for improving your gaming experience.
Premium-grade Audiophile Grade Capacitors
The Z790 AORUS ELITE AX uses WIMA and Premium-grade Audio Capacitors to reproduce a studio-quality experience. 
Personalising Your Gigabyte Motherboard
Gigabyte bundles its motherboards with intuitive and handy software for users to control each aspect. With RGB Fusion Multi-Zone Light Show Design and its new options, you can customise the LED. This software also lets your PC stand out with unique aesthetics. 
The redesigned RGB Fusion 2.0 application lets you have complete control over the LEDs on the motherboard.
The unified Gigabyte Control Centre or GCC configures and manages all Gigabyte-supported devices. Like RGB Fusion 2.0, it has a newly designed interface that is more intuitive for easier control.
Multi-key is a reset button with multiple functions that you can reconfigure via the BIOS.
Specifications
Our Z790 AORUS ELITE AX Motherboard Review will now focus on the specifications of this ATX motherboard. 
Its form measures 30.5 x 24.4cm and utilises the Intel Z790 Express chipset. The product features an LGA1700 socket and supports 13th and 12th Generation Intel Core, Celeron, and Pentium Gold processors.
The motherboard has DDR5 memory and four DDR DIMM sockets that support up to 128GB of system memory. It also sports a dual-channel memory architecture and support for XMP memory modules.
Audio-wise, the Z790 AORUS ELITE AX uses a Realtek Audio CODEC and a Realtek 2.5GbE LAN chip. It also integrates Bluetooth 5.3 and Intel WiFi 6E AX211. 
Finally, the Z790 AORUS ELITE AX supports Windows 11 and 10 64-bit. 
Hands-on with the Z790 AORUS ELITE AX Motherboard
We tested the motherboard for our Z790 AORUS ELITE AX Motherboard Review to see how well (or not) it performs. Knowing how it works will help you decide if it is ideal for your build.
But before focusing on its performance, we will look into its BIOS. 
The BIOS of the Z790 AORUS ELITE AX has the same interface and layout that we have seen before. However, it comes with a few changes. 
The interface automatically loads in Easy Mode, which shows the current statistics and summary of the components. The Tweaker is where users spend time tuning the system and overclock. 
We saw all the CPU and DRAM settings on one page, and the BIOS has advanced settings. The options are ideal when tweaking the PC for extreme overclocking since it allows defining, saving, and loading custom profiles. Saved settings are accessible for later use, even on another motherboard.
We noticed multiple changes in the Smart Fan 6 section. One of the new features is the option to switch between Slope and Step Modes. 
In the BIOS, we could set each fan to run at full speed when it reaches its highest temperature. Also, we could set fan speeds manually and assign a custom fan curve that will apply to other fan headers.
When we pressed F3, the BIOS loaded a menu that asked to save the fan settings. There is an option to store it in the BIOS or an external storage source. 
Regardless of the BIOS changes, these settings will always be accessible. Plus, it offers optimised defaults, which you can load anytime.

Its overall performance is quite good since it handled and breezed through our tests. We were impressed by the CPU performance and its ability to perform under load.
Overall, the Z790 AORUS ELITE AX stayed cool successfully despite heavy loads. It performed smoothly with barely any hiccups, and its temperatures dropped quickly after testing. 
These results tell us that the Z790 AORUS ELITE AX performs excellently, and it is something we recommend. 
Z790 AORUS ELITE AX Motherboard Review Summary
The Z790 AORUS ELITE AX from Gigabyte is one of the most cost-efficient DDR5 motherboards. It uses the more expensive RAM and a competitive amount of unique features while keeping the costs low. 
This motherboard is PCIe 5.0 ready and can handle the upcoming graphics cards. Plus, it has a lot of Gen4-compatible M.2 slots, making it excellent for fast storage. Although the motherboard has a minimalist design, its features make up for its drawbacks in aesthetics.
Most importantly, this product delivered excellent performance in our tests for our Z790 AORUS ELITE AX Motherboard Review. Aside from offering high speeds, the motherboard worked well under pressure and handled everything we threw at it.
We were satisfied with everything that this motherboard offers. It is a well-balanced product that performs excellently, making it easy to recommend.
Visit the official product page of Gigabyte for more details on the Z790 AORUS ELITE AX Motherboard.