Just recently, we reviewed and looked into the X570S Riptide. It's a budget-friendly board for the updated X570S AMD chipset. Today in our ASRock B550 PG Riptide Motherboard review, we're checking its lower-end sibling – the B550 PG Riptide.
This new motherboard has dual M.2 sockets and a ton of USB ports on its rear I/O. It also has power delivery that's capable of supporting flagship-level CPUs which is good.
To learn more about this, continue reading our ASRock B550 PG Riptide Motherboard review for more details about it.
ASRock B550 PG Riptide Motherboard Packaging
We received our B550 PG Riptide motherboard in a blue and black-themed flip-box that's quite attractive and eye-catching. The front shows the PG Riptide logo on the upper-left corner, while the board's name is underneath. 
Along the base, you'll find a list of the main features of the board.  
For more details about the motherboard, just flip the box and check out all the additional information on the rear.
Let's discuss its contents and inclusions to complete this section of our ASRock B550 PG Riptide Motherboard review. 

The B550 PG Riptide motherboard comes with a set of accessories to get your system up and running immediately. The items ASRock included in the package are pretty basic, offering us a few M.2 screws and SATA cables. That said, the company included a graphics card holder that you can mount to the motherboard. 
We can't deny that a lot of GPUs are growing in size and weight in each generation. So, this board is definitely an excellent added value to those using high-end GPUs. 
Now to give you an idea of its contents, these are what ASRock included in their package. You'll find the motherboard, two SATA cables, graphics card holder, three M.2 screws, and an M.2 socket standoff. The company also included the quick installation guide, support/driver CD, and an I/O shield.
ASRock B550 PG Riptide Motherboard Review – Design and Functionality
Let's continue our ASRock B550 PG Riptide Motherboard review and have our first look at the product. 
When we first got the B550 PG Riptide motherboard out of the box, we noticed how sleek it looked. It sports a matte-black PCB with some hints of black semi-gloss design aspects swirling around the free space.
The single VRM heatsink conceals the I/O area and left bank. However, the top VRM for the board's SOC doesn't feature a heatsink on it.
Focusing on the top-half portion of the board, you'll get a closer look at the VRM heatsink. It comes with the ASRock name together with the branding for Phantom Gaming. 
At the top of the heatsink are two EPS connectors for giving power to the CPU. An 8-pin connector is needed, while the 4-pin is something optional. Above the socket, you'll find VRM bits for the SOC, and to its right is the PWM controller IC. 
The right section of the socket has four unreinforced, single-side lock DRAM slots which support up to 128GB RAM. Above the DRAM slots are three of seven 4-pin fan/pump headers. The remaining fan headers are placed all over and around the board.
On the bottom edge of the board, you'll see the second set of connectors. The upper-right corner is where the first set of RGB headers are, along with 4-pin RGBs and 3-pin ARGBs. 
On the right edge, you'll see the 24-pin ATX connector for powering the board. There's even a front-panel USB 3.2 Gen2 Type-C header and front-panel USB 3.2 Gen1 header present. 
Our ASRock B550 PG Riptide Motherboard review will now shift to the bottom-half section of the board. Let's also see what the centre has in store for us. 
This area has the PCIe expansion slots, audio section, M.2 storage, etc. This is where you'll find the Realtek ALC-897 codec and four fully exposed audio caps. There are four audio capacitors, plus a line separator for the audio bits. 
The board's centre has three full-length PCIe slots and a single slot between the top two. The main PCIe slot has ASRock's armour to avoid shearing and to lessen EMI along the slot. The second slot below is the PCIe 3.0 x4, while the bottom slot runs at PCIe 3.0 x1.
Next in the area are M.2 sockets, while on the right-edge is the USB 3.2 Gen1 connector. There are also six SATA ports in this spot. 
To note, these support RAID 0,1, and 10 modes. Last in the area is one chassis fan header.
Rear I/O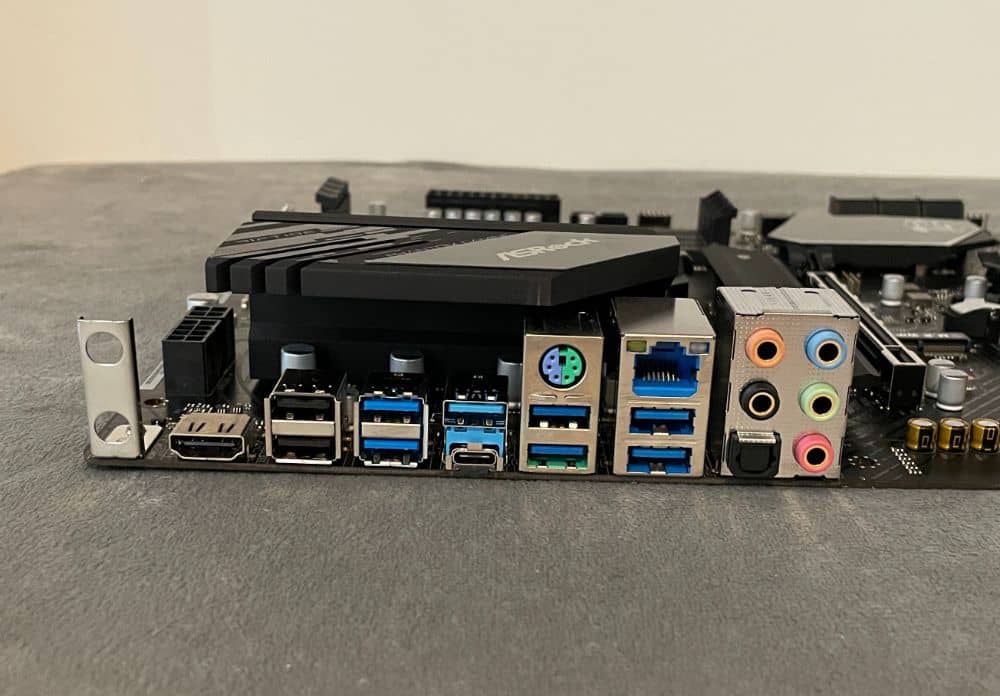 Here, you'll see ten USB ports while the WiFi antenna bracket is present from left to right. The next thing you'll find is the video output via one HDMI v2.1 port.
At the top, there's a legacy PS/2 port and Killer E3100G 2.5 GbE. Lastly, the board's audio stack has five analogue plugs and an SPDIF port.
Overall, the motherboard is sleek yet looks just like a classic budget product. There are none of the fancy and aesthetic shrouds or heatsinks that you'd expect from the pricier boards. With that, its design allows you to fit it in most builds, but it won't be the focal point. 
Key Features of the ASRock B550 PG Riptide Motherboard
Our ASRock B550 PG Riptide Motherboard review will now discuss the different features of the product. 
Extra Large Aluminum Alloy Heatsink
The aluminium alloy heatsink of the B550 PG Riptide effectively takes away the heat from the chipset and MOSFET. As a result, your entire system delivers more stable performance.
Protected Against Voltage Spikes
With ASRock's Full Spike Protection, the components on the board are safe from excessive current. It utilises various technologies to prevent the board's components from being damaged which results in the malfunctioning of your system.
Dr.MOS
This power stage solution is integrated and optimised for synchronised buck-set down voltage apps. Unlike the common MOSFETs. It brings a higher current for each phase to improve thermal results and deliver superior performance.
Lightning Gaming Ports
Lightning Gaming Ports help gamers connect high-speed keyboards and mice with lower latency and jitter. 
Premium 60A Power Choke
ASRock utilises premium power chokes to improve the saturation current by three times. By doing this, these power chokes provide enhanced Vcore voltage to the motherboard.
Post Status Checker
The Post Status Checker is a tool that displays your CPU, VGA, BOOT, and DRAM operation when starting your system. It helps you find out the source of the problem with ease.
Killer Ethernet E3100
The Killer E3100 2.5 Gbps Ethernet controller is included for demanding users. It comes with enhanced prioritisation and detection to provide the optimal networking experience for games and multimedia apps.
AMD Smart Access Memory
AMD Smart Access Memory does more than conventional processors. Instead of accessing only a portion of the graphics memory, it expands the data channel. With that, it harnesses the graphics memory's full potential while removing the bottleneck and enhancing performance.
Polychrome RGB
ASRock motherboards offer superior performance and stunning aesthetics. Via Polychrome RGB, you can smoothly customise the board's RGB LEDs. You can also synchronise Polychrome RGB Sync-certified gear through the interface.
PCIe 4.0 High-speed M.2 Solution
The B550 PG Riptide Motherboard can accommodate multiple M.2 storage drives. These can also support the next-generation PCIe 4.0 M.2 SSD and deliver high-speed data transferring experience.
Specifications
Continuing with our ASRock B550 PG Riptide Motherboard review, we'll now look into the specifications of this motherboard.
This ATX motherboard makes use of an AM4 socket and B550 chipset. It supports the AMD Ryzen 5000 series, 4000 G-Series, and 3000 Series processors as well. 
This board's memory standard is the DDR4 4933+(OC), 4733(OC), 4600(OC), 4666(OC), 4533(OC), and 4466(OC). It also includes 4400(OC), 4266(OC), 4333(OC), 4200(OC), 3733(OC), 4133(OC), and 4000(OC). Other memory standards are 3800(OC), 3866(OC), 3600(OC), 3466(OC), 3200, 2667, 2933, 2400, and 2133.  
Maximum memory supported is up to 128GB, and it also provides dual-channel support. ECC is supported as well. 
Expansion Slots
This board's expansion slots include one PCIe 4.0 x16, two PCIe 3.0 x16, a PCIe 3.0 x1. Also, there's a 15µ gold contact in VGA PCIe slot. Lastly, there's an M.2 socket and supports type 2230 WiFi|BT PCIe WiFi modules. 
Storage Devices
For its storage devices, the B550 PG Riptide motherboard has six SATA 6GB/s and a Hyper M.2 socket. It supports the M key type 2242, 2280, 2260 M.2 PCIe module up to Gen4x4 or Gen3x4. 
There's also an Ultra M.2 socket that supports M key type 2260, 22110. and 2280. It's good with M.2 SATA3 6.0 Gb/s module and M.2 PCIe modules up to Gen3 x4.
Onboard Video, Audio, LAN and USB
Do note that the onboard video chipset is only supported by CPUs with built-in graphics. Though for the audio chipset and channels, it uses the Realtek ALC-897 with 7.1 channels, respectively. 
It uses the Killer E3100G for its LAN chipset, while max LAN speed is at 10|100|1000|2500Mbps.
The Rear Panel Ports of the board include an antenna mounting bracket and PS/2 mouse/keyboard port. There's even an HDMI port and optical SPDIF out port available.
Aside from these, you'll find a USB 3.2 Gen2 Type-A and USB 3.2 Gen2 Type-C. Lastly, there are six USB 3.2 Gen1 ports, two 2.0 ports, and an RJ-45 LAN port with LEDs. 
For the onboard USBs, there are three USB 2.0 headers and two USB 3.2 Gen1 headers. There's even a front panel Type-C USB 3.2 Gen2 header as well. 
For other connectors, you'll find an SPI TPM header, a power LED & speaker header, and two RGB LED headers. There are also two addressable LED headers, a CPU fan connector, plus a CPU/water pump fan connector.
Lastly, it sports five chassis/water pump fan connectors, a front-panel audio connector, and Thunderbolt AIC connector.
Hands-on with the ASRock B550 PG Riptide Motherboard
Before our ASRock B550 PG Riptide Motherboard review discusses its performance, we'll look into the board's firmware.
The B550 PG Riptide's firmware features the usual Phantom Gaming theme with black and red as the predominant colours. Pretty simple yet attractive and nothing too overboard with its design.
It includes an Easy Mode for high-level adjustments and monitoring, and it also has an Advanced section too. The BIOS is organised adequately, and most of the commonly-utilised functions are accessible without having to search for them.
We didn't have any issues when we used the BIOS. It worked well and was easy to navigate. 
ASRock offers several utilities that cover various functions. PG-Tuning works for monitoring & overclocking, Nahimic 3 for audio, and Polychrome RGB for lighting control.
Another is the App shop where you can download apps and update drivers.
Performance of the ASRock B550 PG Riptide Motherboard
Tests were completed with a Ryzen 5600X.
For thermals, the B550 PG Riptide peaked below 47°C during standard operation. This was one of the lowest temperatures we've seen when it comes to passive heatsink configuration.
Overall, the performance of the B550 PG Riptide was very decent. 
ASRock B550 PG Riptide Motherboard Review Summary
The B550 PG Riptide Motherboard is ASRock's new addition to their B550 chipset-based products.
This motherboard is robust, with excellent features and great power delivery. It also has a good layout for easy building and RGB features that enhances any PC's aesthetics.
During our tests, the B550 PG Riptide delivered good results. Its performance was excellent, and we didn't encounter any issues with it.
Overall, the B550 PG Riptide Riptide is a simple motherboard for gamers who don't want to spend a lot. It may not have the high-end features found in expensive boards, but it offers great value for money. For a lower-costing motherboard, it delivers great performance, stunning aesthetics, and it's easy to build with.
Are you thinking of purchasing this product after reading our ASRock B550 PG Riptide Motherboard review? If yes, check out the company's store locator to find authorised sellers of this product.