If you're planning to make a high-end build but don't know what good cooler to use, we've got your back. Our ASUS ROG Ryujin II 360 review will discuss ROG's Ryujin II 360. Here, we'll share everything you need to know about it.
The product is an AIO liquid cooler that's surely packed with all the good stuff that ASUS can offer. It's a flagship product and is on the pricey side, but it'll surely be worth it. The ROG line always offers top-notch products so we can expect nothing but the best. 
If you're interested and want to know more about the product, continue reading our review. Once you're done, you'll get all the essentials you need to know about this liquid cooler. Plus, this review will help you determine if the product is really something for your build. 
ASUS ROG Ryujin II 360 Packaging
Let's first look into the packaging and its contents. We were definitely excited when our package arrived for this ASUS ROG Ryujin II 360 review. 
It's something we've been wanting to test. Plus, we wanted to see if it's just as good, or even better than other coolers under the product line. 
For the package's design, it looks like your typical ROG product box. It sports the black and red theme with ROG's branding in front. Of course, this area also displays the unit's name as well as some of its key features. 
If you want extra details about the product, simply flip the package and check the rear portion for these. 
Inside the package, you'll find the ROG Ryujin II 360 kept safely and securely in place. It's pre-applied with a thermal compound so you won't have to worry about this. 
There are other items present including three 120mm radiator fans, an ARGB input cable, and an accessory pack. The latter is filled with all the necessary screws and brackets to install the cooler. 
Of course, ASUS also included a quick start guide, an ROG sticker, plus an ROG fan controller 3M mounting tape. 
ASUS ROG Ryujin II 360 Review – Design and Functionality
After unboxing, we inspected the product for our ASUS ROG Ryujin II 360 review and checked its design and functions. Its radiator sports a conventional design where we have a 27mm-thick aluminium rad. This portion is coated in a nice matte black paint. 
Apart from being a high-quality product, the cooler provides outstanding thermal performance. It has a 7th Gen Asetek pump, an embedded fan for the CPU socket spot, and Noctua Industrial PPC radiator fans. With these, the product can hardness both air and water to provide excellent cooling potential  
And since it has an LCD panel, it can display all your system stats and customisable graphics. Thus, making the ROG Ryujin II the core of any system. 
You'll find four support rivets that are strutting and evenly spaced on each side of the radiator. These add to the whole industrial look of the product which is what the company seems to be aiming for. 
There are sleeved, 380mm-long rubber tubes that exit the radiator at one end. What's nice about these is that they have an adequate degree of flexibility. Plus, its sleeves have a high-quality look to them, which is also implied with the company's six-year warranty.
CPU Block
This is where the ROG Ryujin II 360 flexes its build and design. Its primary feature is its 88.9mm full-coloured LCD screen that's set in front and at the centre. The screen has several uses, and it even supports AIDA64's sensor panel feature right out of the box. 
According to ASUS, this is the biggest LCD screen that you'd find on any AIO cooler on the market. 
The CPU block sports a rectangular exterior, plus it sports a vent-like texture on each side. This design supports the product's industrial look that we mentioned earlier. Then, its 7th Gen Asetek pump provides the cooler with excellent pumping power. 
On each side, you'll find ROG's branding painted in matte black. On the top, "Republic of Gamers" is displayed diagonally. 
LCD Display and Embedded Fan
Let's talk a bit more about its display. It's a nice full-colour LCD with a lot of flexibility in its functions. If you prefer the default ASUS ROG logos and graphics in colour + motion, that's definitely possible. 
If you're planning to have your own customised image, that's also possible. Then if you need useful data like fan speed and CPU temperatures, you can get all of that too. All this is possible via the Armoury Crate software tool from ASUS. 
You'll need to keep watch of screen duties too. While the magnetic pump cover/LCD display is easily removable, it's designed to fit the product in a single orientation. With the LCD display positioned horizontally for ideal-viewing, you'll have an adequate degree of freedom when selecting a block-mounting position. 
With that said, removing the block cover, LCD mount, and its two cables displays what's concealed underneath. Here, you'll find a 60mm embedded fan that works up to 4,800 RPM. It's made to release airflow along the CPU socket for better VRM cooling. 
We actually think this is a good addition since the fan speed can be controlled depending on your needs.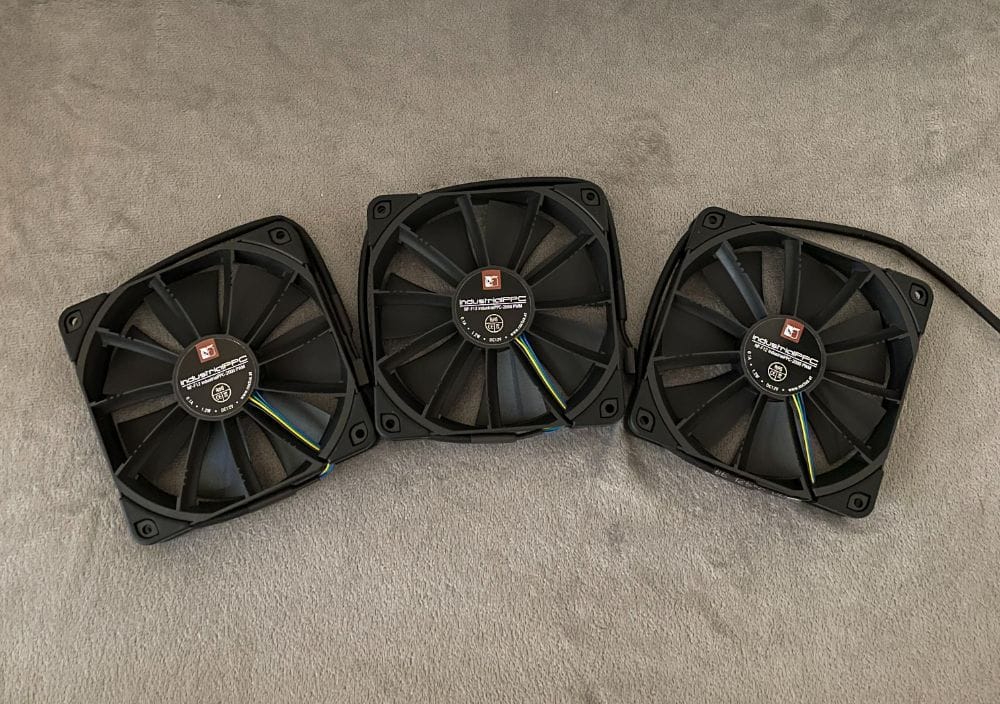 Looking into this part in our ASUS ROG Ryujin II 360 Review, the company utilised good fans for their cooler. These are three Noctua NF-F12 IndustrialPPC 2000 PWM, 120mm-sized, 4-pin fans. They are powered and operated within a range of 450 to 2,000 RPM. 
Specifically, this low-speed capacity is very impressive, especially when you couple it with ASUS' smart control options. 
Key Features of the ASUS ROG Ryujin II 360
Our ASUS ROG Ryujin II 360 Review will now look into the different key features that make this product click. 
Customisable LCD Panel
The ROG Ryujin II 360 features a 3.5" LCD panel that can display customisable visuals. It's the largest LCD on an AIO cooler on the market.
You can tweak the LCD settings on the Armoury Crate software to display voltages, fan speeds, temperatures, and frequencies.
Extensive Platform Compatibility​
The ROG Ryujin II works with a wide range of Intel and AMD motherboard platforms. This allows you to use it with your choice of processor. And because of its 38cm tubing, mounting and routing this AIO cooler will be easier. 
Noctua iPPC Fans
The latest multi-core GPUs can cause your system's temperature to rise significantly. To solve these thermal challenges, ASUS included industrial-grade PWM fans from Noctua. These deliver high cooling performance while operating with less noise.
Embedded Pump Fan
The ROG Ryujin II comes with an embedded 60mm fan in the pump house. With that, there is adequate airflow reaching the CPU socket.
The fan circulates air to the M.2 slot, CPU VRMs, and surrounding components to keep temperatures low. As a result, your system delivers better performance and stability.
AIO Fan Controller
The fan controller for the ROG Ryujin II has four PWM fan headers that you can tweak via FanXpert4. It also features four ARGB headers where you can connect addressable strips and components to light up your build.
AIDA64 Extreme Subscription
When you purchase the ROG Ryujin II, this will come with a one-year AIDA64 Extreme subscription. This software provides advanced hardware and software monitoring, as well as exclusive in-screens that show your system and components' performance.
Specifications
The ROG Ryuujin II 360 is an AIO cooler that is compatible with both AMD and Intel platforms. For AMD, it works with AM4, sTR4, and sTRX4 sockets. For Intel, the AIO supports LGA1150/1151/1155/1156/1200/1366/2011/2011-3/2066 sockets.
The cooler measures 78.15 x 87.5 x 81mm and has a CPU plate made of copper. It also features an embedded fan that offers 3.23 mmH2O of air pressure and 19.41 CFM airflow. Notably, it runs at 4,800 RPM +/- 10%.
This AIO is equipped with a 7th gen Asetek pump solution that runs 840 – 2,800 +/- 300 RPM. It also works using 12V DC,0.3A power. For the cooler's radiator, it's made of aluminium and measures 121 x 394 x 27mm. 
Aside from the ROG Ryujin II 360's specifications, we're also checking out the NF-F12 IndustrialPPC 2000 from Noctua. 
Each fan measures 120mm and offers speed ranging from 450 to 2,000 RPM. Plus, these deliver 71.6 CFM airflow while noise reaches up to 9.7 dB(A).
ASUS also included a convenient six-year warranty for the product.
Hands-on with the ASUS ROG Ryujin II 360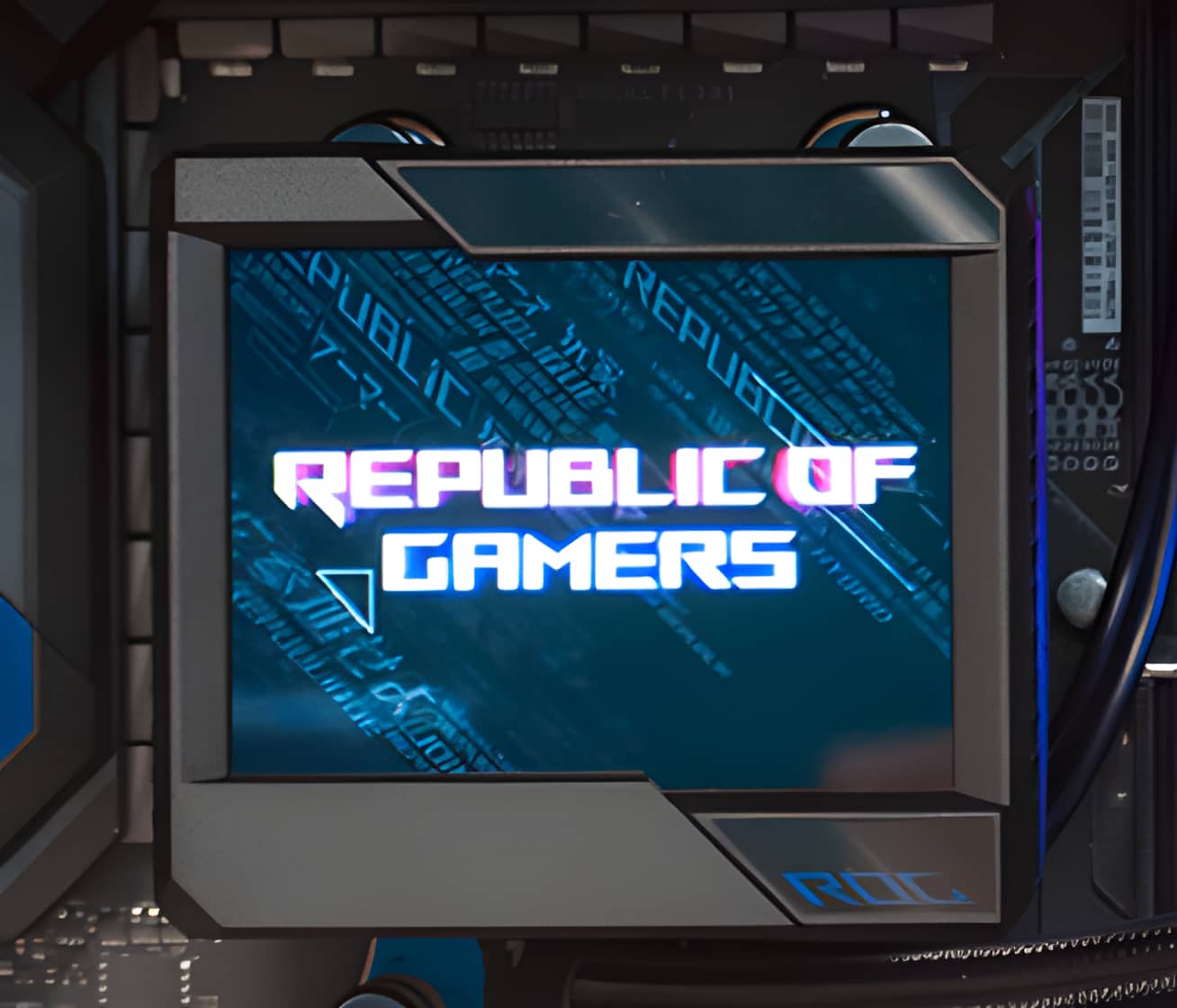 Aside from checking out the cooler for this ASUS ROG Ryujin II 360 Review, we of course, tried it too. We needed to see if it was just as good as claimed or if other similar products are better.
Installing the ASUS ROG Ryujin II 360
Installing the ROG Ryujin II 360 was straightforward. If you're building/using an AMD-based system, you'll need to remove the preinstalled Intel bracket first.
When we tried, we only had to quickly twist it before sliding it off. That's when we replaced it with an AMD bracket.
Once done, we removed the AMD mounting brackets from our board, but we kept the backplate in its place. We made sure to secure it by using the AMD standoffs. 
Now if you aren't utilising the pre-applied thermal paste, you can use your preferred paste. Then, remove the pump's top cover then position the pump block on the CPU. After, you can secure it using the available thumbscrews.
When it comes to cable management, it's pretty easy with the ROG Ryujin II 360's fan controller. And since it's non-RGB and fully matte black, there are three fewer cables on it.
Now, it's just plugging everything in the proper header of the board and fan controller. Once that's done, you're all good to go. 
Cooling Performance of the ASUS ROG Ryujin II 360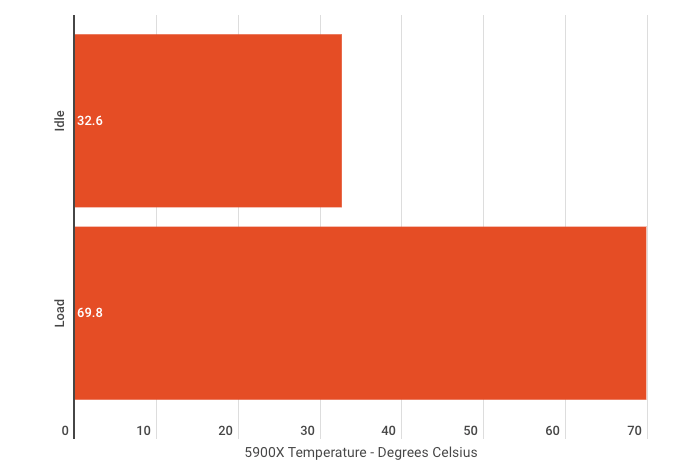 We got the chance to try the cooler with different processors to see how good it was for the systems. For these, running them stock and overclocked gave us amazing results.
We used the cooler when we played games and did some work. There, the 360mm radiator and pump was able to handle whatever task we did. 
With how it's built and designed, it sure can work with even the most powerful CPUs from Intel and AMD. 
All the tests for our ASUS ROG Ryujin II 360 review happened in a controlled environment. 
When doing regular work or when idle, temperatures went around 32.6°C while under load the temperatures reached around 69.8°C. 
Since we wanted to further improve thermals, we used the Armoury Crate suite software for this. The software can also be utilised when further customising your AIO liquid coolers. 
Basically, the ROG Ryujin II 360 was able to handle our OC tests. And having used it for our build, we can safely say that it does offer amazing cooling performance. 
Additionally, we got through even the most demanding workloads with the cooler. We didn't encounter any problems or issues, and its operating temperatures were all under acceptable ranges. 
Noise
We have to talk about noise in our ASUS ROG Ryujin II 360 Review. Why? Because the cooler was a bit loud, especially when the internal fans and pump ramped up with increased CPU temperatures.
But don't worry, it wasn't loud enough to be irritating or a disturbance. It's just that you'll notice its higher sound levels if most of your build is near silent. 
ASUS ROG Ryujin II 360 Review Summary
The ROG Ryujin II 360 is an impressive AIO that delivers excellent cooling performance. Even with the most demanding workloads, it worked flawlessly and consistently maintained low temperatures without issues.
Aside from reliable performance, it's packed with exciting features like its large customisable LCD, extensive compatibility, and more. Plus, it comes with high-quality Noctua fans and a one-year subscription for AID64 Extreme software.
Overall, we highly recommend the ASUS ROG Ryujin II 360. It's an excellent AIO cooler that offers easy installation, superior cooling, and great performance. This cooler is the best choice for gamers and productivity users who require maximum gaming FPS and CPU performance.
To get your hands on this 360mm AIO cooler, check out ASUS' store locator for authorised sellers in your area.