ASUS is one of the leading brands when it comes to gaming. They've divided their gaming brands into 2; TUF (The Ultimate Force), and ROG (Republic Of Gamers). Before we go deeper in our ASUS VG27VQ TUF Gaming Monitor review, let's first talk about ROG vs TUF.
Back in the day, the TUF line isn't as famous as today. While the ROG line is above the TUF line, that doesn't mean that ASUS TUF gaming products are bad.
In fact, both brands have a wide range of premium gaming products. Gamers nowadays can have a hard time picking between the ROG and TUF, since both brands offer premium products.
But what if we told you that ASUS released a decent TUF monitor? The ASUS TUF VG27VQ has a 27-inch VA monitor that has a 165 Hz refresh rate, 1ms response time, and AMD FreeSync™ support (might work with NVIDIA GPUs).
The main selling point of this monitor is its ELMB (Extreme Low Motion Blur) feature, where you can see fast-moving images easier.
This monitor is also packed with features that many 27-inch monitors don't have. We'll discuss more of the trade-offs later.
Gamers nowadays are looking for the best monitor for their great competitive gaming experience.
Most competitive gamers will opt for a high refresh rate monitor due to their fast response time and faster pictures per second. Depending on their system rig and preference, it's either they focus on high-resolution monitors or high refresh rate monitors. It will also depend on how demanding the game is.
Is it worth your money to improve your overall gaming experience? Let's check the product functions & features after we talk about its packaging.
ASUS VG27VQ TUF Gaming Monitor Packaging
A fragile product like a monitor should be packed well. If not, your screen will probably be damaged.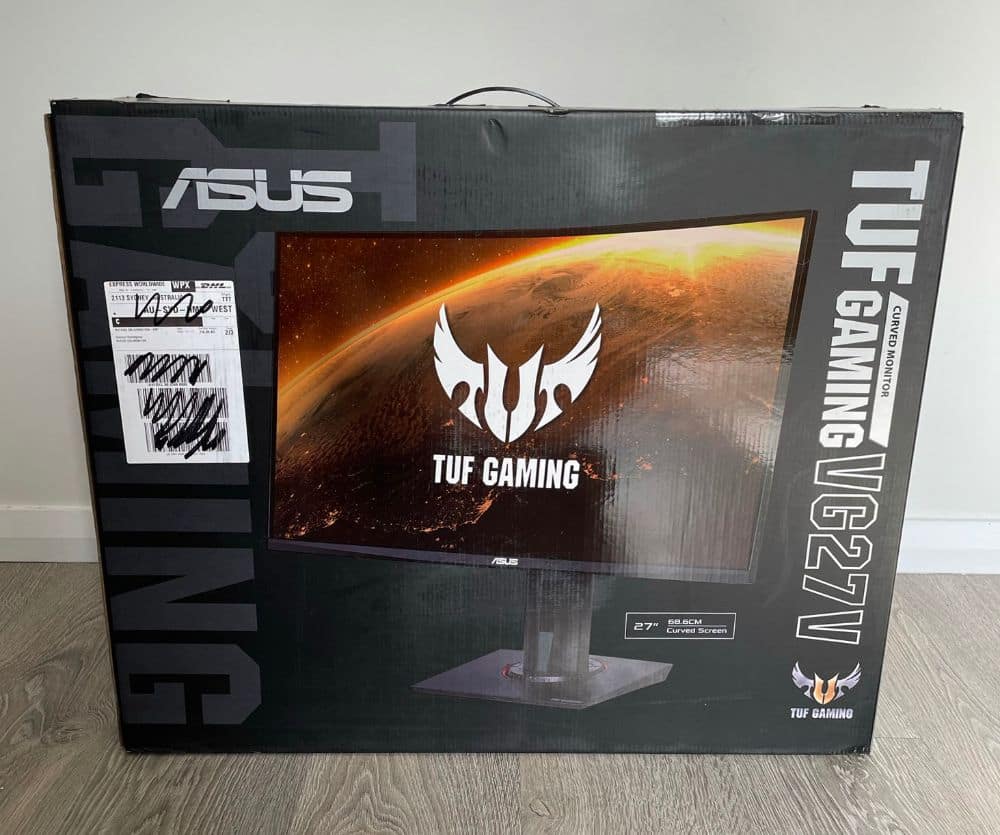 That's why here in our ASUS VG27VQ TUF Gaming Monitor review, we'll see if the packaging is good.
First of all, the packaging looks neat and gives a premium & immersive look to it. Both the front and the back part of the box feature a nice view of the curved monitor.
The ASUS logo can be seen on the top-left corner, while the TUF Gaming brand & model is written on the right side wide ways.
Both sides of the box include a TUF Gaming branding along with its model, features & functions, and the ASUS logo at the bottom. Its plastic holder can easily carry the whole box on top.
The overall weight of the package is heavy, and it's all because of the monitor. Also, the construction is sturdy enough to protect the monitor inside. Let's open the box and see what we get.
All the necessary accessories that are required to utilise the monitor are located on top. We get a power adapter, a power cord, a DisplayPort cable, a DVI-I Dual Link cable, a 3.5 mm to 3.5 mm jack, and an HDMI cable.
You'll also get a quick start guide and a Warranty Card.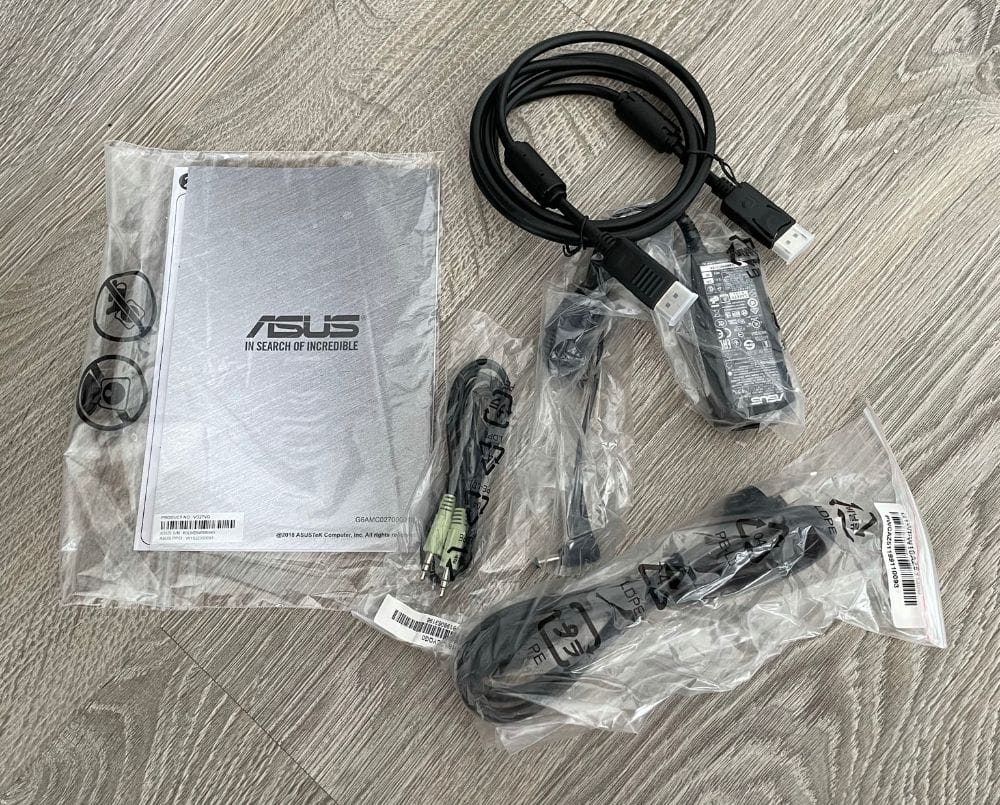 Overall, ASUS has done a great job of protecting their products. Now, let's move on to the design and functionality section of our ASUS VG27VQ TUF Gaming Monitor review.
ASUS VG27VQ TUF Gaming Monitor Review – Design and Functionality
The ASUS VG27VQ TUF Gaming Monitor comes with a 27-inch WQHD (2560 x 1440 resolution) monitor with a VA panel.
The stand and the base look sturdy, preventing random fall offs when being shaken. It's also highly adjustable, in which you can tilt the monitor and adjust the pivot to achieve a better angle.
Also, the monitor's assembly is quite easy. Assembly only requires you to place the base on the stand and put a big screw, in which you can either twist with your fingers or use a flathead screwdriver.
Additionally, you can manage your cables through the stand. You can access that by removing the cover at the back of the stand. If you're not a fan of using the monitor stand, you can also use the monitor's VESA-mount.
The VESA-mount measures around 100 x 100 mm, so make sure you get the one that fits inside. Even if most of the materials used are made of plastic, it doesn't wobble that bad.
For the ports, you're going to get pretty much the standard. They're all faced downwards, which can be accessed below the VESA mount. You'll find a DC Power Input, 1 DisplayPort 1.2a, 1 HDMI 2.0 Port, 1 Dual-link DVI port, 1 3.5 mm audio input jack, and a 3.5 mm headphone jack.
Two stereo speakers only consume 2 Watts. So if you currently don't have speakers or headphones with you, you'll get an audio output through your monitor (except DVI).
Lastly, the refresh rate will be limited to 144 Hz if you use the HDMI 2.0 display interface. Be sure to use your DisplayPort cable to reach the maximum bandwidth with your monitor at 165 Hz!
We'll discuss more features by testing the product on the hands-on section. For now, let's proceed to the key features section of our ASUS VG27VQ TUF Gaming Monitor review.
Key Features of the ASUS VG27VQ TUF Gaming Monitor
Strong Contrast with Shadow Boost
The ASUS VG27VQ TUF Gaming Monitor has an elegant contrast to keep your eyes focused and adjusts to your own accord with ASUS Shadow Boost. Proceed to dark areas and spot your enemies easier without exposing brighter areas.
Extreme Low Motion Blur (ELMB)
With ASUS's Extreme Low Motion Blur technology, you can see fast-moving images easier!
AMD FreeSync™
AMD's FreeSync™ helps prevent screen tearing, and it works better with an AMD Radeon graphics card. Utilise AMD's Adaptive-Sync technology with the ASUS VG27VQ TUF Gaming Monitor.
Cable-Management Passthrough
Manage your cable clutter through ASUS VG27VQ TUF Gaming Monitor's stand. Remove the cover at the back and route your cables hassle-free.
Full 165 Hz Refresh Rate
Experience fast movements that have never been seen before! The ASUS VG27VQ TUF Gaming Monitor sports a maximum of 165 Hz refresh rate for the best gaming experience.
Curved VA Display
Enjoy the ASUS VG27VQ TUF Gaming Monitor with a curved VA panel with accurate colours and viewing angles.
1 ms MPRT
Enjoy zero-latency while being accurate in colours. Experience lag-free response time with ASUS VG27VQ TUF Gaming Monitor.
Gameplus Hotkey
The ASUS VG27VQ TUF Gaming Monitor sports an integrated hotkey that offers instant enhancements for gamers. Change your gaming experience on-the-go with ASUS's GamePlus feature.
ASUS GameVisual Technology
Optimise your game visuals by selecting a preset that the ASUS VG27VQ TUF Gaming Monitor offers. It can be accessed with a hotkey or through your on-screen display.
Flicker-Free Technology
Lessen your eye strain with ASUS's Flicker-Free technology. Enjoy long gaming sessions without damaging your eyes.
Ultra-Low Blue Light Technology
The ASUS VG27VQ TUF Gaming Monitor comes with a feature called Ultra-Low Blue Light technology. Lessen your display's blue light with four different presets.
All the features seem to be promising. Let's check further by looking at the specifications section of our ASUS VG27VQ TUF Gaming Monitor review.
Specifications
Let's dig further and proceed to the technical specs of ASUS VG27VQ TUF Gaming Monitor.
We're going to focus on the monitor's hardware side.
The ASUS VG27VQ TUF Gaming Monitor's box measures 688 x 558 x 209 mm. The actual monitor has a panel size of 68.6 cm (27 inches) in a 16:9 aspect ratio.
For the dimensions of the monitor (without the stand), it has a size of 609 x 360 x 44 mm.
The display has a native resolution of 1920 x 1080 and reaches up to 165 Hz with a DisplayPort interface. The viewing area of the screen is 597.6 x 336.15 mm.
Since it also has a pixel pitch of 0.311 mm and a contrast ratio of 3000:1m, the image quality is decent.
It also has a viewing angle of 178°(H)/178°(V), which is standard for VA panels. But this VA panel has a 1 ms MPRT (Moving Picture Response Time), which is a new thing today.
There are also two stereo speakers that only consume 2 watts. You can utilise the speakers through your HDMI 2.0 port, DisplayPort 1.2a, or the PC Audio Input 3.5 mm jack.
If you're using a DVI cable, you should use the 3.5 mm jack to 3.5 mm jack that came with the monitor.
The monitor consumes <40 Watts overall, and only <0.5 Watts on standby. The power adapter can be plugged to a 100V or 240V outlet at 50/60 Hz. The whole package weighs around 8.7 kg, while the monitor only weighs a total of 6 kg.
Now that the technical specs have been discussed let's proceed to the hands-on section of our ASUS VG27VQ TUF Gaming Monitor review.
Hands-on with the ASUS VG27VQ TUF Gaming Monitor
Upon plugging all the necessary cables and starting it up, we finally get to experience and see how the monitor functions. We then connected it to our bench system.
We launched Apex Legends and Overwatch, which are both competitive FPS game.
Jumping straight into a match we didn't notice any ghosting. Even when we were sliding in Apex Legends there was no blur noticeable. The colours were bright and vibrant and the games really popped on screen.
We did not notice any colour bleeding when playing games and watching movies and the blacks were nice and dark.
1440p is often popular for 27-inch monitors due to the pixel density, but 1080p monitors also have advantages. The first one is that they're cheaper. Most 1440p 27-inch monitors cost double the price of 1080p 27-inch monitors.
This monitor offers everything that you need for day to day gaming and offers a great feature set and stunning performance.
ASUS VG27VQ TUF Gaming Monitor Review Summary
We're finally done with all the tests, and we're ready to share our opinion about the ASUS VG27VQ TUF Gaming Monitor.
Throughout our time with the monitor, we didn't experience any eye strains whatsoever. This monitor is designed specifically for competitive gaming, and we highly recommend it to e-Sports players. But even if you're a casual gamer, you'll benefit from this monitor due to its awesome features.
Overall, the monitor does an excellent job of delivering all that's featured. Their advertisement is accurate, and we saw it with our own eyes. If your hardware specs can handle 1440p, you can try AMD VSR or NVIDIA DSR.
Suppose you're satisfied with the product and would like to purchase one, head over to this link. We hope that you also enjoyed our ASUS VG27VQ TUF Gaming Monitor review!