Gigabyte has produced some of the most notable and excellent-performing gaming monitors for years. And in our Gigabyte M27Q gaming monitor review, we're looking at one of them – the Gigabyte M27Q gaming monitor. 
The product packs a ton of impressive features that makes it stand out from the crowd. Plus, it comes with an awesomely durable build that you know can last for years. 
Another notable aspect of the monitor is that Gigabyte claims it to be the world's very first KVM gaming monitor. With that, it lets you easily control and manage a number of devices using the set keyboard, video, and mouse. 
Sounds like an interesting addition to your gaming build, or did its KVM feature pique your interest? If you want to learn more about its features and performance, continue reading our Gigabyte M27Q gaming monitor review.
Gigabyte M27Q Gaming Monitor Packaging
Let's start off with the monitor's packaging and contents. The M27Q gaming monitor arrived in a plain-looking cardboard container. It isn't anything fancy or exciting, but we're not purchasing gaming monitors for their packaging, right? 
It was a simple box, but we liked how sturdy and durable it was. So, you won't need to worry about the gaming monitor getting damaged while in transit. 
Inside the box, Gigabyte made sure that the M27Q is safe and well-protected. It's set securely in place and comes with other additional items and accessories. 
These include an external power brick, European & UK power cords, plus DisplayPort & HDMI cables. Of course, Gigabyte included some upstream wires for the USB 3.0 hub.  
Now, our Gigabyte M27Q gaming monitor review will discuss the monitor's design and functions. 
Gigabyte M27Q Gaming Monitor Review – Design and Functionality
If you've utilised Gigabyte gaming monitors in the past, you'll see the M27Q's similarity with the G27QC. Despite this, they do have a difference: the M27Q is a flat-screen monitor, whereas the latter sports a deep curve. 
The M27Q gaming monitor sports a matte black finish that's considered virtually flat-proof. Because of this, it's easier to maintain its new look. Its display has a bezel-free design on three sides, but you'll still see some panel borders when it's being used.
When it comes to the monitor's stand, it has a somewhat interesting appearance. It has a bigger flat base sporting a V-shape and is mostly plastic-covered. Despite the material used, it still looks good and gives off a premium aesthetic. 
For its chassis, it's mostly made out of plastic, yet its build quality is superb and top-notch. 
The KVM Switch and Joystick
Let's discuss its KVM switch and joystick. The latter is used to navigate through the OSD, and it's positioned on the rear right-hand portion of the monitor. 
Above it, you'll find the KVM button that you choose to shift between the KVM inputs. It can either be the USB Type-C or Type-B connection and one of the stand-alone video inputs. In other words, there are only two options, yet this is likely adequate enough for most users. 
The whole idea of the KVM or keyboard, video, mouse is often linked to the business computing users. But if you think about it, having KVM on a gaming screen can be useful too. That's as long as it doesn't compromise on other features present. 
So with the exclusive KVM button's presence, switching devices is much easier and convenient. The whole process will be quick, and it'd be great, especially when you're connecting to more than one computer.
This time, our Gigabyte M27Q gaming monitor review will shift to the M27Q gaming monitor's ports. Let's take a look at where these are positioned and what ports these are. 
Ports
All ports of the gaming monitor are placed on one side. You'll find a little plug input for its AC power adapter which is an external brick. 
Next to it are two USB 3.0 Type-A ports for connecting your mouse and keyboard. You'll need these if you plan to utilise the screen's KVM functions. 
Then, you'll find a USB 3.0 Type-B connection which is needed for a host system connection. Presumably, this connection would be your desktop. 
You'll also find the USB-C port, which simultaneously carries the power, video, and data. So basically, it's for powering up a device while providing it with a video connection and USB.
The next ports are the pure video inputs for your desktop system. These are made up of two HDMI 2.0 connections and a DisplayPort 1.2. 
You can take full advantage of the 170Hz refresh rates at 2,560 x 1,440 resolution. To do this, you'll need to use the USB C or DisplayPort 1.2 connection. 
Do note that its HDMI 2.0 ports can only reach up to 144Hz at native screen solutions. Plus, its USB-C connection can only send 10W, so you can't charge devices like laptops. However, you can charge Galaxy Tablets, iPads, or the like. 
Key Features of the Gigabyte M27Q Gaming Monitor
Aim Stabiliser & Black Equaliser
Aim Stabiliser is a feature that reduces motion blur to produce better visual clarity. This will help you trace the bullet's track and aim the target with ease.
The Black Equaliser enhances details on the dark side without overexposing the bright details.
Dashboard
Gigabyte M27Q gaming monitor reveals your real-time hardware information. These include clock speed, CPU voltages, temperatures, and more. The best thing about this monitor's dashboard is it won't be blocked by any games.
Ultimate Specifications for Users
Just like other gaming monitors from Gigabyte, the M27Q comes with top-notch specifications. With these, you can completely enjoy its upscale performance without needing extravagance and the like. 
OSD Sidekick
Gigabyte's OSD Sidekick enables you to display options using your keyboard and mouse. With that, you can easily adjust your monitor's settings in a snap. 
Timer and Counter
The M27Q gaming monitor comes with an on-screen timer that will help you track elapsed game times. It also sports a gaming counter that will help you determine as well as calculate time easily. This is a highly convenient feature for gamers. 
Crosshair and Alignment
Crosshair and Alignment is a feature that lets you customise crosshairs to help improve your aim in shooting games. The display alignment function simplifies the multiple display set-up, so your monitors will line up perfectly.
PIP and PBP
The PIP and PBP functions allow you to see various video sources displayed on one screen simultaneously. With that, you can watch game guides simultaneously while using a single monitor.
Automatic Update
When using the Gigabyte M27Q gaming monitor, you can enjoy the best gaming experience. Gigabyte continuously offers excellent features to develop and upgrade the monitor while giving it added protection.
Flicker-Free and Low Blue Light
The M27Q gaming monitor has a flicker-free feature that helps prevent your eyes from experiencing fatigue and strain. Plus, it has low blue light certified by TUV Rheinland, which makes it even better. This feature guarantees eye health protection which is a must for users who game for long hours. 
Enjoy the Perfect Viewing Angle with the Gigabyte M27Q Gaming Motherboard
Like other monitors, Gigabyte features an exclusive ergonomically designed stand. It offers an extensive range of height and tit adjustments. Our Gigabyte M27Q gaming monitor review will now focus on the product's specifications.
Specifications
The M27Q gaming monitor makes use of a 16:9 aspect 27″ IPS display panel coming from Sharp. It somehow marks a notable departure from the commonly-used panels from the likes of Innolux, LG Display, and AUO. 
To note, it supports true 8-bit colour. This is while providing a 170 Hz refresh rate along with a 2,560 x 1,440 native resolution. 
A 0.5ms Moving Picture Response Time or MPRT is determined by utilising the provided strobe backlight setting. Its contrast ratio is at 1,000:1, while response time is 0.5ms MPRT. 
Of course, it comes with two HDMI 2.0 ports, a DisplayPort 1.2, plus USB Type-C or B inputs. The monitor also has two USB 3.0 outputs. When it comes to its brightness, it's 350cd/m2. You can tilt the screen 5-degrees forward and 20-degrees backward; plus, you can raise it up to 133mm. 
Now, our Gigabyte M27Q gaming monitor review will share how the monitor performed during our tests. 
Hands-on with the Gigabyte M27Q Gaming Monitor 
On-screen Display
Even if the M27Q gaming monitor only has a joystick, it comes with many quick menus. The thing here is, it all depends on how the joystick is pressed. However, it's good that we were able to customise the joystick's positions accordingly. 
When we pushed the joystick to the left, it brought up the volume controls. It alters the output of the analogue headphones jack. 
Pushing it upwards lets you select the Black Equaliser's level. When pushed to the right, you can select the video input to use.
For other options and menus, simply press on the joystick. 
We did mention earlier that the joystick options could be changed with a couple of options that are available. These include Black Equaliser, Aim Stabiliser, Low Blue Light, Input, Volume, Picture Mode, Brightness, and Contrast. 
Overall, it offers a good number of features, and Gigabyte categorised things in a smart manner. We actually love that the presents are all organised in the same place, whether it's for work or for play. We were also able to customise the functions of the OSD quick options. 
Now, let's move on to the monitor's performance as we continue with our Gigabyte M27Q gaming monitor review. 
Performance of the Gigabyte M27Q Gaming Monitor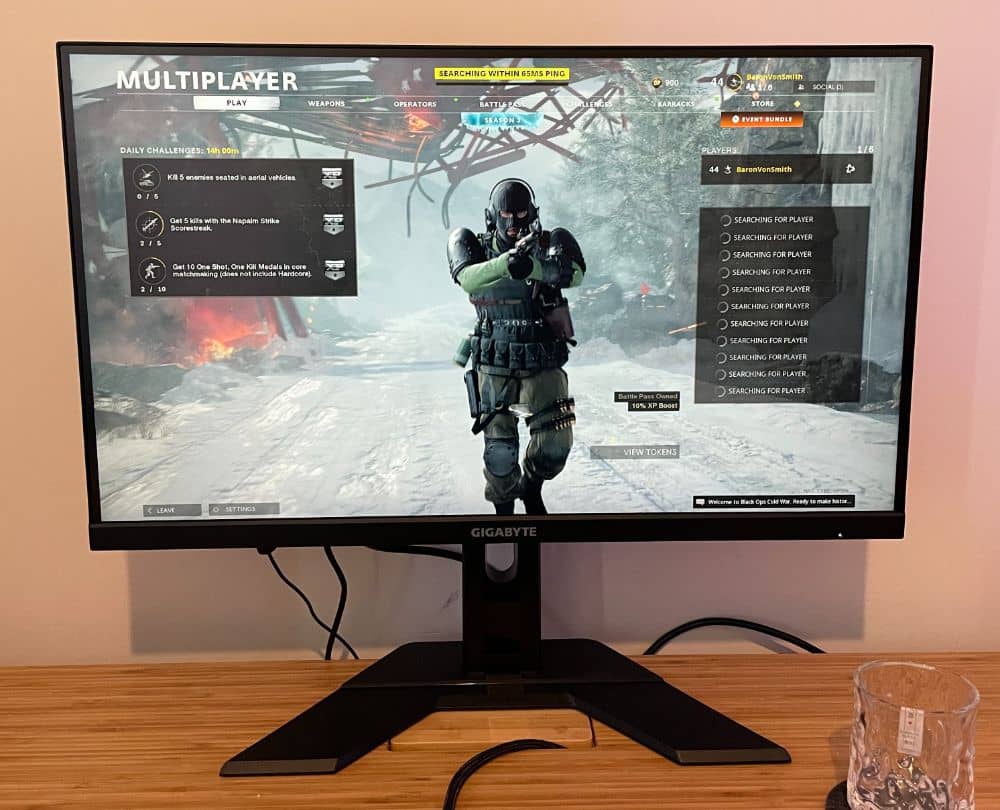 In terms of gaming, the Gigabyte M27Q's resolution was impressive. It may not have the quality of a 4K monitor, but it's still a big upgrade from 1,920 x 1,080. 
What makes it good is that even the fairly modest graphics cards can run games at maximum settings. We tried playing several titles with maxed out settings while using this monitor, and we didn't experience any issues.
When we tried several multiplayer and MOBA titles that needed higher frame rates, we were impressed with the display. So if you want to play popular titles like PUBG or Fortnite, this monitor will suit these games well.
The FreeSync and Adaptive-Sync aids in matching up the monitor's refresh rate to the game's output. So even if we lowered the FPS, everything was still clear, and the high-quality motion was still reproduced, which was impressive.
Aside from gaming, we also tried watching movies, and the Gigabyte M27Q's SDR performance was exceptional. Its colour reproduction was stunning even before calibrating the monitor. 
The viewing angles of this monitor were good too, but that's not a big surprise for an IPS panel. For the brightness of the Gigabyte M27Q, it was also great. This worked well to overcome the reflected light during the day.
Overall, we were impressed with the Gigabyte M27Q gaming monitor's performance. The KVM is an interesting and convenient feature, but not everyone will find it useful. But despite that, it's an excellent monitor for gaming and watching movies.
Gigabyte M27Q Gaming Monitor Review Summary
The Gigabyte M27Q gaming monitor is a fast, high-quality gaming monitor. It has a great resolution, and it worked excellently in different games we tested. Also, it delivered superior performance and responsiveness with low input lag.
The colours of this IPS panel displays fantastic colours with a great contrast ratio. The monitor's overall brightness makes the details pop out and look vibrant, which is perfect for gaming. For the black levels, these are excellent for watching movies.
Overall, the Gigabyte M27Q is a superb monitor to include in your gaming system. A lot of people may not find the appeal of the KVM switch, but it's a useful and convenient feature. In fact, we find the KVM switch interesting, and we'd like to see it in other gaming monitors too.
To conclude our Gigabyte M27Q gaming monitor review, we highly recommend this product. This feature-rich monitor offers everything you'd need for gaming, work, and productivity. And for its price, it's one of the competitive products in the market today.
If you want the Gigabyte M27Q gaming monitor for your gaming system, check out the company's store locator. Here, you can find authorised stores and dealers that sell this product in your area.