Many people do live streaming nowadays, so we're giving you tips on the best equipment to get. Take a look at our AVerMedia USB Microphone and Live Streamer CAM review to get insights about AVerMedia's products.
With the brand, you'll acquire some of the best tools to use for streaming successfully.
Technically, streaming can be extremely overwhelming. You'll have to shift between varying equipment options and ensuring that you have the perfect software for the task.
It's not only that. You'll need to put yourself out on the internet where tons of hoops are present before going live successfully.
When you're live, clear audio in speakers or headphones are important. That also goes for the camera you'll be utilising.
These are vital for content creators since it's necessary to send your audience ideas or messages immaculately.
This is the reason why a lot of audio/video content creators continue searching for the best. They need efficient and fool-proof ways to record and exhibit themselves to everyone on the internet.
In this day and age, the quality of recording audio and live videos isn't only limited to studios. Today, Podcasters, YouTubers, Twitch users, gamers, and other live streaming users, need the best mic and camera with excellent performance.
So today, we will talk about the AVerMedia USB microphone and live streamer CAM.
We guarantee that our AVerMedia USB Microphone and Live Streamer CAM review is adequately detailed to help with your needs. All you need to do is sit back, relax, and read through to learn about these awesome equipment for streaming.
But first, let's look at the mic and camera's packaging and what its contents are.
AVerMedia USB Microphone and Live Streamer CAM Packaging
Our AVerMedia USB Microphone and Live Streamer CAM review won't be complete without the packaging and contents section.
If you're planning to purchase these from a physical store, you'll need to know what the boxes look like. It'll make searching easier, and you can readily point out which USB microphone and live streamer camera is your target.
This USB microphone comes in a sturdy-looking cardboard box that sports a red and black theme to it. The front portion of the package has an image of the mic on display. Above it is the brand's name and a note stating that the mic is Windows and Mac compatible.
Also, the tag line "Let Your Voice Be Heard" is written in front. Below that, you'll be informed that the product is for streaming and is great for YouTube, Twitch, and more.
Inside the package, you will find the USB microphone in a plastic case. It comes with a groove for easier and quicker access.
Aside from the mic, you will find other items inside the package. These include a base & shaft, a mount, the USB cable, and a quick start guide.
Live Streamer CAM 313 Packaging
This time, we'll talk about the Live Streamer CAM's packaging. It doesn't sport the same red and black theme like the USB microphone but sports an all dark theme instead.
Here, you will find an image of the camera in front of the box. You will see AVerMedia written on the upper-right corner, while on the opposite side, you'll find PW313.
Beneath the image, you'll find the unit's name, and underneath it is a line saying "Share Your Moments".
Inside, you will find the camera and the quick start guide. There aren't any other items inside this box, so you can go ahead and start working with the camera.
AVerMedia USB Microphone and Live Streamer CAM Review – Design and Functionality
The design and functionality of these products are vital for our AVerMedia USB Microphone and Live Streamer CAM review. Before purchasing any equipment, it's best to learn about their functions and how they're made.
AVerMedia USB Microphone
Design-wise, the USB microphone sports a well-balanced design from top to bottom. All of its parts are detached or disconnected, and you'll need to set it up before using it.
It may sound a bit challenging, but it isn't, since setting up the AM310 is extremely simple.
AVerMedia built the microphone just like a tank, and it comes with a bit of heft to it. Do note that the mic is a bit chunky. However, it sports a sleek and aesthetic gunmetal-finish, giving it a premium feel to it.
It's adorned with one control in front, and it's a dial that adjusts the volume. To mute and unmute, simply press the dial.
At the back, you'll find one 3.5mm headphone jack. It comes with a switch to alter between mic monitoring or PC audio.
We like that AVerMedia included a control for the mic since it isn't common to have one on regular microphones. Plus, you don't always want to hear your voice while listening to your computer audio and vice-versa.
The Microphone's Base and Mount
The microphone's base utilises big feet to prevent slipping. It sports an elliptical design to keep the mic from having any kind of lurching movements while you use it.
Underneath the base, the AM310 has rubber pads to provide a firm placement on smooth surfaces like a polished desk.
In addition, the mount lets you change the microphone's angle, which is extremely useful. It only means that while recording your vocals, you can readily adjust the microphone's direction. Position it facing the audio source to get the optimal recording.
When connecting the AM310 with your computer or laptop, the unit is supplied with a 4ft-long USB cable. Its end is a Type-A, while the other end is a Type-B.
Do note that Type-A is for your PC, while Type-B is for inserting the microphone.
Controllers of the AM310
The microphone comes with two controllers, and these are the volume knob and the toggle switch.
The toggle switch lets you take the audio out from the PC or microphone and to your headphones. This microphone has a 3.5mm port that can be used to link your earphones or headphones.
You need to insert the headphone jack to the AM310's 3.5mm female port. When you do, you can utilise the toggle button for listening to audio from your computer. You can monitor the mic capturing audio in real-time to listen to the audio while recording for gameplays, streams, etc.
On the opposite section of the toggle button, a volume knob is present. It's used to contain the sound output to your headphones.
This is the knob that mutes the mic by pressing it inwards. Simply press the knob once more to unmute the mic.
AverMedia Live Streamer CAM 313
The AVerMedia Live Streamer CAM 313 comes with a dual-sided omnidirectional microphone. It comes complete with a webcam at the centre and a manual slider to cover the camera for protection.
The camera rests on a flexible clamp that makes positioning an easy task. Plus, you can rotate the camera at a full 360-degrees.
Note that positioning is essential for a webcam. Plus, the Live Streamer CAM 313 gives you a ton of options because of its swivel capabilities.
You can rotate the camera horizontally at 360-degrees, and even tilt it slightly to the sides. We love that it holds well even when tilted slightly forward.
When you find a good position, the camera stays stable. And, its sleek finish makes it blend in your surroundings while streaming. In addition, it offers a privacy shield that lets you keep game capture while concealing the camera.
Key Features of the AVerMedia USB Microphone and Live Streamer CAM
Now, we'll discuss these products' different key features in our AVerMedia USB Microphone and Live Streamer CAM review. Let's begin with the USB microphone.
AVerMedia USB Microphone
Easy to Set up for Both PC and Mac
Setting up for live streams and recording podcasts has become easier than ever with the AM310 USB microphone. All you have to do is connect it to your PC or Mac, and you're ready.
This microphone works out of the box and doesn't require driver installation.
Uni-Directional Microphone
The AM310 is a unidirectional microphone with a cardioid pattern. It will perfectly pick up your voice while filtering out unnecessary sounds from its sides behind it.
Audio Monitoring in Real-TIme
When you flip the mic's switch, you can change between the computer audio and monitoring your voice. Do this in real-time without filters and latency.
Best for Gaming and Live Streaming
This USB microphone provides a full and rich audio experience, and you don't need to use additional amplifiers. This USB microphone will take your live streaming to a professional studio level.
AVerMedia uses capture devices with high-definition audio and high-resolution video, so you can take your content to a new level.
Sound Matters
Sound quality can make or break your content. With that, AVerMedia designed the AM310 as an affordable microphone that is versatile and well-balanced.
For Podcasts and Voice-Overs
The AM310 will add crystal clear vocals to your content, making it ideal for voice-overs and recording podcasts. What makes it better is that you won't need to use it with extra amps and mixers.
This USB microphone features a plug and play design. It's highly convenient, and you can connect it to any computer.
Record Vocals and Instruments
AVerMedia tuned this microphone to pick up midrange frequencies, where vocals are found. It can also be used to complement musical instruments.
With the AM310, you can begin recording a demo and bring your music to life.
Live Streamer CAM 313
Like AVerMedia's USB microphone, the Live Streamer CAM 313 is also rich in excellent features that will enhance your stream. Now, let's see what this web camera offers.
Full HD 1080p Recordings
The Live Streamer CAM 313 captures high-quality 1080P videos @ 30FPS. It can record the finest details for your vlogs and live streams.
Tripod-Ready 360-Degree Swivel Design
Calling and recording become easier with the Live Streamer CAM 313's 360-degree swivel. You can adjust it to any angle and change the scene by rotating the camera when you stream.
Privacy Protection and Security
The Live Streamer CAM 313 has an integrated privacy shutter. This will keep you safe from hackers when the camera is not in use.
With its snugly fit cover, it keeps the lens protected from damage.
Exclusive Camera Effects and Filters
Pair up your Live Streamer CAM 313 with CamEngine+ Software to use various advanced features. These include Portrait Enhancements, Filters, Effects, and more.
These will make you look flawless on screen, resulting in more compelling content.
If you want to use basic video settings for video chatting and conference meetings, you can also try CamEngine Lite. It's a lightweight version of CamEngine+ that is less demanding.
The software supports adjustments for its brightness, hue, sharpness, contrast, and saturation.
Specifications
Now, we will discuss the mic and camera's specifications in our AVerMedia USB Microphone and Live Streamer CAM review. Let's check out the mic's specifications first.
AVerMedia USB Microphone
AVerMedia's USB microphone is a uni-directional condenser type with a cardioid polar pattern. It has a sample rate of 48kHz, bit rate of 16-bit, and requires USB 5V DC of power to work.
This microphone has a sensitivity of -60 ± 5 dB at 1 kHz, 0 dB = 1 V/u bar. Its frequency response is at 20–20,000Hz.
When it comes to its dimensions, it measures 90 x 130 x 270mm (W x D x H). Plus, it weighs 468g ± 5g.
AVerMedia Live Stream CAM 313
When it comes to the camera, AVerMedia's Live Stream CAM 313 is a USB 2.0 FHD type webcam. It has a 1/2.7" CMOS sensor that's 2MP and supports MJPEG and YUY2 for its video mode.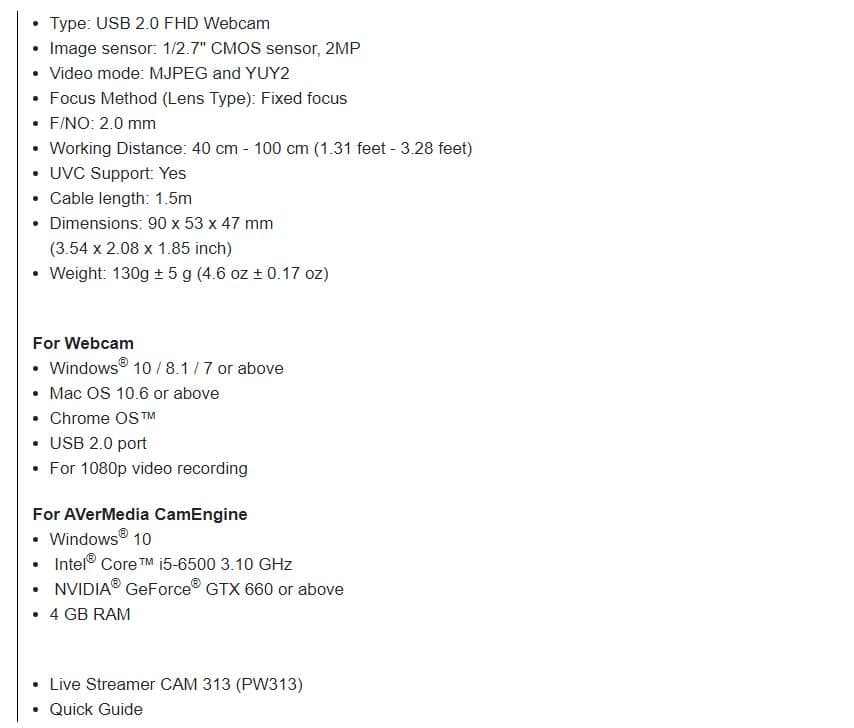 When focusing, the lens of the camera has a fixed focus, plus an F/NO that's 2.0mm. It can work at a distance of 40cm to 100cm, and it supports UVC as well.
It comes with a cable that's 1.5m long and measures 90 x 53 x 47mm. Its overall weight is 130g ± 5g.
Hands on with the AVerMedia USB Microphone and Live Streamer CAM
Now, we'll talk about the camera and mic's performance here in our AVerMedia USB Microphone and Live Streamer CAM review.
Performance (Mic)
Let's first talk about the USB Microphone's performance. Since it's a uni-directional microphone, it can pick sounds with high gains from specific directions or sides of the microphone. It was able to easily capture sounds clearly when we spoke towards it.
The microphone has a cardioid polar pattern. It means that the sound sensitivity angle along the mic is where it acquires sound waves accurately.
Audio Recording
When we tried using it, the audio it produced sounded really good. The good thing is we didn't have to place it so close to the mouth. And considering that it's designed to be used on a desk, it's definitely awesome for it to sound this good.
We also think that AVerMedia did a great job by making the microphone a plug and play type. It'll let YouTubers carry it around easily while travelling to record a variety of things.
Audio recorded by the AM310 was amazingly clear and rich along with its bass-capturing capacities. But of course, make sure that your surroundings aren't too loud and noisy.
During our audio tests, the microphone performed amazingly even without any form of editing, which was great. Although it's good, keep in mind that it has high sensitivity towards sounds. It means that you should utilise the AM310 in a quiet area to record great levels of audio.
Performance (Live Streamer CAM 313)
This time, let's talk about the performance of the Live Streamer CAM, which is a solid piece of technology. It can record 1080P at 30FPS, which wasn't an issue for us. However, this can be a bit of a deal-breaker for some streamers out there.
Its focus is fixed, but the picture quality we got when trying it out was clean, clear, and crisp. You don't have to worry if you move about regularly since the visuals came out great.
The camera does an excellent job when it comes to not overwhelming its users with tons of technical options. Despite that, it still isn't much of a bare-bone for more seasoned or expert users.
Also, that monitor only had one white light source while in a dark room. So when we say that the Live Streamer CAM is versatile, we mean it.
Overall, the AVerMedia USB Microphone and Live Streamer CAM worked excellently. We didn't encounter any issues during our tests, and the results we got were all perfect.
So, would we recommend the AVerMedia USB Microphone and Live Stream CAM? We definitely would.
AVerMedia USB Microphone and Live Streamer CAM Review Summary
The quality of a live stream highly depends on the streamer. But of course, having a good set up will make it even better.
When it comes to streaming equipment, AVerMedia has become one of the favourite brands of streamers. The company has some of the best capture cards, headsets, web cameras, as well as USB microphones.
The USB Microphone
The AVerMedia USB Microphone is an excellent microphone. In our tests, it delivered superior sound quality, plus its body feels durable and well-constructed.
The best thing about this is that you get all of these for an affordable price.
If used for gaming and streaming, we can say that this mic is excellent. It's a solid choice if you're a budget-conscious video content creator or live streamer. In fact, we've seen musicians who use this mic too.
One of this mic's best features is its 3.5mm output that allows hearing the audio output via PC. We also liked its plug and play design, low power consumption, and dedicated controls. All of these features make this USB mic a value for money compared to other streaming microphones on the market.
Now, should you buy the AVerMedia USB microphone? Of course, it all depends on what you'll use it for. But with its price, solid construction, and rich audio, we highly recommend it.
The Live Streamer CAM
When it comes to the Live Streamer CAM, it also delivered an impressive performance. In our tests, it recorded videos clearly, and we were satisfied with the quality of our streams.
When properly customised, you can even produce better videos and achieve the best-looking images.
At its price point, AVerMedia's Live Streamer CAM is an excellent gear for gaming enthusiasts who want to start streaming. Aside from its quality and versatility, it's easy to use and eliminates the complicated process involved in streaming.
We hope this AVerMedia USB Microphone and Live Streamer CAM review helped you with your streaming needs. To purchase the Live Streamer CAM 313 and the AM310 microphone, check out the company's store locator for authorised dealers.