Be Quiet! is a company that doesn't need any significant introductions since it's a name that almost everyone knows. It's a brand that produces a variety of products, including computer cases that a lot of enthusiasts favour greatly. We will be featuring a popular case of theirs in our Be Quiet! Dark Base Pro 900 Rev 2 review today.
Despite their popularity, Be Quiet! wanted to enhance their flagship case and made the Dark Base Pro 900 Rev 2. The chassis looks just like the original that was released a couple of years back. For those who aren't familiar with the original Dark Base Pro, it's a huge full-tower chassis designed for distinguished builders. These people often prefer quality, modularity, silence, and flexibility when building a personalized PC rig.
But with all this, is the Dark Base Pro 900 Rev 2 all that? We're going to find out in this review to see if everything about it are as great as the original.
Be Quiet! Dark Base Pro 900 Rev 2 – Packaging
We finally got our hands on the Be Quiet! Dark Base Pro 900 Rev 2 and we're excited. However, the first thing we can say about this chassis is that it's massive and quite heavy. With its size, Be Quiet! made sure to store the chassis in a cardboard box that's sturdy and strong enough. In this part of our Be Quiet! Dark Base Pro 900 Rev 2 review, we'll check out the product's packaging.
The box sports an all-dark theme, and it displays a couple of different angles of the chassis. It's a simple yet informative package since there are tons of details about the Dark Base Pro 900 Rev 2.
In front, you'll find a full image of the chassis at the centre, and below it is the unit's name. You'll also find the words "Outstanding Flexibility and Silence" written here, which is the company's promotional tagline for the product. On the upper left corner of the box, take note of the Dark Base Pro 900 Rev 2's essential features. These include the silent wings, airflow control, and noise insulation.
On the sides of the box, there are some details about the chassis written in different languages. You'll also see these at the back of the box. We noticed the handle holes on each side, which is pretty convenient if you have to hand-carry the case.
Inside, you will see that there are two large pieces of Styrofoam on each side of the box. These are necessary to guarantee 100% protection for the chassis. In between these protective pieces, you will see the case covered in a thick black cloth bag. It's to make sure that no scratches are acquired while in transit.
Once we unpacked the Be Quiet! Dark base Pro 900 Rev 2, we got this flashback to the year 2016. It's because this current version looks almost exactly like the original Pro 900 Rev 1. The thing is, the Rev 2's look draws your attention to the tempered glass side panels. So with its simple yet stylish design, you'd know that Be Quiet! aimed for subtlety.
The glass on the chassis is a visually pleasing element. As for the tinier meshes at the corner of the case, these are present to provide better airflow. The next section of our Be Quiet! Dark Base Pro 900 Rev 2 review will talk more about the chassis.
Be Quiet! Dark Base Pro 900 Rev 2 Review – Design & Functionality
This part of our Be Quiet! Dark Base Pro 900 Rev 2 review is about the case, design, and functions.
The Dark Base Pro 900 Rev 2 weighs more than 14 kilograms, so it's quite challenging to unbox it. All its weight is due to the steel and aluminium construction, plus the massive tempered glass for its side panel. The unit that arrived looked cool and sleek since it sported an all-black exterior.
With the case, the company's goal is to offer system builders everything they require to create a solid-looking rig. Not only that, but it's also to keep every component in the case well-ventilated. Also, the chassis is efficient for keeping as much noise at bay. And since the Rev 2 is a full-tower chassis, you'll get support for all sizes of motherboards.
If you're someone who's into building and controlling your water-cooling loop, you're covered. Be Quiet! has lots of radiator mount options that you can use with the Dark Base Pro 900 Rev 2. A 360 or 420-millimetre radiator would fit adequately on the case's front and top. You can even opt for a 120 or 140-millimetre radiator in its rear. The Dark Base Pro will also provide you with a lot of space for installing pumps, reservoirs, and the like.
There are a total of three pre-installed dust filters found at the front, side, and bottom of the case. A maximum of 10 fan mounts are also present for all your preferred blades. For all the spinning fans that would be present, two side mesh rails are there to provide adequate air. These go from top to bottom to keep the chassis looking neat without any protruding and visible vents.
The Dark Base Pro 900 Rev 2 sports an attractive and premium look that's right for its price. Be Quiet! utilized a couple of unique materials for the chassis such as steel, ABS plastic, and even aluminium. But despite the distinct combination, the outcome is quite notable. Its front panel is a door held by magnets, with two latches concealing the Silent Wings 3 fans. You'll also find the front panel dust filter in this area.
The right portion of the chassis is transparent, except for the detachable panel covering an extra filter and fan mounts. Its left area holds the full tempered glass panel, and the top hosts the spot for a Qi wireless charger. There are a couple of minor vents too, to help dissipate the heat coming from installed radiators or fans underneath. For its rear, the chassis appears to be standard, especially if you overlook its modular design.
Things start to get more interesting with the front panel's I/O, and we previously mentioned Qi wireless charging. Here, you can set your compatible mobile phone on the chassis and charge it without connecting to any cables. You'll let the standard power button, two audio 3.5-millimetre jacks, and an HDD
activity LED. Also present is the USB 3.1 2nd generation Type-C port, two USB 3.0 ports, and a USB port. On the outside, Be Quiet! did a splendid job with the original Dark Base Pro 900. Its excellent design remains the same with this second iteration, and we sure like it a lot.
This time on our Be Quiet! Dark Base Pro 900 Rev 2 review, we'll look at the chassis' key features.
Key Features of the Be Quiet! Dark Base Pro 900 Rev 2
Flexible and Modular Design
The design of the Be Quiet! Dark Base Pro 900 Rev 2 is highly flexible. You can mount the water-cooling system in all areas, and you can also place the single-caged
HDD/ODD anywhere. It allows you to install the side panel on both sides. For
its tray, you can either slide it up or down to fit all mainboard sizes. You can use it
as a bench table, or position this for inverted mounting. Pre-installing the full system is another option when you set up your build.
This updated version of the Dark Base Pro 900 highlights its leading position in the silent and modular full-tower category. Dark Pro 900 received a lot of excellent
feedback and reviews from customers. However, Be Quiet! created a newly improved
version of the chassis to stay ahead of the game. The company revised its features and applied innovations to give everyone a brand-new user experience.
Comes with All of Dark Base Pro 900's Essential Features
Like its predecessor, the Dark Base Pro 900 Rev 2 is still fully modular and invertible to meet everyone's needs. It comes with the 140-millimetre Silent Wings 3 PWM fans, and it's compatible with a lot of popular components today.
A Perfect View in Your PC
The elegant case comes with a fully windowed side panel made of tinted tempered glass. Its internal LED illumination features six switchable colours. Inside the chassis, you can place the LED strips wherever you want. Aside from the tempered glass and LED light, the case also has a PSU shroud. It functions by hiding the PSU while keeping the system neat and tidy.a
New Technology Updates
Dark Base Pro 900 Rev 2 replaces previous USB 2.0 connectors with a USB 3.1 2nd generation Type-C. It also offers quick charging options as well. For the LED strips, these are now at 12 Volts and are compatible with other LED ecosystems. You can synchronize these using the motherboard's LED controller.
Fans and Fan Controller
The fan controller of the Dark Base Pro 900 Rev 2 offers Performance and Silence modes. These were also available in the Dark Base 700. With that, you can now use and control up to eight PWM fans.
Silent Wings 3 Fans
The three 140-millimetre Silent Wings 3 fans of the Dark Base Pro 900 Rev 2 operate silently. Each of these features a six-pole motor that runs smoothly, a durable fluid-dynamic bearing, as well as airflow-optimized blades. The fans' frames come with funnel-shaped air inlets to induce high air pressure.
Specifications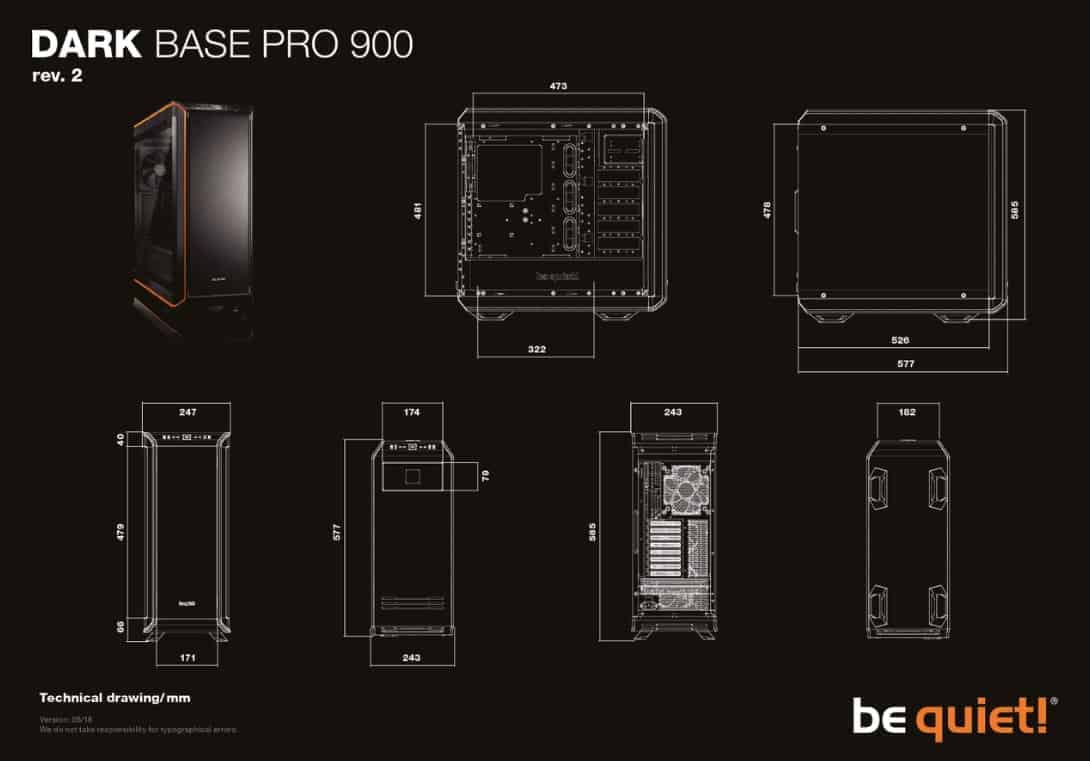 For its specifications, the Dark Base Pro 900 Rev 2 sports an ATX PS/2 form factor. It's compatible with the E-ATX, ATX, XL-ATX, Mini-ATX, and M-ATX motherboards. What we like is that you can also install motherboards with a backplate on this chassis.
Including the stands, the chassis measures 577 x 243 x 586 (L x W x H) millimetres. Its side panel window is 470 x 525 (L x W) millimetres, and the overall weight is 14.39 kilograms.
The chassis has two USB 3.0, a USB 3.1 2nd generation Type-C port, and HD Audio I/O. There are also eight expansion slots, ten fan mounting locations, and a spot for Qi charging / quick charging option.
Next on our Be Quiet! Dark Base Pro 900 Rev 2 review is all about how the chassis works.
Hands on with the Be Quiet! Dark Base Pro 900 Rev 2
Now in our Be Quiet! Dark Base Pro 900 Rev 2 review, let's see if the chassis is truly efficient.
The product is a full-tower case, and because of its size, it gave all our components adequate room to breathe. We tested the chassis' performance on a scorching day, and the CPU temperature was impressively cool under heavy loads. We also didn't have any issues when it came to its GPU temperature. Though we were a bit worried about the PC case's front panel, it still didn't give us any problems. It is because the mesh areas on the sides allowed enough air to keep everything nice and cool.
Of course, we checked on the system's noise levels during full loads. The Dark Base Pro 900 Rev 2 didn't adequately keep the components cool, but it kept noise levels down effectively.
All the materials utilized to dampen sounds, and the rubber standoffs placed throughout the chassis are quality-made. So with that, it's no surprise that the case beats all the other cases that we've tried and tested before. Overall, Be Quiet!
Dark base Pro 900 Rev 2 had excellent results all around. It kept the temperatures at bay and components cool despite using it on a hot day, under heavy loads.
Of course, it ran quietly throughout our performance tests, so with that, we're giving this chassis two solid thumbs-up. We'd also highly recommend it as well.
Be Quiet! Dark Base Pro 900 Rev 2 Review – Summary
The Be Quiet! Dark Base Pro 900 Rev 2 is an impressive case providing full support for all build types. It also works for a lot of different kinds of water-cooling systems. It's a newly improved version of its predecessor, the Dark Base Pro 900, with additional features suitable for today's needs. If your budget can afford this chassis, consider it since it lets you freely tinker around with its parts. Doing so will allow you to achieve your preference for the perfect build. Additionally, the Silent Wings 3 fans performed silently while effectively keeping the components cool.
To conclude our Be Quiet! Dark Base Pro 900 Rev 2 review, the chassis was merely great. With that, we highly recommend the Be Quiet! Dark Base Pro 900 Rev 2.
You can easily have this chassis for yourself by selecting from local and online dealers near you. Go through the list via the company's store locator to see where you can buy this product.