Great power supplies are vital for building a PC, and it's just as important as getting a good graphics card. Today, we're giving you our be quiet! Dark Power 12 1000W PSU review, focusing on this product from be quiet!
If you plan to upgrade to the latest NVIDIA GeForce RTX or AMD Radeon cards soon, here's the thing. You'll need to invest in a high-end power supply unit to get the best out of your unit. But surely, you're already aware of this, so what's left is what model you should get.
A smart choice would be the Dark Power 12 1000W PSU from be quiet! The Dark Power 12 line is a lower-wattage version of the company's flagship Dark Power 12 Pro. 
The product is Titanium-certified by both Cybernetics and 80 PLUS. And, it utilises a fully-modular cable design. To learn more about this product, continue reading our be quiet! Dark Power 12 1000W PSU review.
be quiet! Dark Power 12 1000W PSU Packaging
The Dark Power 12 1000W PSU came in your typical-looking be quiet! Dark Power packaging. It sports a black-coloured theme that gives off a sleek and premium aesthetic. 
Looking at the box's front, it displays an image of the PSU, with be quiet! on the top-right corner. Under the image, you'll find the name of the unit and 1000W present. 
Flipping the package, there are more details related to the product that you can use as a reference. These include the unit's electrical table, a couple of logos, barcodes, serial numbers, and a 2D barcode. The latter directs you to the product details.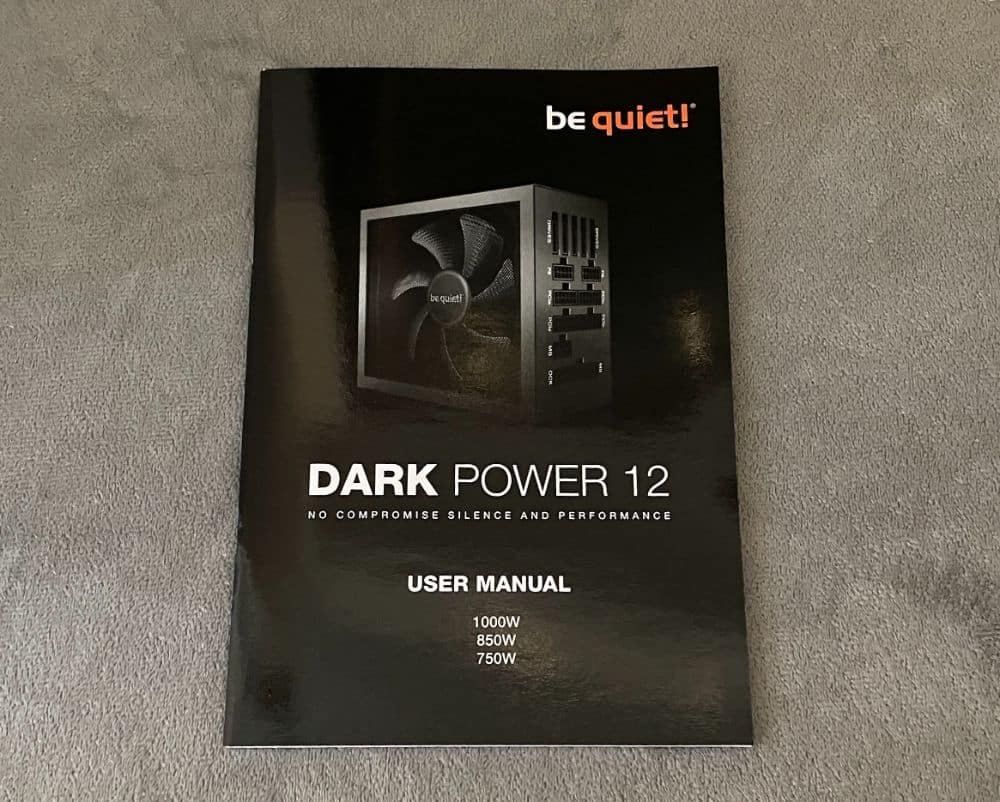 Of course, we looked inside and inspected the box for this be quiet! Dark Power 12 1000W PSU review. The PSU is wrapped with a synthetic cover then placed between foam spacers. For the rest of the bundle, these are set in a thick and sturdy cardboard container. 
Together with the PSU, the sleeved modular cables and power cord, you'll get the multi-to-single rail PCI switch. That also goes for six cable ties, 10 mounting screws (two sets of five), a user manual, and cable straps. 
be quiet! Dark Power 12 1000W PSU Review – Design and Functionality
Exterior of the be quiet! Dark Power 12 1000W PSU
The Dark Power 12 1000W PSU may not be the biggest PSU around but it's still quite large. 
Almost the whole top-most area of the Dark Power 12 1000W PSU is practically made from a mesh cover. It's actually a good thing since it allows the PSU to get optimal levels of airflow. 
On the left side of the product, you'll find a sticker with important details printed on it. These include an electrical table and the 80 PLUS Titanium certification. 
Like previous models, the Dark Power 12 1000W PSU's company name and product line are on each side. 
On the product's front, you will find a total of five drive ports and four PCIe ports. You'll also see four mainboard ports including the 24-pin port, as well as multi-to-single rail ports. For convenience, all of these sport a different shape and are tagged. 
On the other side of the PSU, you'll see the on/off power switch, mesh grille, and the power port. The multi-to-single rail switch is the best choice for those who use ultra high-end graphics cards. Plus, it's also perfect for those who do extreme overclocking. 
This be quiet! Dark Power 12 1000W PSU review won't be complete if we don't look into the product's interior. So when we accessed the PSU's core, we noticed it was slightly different compared to the Dark Power Pro 12. But despite this, you're still required to remove its aluminium cover, as well as both plastic air inlets.
For this product, the company utilised the 135mm frameless fan. This specific element can spin up to 2100 RPM with only 25.87dBA for its noise output. 
When it comes to both of the PSU's primary capacitors, they are manufactured by Nippon Chemi-Con. They're a Japanese corporation that creates capacitors, as well as other discrete electronic parts. As for the capacitors, these are certified to be used up to 105-degrees Celsius. 
When it comes to the product's secondary capacitors, these are all rated for use up to 105-degrees Celsius.
Key Features of the be quiet! Dark Power 12 1000W PSU
Let's continue our be quiet! Dark Power 12 1000W PSU review. This is where we get to know what the Dark Power 12 1000W PSU has in store for us. 
Silence and Performance – No Compromise
The Dark Power 12 is the most efficient line of PSUs that be quiet! has produced. The products under this line are known for their unrivaled efficiency and stability since these guarantee optimised cooling and inaudible operation.
Certified with 80 PLUS Titanium
80 PLUS Titanium is the highest available efficiency certificate. The Dark Power 12 1000W has this certification and an efficiency rating of 95.8%. 
With that, this PSU consumes less power while performing quietly which is highly beneficial for your high-end system. For the Dark Power 12 1000W PSU's standby drain, it's only below 0.1W.
Silent Wings Fan
The Dark Power 12 1000W utilises a patented fan technology for inaudible operation. Equipped with the company's Silent Wings fan, the PSU can achieve maximum airflow.
The Silent Wings fan features a unique fan blade design and is optimised to deliver airflow. It also has a 6-pole fan motor and advanced fluid-dynamic bearing for reduced vibration and longer life span.
Innovative Cooling
The Dark Power 12 1000W features a split fan inlet with a custom-shaped funnel to increase airflow. At the same time, it decreases unwanted turbulence.
With its wire-free design, the split fan allows the cool air to reach all the components smoothly. This innovative cooling technology lengthens the lifespan of the PSU's components.
Overclocking-ready
The Dark Power 12 1000W PSU features strong and stable 12V rails, making it ready for overclocking. The overclocking key provides full OC control by switching between the standard four 12V rail mode and massive single-rail operation.
Modular Cables for the Best Convenience and Connectivity
The Dark Power 12 1000W PSU has modular sleeved cables that provide maximum utility. These reduce annoying clutter while increasing airflow and cooling, even in the largest PC cases.
World Class Technology for High Power Efficiency
The power supply's active rectifier and full bridge LLC technology result in higher efficiency, lower ripple noise, and better regulation.
105° Japanese Capacitors
The Dark Power 12 1000W PSU only uses the best components and high-quality Japanese capacitors. These are rated 105° for reliability, stability, and longer lifespan.
Now, let's discuss the specifications of the product here in our be quiet! Dark Power 12 1000W PSU review. 
Specifications
This product is the Dark Power 12 1000W PSU with a continuous power of 1000, hence, its name. Its peak power is 1100W, and has an active rectifier + full bridge + LLC + DC/DC + SR for its topology. 
When it comes to its form factor, the PSU spots the 2.52 version. For the form factor EPS, it's the 12V 2.92 version that's being used. 
The voltage used is 100-240 while the frequency is at 50 to 60Hz. Input current is 14/8A and it also has an active PFC. 
Looking further into it for this be quiet! Dark Power 12 1000W PSU review, we learned a couple more things. The PSU's power factor at a hundred percent load is > 0.97, while power consumption on standby is < 0.06W.
The average lifetime (h/25-degrees Celsius) of the Dark Power 12 1000W PSU is 200,000. And as for its operating temperature, it's up to 40-degrees Celsius. This PSU uses a 135mm fluid-dynamic bearing fan for cooling, and its operating temperature is 0 to 50-degrees.
Lastly, the product measures 150 x 85 x 175mm (W x H x D), and weighs 2.05kg. Plus, it comes with a 10-year warranty. 
Hands-on with the be quiet! Dark Power 12 1000W PSU
be quiet! Is known for its products' silent operation, but we wanted to test if these claims are true.
For the noise levels, the Dark Power 12 1000W had an idle noise of 31dBA. With average loads, it operated with 37dBA noise levels and that's pretty good.
The fan speed profile was highly relaxed under normal operating temperatures. As a result, the fan noise output didn't exceed 37dBA. This was really quiet, and we had to move close to hear the fans working. 
The PSU was able to handle high operating temperatures. But of course, the fans started increasing in noise under full load.
be quiet! Dark Power 12 1000W PSU utilises a new FSP platform of ultra high efficiency in every load region. 
Other than that, it keeps the output of noise low, and that's even during harsh conditions. So if you want to build a quiet yet efficient system, the Dark Power 12 1000W PSU is ideal. It'll be the best power supply to use for your build. 
The Dark Power 12 1000W PSU is a bit on the pricey side, so you'll need to invest in it. It's something we'd highly recommend since it performs great, it looks good, and it's a very quiet PSU to have.
be quiet! Dark Power 12 1000W PSU Review Summary
The Dark Power 12 1000W is an excellently designed PSU inside and out, so its 10-year warranty isn't a risk. Its exterior design has a great-looking black aesthetic that looks solid and durable, making it stand out from the crowd. 
We usually don't pay a lot of concern for a product's exterior design. But with the Dark Power 12 1000W, it immediately caught our attention.
In fact, we're glad that be quiet! didn't include RGB lighting for this product. RGB would only increase the PSU's price without adding benefits to its performance.
For its components, it utilises top-notch parts like the Japanese capacitors, modular cables, and Silent Wings fan.
The Dark Power 12 1000W isn't exactly a smaller version of the Dark Power 12 Pro, but it's quite close. Both power supply units have the same premium modular design, silent fan, Titanium certification, and built-in overclocking control. It's less expensive than the latter which is excellent for those wanting to spend less on a high-end PSU.
The Dark Power 12 isn't as fancy and expensive as its predecessor, but it's well-constructed and excels in performance. It's an excellent choice for PC builders who don't need a high-end PSU. And aside from this 1000W model, you can also choose from the 750W and 850W variants.
Overall, we were satisfied with the be quiet! Dark Power 12 1000W PSU and we highly recommend it. If you want to get your hands on this product, it's available in various stores worldwide. Check out the company's store locator to find authorised sellers and retailers.