Today, we will be presenting our be quiet! Dark Rock Slim CPU Cooler review. It'll cover everything you need to know about this CPU cooler such as its features, functions, design, specs, and performance.
be quiet! Dark Rock Slim CPU Cooler is packed with a ton of the Dark Rock Pro's premium features. But, the difference is that it's in a much smaller and compact package. 
It's designed for people who want a thinner and more compact cooler for the motherboard, memory, and case clearance reasons. If you're one of them, continue reading our be quiet! Dark Rock Slim CPU Cooler review to learn more.
be quiet! Dark Rock Slim CPU Cooler Packaging
This CPU Cooler came in a very premium-looking black-clad box that has an image of the product in front. be quiet! is seen at the top-right corner while the product's name is just below the image. 
It basically utilises the aesthetics as other be quiet! coolers under the Dark Rock category. 
Flipping the box, you'll find two other images of the product but in different angles. There are also more details about the CPU cooler here which is convenient for those shopping in physical stores. 
On its sides, you'll find other additional details about the product. On the left, there's a QR code for more product information, while the right displays the CPU cooler's specifications. Here, you can also see all other standard details you'd expect such as fan RPM, weight dimensions, and more. 

After opening the package, we were greeted by nice, clean, and neat foam protectors. These encase the heatsink and fan, while all other mounting hardware is kept in a separate box inside.
Since we went through its contents for our be quiet! Dark Rock Slim CPU Cooler review, we realised something. be quiet! kept things extremely neat and organised for their product and we greatly appreciate them for it. 
For its contents, you'll have everything needed to start using the product and to make it easier to work with. The parts supplied for mounting include four Intel backplate screws, four O-rings, and four AMD backplate screws.
There are four AM3 washers, four mounting bracket screws, four fan clips, and four AMD spacers. As well as four Intel 115x/1366 spacers, four Intel spacers, four thumbscrews, and two AMD mounting arms. 
Other items the company included are two Intel mounting arms, two mounting bridge screws, a 120x25mm fan, and Intel backplate. Lastly, there's also a cooler mounting bridge and a tube of thermal paste. 
be quiet! Dark Rock Slim CPU Cooler Review – Design and Functionality
Of course, we had to get the product out of the box. It's to gather more information about the CPU cooler for our be quiet! Dark Rock Slim CPU Cooler review. 
To begin, its all-black aesthetics appear extremely clean and premium; plus, it sports the true tower design too. This product is 159mm high with 50 fins in black ceramic coating for better heat dissipation. 
The be quiet! logo at the top is the product's only source of contrast. That's because the entire cooler gets an all-black treatment, giving it a sleek and stealthy look. Its heat pipe caps are an additional touch to the cooler, and it shows the company's attention to detail.
The fan included in the package is a 120mm PWM version of Silent Wings 3. It's a 7-blade airflow-optimised solution that can spin up to 1500 RPM. This fan also provides a fluid-dynamic bearing, funnel-shaped air inlets, and a 6-pole fan motor for boosted air pressure.
Its heatsink's design appears similar to the fin stacks utilised on the Dark Rock Pro 4. However, the big difference is that the Dark Rock Slim CPU Cooler lacks the small dimples present on the fins.
But despite that, the design proved to be great back then. It'll be good to see how this smaller heatsink will do, considering it only has a couple of heat pipes. 
The heatsink has four 6mm-diameter heat pipes that stretch through the fins. These have heat pipe caps at the top for a clean and professional feel. 
The Dark Rock Slim CPU Cooler also has a four heat pipe setup. Plus, it is rated for CPUs up to 180W TDP. Its top also looks great with the brushed aluminium top cover. Once installed, this will be the most visible portion of the cooler.
Key Features of the be quiet! Dark Rock Slim CPU Cooler
This time, let's look into the different features here in our be quiet! Dark Rock Slim CPU Cooler review. What does it have in store for us? We'll find out.
Compact Build for Powerful Cooling in Small Spaces
The Dark Rock Slim CPU cooler features a compact design. With that, it can achieve excellent heat dissipation even in small cases. It's the best solution for builds with limited spaces since its size prevents it from blocking memory slots.
Silent Operation
The Dark Rock Slim CPU cooler is equipped with the Silent Wings 3 120mm PWM fan. It features a durable fluid-dynamic bearing, six-pole motor, and seven airflow-optimised fan blades. On the heatsink, there's a decoupled fan mounting with vibration-isolating elements.
Even at 100% PWM fan speed, the fans' noise levels are only at 23.6dB(A).
High Cooling Power
With its impressive rating of 180W TDP, the Dark Rock Slim can keep temperatures low even during the CPU's peak performance. With that, the CPU cooler achieves a great performance-to-noise ratio.
You can also install an additional 120mm retail fan for improved cooling performance.
Highly-advanced Design
Continuing our observation for this be quiet! Dark Rock Slim CPU Cooler review, we learned of its highly advanced design. 
The Dark Rock Slim has with four advanced 6mm copper heat pipes to maximise heat conduction. The wave-contoured and air-optimised cooling fins feature small dots on their surfaces for increased air circulation. Plus, the special black coating with ceramic particles allow for perfect heat transfer.
Specifications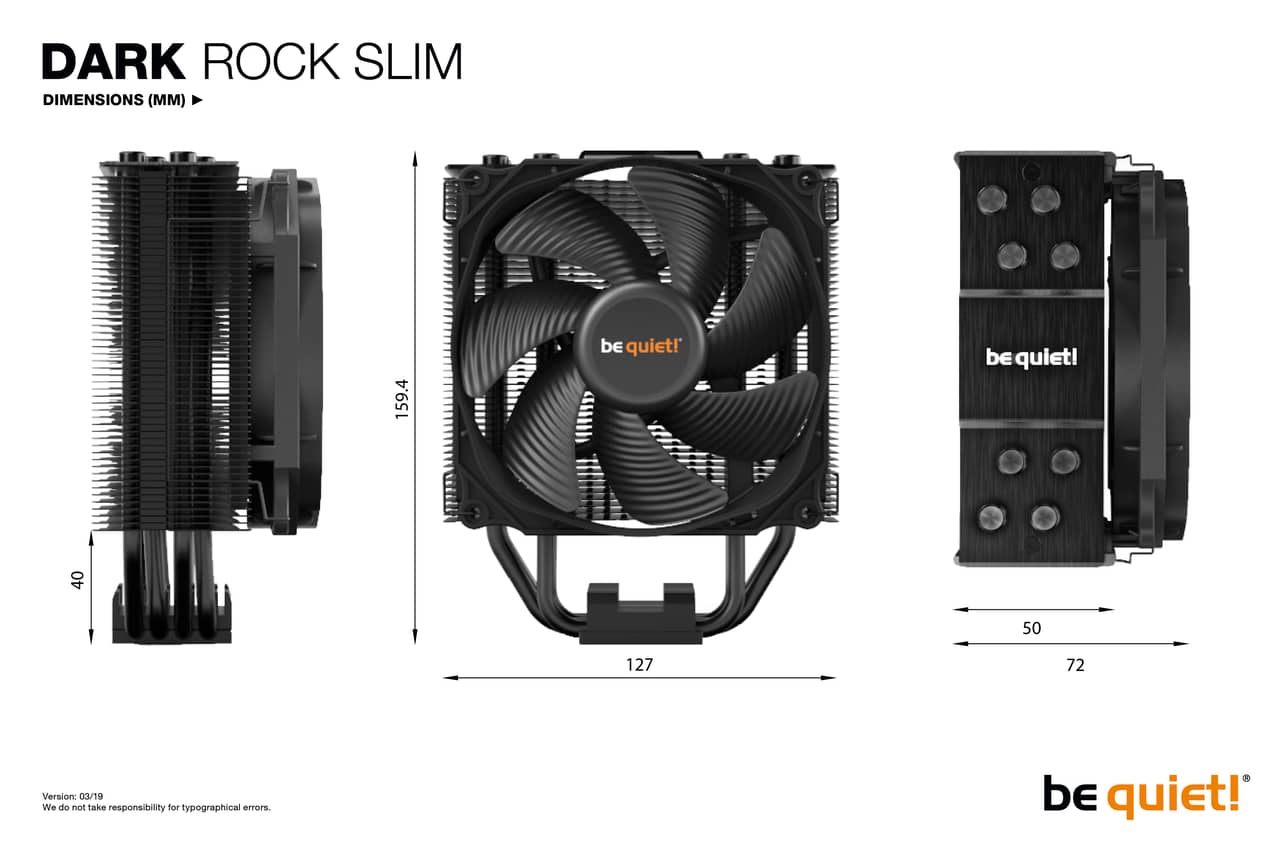 The Dark Rock Slim CPU cooler supports a wide range of Intel and AMD sockets. For Intel, these include the LGA2066, LGA2011, LGA1466, LGA1156, LGA 1155, and LGA1150. When it comes to the AMD sockets, these include AM2+, AM2, AM3+, AM3, AM4, FM1, FM2+, and FM2.
For the heatsink, its fins are made of aluminium, while its heat pipes are made of copper. Its dimensions are 159 x 127 x 72mm, and the diameter of the four heatpipes is 6mm each. Additionally, the heatsink weighs a total of 620g with the fan installed
The included Silent Wings 3 fan measures 120 x 120 x 25mm. It has a maximum fan speed of 1,500 RPM and its maximum noise reaches up to 23.6dB only.
Moreover, the be quiet! Dark Rock Slim CPU cooler comes with a 3-year warranty.
Hands-on with the be quiet! Dark Rock Slim CPU Cooler
Of course, we performed various tasks to see the Dark Rock Slim CPU cooler's cooling capacity. At stock and overclocking idle modes, the CPU's temperature was 25-degrees Celsius.
With average load, the temperature increased to 59-degrees. When we started overclocking, the temperatures reached above 81-degrees but didn't exceed 88-degrees.
For maximum loads, the temperatures reached 72-degrees and for overclocking, it didn't go above 95-degrees.
The CPU was quite warm during our tests. Although its thermal performance wasn't groundbreaking, these results were expected from this type of CPU cooler.
Of course, we also tested the Dark Rock Slim CPU cooler for its noise levels.
As expected from this product, idle noise wasn't audible and our average readings only reached 21.3dbA. With these results, the CPU cooler was inaudible during our tests.
The be quiet! Dark Rock Slim CPU cooler really shines in its silent performance. It's one of the most quiet coolers we've tested, even at full load.
be quiet! Dark Rock Slim CPU Cooler Review Summary
After completing our be quiet! Dark Rock Slim CPU Cooler review, we can say that this is an impressive kit.
In terms of build quality, the Dark Rock Slim CPU cooler didn't cut any corners. It feels just as good as the other coolers under the Dark Rock series. It offers premium looks with its black aesthetics and has a durable construction since it's made from high-quality materials. 
The Dark Rock Slim CPU cooler also comes with little perks like the Silent Wings 3 fan, fan mounts, and more. All of these things are great to see in this cooler from be quiet!
Aside from the stylish design and inclusions, this cooler performed excellently with its great performance-to-noise ratio. This makes it one of the best CPU coolers today, especially among those with compact designs.
Overall, we highly recommend the be quiet! Dark Rock Slim CPU cooler. If you're using a compact PC case, this product is an excellent option for you. To get your hands on this CPU cooler, check out the company's store locator for authorised sellers.