When it comes to recording audio, it is alright to be strict with the quality. This, on the other hand, can become quite costly for the average person. In our Behringer Bigfoot USB Microphone review, we'll be discussing why Behringer's latest microphone is one that is accessible to all.
Whether it be getting into music production or preparing for a live stream; getting the best equipment is expensive. Behringer is renowned for offering affordable sound equipment.
Something to know about the company is that it all started with one man, Uli Behringer. During his time, he could not afford the expensive equipment necessary for his studio. With that, he took it upon himself to supply his own and his friends. 
The company's philosophy is to bring life-changing products with prices that anyone can afford—granting affordable products to anyone looking to get into music production, recording and live streaming with their devices.
With that, let's move to see what we've got.
Behringer Bigfoot USB Microphone Packaging
Before we discuss our Behringer Bigfoot USB Microphone review, we should tell you what you get when purchasing it.
The package comes in a white rectangular box with the image of the product in the front. The box stands to be a foot long and has its name on the upper left.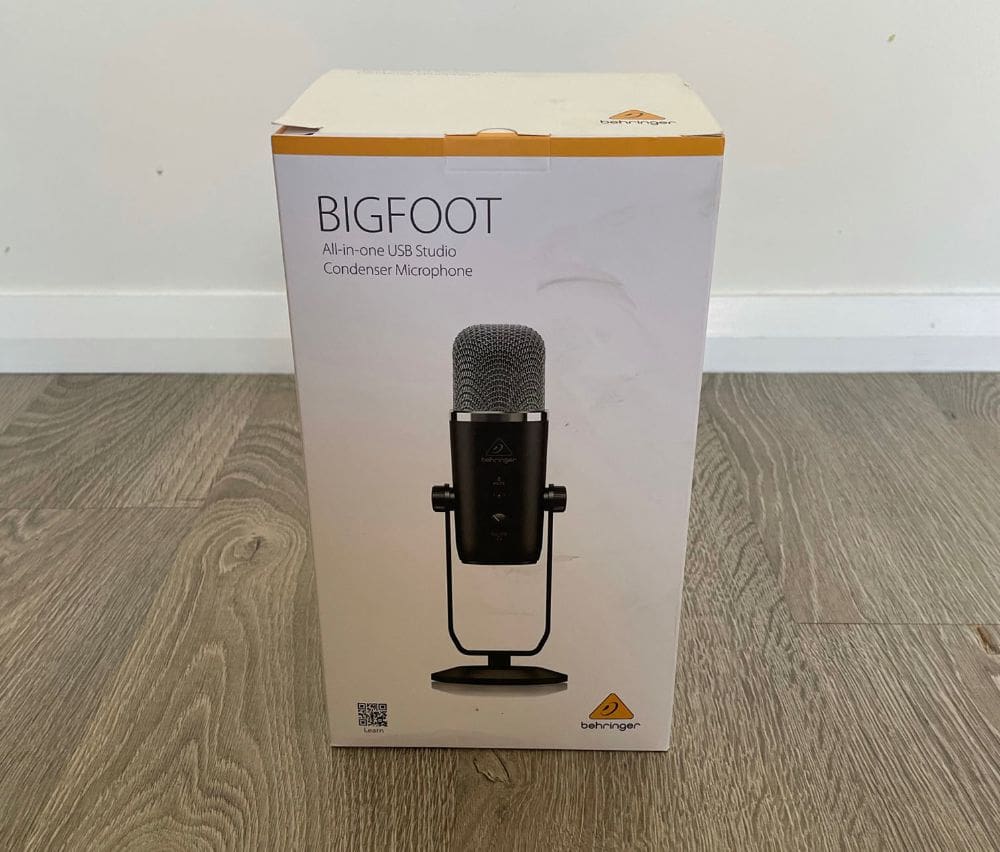 The exterior of the package has no description, nor does it indicate its features. This is done to push the user to read the instruction manual. 
These days, people tend to get lazy with reading over manuscripts. This causes future damages to products due to negligence.
Thanks to that, Behringer wants people to read the manual so that they know how to take care of such complex equipment. 
Once the box is opened, you will see another layer of cardboard. This shelters the product from any outside particles that may enter the package. 
To open the second layer, you will have to rest the box on its side first. Then there will be an opening which can easily be pulled off. 
Inside, you will find the instruction manual on top of the product wrapped in plastic. Beneath the manual reveals the USB cable which connects the microphone to the computer. 
The main product is in a mould of styrofoam. The styrofoam keeps the microphone in place and prohibits the item from moving around the package.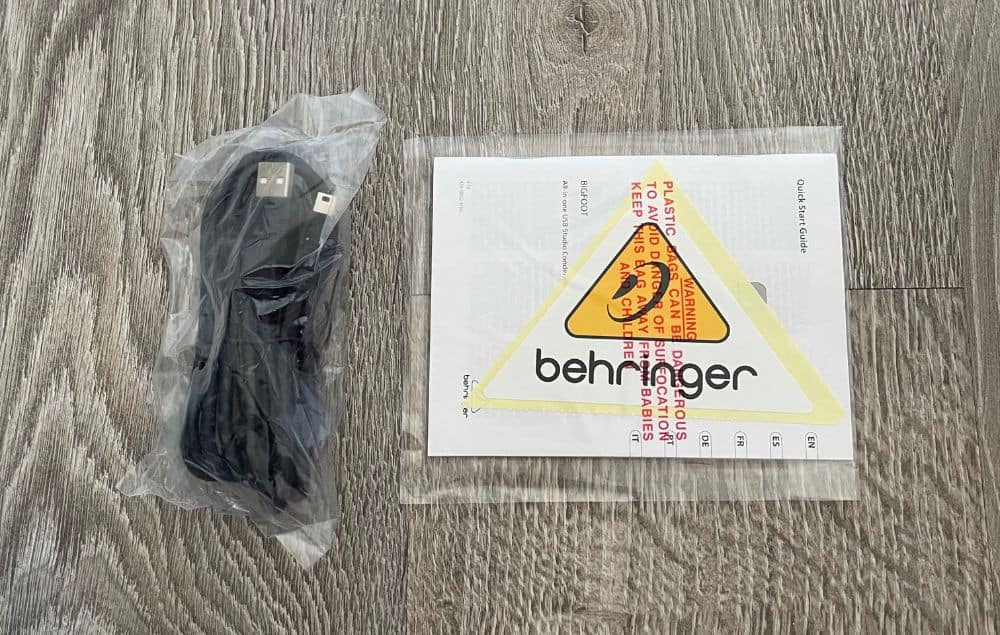 The microphone is also wrapped in plastic to keep it safe and secure from any dust and liquid particles. 
As one can tell, Behringer takes care of their products, safeguarding them during shipment. This puts the products' safety and quality first.
Behringer Bigfoot USB Microphone Review – Design and Functionality
Let us now redirect our attention to the product's design and functions in our Behringer Bigfoot USB Microphone review.
The Behringer Bigfoot USB Microphone has a cylinder shape. The product can come in two colours, grey and black. It is given a modern look and has a smooth touch to it. 
It stands about 8 inches tall. The height isn't too small or too tall, making it fit any setup. With its elegant futuristic look, it really stands out.
The microphone also comes with its swivel base stand. This allows the user to easily adjust the microphone's position to change the direction of where it will receive the sounds. 
With its die-cast metal body, it can withstand late-night recording sessions. It was built with the idea to be tough and work under pressure. This allows the device to last longer than hoped for. 
The microphone has up to four individual buttons for recording. These are the gain, pattern, mute, and volume buttons. This reduces the stress of having to set up the microphone in the computer before recording. 
It also has a zero-latency feature for quick and direct monitoring. This allows the user to make any quick adjustments if needed.
The microphone is powered directly from your computer. This means that as long as it has a connection, you won't need to worry about battery life. Just have your laptop with you to record and alter the recording or streaming session. 
Together with its mount and cable, you can take the microphone anywhere. The microphone is also lightweight and easy to carry around. This makes it versatile to any occasion given.
The microphone also comes with its respective software. This helps the users to customise their setups before recording. This helps in adjusting whatever it is that is needed for recording on the spot. 
Moreover, this can be used for PC and Mac computers. You can find their software on their website as well as any further updates to improve the device. With that, Behringer focuses on bringing out style and efficiency to their products.
Key Features of the Behringer Bigfoot USB Microphone
Let's now head into the key features this microphone has in our Behringer Bigfoot USB Microphone review. 
Quality
Behringer, as a company, understands that it is important always to put quality in their products. We can see that here with their Bigfoot series. 
The Behringer Bigfoot USB Microphone is exceptional with its frequency response and ultra-high sound resolution. Thanks to the four selectable pickup patterns, the microphone can be used in several ways to fit any circumstances. 
One thing to note when doing recordings is always to be time-efficient. Behringer does just that with their Bigfoot series. Having four options to choose from eliminates unnecessary problems and helps the user choose the best option.
This not only makes it time-efficient but also reliable as well. 
Control
The microphone itself has four physical buttons attached to the microphone. If you need to change the gain's level, then turn the knob to make the right adjustment. 
If ever the volume is too loud, then you can lower the setting or mute it entirely. With these options provided, you won't need to worry about having to record everything from scratch.
The microphone also offers zero-latency direct monitoring. This allows the user to hear what is being recorded while it's happening. Therefore, this enhances the user's experience and grants them ways to make adjustments in real-time.
With direct monitoring, one can comfortably accommodate sudden changes when recording or streaming. 
Versatile
This is the best for starters. Whether you use it for recording, studio sessions or live streaming, the Behringer Bigfoot USB Microphone is made for everyone. Anyone who needs this for whatever purpose can utilise this microphone. 
The Behringer Bigfoot USB Microphone is built with a multi-capsule condenser microphone and has a USB-interface. This works well for field recordings, home studio sessions, live streaming and many more.
Plug and Play
The Behringer Bigfoot USB Microphone comes with its cable, USB interface, and featured software. This helps the microphone to be more accessible for beginners. 
Behringer has its software, making it easier to reconfigure the settings of the microphone. 
Although the microphone works best with the Behringer software app, it can also work with other software. 
The microphone works well with any PC or Mac computer. It also has an ultra-low latency ASIO driver. This helps for PC audio optimisation. This is available at the Behringer website.
Software
Behringer already provides a software app that works best with their microphones. This can be found on their website. With that, it makes fine-tuning your setups smooth and reliable.
In conclusion, Behringer has designed it with simplicity and authenticity. With that, let's move on with our Behringer Bigfoot USB Microphone review.
Specifications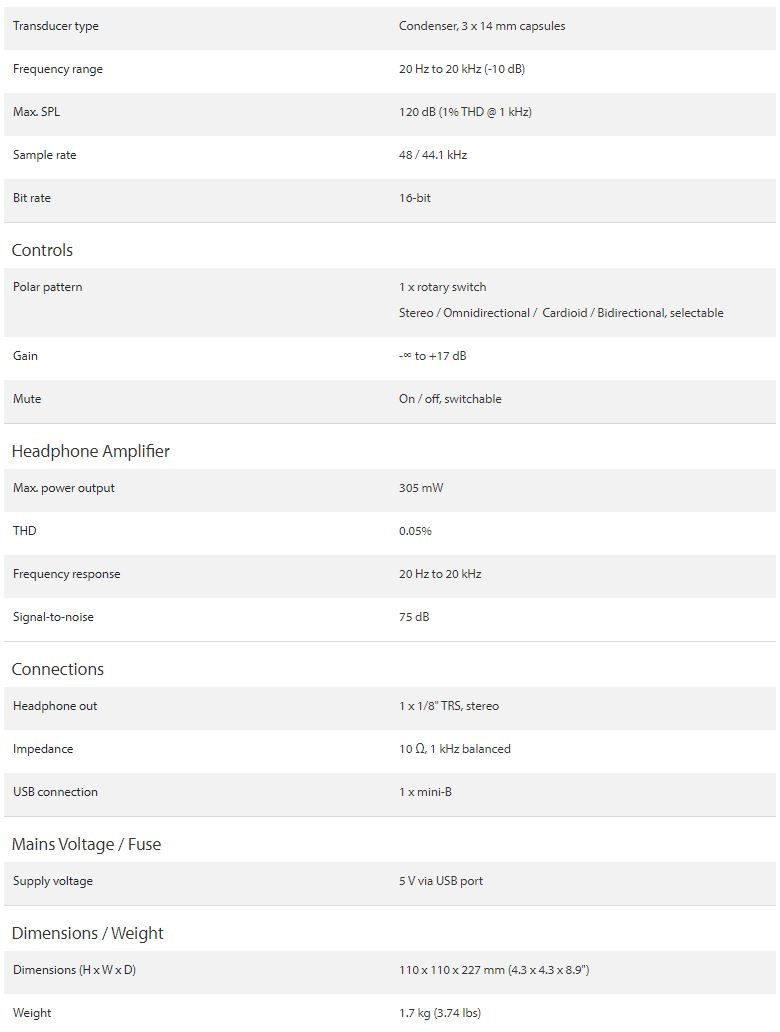 The Behringer Bigfoot USB Microphone is a transducer type condenser microphone. Condensers are considered the best when it comes to recording. This is due to the pressure gradient within the microphone.
This helps pick up the intricate sounds that are received by the microphone. With a frequency range of about 20Hz to 20kHz, it makes recording easier. 
The highest sound pressure level it can reach before distorting would be 120 dB. Therefore when recording, make sure always to adjust the position of the microphone. This helps maximise the receptors within the microphone well.  The sample rate would be 48 / 44.1 kHz and a bit rate of 16-bit. These help configure the system settings of the microphone.
The microphone comes with four buttons. The pattern, gain, mute, and volume buttons help reconfigure the microphone settings while recording. 
Along with the four buttons the microphone has four polar patterns: Cardioid, Omnidirectional, Stereo, and Bidirectional. The pattern button helps one switch between modes.
Gain can reach up to +17 dB. It can be finely tuned to fit your standard. It also comes with a mute button. This acts as a kill switch just in case any unwanted sounds come in. 
It has a maximum power output of 305 mW. The THD remains at 0.05%. It also has a signal to noise up to 75dB.
There is one port for its USB connection which remains to be a mini-B. It also has a port for the earphones. This is used for direct monitoring.
The microphone's dimensions are 110 mm x 110 mm x 227 mm, and it weighs at 1.7 kg.
With that, we know the ins and outs of the microphone. 
Hands-on with the Behringer Bigfoot USB Microphone

Let's now discuss the overall experience with the microphone in this section of our Behringer Bigfoot USB Microphone review.
Setting It Up
When we take a look at the Behringer Bigfoot USB Microphone, we see a well-made product. From the bottom to the top, one can tell that it is made professionally. 
It doesn't take much to understand the device. We simply plugged it in our laptop, and it worked. No more third-party hardware devices to attach to make it work.
Testing the Sounds
The microphone did its job well. There were no signs of any issues or problems when using it. It greatly impressed us with its high quality in recording. 
During the tests, we didn't hear any static. We expected it to catch some unnecessary sounds, however, the microphone proved our expectations to be wrong. 
As we laid it by the doorstep, it easily captured the footsteps of the people walking around. With the four directional patterns, it made receiving sounds much more clear.
With the microphone having a USB type cable, it made things easier for us to connect with our devices. We were able to use it during field recordings and out-of-home sessions. 
Indeed, the Behringer Bigfoot USB Microphone has done well to impress us. It was easy to set up and use. Things were much quicker when we used the software app to reconfigure our settings.
We tried the different modes that give off different results, each providing their perspective in sound quality. Everyone had their personal preferences when choosing which mode to use.
Towards the end of our tests, we still ended up tweaking some of the recordings using a third-party app in our computer. Although the sound quality was amazing, refining and polishing are entirely different things.
With this, Behringer has yet again, done marvels with their latest microphone.
Behringer Bigfoot USB Microphone Review Summary
The Behringer Bigfoot USB Microphone proved to be better than expected. It provides professional sound quality that can be understood easily by anyone willing to learn. As well as significant optimisations, this helps for on-the-go setups. 
If you are new to music production, podcasting or streaming, then you should definitely get the Behringer Bigfoot USB Microphone. 
With its four different polar patterns, this creates more options for recording. This makes altering the setup much easier. This is what makes this microphone available for everyone. 
The Behringer Bigfoot USB Microphone has greatly impressed us. With its versatile arsenal, an easy to understand the setup and sound quality, this is what makes this microphone time-efficient and reliable. 
To end our Behringer Bigfoot USB Microphone review, we are excited about the product, and we hope you will enjoy it too. If you are interested in buying one, click here for more details.