Beyerdynamic is one of the older names in the audio business and has been around for almost a hundred years. Today, we're sharing our Beyerdynamic TYGR 300 R Headphones review to let you know more about their headphones.
In 2019, the TYGR 300 R was part of a bundle with the Fox USB condenser mic. But in 2020, the company started selling the headset as a standalone product, so we're checking it out today. 
We know that Beyerdynamic is a brand that produces excellent audio peripherals. But does the TYGR 300 R have what it takes to become everyone's go-to gaming headset this 2022? Let's learn more about its features, design, performance, etc., in our Beyerdynamic TYGR 300 R Headphones review.
But before we get into the more in-depth information about the product, let's check out its packaging first. We'll also take a look at what's inside the box. 
Beyerdynamic TYGR 300 R Headphones Packaging
The product came in a simple-looking cardboard container that resembles other Beyerdynamic products. The front displays an image of the headphones, its name, and the company's branding.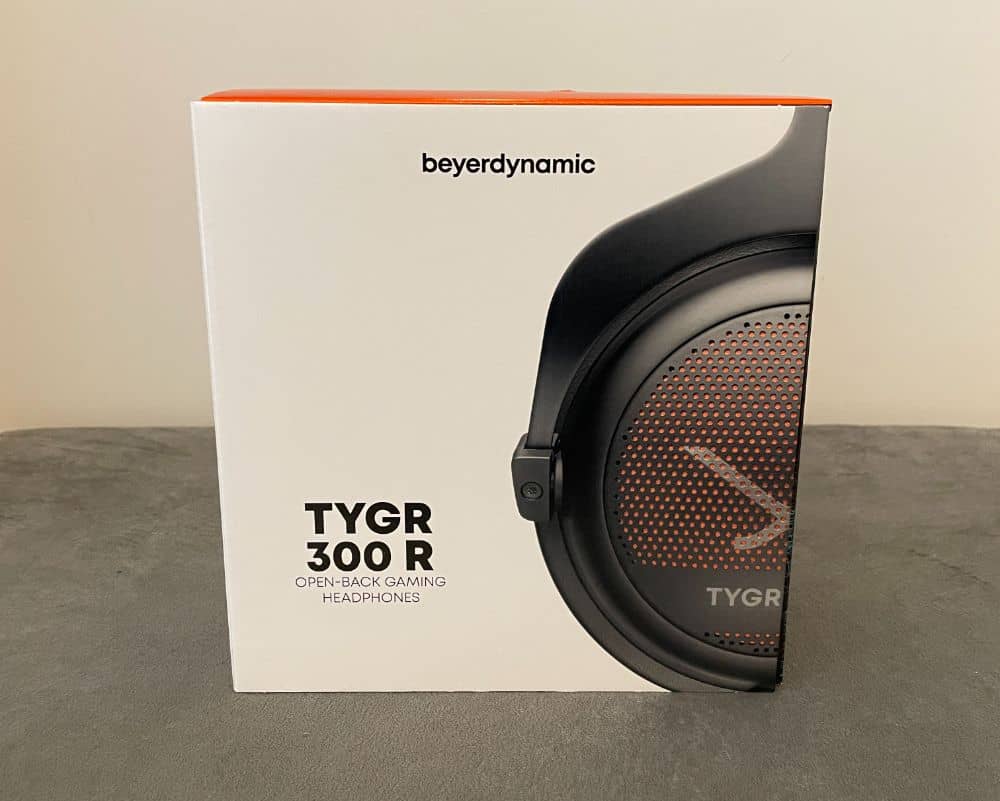 Of course, we didn't miss out on unboxing the TYGR 300 R for our Beyerdynamic TYGR 300 R Headphones review. Inside, the TYGR 300 R was in place, tucked neatly and securely to avoid it from moving about during delivery. Aside from the headphones, you'll also find the 6.35mm jack adapter. 
Beyerdynamic TYGR 300 R Headphones Review – Design and Functionality
The TYGR 300 R is a nicely-made pair of headphones sporting a metal frame and solid ear cups. It has a band made from flexible metal covered in a leatherette cushion held firmly by Velcro. 
Its cushions keep the headphones' wires out of the way, and it sports a comfy, circular velour pad. This element is ideal for gamers who wear eyeglasses.  
While checking its design and build for our Beyerdynamic TYGR 300 R Headphones review, we noticed how simple it looked. It's one of the less conspicuous-looking gaming headphones since it doesn't sport coloured LEDs or an edgy design.
The TYGR 300 R is almost entirely coloured black with orange hints seen through its open-back grille on each earcup.
Linked to the headphones is a cable that feels durable and heavy-duty. Another good thing about it is that it's thicker than average. The 1/4″ adapter screws over the jack to let it plug into any audio equipment you have.
Both the 1/4″ adapter and 3.5mm jack are gold-plated to enhance their longevity and prevent signs of tarnishing. 
Because of their build and form, the headphones are comfortable when you wear them and fit perfectly too. Only minimal adjustment is necessary, and you can wear it without discomfort, even after long hours. 
Remember, these headphones don't feature in-ear or in-line controls, so you won't have to worry about additional settings. You won't even bother with dials, multiple knobs, switches, or clunky software, and it's even better with its plug-and-play design. 
When trying the headphones for our Beyerdynamic TYGR 300 R Headphones review, we realised how plus its earpads were. These felt good and cool on the ears. 
It means you won't feel sweaty even after some hours. It also comes with soft padding to conceal the metallic build of the product. 
Key Features of the Beyerdynamic TYGR 300 R Headphones 
Now, our Beyerdynamic TYGR 300 R Headphones review will focus on the key features these headphones can offer. What makes it an ideal option? Let's check these out. 
Immersive Spatial Sound of the Beyerdynamic TYGR 300 R Headphones Review
The TYGR 300 R offers a superb soundstage adapted for fast and accurate in-game audio localisation. Its open-back design and innovative acoustic fleece enhance the spatial sound environment, resulting in perfectly balanced sounds. As a result, you can enjoy an impressive gaming experience.
​​​​​​​Design and Audio Optimised for Ultimate Comfort and Long Gaming Sessions
Beyerdynamic used carefully-selected materials to create the TYGR 300 R. The headphones combine light design and robust build and offer the ideal balance between comfort and quality.
Aside from the design and construction, the company optimised the TYGR 300 R's audio for ultimate wearing comfort. The integrated acoustic fleece prevents fatigue caused by sharp heights since it evens out high frequencies without losing any detail.
With a comfortable design and optimised audio, you can always enjoy long gaming sessions.
Need a Complementary Microphone? Go for TEAM TYGR
The TYGR 300 R is a pair of headphones without a microphone. But if you need one, you can get the TEAM TYGR. This bundle combines the TYGR 300 R and the FOX USB microphone. 
The FOX is only available in a bundle with the TYGR 300 R headphones. It's an impressive USB microphone that captures sound precisely and offers studio-quality sound. 
High Wearing Comfort + Made in Germany
The TYGR 300 R is a product made to last for years, thus, making it a long-term investment. Skilled professionals from Germany handcrafted all the materials used to create the headphones.
Their degree of craftsmanship offers a distinct level of quality. It guarantees the TYGR 300 R will work efficiently and fit comfortably for years. 
Specifications
Continuing our Beyerdynamic TYGR 300 R Headphones review with the product specs, these dynamic headphones operate on an open principle. It has a 5-35,000Hz frequency response rate with 32Ω for its nominal impedance.
Nominal SPL of the TYGR 300 R is 96dB @1mW @ 500Hz while T.H.D. is < 0.2% @ 1mW @500Hz. The headphones' power capacity is 100mW and it's notable with a circumaural sound-coupling to the ears.  
It has a 2.9N nominal headband pressure and weighs 290g without its cable. The product has a straight 1.60m long cord. Then its connection is a gold-plated stereo jack plug (3.5mm) and a ¼" adapter (6.35mm).
Hands-on with the Beyerdynamic TYGR 300 R Headphones 
The TYGR 300 R offers the best audio that we've ever heard. It gave us warm and spacious sounds, letting us enjoy a realistic soundstage while gaming. 
At first, we got worried since open-back headphones lose some bass. However, the headphones surprised us and proved us wrong. 
When comparing the TYGR 300 R to other similar headsets, we were hard-pressed to spot any shortcomings from it. 
Its bass was distinct and full of impact, while mids were clear and highs were accurate. We rated the frequency response at 5-35,000Hz. So, the TYGR 300 R didn't have any distortions while we listened to music and played games. 
During our tests, it offered accurate audio across the sound spectrum. It slightly optimised bass but not like how other gaming headsets do. 
When gaming, various sounds came across loud and clear without any distortions. We didn't lose any sounds of footsteps or speaking voices amidst loud explosions and gunfire. 
When listening to bass-prominent music, we didn't experience any issues picking up the sound of lighter instruments and strings. Everything sounded great, clear, clean, and balanced. 
In our Beyerdynamic TYGR 300 R Headphones review, we also tested the headphones for gaming. 
It lacked surround sound, but it wasn't a loss on the product. Because of its spacious and vast audio, we still easily determined where the sound sources were. Remember, the TYGR 300 R doesn't produce typical gaming sounds like other high-end headphones. 
Several games like Overwatch feature surround sound options in their settings. That's when we used it to enjoy gaming further while wearing the TYGR 300 R.
Again, this pair of headphones may not rival the audio capabilities and efficiencies of the HyperX Orbit-S. However, we didn't have any trouble hearing the surroundings or footsteps approaching from behind while playing games like COD: Warzone.  
Another aspect you need to consider is the type of game you'll be playing while wearing the TYGR 300 R. These headphones are perfect for single-player games where immersion is the game's highlight. 
If you spend time playing eSports games where voice/communication is vital, the TYGR 300 R lacks a built-in mic.  Without one, using these headphones while playing those types of games can be an issue. 
Beyerdynamic TYGR 300 R Headphones Review Summary
The TYGR 300 R is one of the best-quality open-back headphones we've used. It delivered a rich and highly accurate soundstage that sounded realistic, making it perfect for movies, music, and gaming. 
Beyerdynamic directly aims the TYGR 300 R at gamers, podcasters, and streamers.  These headphones are for anyone who wants to enjoy great sounds. The open-back design is ideal for home use, so you won't miss things you need to hear in the background.
While testing the product, we enjoyed various media with the TYR 300 R. Its realistic audio made movies and games more immersive and exciting. When it came to music, we heard more detail and nuances we never noticed while using other headphones.
What makes this product great is its ease of use and plug-and-play design. Also, we didn't need a lot of adjustments out of the box since it already had high-quality audio.
If you're looking for headphones that deliver natural-sounding audio, we highly recommend the TYGR 300 R. These headphones have everything you need: durable quality, comfort, and excellent audio performance. Plus, you can opt for the TEAM TYGR bundle if you want a microphone.
Learn more about the TYGR 300 R Headphones when you visit Beyerdynamic's official product page for more details. For those that are looking at making the move to open-back headphones, make sure to take a look at how to Choose the Right Open-back Headphones for Gaming