Corsair is a well-known company for its premium PC components, peripherals, and other products for an excellent PC setup. A few months ago, the company released a new ITX form-factor case. Today, we will look into one of its latest chassis in this Corsair 2000D Airflow Case Review.
The 2000D Airflow is an SFF case offering plenty of premium elements to enhance your setup. It has a sleek, slim, tall form and mesh panels that optimise airflow. 
But will these elements make the case something worth considering? Continue reading our Corsair 2000D Airflow Case Review to know if it is the case for your build. We will also discuss its appearance, features, functions, and more. 
Corsair 2000D Airflow Case Packaging
Corsair shipped the 2000D Airflow in a standard cardboard box, like how they packed the previously released PC cases. It features the company branding, product name, and a coloured image showing the chassis and the included accessories.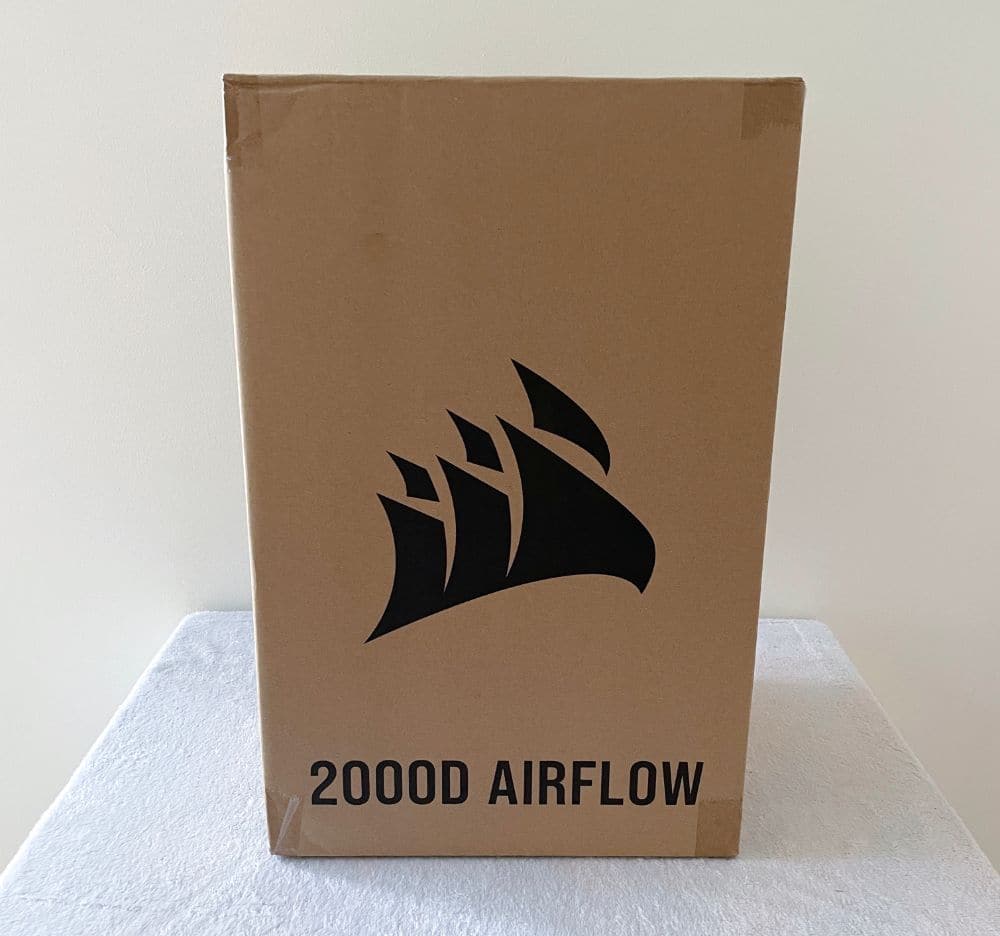 Inside is the 2000D Airflow wrapped in a transparent plastic bag. It also has foam on its top and bottom for additional protection while in transit.
Aside from the chassis, you will find the following items:
90⁰ PSU extension

Zip ties

Installation screws

Safety and compliance information
Corsair 2000D Airflow Case Review – Design and Functionality
Before we look into the product performance, our Corsair 2000D Airflow Case Review will discuss its design. Generally, the product is a slim and tall SFF case. 
It has mesh panels to ensure proper airflow, plus it also has 360mm AIO support. The latter is rare in these cases, but Corsair integrated it into the 2000D Airflow.
With the introduction of this latest model, the brand presents a vertically oriented case with a seamless monolithic layout.
The remarkable nature of this mesh pattern design is noteworthy. Manufacturers specialising in ITX face an ongoing challenge in achieving the proper equilibrium between aesthetics and practicality. 
Often, the artistic elements of a design come at the cost of thermal performance, functionality, or adaptability. By adopting a meshed structure for this case, you can put your concerns to rest regarding airflow and heat dissipation. This chassis is naturally equipped to facilitate excellent ventilation and thermal efficiency.
Corsair 2000D Airflow Case Panels
While working on building our setup for this Corsair 2000D Airflow Case Review, we realised each panel can be detached. It means you can conveniently access its interior to replace any necessary components.
When using this chassis, you can easily access the I/O panel from the base of the front section. Here, you will find the following:
Power Button with a Status Indicator

3.5mm Microphone/Headphone Combo Jack

One USB-C 3.1 port

Two USB-A 3.0 ports

Reset Button
Compared to standard PC cases, the back of the 2000D Airflow is plain and simple. Here, you will find its dust filter and an opening in the lower right corner of the case. 
On the upper section of the case, you will once again find mesh grilles affixed to plastic supports. Nevertheless, a subtle stroke of uniqueness appears through the gleaming logo of the brand. It is worth highlighting that this component can be detached, providing a glimpse of the power supply rear when removed.
Under the case are four plastic feet with non-slip rubber coating to support the chassis and keep it in place.
Interior
Triple Pre-installed Fans
Corsair pre-installed three SF120RGB fans in the 2000D Airflow. Aside from providing adequate cooling for your components, they offer a stunning lighting show for your build. 
You can configure these fans via the iCUE Software. The interface has settings for changing RGB lighting, adjusting fan speeds, and many other options.
Aside from the pre-installed fans, Corsair also provided room for additional fans. Of course, we recommend adding more to guarantee excellent cooling for your components.
Power Supply 
The 2000D Airflow has a unique position for the power supply. Unlike most PC cases that place it at the bottom, it sits vertically at the top of the chassis. It also has a low-profile AC power cable adapter and velcro ties along the cord path.
Like all compact cases, the 2000D Airflow is incompatible with full-size PSUs. You will need an SFX PSU to use the case. Also, it has an included removable PSU bracket for more convenience when building your PC.
Storage Support of the Corsair 2000D Airflow Case
The 2000D Airflow accommodates up to three 2.5-inch drives, allowing you to enjoy plenty of storage. However, you can only use two out of the box. 
The ceiling of the chassis has holes for installing an SSD. On top of the PSU bracket is one 2.5-inch drive mount. The PSU mount supports two drive brackets, but the 2000D Airflow only has one. 
You must purchase another drive mount when using another storage drive.
Three-slot GPU 
This chassis supports up to three slots thick and 365mm long GPUs, making it compatible with many of the best GPUs. Some of these include NVIDIA RTX 4090 and AMD 7900XTX.
 360mm AIO Support
Many cases for mini-ITX motherboards only have room for 240mm AIO or air cooling support. What makes the 2000D Airflow different is its compatibility with 360mm AIO coolers for better thermal performance.
Rear I/O
You can access the motherboard and GPU I/O connections by removing the bottom cover. These are routed through a single exit for neat and organised cable management. However, connecting and disconnecting cables can be less convenient with this layout.
Key Features of the Corsair 2000D Airflow Case
Our Corsair 2000D Airflow Case Review discusses the primary product features. Here, we will find out what makes it better than other ITX chassis.
Compact Without Compromising Performance
With the 2000D Airflow, you can use an SFF case for your PC without sacrificing thermal and acoustic performance. Install your full-size GPU in an optimised interior with up to eight 120mm fans and all-mesh airflow panels. 
Incredible ITX Cooling
The 2000D Airflow maximises its interior space for cooling potential, allowing extreme performance builds to operate seamlessly.
Optimised Design for Adequate Airflow 
You can install up to six 120mm regular or slim fans with two additional mounts for GPU cooling.
Compatible with 360mm AIO Cooler
The 2000D Airflow supports multiple AIO coolers, including 240mm in the rear and 360mm on the side.
Mesh on All Sides
All sides of the 2000D Airflow have removable steel mesh, including the roof. As a result, your components have plenty of ventilation for superior cooling.
Compact Dimensions
The 2000D Airflow has a reduced footprint than a mid-tower case to save space on your desk. Despite the decrease in size, it does not cause difficulties installing PC components. Later in our Corsair 2000D Airflow Case Review, we will discuss our building experience with this chassis in more detail.
Modern Front Panel
The front I/O includes one USB-C & two USB-A ports, plus a combination audio/mic jack. 
Top-notch Support
Corsair offers award-winning services, allowing you to enjoy your purchased product without worries.
Specifications
Case Dimensions:

458 x 271 x 200mm

Maximum CPU Cooler Height:

165mm

Weight:

5.5kg

Radiator Compatibility:

120/140/240/280/360mm

Maximum GPU Length:

365mm

Maximum PSU Length:

130mm

Compatible Liquid Coolers:

 H75, H80i, H60, H90, H100i, H105, H150i, H110i, H115i

Case Power Supply:

SFX

Expansion Slots:

3

Internal 2.5-inch Drive Bays:

3

Case Warranty:

2 Year
Hands-on with the Corsair 2000D Airflow Case
We created our setup to test the case for our Corsair 2000D Airflow Case Review. So now, we will discuss its installation process to see how efficient this chassis is.
The design of the chassis allows for convenient cable management since it has plenty of cabling room. It also has an adequate amount of space for mounting the power supply. 
Using a standard-sized PSU requires the removal of the drive cage before installation. After installing, we re-inserted the drive mount.
Thanks to the layout of this chassis, installing our components was convenient. We had plenty of space and clearance to tuck away wires, which made our build look neat. It had grommet holes and a gap that helped keep the cords more organised.
Many ITX chassis cause components to increase temperature, especially the CPU and GPU. Usually, it is because of the build size and lack of space. Fans work harder to keep the components cool when the temperature increases, resulting in more noise.
Surprisingly, the 2000D Airflow delivered more. Its mesh side panels helped maintain low temperatures, and we added more fans to guarantee satisfying cooling performance.
Whilst testing the thermals for the 2000D we found the following results:
CPU Ambient Temp: 28 degrees
CPU Idle Temp: 47 degrees
CPU Load Temp: 71 degrees
GPU Load Temp: 38 degrees
GPU Load Temp: 82 degrees
The pre-installed Corsair fans, combined with ours, never became too noisy. Of course, they generated some sound when spinning at higher RPMs, but they were never disturbing. Also, acoustic results may differ for every user.
Corsair 2000D Airflow Case Review Summary
The 2000D Airflow is a new PC case and another excellent innovation from Corsair. Unlike other ITX cases, it does not compromise airflow, space, or another component to make it feasible. 
Corsair provided adequate space and room for various components, including radiators, fans, and graphics cards. It never hindered airflow and thermals since all sides have mesh panels to make it breathable. As a result, our components had low temperatures while the fans remained quiet during our tests.
Aside from excellent thermal and acoustic performance, both black and white variants have a sleek, sophisticated design. Plus, it has a compact footprint that helps save space, allowing it to suit any PC build. 
Although this PC case is more expensive than other models, we highly recommend it. This product offers more than what you pay for.
Visit the official Corsair product page to learn more about the 2000D Airflow Case.