Today, we are offering you our Corsair Vengeance RGB RT DDR4 RAM review. This is where we'll discuss the product and focus on its features, specifications, functions, performance, and more. 
What we have for our review is the 32GB RAM, 3,600MHz version. And, we'll see if it's just as good as what Corsair claims. For starters, we can see that the Vengeance RGB RT DDR4 RAM has a fresh and sleek design.  And it's also enclosed in an aluminium cover which adds more to its premium aesthetics. 
Think this is something you'd need for your system? If that's the case, continue reading our review to learn more about it. 
Corsair Vengeance RGB RT DDR4 RAM Packaging
We're beginning our Corsair Vengeance RGB RT DDR4 RAM review by checking out its packaging and contents. 
When it arrived, the product came in your typical Corsair Vengeance-looking box that sports a simple black theme. In front, it features an image of the DDR4 RAM while Corsair and its logo are on the upper-left corner. 
You'll see the name of the product below the image, as well as what it is. The front also notes that the product is optimised to work with Ryzen, and is compatible with iCUE software. 
Looking at the back of the package, you'll find more details about the DDR4 RAM. These include information like its compatibility with ASUS and MSI boards, sync software, and some key features.
Corsair even covered the 10-one dynamic RGBs, and panoramic light pipe style. They also noted that it features a dual-tone heat spreader and it's optimised for AMD. 
We appreciate that there are a pair of spaces that let us see the product stickers on the sticks. Why? It's because all technical information is present there. 
There's even a little notation present that informs us what kit we have. And with that, we have a total of four sticks with 8GB memory for each. 
On the bottom-left corner of this area, you'll find the legalese while the opposite corner is a sticker. The latter verifies if you received the right kit you need; cross-checking its model number is provided here.
To complete this section of our Corsair Vengeance RGB RT DDR4 RAM review, we checked out the box's contents. Inside, you'll find a clamshell package to protect and safeguard the four sticks while in transit. The documents included are the safety guide, while the other shows you how to install the product.
The last thing you'll find inside the package is a QR code that brings you to Corsair's product page. 
Corsair Vengeance RGB RT DDR4 RAM Review – Design and Functionality
The design of these sticks greatly differ from the Vengeance Pro SL, and it's optimised for both Intel and AMD. Also, Corsair obviously went over the top with this DDR4 RAM's design. 
They utilised a few angles at the top of the sticks. They opted for those that are present on the brushed aluminium sections. Then, these are matched with the angles present on the Vengeance sticker that's set on each stick. 
Details about the heat spreaders are important for users. So we've included it in our Corsair Vengeance RGB RT DDR4 RAM review. 
It's a functional element with thermal pads underneath. These touch the flash memory modules to relay heat to its aluminium surface. Don't expect to find fins for increased heat transfers since the DDR4 in this variant doesn't necessarily need it. 
The aluminium heat spreaders get anodised in the colourway, blending nicely with the gunmetal gray with a brushed finish. This is between a more matte black shade that displays the expected little triangles. 
Vengeance is written in the centre on one side, plus certification details on the other. 
The lower section of the heat spreaders is black, and features a triangular form on the packaging. The black PCB is a must for this design. And compared to other sticks, the light pipe on top is thin and can be seen from any angle possible. 
From a distance, the light pipes appear marked with the logo of the company, and are positioned in the middle. This is technically enough in most designs, but there's more to see here.  
When looking closely, you'll find the same triangular pattern that you'll see everywhere else. You can do this by shifting the angle and looking closer at the RAM. 
Overall, we love how simple the aesthetics of the Vengeance RGB RT DDR4 RAM is. And as you get closer and look at it more intently, you'll see that there's more to the simple design. 
The combination of the brushed aluminium, patterns, and thin light bar is a great way to go for this product. Next in our Corsair Vengeance RGB RT DDR4 RAM review, we'll focus on the key features. And, we'll see what the DDR4 RAM has in store for us.
Key Features of the Corsair Vengeance RGB RT DDR4 RAM 
Spectacular Ten-zone Lighting
The Vengeance RGB RT DDR4 RAM features dynamic ten-zone RGB lighting that are individually addressable. These LEDs are encased in a panoramic light pipe, offering unobstructed viewing from every angle.
Designed for Ryzen
This memory kit is optimised for tight response times and maximum bandwidth on the newest AMD DDR4 motherboards. With that, it will definitely complement your Ryzen system.
Synchronise and Unite
With Corsair's iCUE Software, you can control and synchronise this memory kit with your other Corsair RGB products. You can choose from a list of preset lighting profiles or create your own.
High-Speed Performance of the Corsair Vengeance RGB RT DDR4 RAM 
The Vengeance RGB RT DDR4 RAM only uses tightly-screened memory chips for longer overclocking potential. It even has a custom-performance PCB that offers the highest signal quality for excellent stability and performance.
Instant Overclocking
The Vengeance RGB RT DDR4 RAM automatically configures to the maximum speed supported by your system. With that, you can multitask and experience faster load times without tweaking via BIOS.
Lifetime Warranty
You can enjoy complete peace of mind since the Vengeance RGB RT DDR4 RAM comes with a lifetime warranty. It even delivers worry-free performance which is common for Corsair's products.
Now, let's continue our Corsair Vengeance RGB RT DDR4 RAM review and look at the product's different specifications. 
Specifications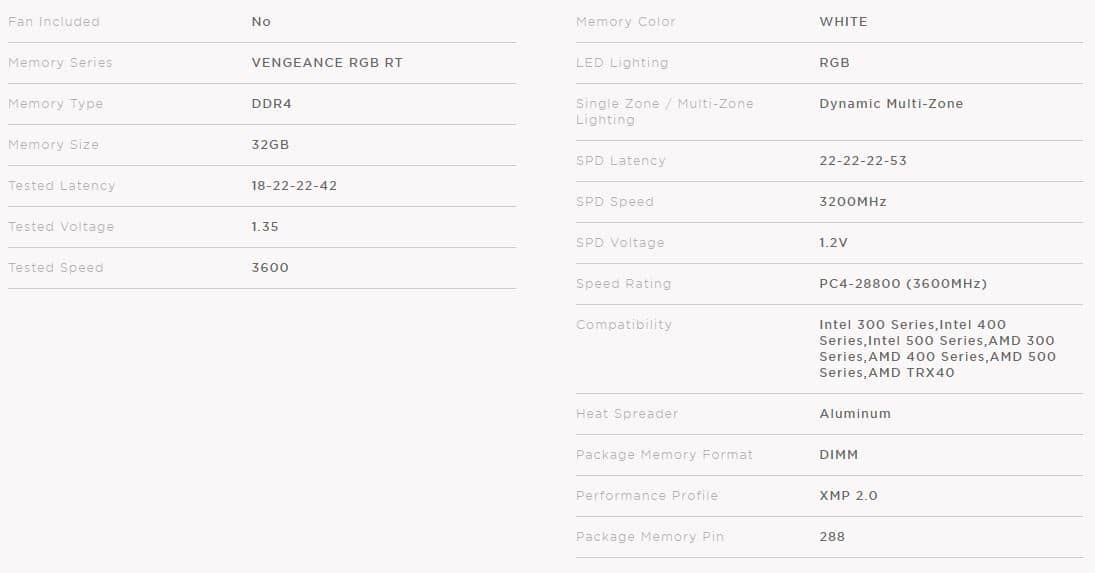 As the product's name states, the Vengeance RGB RT's memory is the DDR4 type. It has a total of 32GB for its memory, and RGB dynamic multi-zone LED lights. 
The product's tested latency, voltage, and speed are 18-22-22-42, 1.35, and 3,600 respectively. While for its SPD latency, speed, and voltage, these are 22-22-22-53, 3,200MHz, and 1.2V respectively. 
This DDR4 RAM's speed rating is at PC4-28,800 (3,600MHz). 
When it comes to its compatibility, the product works ideally with the Intel 300, 400, and 500 Series. Plus, it functions adequately with the AMD TRX40 and the AMD 300, 400, and 500 Series.
The Corsair Vengeance RGB RT DDR4 RAM's heat spreader is made from anodised aluminium. Plus, it has a 288 package memory pin and DIMM package memory format. 
Lastly, the DDR4 RAM's performance profile is the XMP 2.0
Hands-on with the Corsair Vengeance RGB RT DDR4 RAM
This is where we get more hands-on with the product in our Corsair Vengeance RGB RT DDR4 RAM review. That means, we'll see how well it performed during our tests, and if it's something worth adding to your rig.
But before we get to its performance, let's first discuss the iCUE software. 
iCUE Software
Like other products from Corsair, the Vengeance RGB RT DDR4 RAM is configured via the iCUE Software. The interface is currently on its 4th version which has a new and cleaner interface. After installing iCUE Software, all the modules we installed on the motherboard were automatically detected.
When it came to the interface, the first thing we found was a list of customisable Corsair components via iCUE. We also found a list of configuration profiles on the left that we were able to modify or delete. Plus, the software allowed creating new profiles based on our preference.
Upon accessing the Vengeance RGB RT DDR4 RAM, we saw a section where we could establish the location of the memory sticks. The RGB animation reacted depending on our distribution of memories. 
Each memory stick of the Vengeance RGB RT DDR4 RAM kit has 10 RGB LEDs, totalling to 40 LEDs. We were able to configure these one by one via the iCUE Software. 
For RGB configuration, iCUE Software offers a long list of predefined animations and the option to create a custom one. We were able to set different colours, speeds, and several layers, allowing us to practically do what we wanted. 
iCUE Software is undoubtedly one of the software programs that offer the most versatile and customisable RGB settings. Even though the memory sticks had 10 LEDs each, it allowed customising one, a few, or all LEDs.
Customising the Vengeance RGB RT DDR4 RAM with the iCUE Software was a great experience for us. The interface was user-friendly and easy to use, and we didn't have any issues like lagging and freezing.
Of course, our Corsair Vengeance RGB RT DDR4 RAM review doesn't end here. We also tested the product to see how well it performed. It's to help you determine if this memory kit is the right upgrade for your system.
Performance of the Corsair Vengeance RGB RT DDR4 RAM
The performance of the Vengeance RGB RT DDR4 RAM was one of the things we enjoyed during our tests. Although the memory sticks got warm under extreme circumstances, we didn't see any temperature issues.
Overall, we were very satisfied with the performance of the Corsair Vengeance RGB RT DDR4 RAM. Among the memory kits we've tested, this is one of the best performers. It's an excellent component to have in your system if you're looking to upgrade your build.
Aside from using the Corsair Vengeance RGB RT DDR4 RAM, we also checked out the performance of its RGB lighting.
Compared to the Vengeance Pro SL and previous generations of Corsair's RAM, this kit had more powerful light. The LEDs were eye-catching, striking, and spectacular especially when installed on plates with RGB.
The memory's diffuser worked well for individual LEDs, but the dynamic effects were more noticeable in slow to medium speed. For colour transitions, these were smooth with consecutive lighting coming off the memory kit.
Corsair masters the intensity of colours with a soft blend for the Vengeance RGB RT DDR4 RAM's lighting. The triangles on the light pipes were a nice touch since it added to the memory kit's flair.
Corsair Vengeance RGB RT DDR4 RAM Review Summary
The Vengeance RGB RT DDR4 RAM shows that Corsair is making way for the new generation of RAM, the DDR5. It has great specifications and features, like the optimised Micron chip modules and instant overclocking.
Other than having great features, its high-quality aluminium casing makes it durable while keeping its sleek and classy look. Another bonus is the memory kit's powerful RGB which can be configured via the updated and improved iCUE Software. The RGB lighting can also be synchronised with the rest of iCUE-compatible Corsair gear in your system for added aesthetics.
Overall, we were satisfied with this memory kit, so we're recommending it. It offers great aesthetics, durable construction, and superior performance. To get your hands on the Vengeance RGB RT DDR4 RAM, you can purchase it from the company's official website.