For an excellent web-cam that's clear, durable, and effective, we have something just for you. Here in our Creative Live! Cam Sync 1080P review, we'll give you insights about this camera from Creative. You'll gain pertinent details about its features, specifications, performance, and how well it works.
This year has mostly been us staying and working at home. It has slowly become the new norm. So, a lot of people do their jobs, and even schooling in the comfort of their own space.
With that said, almost all important meetings are held online. Of course, you'd definitely want a web camera that delivers and receives 100% clarity and preciseness.
Let's begin our Creative Live! Cam Sync 1080P review with the product's packaging.
Creative Live! Cam Sync 1080P Packaging
This is a portion of our Creative Live! Cam Sync 1080P review that focuses on the package and its contents.
Our Creative Live! Cam Sync 1080P came in a clean-looking white cardboard box. The front displays an image of the web-cam itself, together with Creative written on the upper left corner.
The name of the product is written on the left part of the image. In addition, there are also a couple of vital features listed at the base.
On each side of the box, there are more details about the Live! Cam Sync 1080P. That also goes for the box's rear which features more information about the product.
Other than the web-cam, additional items in the package include a quick start guide and the warranty leaflet.
Creative Live! Cam Sync 1080P Review – Design and Functionality
This section of our Creative Live! Cam Sync 1080P review focuses on its design and functions.
The Live! Cam Sync 1080P is an amazing new product from Creative. It's designed to give full high-definition videos with frame rates that reach up to 30 FPS.
It's a new web-cam that helps improve and optimise your online meetings. Plus, it's made to deliver full HD videos, allowing you to present yourself clearly and professionally at all times.
The Live! Cam Sync 1080P offers realistic clarity no matter what type of environment you're in. Whether you're in the office or at home, the camera will produce perfect views from where you are.
Convenient and User Friendly
The Live! Cam Sync 1080P is UV compliant with almost every current video conferencing application, making it convenient for use.
Creative made sure to design this web-cam to be user friendly and seamless for set up. You won't need special, or require technical skills to configure and use the Live! Cam Sync 1080P.
Setting up is a quick process, so you will be ready for any video calls and online meetings. That also goes for last-minute ones.
Key Features of the Creative Live! Cam Sync 1080P
This section of our Creative Live! Cam Sync 1080P review showcases all the essential features of this camera.
Display Only the Best and the Clearest
Can't meet people personally? Worry not, since the Live! Cam Sync 1080P will allow you to create a similarly clear and efficient experience.
Meet with important people with fluid, sharp, and full high-definition videos. Your face will get naturally and clearly captured so you can confidently lead the call or meeting.
It doesn't matter if it's a casual chat with friends, a school meeting, or an important conference call. The Live! Cam Sync 1080P will only display the best for you.
See More of Everything with Ease
Don't worry about sitting at a distance to capture more of you. With this camera from Creative, you'll enjoy a wide-angle view to capture more without any issues or distortions.
It features a 77-degree diagonal FOV, which is wide enough to readily fit a small group of individuals. They can all comfortably fit in a frame for mass conference calls and the like.
It's a wide view, but not too wide that will make you look awkwardly small. Plus, it won't risk displaying too much of your surroundings.
Plug-and-Call Convenience
The Live! Cam Sync 1080P is a UVC-compliant web-cam. Meaning, it doesn't require extra driver installation. With that, the camera will work once you connect it to an available USB-A port on your PC.
In addition, it's compatible with various video conferencing applications. So, you can readily set up and configure the Live! Cam Sync 1080P immediately for immediate conferences or last-minute meetings.
Privacy Protection Lens Cap
With the Live! Cam Sync 1080P's integrated privacy protection lens cap, you can control what you show. It helps you avoid unwanted access to your web-cam through hacking tools and spyware.
Aside from that, the cap protects your web-cam from dust accumulation when you're not using it. When your lens is clean, you can enjoy clean and crisp video recording.
Built-In Dual Microphones
The webcam's integrated microphones allow for speaking confidently without having to strain your voice or raise the volume. These mics have a better pickup and wider reception area.
Shoot from All Angles
The Live! Cam Sync 1080p allows you to find your perfect angle. Its horizontal rotation is 360 degrees, while the vertical tilt is 30 degrees, and it can handle demanding shooting angles. It comes with a mounting clip, which is compatible with most monitors and laptops. For versatility, you can also attach this to a universal tripod.
Specifications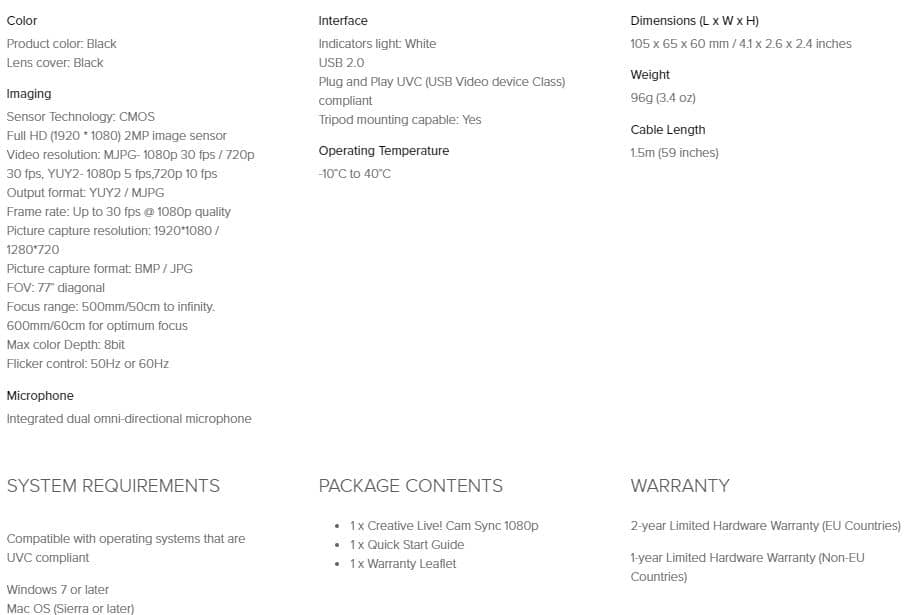 This time, our Creative Live! Cam Sync 1080P review will focus on the different specifications of the camera.
The Live! Cam Sync 1080P makes use of the CMOS sensor technology. It also comes with a full HD 1920×1080 2-megapixel image sensor.
Now, we'll take a look at its image/video quality. The picture capture resolution that the web-cam offers is 1920×1080 / 1280×720, while the format is JPG/BMP.
Its diagonal FOV is 77 degrees, while focus range is at 500mm | 50cm to infinity. For its optimum focus, it's at 600mm | 60mm. Colours are great with a maximum depth of 8-bit, while its flicker control is either 50Hz or 60Hz.
The Live! Cam Sync 1080P comes with a built-in omnidirectional dual microphone. It provides clearer and more crisp sounds for meetings and such.
This web-cam utilises the USB 2.0 interface, and is also plug & play UVC-compliant (USB video device class).
The Live! Cam Sync 1080P's design and form allows it to be mounted on a tripod. It's a very useful feature to keep the camera steady when in use.
System Requirements and Warranty
The Live! Cam Sync 1080P is compatible and can work with operating systems that are UV-compliant.
It's functional with Windows 7 or later, and the Mac OS (Sierra/later). Make sure that you have an available USB-A port.
In addition, the Live! Cam Sync 1080P comes with a 2-year limited hardware warranty for European countries.
Those living in non-European countries have the web-cam with a 1-year limited hardware warranty.
Compatible Applications
The Live! Cam Sync 1080P is compatible and can work with various applications. These include Zoom, Microsoft Teams, Skype, Messenger, and Cisco WebEx.
Hands on with the Creative Live! Cam Sync 1080P
This section of our Creative Live! Cam Sync 1080P review discusses the web-cam's performance. Let's begin with the setup and configuration process.
Configuration and Setup
You don't have to worry about setting up Creative's Live! Cam Sync 1080P. It's a plug and play product. So, you only need to make sure that you have a free USB-A port available to use it.
When we tried to set it up, it took less than a minute for it to appear on our computer. There were no troubles or issues with setting it up, and we were able to use it immediately.
It's an extremely convenient feature especially for those who aren't fond of or aren't confident with configuring such devices.
Video and Microphone Quality
Of course, we tried the web-cam for doing video calls with friends. There was an instance when we utilised it for a few meetings as well.
Throughout the tests, we didn't experience any issues with the video quality. Everything was clean, clear, and smooth. We had a little group join the video chat and all of us fit perfectly and comfortably.
For its microphone, it was impressive just as well. Audio was clear and it sounded natural throughout our test. It was able to deliver low frequency response and low distortion which is something we greatly appreciate.
Creative Live! Cam Sync 1080P Review Summary
The Creative Live! Cam Sync 1080P is a highly related web-cam with high resolution and built-in dual microphones. It's rich in features in our test, the web-cam performed excellently. The image and video quality was great, and we didn't experience lags.
The Live! Cam Sync 1080P's microphones also performed well and received sounds clearly. With its convenient features and excellent performance, this web-cam is one of the best choices for video calls. Whether you use it for work conferences or casual video chats with friends, it only displays high-quality video.
In conclusion to our Creative Live! Cam Sync 1080P review, we highly recommend this product. If you want to get your hands on this web-cam, you can purchase it from the official website.