Our Creative Outlier Air V2 Wireless Headphones review will discuss everything you need to know about these wireless headphones. 
It's a product under Outlier Air's second generation of models, and it comes with a bunch of notable enhancements. It specifically focuses on better controls and includes new drivers for a fresh sound signature. 
Before getting more details, we'll discuss in our Creative Outlier Air V2 Wireless Headphones review what's inside the box. 
Creative Outlier Air V2 Wireless Headphones Packaging
When we received our Outlier Air V2, it came in a sturdy and thick cardboard box. Creative opted for an orange and white theme for the packaging, which exhibits a nice and clean look to the package. 
The front displays an image of the headphones, while its name is written just below it. On the upper-left corner of the box, you'll find the Creative logo. 
The box's sides and rear display a few other details and features related to the product. Everything else is kept simple, which is quite pleasing to the eyes.  
When you open the box, Creative opted for a darker theme for the case that holds the headphones in place. The included case also has its own space, and we like how Creative kept things neat and simple.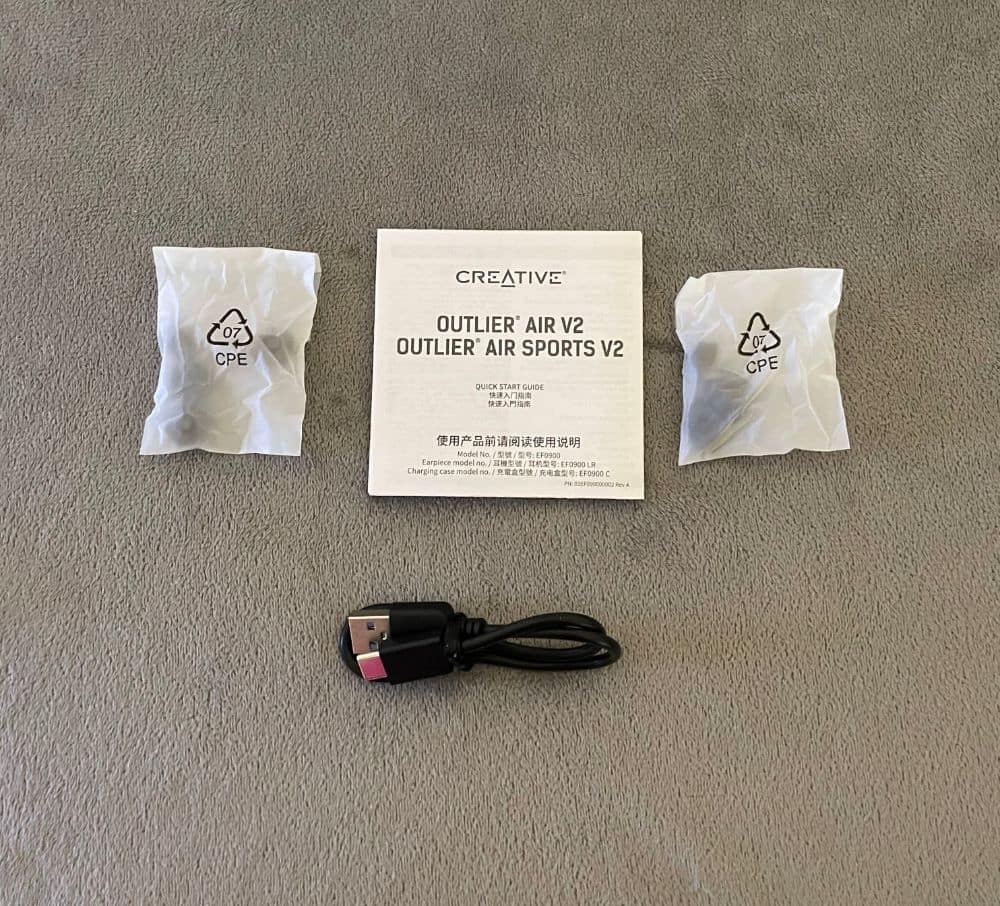 Other than the Creative Outlier Air V2 and its case, the package includes a USB-C charging case & charging cable. It also comes with silicone ear tips with different sizes, plus a quick start guide for your reference. 
Next, we'll focus on the design and functionality of the headphones in our Creative Outlier Air V2 Wireless Headphones review.
Creative Outlier Air V2 Wireless Headphones Review – Design and Functionality
The style and form of the Outlier Air V2 give off a nice and premium look to it. That also goes for the headphones' container. Our Creative Outlier Air V2 Wireless Headphones review will first discuss the design and appearance of the case. 
Creative's case for the Outlier Air V2 is quite bulky and bigger compared to other wireless headphone cases, however it is still small enough that it can be easily transported in your pocket or bag.
The case features clear LED indicators that are simpler than those from the previous models. However, it is similar to its predecessor since it features a slide-to-open mechanism. Plus, it's a unique distinction from your standard flip to open cases.
When it comes to the headphones, the Outlier Air V2 is lightweight, and it fits perfectly in the ears. 
If you don't have an app, you'll need to learn how to use Creative's integrated controls. Do note that you won't see any single-tap buttons on the headphones, but you'll find double or triple-tap buttons instead. Creative opted for this design to decrease accidental taps. 
You'll need to get used to these controls, but we're glad that they are much better than the Outlier Air and Outlier Gold's buttons. It makes use of touch-based controls, which is more convenient than the older model's button-mashing ones. 
When it comes to functions, the Outlier Air V2 supports smart assistants like Google Assistant and Apple Siri. 
Key Features of the Creative Outlier Air V2 Wireless Headphones
This part of our Creative Outlier Air V2 Wireless Headphones review is all about the headphones' key features. First, let's talk about its intuitive touch controls.
Intuitive Touch Controls
Creative replaced the buttons of the previous Outlier Air. For the V2, the buttons are now touch-sensitive, making it easy to use. With this feature, the Outlier Air V2 is your perfect companion for traveling, gym workouts, and jogging.
The headphones respond intuitively to your tap commands. You won't have to get your phone from your bag since you can manage music and calls easily.
Better Call Clarity
The Outlier Air V2 features an integrated microphone with Qualcomm cVc 8.0 technology. It allows for better voice pick-up when you call and when you're using Google Assistant or Siri.
Longer Battery Capacity
The Outlier Air V2 outperforms its predecessor with its increased battery life, giving you up to 34 hours of use. The headphones alone provide up to 12 hours of playtime when fully charged. When you keep the headphones in the charging case, they automatically recharge.
Bluetooth 5.0 aptX AND AAC
The Outlier Air V2 features the latest Bluetooth 5.0 with the supported AAC and aptX  audio codecs. These features help deliver rich, enhanced audio quality for smoother, uninterrupted audio streaming.
Graphene-coated Driver Diaphragm
Creative utilised a high-quality driver diaphragm that is 5.6mm graphene-coated. It's the hardest and thinnest nano-material that allows for reproducing audio excellently. With this material, highs are detailed, mids are well-balanced, and bass is immersive.
Now Comes with Super X-Fi Technology
Unlike its predecessor, the Creative Outlier Air 2 now comes with Super X-Fi technology. It recreates a professional, multi-speaker system experience for you to hear sound naturally.
These headphones are Super X-Fi ready, so they're designed for optimum performance. Use the SXFI App on your mobile and enjoy the Super X-Fi effect.
The Best Workout Buddy
The Outlier Air V2 Wireless Headphones are IPX-5 certified, which means that these are water-resistant. You won't have to worry about your headphones getting damaged from sweat or rain. Enjoy your music and stay pumped in your workout sessions.
Comfortable Wear
Creative performed various tests to achieve absolute comfort and fit for the Outlier Air V2. Knowing that everyone has differently sized ear canals, the company included soft silicone ear tips in assorted sizes. So when you get your Outlier Air V2 headphones, take your time to test the best size for you.
Use the ear tips with the most comfortable fit for an excellent listening experience.
Specifications
This section of our Creative Outlier Air V2 Wireless Headphones review discusses the different specifications of the headphones. 
The Outlier Air V2 uses a USB-C for charging and has a frequency response of 20 to 20,000Hz. For its driver, it has a 5.6mm driver diaphragm that is graphene-coated. 
When we talk about its battery in the charging case, it's specifically a rechargeable lithium-polymer battery that's 450 mAh. The battery in the headphones is the same as the one in the charging case. The only difference is the mAh: the headphones have 80 mAh batteries in each bud. 
For the charging time, you only need 1 to 2 hours for it. 
Do note that the Outlier Air V2's battery has one of the best-rated capacities in the market. Plus, it has an operating range of up to 10m which makes it even better. 
Microphone
The microphone has a frequency response of 100 to 10,000Hz, while its sensitivity is -42dbV/Pa. It's an omnidirectional x2 type that is rated IPX-5 and has an operating temperature of 0–45°C.
Connector Type
The Outlier Air V2 uses Bluetooth 5.0. Its Bluetooth profiles are HFP, A2DP, and AVRCP. It has a 2.4GHz Bluetooth operating frequency, while its audio codecs are aptX, SBC, and AAC. 
Hands-on with the Creative Outlier Air V2 Wireless Headphones

We will now share how the headphones performed in our Creative Outlier Air V2 Wireless Headphones review. We'll inform you about its performance and if it worked adequately. First, let's check out the Super X-Fi application. 
Upon downloading the Super X-Fi or SXFI app, the first thing we had to do was create an account. Next, we needed to take photos of our ears and face to make our profile. From there, the app uses the Super X-Fi technology that captures the multiple speaker system experiences.
Creative analyses these photos so we can have the best audio profile for our ear and head shapes.
The app has a simple interface and is easy to use. Those who want to further adjust their audio can utilise the equaliser.
Once you pop the headphones out of the case, all you have to do is pair them with your device. Once that's done, you can enjoy your favourite music. The headphones' round LED lights flash blue when connected via Bluetooth and red when they're charging. When we were using the headphones, the LED lights were inactive, so less power was consumed.
Its fit helps in isolating noise and providing good audio quality. The sounds are clear, balanced, and not overly punchy, which is a common issue in bass-enhanced headphones.
The balanced output works well across different genres. Plus, vocals and spoken words in podcasts were clear and audible. Overall, we were satisfied with the Outlier Air V2's audio quality.
Creative Outlier Air V2 Wireless Headphones Review Summary
The Creative Outlier V2 Wireless Headphones are a great update of the previous model. Although most of the features have been retained, we appreciate the improved control buttons and longer battery life.
These headphones' features make for a great commuting and travel buddy. They're portable and have a portable design that makes them ideal for long hours of use. The combination of impressive audio quality, battery life, and secure, comfortable fit make the Outlier Air V2 an excellent choice.
To summarise our Creative Outlier Air V2 Wireless Headphones review, we're highly recommending this product. If you want to get your hands on these earbuds, you can purchase it from the company's official website.