In our Crucial MX500 M.2 SSD review, we'll focus on all the essential details about this SSD from Crucial.
Until today, SATA III SSDs are still on top when it comes to global sales. It's because of their compatibility with older systems, and slightly better capacity and price ratio.
However, the smaller and sometimes faster M.2 models are growing more popular each day. And compared to SATA SSDs, the M.2's come in regular and NVMe types.
We've tested a couple of NVMe models before, but we haven't focused on the standard M.2 model. Since Crucial released an M.2 version of their MX500 SATA III SSD, we decided to check how similar it is to its brother.
Crucial MX500 M.2 SSD Packaging
Let's begin our Crucial MX500 M.2 SSD review with its packaging and contents.
The Crucial M.2 SSD that we received is the 500GB version. Since the MX500 M.2 isn't a 2.5-inch drive, it doesn't come in a relatively huge package.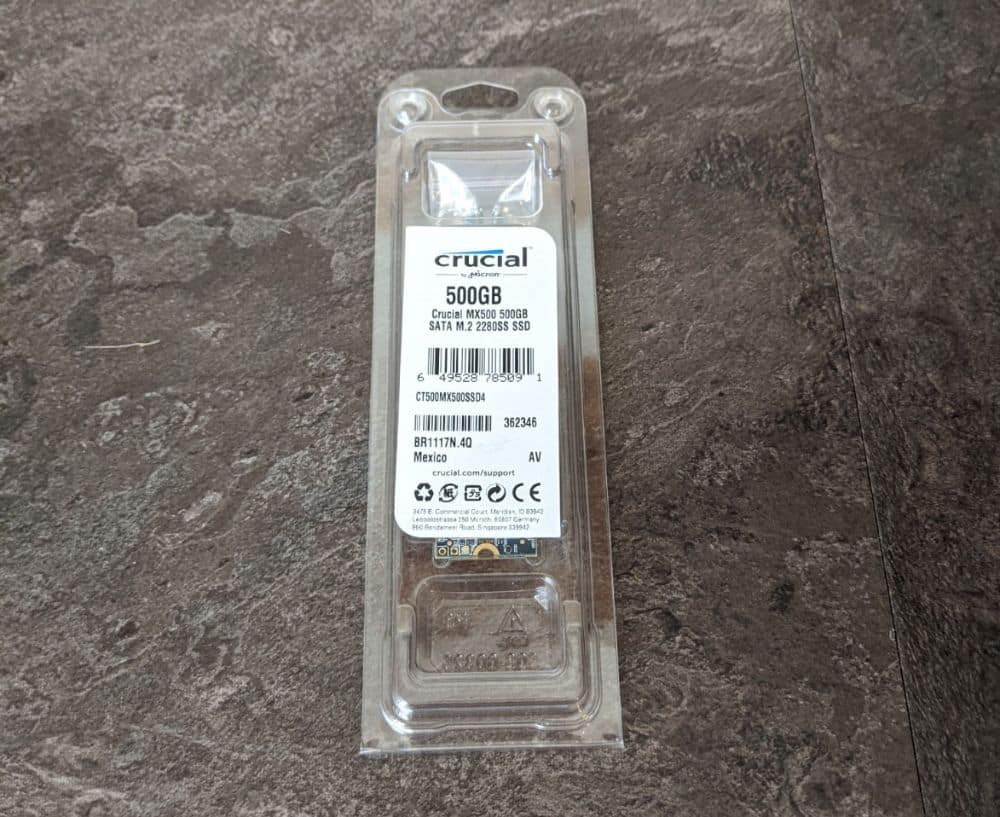 Instead, it is in a plastic clamshell holder that's tinier, making it easy to transport. However, the downside to it is that there isn't any room to showcase the drive's features.
The accessories included in the package are quite standard for Crucial products. Instead of having the 2.5mm adapter, the company added two M.2 mounting screws in the box.
Often, motherboard manufacturers only include a single mounting screw. But Crucial knows that these screws tend to get lost, so they added a backup for the backup screw.
It's not a bad move, and we appreciate what Crucial did there. This is an excellent example of how Crucial values their customers' satisfaction.
They are willing to go the extra mile to ensure that users are happy and have user-friendly devices. It is also the reason why the company included a stripped-down version of the Acronis True Image.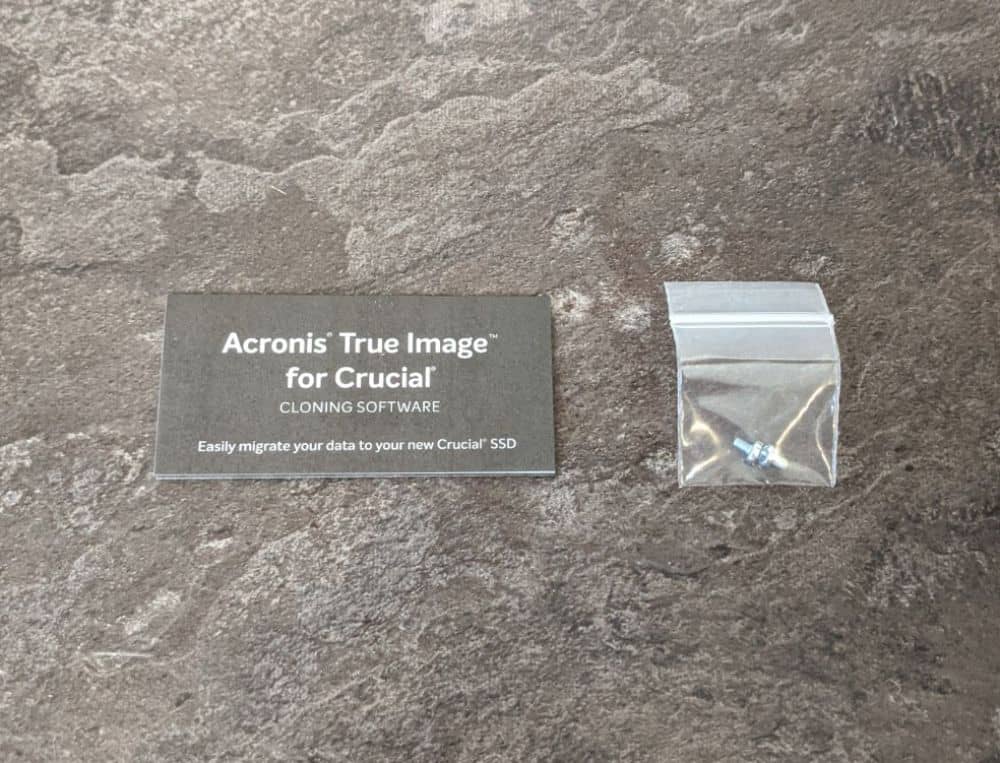 Crucial MX500 M.2 SSD Review – Design & Functionality
This section of our Crucial MX500 M.2 SSD review focuses on the SSDs design and functions.
The Crucial MX500 M.2 SSD features the same type and number of NAND ICs. It also comes with the same number of integrated RAM like the 2.5-inch version.
However, there is a difference between the two. To fit in every component into the M.2 form-factor, the company utilised the classic M.2 dual-sided 2280 layout. This is in comparison to utilising a single-sided type.
It only means that it's a 22mm (w) x 80mm (l) stick featuring chips on each side of its PCB. This is a layout compared to the single-sided version that only features chips on a single side.
Generally, only a few people will run into a situation where this drive won't fit on their motherboards. The most likely scenario that people may run into is when an M.2 port isn't linked to a PCH (peripheral controller hub) or south-bridge.
SSD Design
There isn't much to say about the MX500 M.2's design since it is generally an M.2 module. Its 2280 form-factor allows for installation in a lot of modern systems with SATA-compatible M.2 slots.
The included full-coverage Crucial sticker placed on the upper side offers the drive an excellent look once installed. With up to 500GB for this form-factor, you can conveniently keep vast gaming libraries in an SFF or size-restricted setup.
Next on our Crucial MX500 M.2 SSD review are the key features of the M.2 SSD.
Key Features of the Crucial MX500 M.2 SSD
This part of our Crucial MX500 M.2 SSD review will focus on the drive's key features.
Providing High Speed for Better Productivity
With the MX500 M.2 SSD, you can start your system within seconds, quickly load files, and use demanding apps. Its Dynamic Write Acceleration technology utilises an adjustable pool of high-speed flash memory.
With single-level cell flash memory, this M.2 SSD also generates blistering speed.
Storage for a Lot of Data
No matter how much media files you store, all of these will stay secure. You'll be ready to share your data with ease, convenience.
Highly Efficient Next-Generation Micron 3D NAND
The components used for the Crucial MX500 M.2 SSD are designed for efficiency. With that, it only consumes minimal power while providing a high price-to-performance ratio. You also won't need a financial plan for it.
Once you set up your build with the Crucial MX500 M.2 SSD, you can enjoy a fast, cool, and quiet performance.
Upgrade with an Efficient Drive
With all the tests it underwent, the Crucial MX500 M.2 SSD has been thoroughly proven efficient. Also, it has all the advanced features that SSDs under the MX series are known for. These ensure you that it's safe to store your files and keep it secure in the SSD.
Install With Ease and Confidence
A lot of people think that opening a computer to transfer data is terrifying. Crucial offers a step-by-step installation guide for new users to install their SSD easily. Every single data will be fully transferred without a hassle.
Micron – A Higher Level of Reliability
Crucial MX500 M.2 SSD has excellent features and advanced technologies that make it a highly reliable drive. It also has the same quality and engineering innovation that has been used for the past 35 years. With that, it offers the speed and reliability that you need for the most demanding tasks.
Crucial is one of the world's largest flash storage manufacturers, which is another reason why a lot of people trust this brand. For the MX500 M.2 SSD, you can ensure that it will perform efficiently and deliver what you need.
Warranty and Returns
Micron integrates its business-level quality and reliability on all of its solid-state drives. The company makes each product undergo pre-release validation for thousands of hours to produce award-winning SSDs. Because of that, the company is confident to offer a 3 to a 5-year warranty for its products.
Although it's rare for customers to return Crucial products, the company still offers a 45-day money-back guarantee.
Specifications
Continue reading our Crucial MX500 M.2 SSD review to get information about its specifications.
The MX500 SSD makes use of the M.2 2280 form-factor and comes with a 500Gb capacity. Its sequential read and write are 560MB/s & 510MB/s, respectively, with a SATA 6.0GB/s interface.
Also, the Crucial MX500 M.2 SSD comes with an impressive 5-year warranty.
Hands-on with the Crucial MX500 M.2 SSD
Now, we're getting more hands-on Crucial MX500 M.2 SSD review. This is to see if the SSD performs as efficiently as Crucial claims.
Generally, the MX500 M.2 offers fantastic performance for the price that delivers constant results. That is one of the areas where this M.2 SSD sets itself apart from other drives in the market.
Overall, the Crucial MX500 M.2 SSD isn't just a great performer. It has better endurance figures than its predecessors, has a 1.8 million hour MTBF, plus a 5-year warranty for convenience.
Crucial MX500 M.2 SSD Review Summary
For the MX500 M.2 SSD, Crucial only added the excellent features. One of these is the NAND-integrated protection against power-loss. Although power-loss protection isn't new, it used to be integrated through additional hardware in previous products.
Older SSD products had M.2 modules, which caused problems with space when building a computer. Now with the MX500 M.2 SSD, power-loss protection is built into the NAND die with integrated circuitry.
Another great feature of this SSD is the dynamic write acceleration. It dynamically utilises the SSD's native NAND array without compromising user-addressable capacity. Also, Micron NAND technology's advances allow the SSD firmware's on-the-fly acceleration.
The MX500 M.2 SSD switches between TLC and SLC modes. It's to form a high-speed SLC pool that adjusts size and location with usage conditions.
Also, it's suitable for numerous builds because of its small form factor. With this M.2 SSD, you can save a lot of space without using SATA power and data cables.
Additionally, the MX500 M.2 SSD comes with a bonus, which is the Acronis True Image HD. This cloning software makes upgrading the new SSD easier.
In conclusion to our Crucial MX500 M.2 SSD review, we highly recommend this solid-state drive. Its small form factor and performance make it one of the best M.2 SSDs today. If you want the Crucial MX500 M.2 SSD, it's available from the official website.