The Crucial P5 is Crucial's latest high-end NVMe SSD, and it's their fastest SSD ever made. If you're interested, read further to learn more about this SSD on our Crucial P5 SSD Review.
Micron's consumer brand Crucial has recently introduced two NVMe SSDs, the P2 and P5. If you're a gamer and your motherboard is still using the PCIe 3 interface, then you should consider picking Crucial's P5 SSD.
The P5 SSD is Micron's first high-end NVMe SSD that has an in-house SSD controller design. It delivers reliable performance for gaming and heavy workloads. One feature that other SSDs don't have is the usual encryption standards, and the Crucial P5 has that.
Some consumers might find it challenging to pick one of these since it runs at the older and slower PCIe 3.0. But if you have an Intel system or older Ryzen system, it shouldn't matter, as they don't natively support PCIe 4.0.
Also, Intel proved that the increase in bandwidth with PCIe 4.0 means nothing for gamers. Therefore, you shouldn't insist on buying one of these even though you have the budget.
Today, we're going to explain everything in detail as we go through with our Crucial P5 SSD Review.
Crucial P5 SSD Packaging
In this section of our Crucial P5 SSD review, we'll talk about the packaging.
As what you'd expect from Crucial, the P5 SSD's packaging comes in a navy blue theme with a simple design. The P2 SSD had the same packaging, and the P5 SSD should've had a different aesthetic.
However, the design isn't entirely necessary, as long as the item is safe inside. The Crucial Logo is on the upper-left portion of the box, and the lower-left side indicates the capacity.
We have the 1TB model. Thus, it says we have a 1000GB model. At the back, you'll get the standard installation guide, data software utilization, and available firmware on their support page.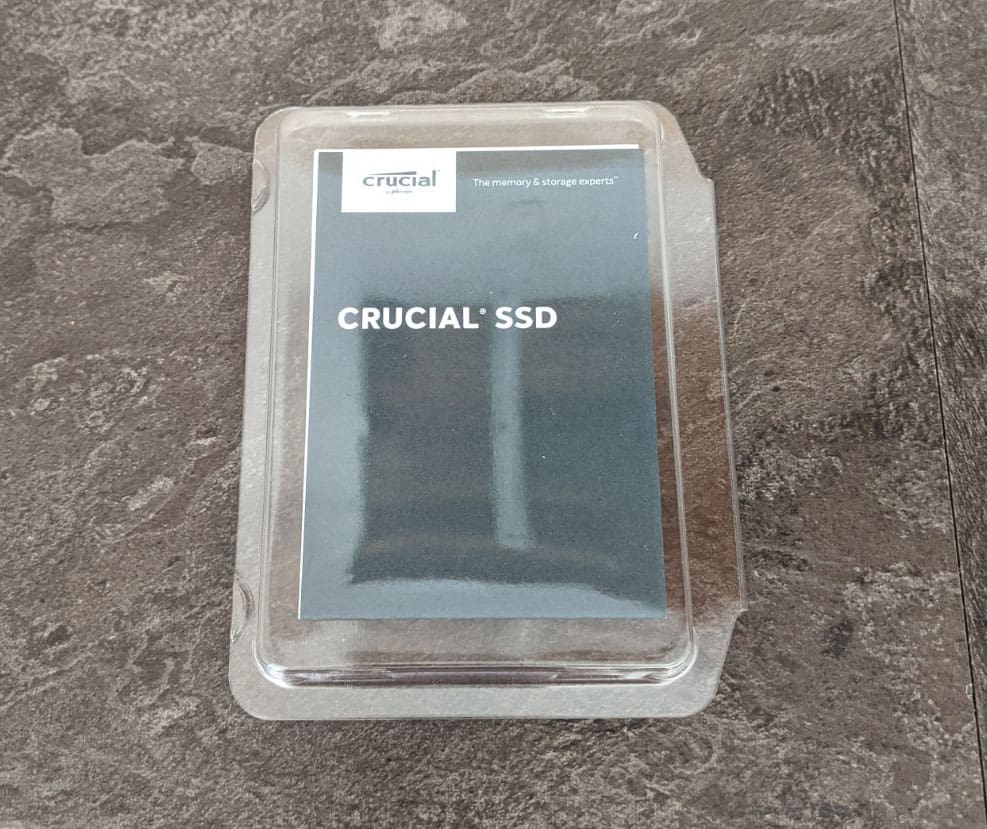 There's a small box hole where you can see the exact capacity on the SSD's sticker, and beside the hole is a 5-year warranty stamp.
Unboxing the packaging is very easy; it only requires removing the circular tape seal on the top. Inside, you get a plastic clamshell that has your Crucial P5 M.2 SSD at size 2280.
This size of SSD fits most modern motherboards, and you don't need to worry about the other side because it's single-sided.
As we remove the SSD from the plastic clamshell, we get the P5 at a beautiful, black PCB. Removing the sticker reveals the two NW972 TLC NAND chips, a DRAM cache, and the DM0182 NVMe SSD Controller.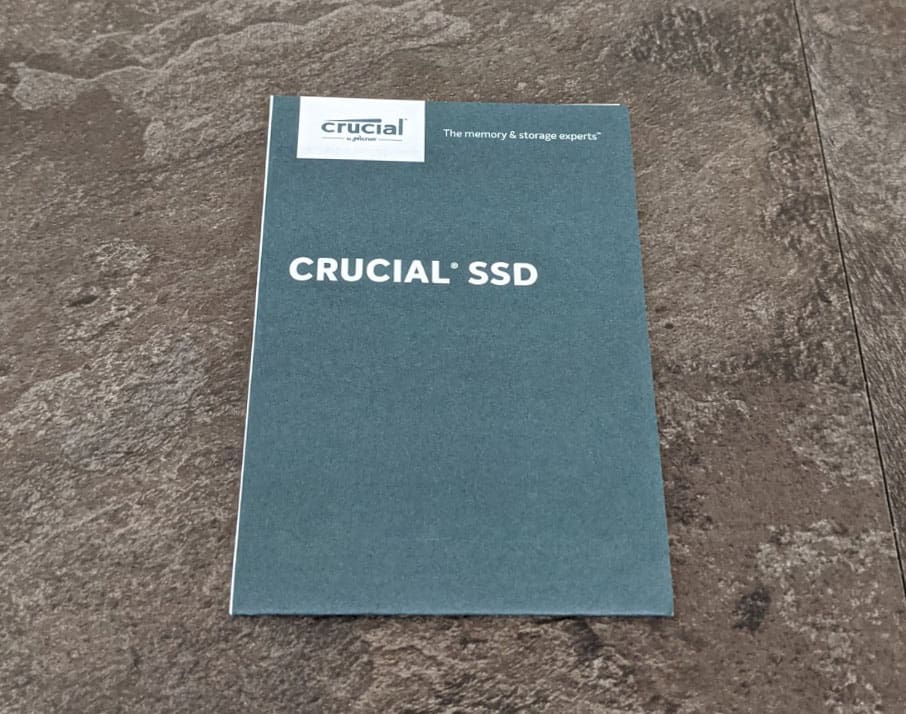 Crucial P5 SSD Review – Design and Functionality
In this section of our Crucial P5 SSD Review, we're going to talk about the design and special functions that the P5 offers for consumers.
The Crucial P5 SSD is very different when compared to the P2 counterpart and its predecessor, the P1.
Since this SSD features an all-new in-house controller, it's hard to predict how it will perform, but it is said to run at 3,400/3,000 MB/s write speed for 500GB, 1TB, and 2TB model, and the 250GB model only runs at 1,400 MB/s write speed.
As listed on the official specifications page on their website, random read & write IOPS are listed at 210K/500K for the 1TB model with an endurance of 600 TBW, and life expectancy of 1.8 million hours.
These speeds are offered especially for people who game or make use of heavy workloads daily. The 1TB model we have here sells for $179.99. For a 1TB SSD.
The Crucial P5 SSD isn't bad, considering it also runs at a premium speed and comes with a 5-year warranty.
Everything seems to be robust when it comes to ratings due to the Crucial's P5 96-layer TLC NAND Flash. Again, you're getting what you paid.
Key Features of the Crucial P5 SSD
On this part of our Crucial P5 SSD Review, we're going to provide more information about the features. The key features are where most of the users will focus before buying the product.
Make The Best Out Of Your PCIe Gen 3 M.2 Slot
The Crucial P5 SSD will fully utilize your PCIe Gen 3 Slot to its maximum potential because the Crucial P5 SSD offers a speed that most PCIe Gen 3 NVMe SSDs can't reach.
Built-in NVMe SSD Controller
NVMe controllers offer optimization for maximum high-performance random read/write operations. It will all flash management operations on-chip and utilize host processing and memory resources at ease.
Long-lasting SSD
The TLC NAND Flash on the Crucial P5 SSD has a durable memory cell and lasts longer than what a usual SSD has.
Integrated Security
The Crucial P5 SSD supports OPAL 2.0 and can be fully encrypted. Most SSDs don't support encryption, and Crucial did an excellent job of adding this feature on their fastest SSD.
NVMe Autonomous Power State Transition Support
The NVMe Autonomous Power State Transition (APST) saves power by having multiple power states. These states can be either operational or non-operational.
Software Support
The Crucial P5 SSD supports its Crucial Storage Executive software that optimizes the performance of your Crucial SSD. It's free, and you can download their software here.
Premium PCB Coating
The Crucial P5 SSD has a beautiful matte black PCB that quickly looks excellent when paired with a motherboard that also has a black PCB. Most mid-tier and hi-tier motherboards come with matte black PCB, and it suits the matte black SSD.
Specifications

In this section of our Crucial P5 SSD Review, we will briefly discuss the specifications of Crucial P5 SSD. This section is essential for people who're upgrading their storage from their system.
The Crucial P5 SSD 1TB model has an advertised maximum write speed of 3,000 MB/s, and a read speed of 3,400 MB/s. The form factor of this SSD is M.2 2280, with an interface of PCIe Gen 3 1×4 or NVMe.
The Life Expectancy of this Solid-State Drive reaches up to 1.8 million hours, which is more than what you'd expect when it comes to reliability. The endurance of the 1TB model is 600 TBW (Total Bytes Written), which indicates how many times you can store your files in a matter of time.
Hands-on with the Crucial P5 SSD
On this section of our Crucial P5 SSD Review, we're going to install it on the motherboard and execute synthetic benchmarks. With these tests, you'll be able to see how well it performs when you first use it and how reliable it is as a daily driver.
The Crucial P5 SSD gave us many reasons why people should buy this SSD. The results were astonishing, as we're getting a read speed of 3,351 MB/s, and 2,907 MB/s as the write speed.
If you came from a SATA SSD or a DRAMless NVMe drive, you're going to get a huge boost, especially when you're going to transfer data. Additionally, loading times will be much better, especially when you're gaming.
Overall, our 1TB Crucial P5 SSD exceeded our expectations. We first speculated that the advertised speeds aren't that close as soon as we start benchmarking the drive.
Price to Performance ratio is average since there are many SSDs today that sit at almost the same price as the P5 but deliver more performance. That is most likely due to the limitations of the PCIe Gen 3.
Crucial hasn't announced any updates on when they'll be releasing a Gen 4 variant, but we should be seeing one next year. We'd like to see at least a price drop or a firmware update for more optimizations.
Crucial P5 SSD Review Summary
Overall, the Crucial P5 SSD performed exceptionally. Most Gen 3 NVMe drives would suffer from bottlenecks, and can sometimes be beaten by a SATA drive when it comes to launching applications or loading times.
Sequential performance is significantly high; it almost maxes out the Gen 3 interface. Storing your Operating System along with games that need fast storage is advisable.
As we end our Crucial P5 SSD Review, we think the Crucial P5 SSD needs more optimization, in which you can patch through a firmware update. We were delighted with the product, but we'd like to see Crucial release faster SSDs that support Gen 4.
If you'd like to purchase one, check out their official website by clicking on this link. Additionally, you can get the Crucial Storage Executive software here.