Today, our Crucial X6 Portable SSD review will discuss everything you need to know about the SSD.
The X6 is a compact SSD ideal for anyone who needs to access their digital content while on the go.  It's a well-designed product compatible with devices supporting USB ports, and it focuses on value rather than high speeds.
Furthermore, this SSD is a conveniently ultra-sleek drive that expands Crucial's award-winning portfolio, offering more capacity, value, and performance options. 
Sounds like something you need? If so, continue reading our review to learn more.
Crucial X6 Portable SSD Packaging
Our Crucial X6 Portable SSD review will first focus on the packaging and contents of the X6 Portable SSD's box. 
We got the X6 Portable SSD with 1TB, and it came in a little premium-looking cardboard box. The front of the box displays the SSD's image at the centre, while Crucial is on the upper-left corner
You'll find the storage space written on the lower-right portion, so you know which version of the SSD you purchased. Opposite this, you'll find the name of the product displayed.
At the bottom of the box, a white strip decorates the area. This is where you'll see other details about the SSD, like the operating systems it works with.
Inside, the X6 Portable SSD is securely kept to prevent any damages that may occur during transit. Other than the SSD, it comes with other accessories like the USB 3.2 Gen2 Type-C to C USB cable. Plus, you'll also find a quick start guide inside the package. 
Now, let's look at the different design and functionalities of the Crucial X6 Portable SSD review. 
Crucial X6 Portable SSD Review – Design and Functionality
There are two storage capacities to choose from when it comes to the Crucial x6 Portable SSD. And as mentioned earlier, we have the 1TB version of this SSD. 
The first thing you'll notice about the SSD is its size. It isn't as small as a USB thumb drive, but it's somewhat close to that. It's lighter and shorter than the X8 that measures 4.3″.
The chassis is almost square-shaped and is slightly thicker than an inch. It's easy to slip into your pocket and weighs less than 1.5 ounces which is pretty light. This SSD is portable but still not as conveniently transportable as a thumb drive. 

The SSD features a plastic build but despite that, the drive is robust and durable. 
The feel of its plastic shell feels slightly less premium compared to the X8's body. But Crucial says it's drop-proof up to 6.5ft, is shock and vibration resistant and can handle extreme temperatures. 
When it comes to its internal design, Crucial guarantees that the X6 Portable SSD stays cool. Even if it goes through heavy use, it will remain at an adequate temperature.
The SSD is wrapped in copper foil and features thermal pads that conceal both of the PCBs sides. 
This time, our Crucial X6 Portable SSD review will focus on the different key features of this SSD. 
Key Features of the Crucial X6 Portable SSD 
Faster and Better than HDDs
The Crucial X6 Portable SSD is up to 5.6 times faster than most conventional HDDs. It loads and transfers files in a snap, so you can say goodbye to slow hard drives that take forever.
Compact Drive with a Large Capacity
The 1TB X6 Portable SSD offers different storage sizes for you to take your digital life wherever you go. Although it's pocket-sized, you can store massive photo libraries, games, files, and movie collections. Plus, it weighs less than 40g, so it's lighter than your car keys.
Reliable and Durable
The Crucial X6 Portable SSD went through tests to ensure its durability and reliability. It's resistant to shock, vibration, and extreme temperature and can withstand a 6.5-foot drop. With its durable build, your files are safe wherever you take this SSD.
Ready to Use with Almost Everything
The X6 Portable SSD is a great storage device that works with most devices. It's compatible with PC, Mac, Xbox One, PS4, Android and Apple devices, and more.
Micron Quality for Higher Reliability
Micron always redefines the possibilities with technology, which shapes how data is used in different areas of life. With the integration of Crucial with Micron, your storage and memory components are 100% reliable. That's because the company designs, tests, and refines their products at all stages of the production process. 
Multiple Uses
Since the Crucial X6 Portable SSD is a portable drive that offers superior performance, it comes with multiple uses. Here in our Crucial X6 Portable SSD review, we'll let you know its different uses.
Watch Movies Anytime, Anywhere
The X6 Portable SSD allows you to load the longest videos on Amazon or Netflix. Plug the SSD into your tablet or laptop and watch anything wherever you are. 
Gaming with Reduced Load Time
With the X6 Portable SSD's storage space, you won't need to worry about loading another game update. This amazing compact drive stores games and DLC that you can take anywhere.
Saving and Sharing Files with Ease
There's no need to deal with slow online transfers. Send files quickly to your teammates, coworkers, and collaborators without email attachment limits. 
Keeping Your Content Safe
The Crucial X6 Portable SSD is the storage drive you can trust. You can save media of cherished moments, creations, and projects and keep them safe at all times. Plus, you can encrypt your content with various tools like Apple Time Machine, Bitlocker, FileVault, Windows Backup.
The X6 Portable SSD is a reliable storage drive that lets you access and transfer files no matter where you go. 
For the next part of our Crucial X6 Portable SSD review, let's move on to its specifications. 
Specifications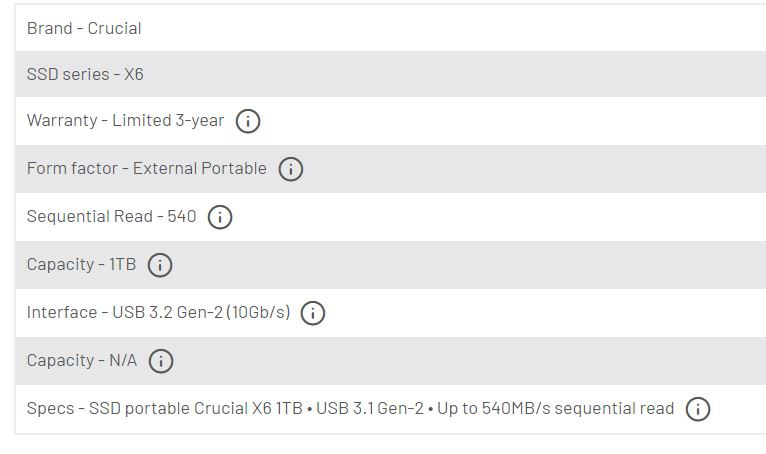 The X6 Portable SSD works with or can be formatted to function with the macOS, Windows, and Linux. You can also utilise it with the iPad Pro while running it with iOS 13 or later. It supports USB 3.1 Gen2 interfaces and is backward-compatible with the USB 3.2 Gen1 and USB 3.0. 
Just like the X8, the X6 Portable SSD comes with a QLC NAND flash. Instead of an NVMe SSD like the X8, it utilises a BX-500-like SATA 6Gbps SSD, plus a small adapter (Type-C).
It also sports Silicon Motion's SM-2259-XT SSD controller while allowing the SSD to connect to its host. This is done via the ASMedia ASM-235CM USB 3.2 Gen2x1 to SATA 6Gbps bridge chip.
Its bridge utilises the SM-2259-XT – a SATA 6Gbps SSD controller without a DRAM, built on the 28nm node. This is specifically designed for low power efficiency and low cost. 
This comes with a 4-channel, single-core style that makes use of Silicon Motion's NANDXtend ECC. It also has end-to-end data path protection to guarantee data integrity with the Micron 96-layer QLC flash.
Lastly, the X6 Portable SSD has a three-year warranty. 
Hands-on with the Crucial X6 Portable SSD 
Let's see how the SSD fared during the tests in our Crucial X6 Portable SSD review. 
When it comes to the SSD temperatures, it was adequate despite going through heavy loads. There were also no issues when we used it for some time, and everything went smoothly, which was great. 
Generally, the need to have flexible access to digital content is vital. With that, the X6 Portable SSD offers Micron's top-notch quality in storage technology straight to your fingertips. 
It's also cool that even without cloud or internet access, we were able to access and store files. 
Crucial X6 Portable SSD Review Summary
The X6 Portable SSD from Crucial is an affordable USB Type-C SSD. Although it's made of plastic, it has a premium feel and has a durable build. The best thing about its design is its compact size, making it easy to bring anywhere.
We also liked the X6 Portable SSD performance-wise, since it was fast and responsive throughout our tests. We were able to easily access files and quickly transfer large files. We didn't experience any issue during our tests, which is a plus for this solid-state drive.
As mentioned earlier, this SSD won't match the performance of other drives. This is understandable since it's designed to be a portable drive that provides convenience and easy access to files. Despite that, it will meet the needs of most users since it's an excellent SSD for everyday use.
The X6 Portable SSD is a solid external drive that's best for those looking for a portable compact storage. It has great features like USB Type-C connectivity, a drop-resistant body, and it's compatible with multiple devices. Most importantly, it delivers excellent performance, which is great since it has an attractive price tag.
In conclusion to our Crucial X6 Portable SSD review, we highly recommend this product. It's one of the best choices you can find today if you're looking for a budget-friendly SSD that performs well. 
If you want to buy this SSD, head on over to their Amazon product listing.