Have you ever found yourself unable to store files due to a lack of storage space? Need something simple and portable when storing data on the go? Look no further. We will tackle all of your data storage needs with our Crucial X8 Portable SSD review.
These days, the concept of having a portable storage option is integral to any people's setup, whether it be in the digital marketing business or the film industry. Ever since the advent of portable storage came in, the demand for digital storage has significantly grown over the years.
Everything from photos, videos and important documents are moving farther and farther away from hard copies in this ever-evolving digital age. External portable storage, such as Crucial X8, is now the new norm for laptop users who encounter storage capacity issues and can't just seem to get enough storage with their internal drives.
Let's begin our Crucial X8 Portable SSD review with the product's packaging.
Crucial X8 Portable SSD Packaging
The packaging for the X8 is pretty simple. Crucial opted for their usual simple cardboard box with a thin plastic tray.
We were expecting more given the elegance of the product. Nevertheless, it didn't diminish from the overall experience of unpacking and getting our hands on this beautiful product for the first time.
In the box, there's a manual that tells you where to find support software on the Crucial website and outlines the warranty. We're pleased to say that this manual supports 22 different languages, perfect for domestic and international customers.
Moreover, it was easy to open and didn't make a mess when opened. The product takes the centerpiece, and everything you need is accessible right from the start.
Now for the aesthetics. The product looks polished, with a smooth, simple, matte black finish. No flashing lights, nothing flashy about it. Minimalist yet elegant in its design.
Hardware-wise, the case is made of metal, providing a good and robust feel to its build. The two ends are rubberized, to minimize damage in case of impact.
Despite having no lights, this is the most elegant and classiest product of Crucial we have seen from them so far. The Crucial X8 looks like something Apple would ship out to their stores. This would be a perfect pair with a Macbook, which we use for video and photo editing.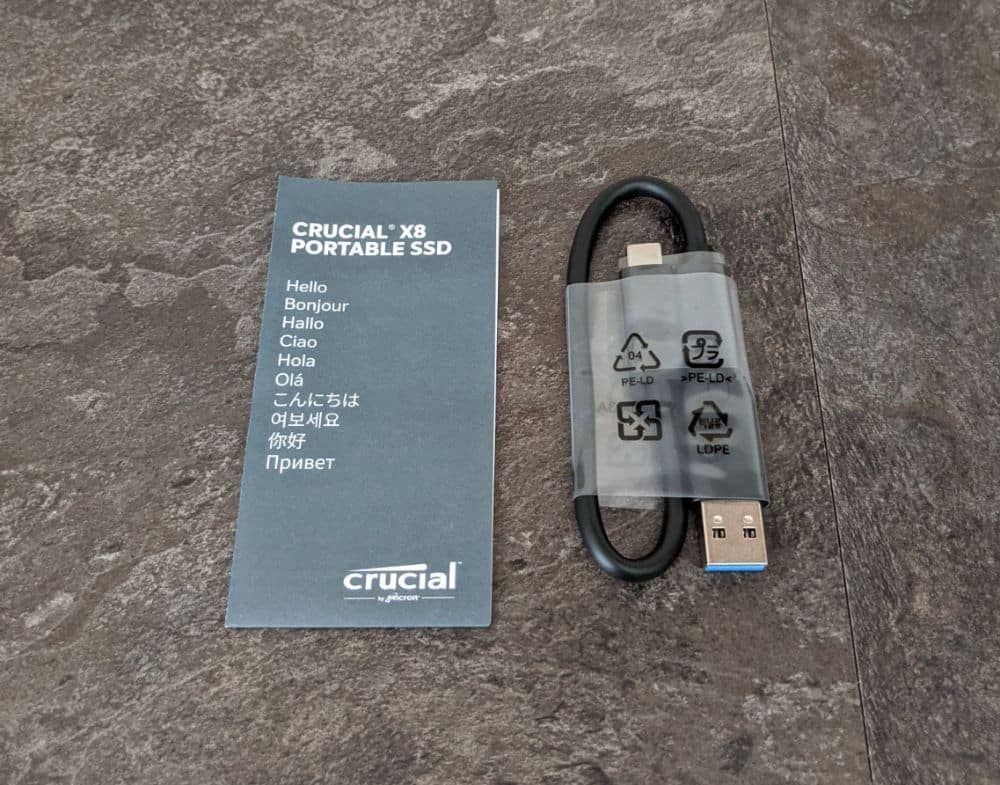 Now, let's go to the product's design and functionality of our Crucial X8 Portable SSD review.
Crucial X8 Portable SSD Review Design and Functionality
The Crucial X8 offers it all: storage, write speeds, affordability, and reliability.
At first glance, storage seems to be the number that holds the most weight. But this isn't true. The products' resistance to damage is also important, as making sure your data is safe is also of utmost importance.
In addition, writing speed is also key especially when involving transferring large amounts of data. The Crucial X8 Portable SSD excels in these aspects, and more.
Now let's go to the key features of this lit SSD.
Key Features of the Crucial X8 Portable SSD
In this section of our Crucial X8 Portable SSD Review, we'll take a closer look at what's under the hood, or what's inside of the drive. Let's begin with its connectivity.
Fast Connectivity
For large file transfers, external drives can experience bottleneck and slow down. This is due to the inherent speeds of external storage compared to their internal storage counterparts.
But thanks to newer innovations such as the Thunderbolt 3, these issues have found a solution. It then allows NVMe drives such as the Crucial X8 Portable to be connected externally.
With transfer speeds up to 10 Gigabits per second, transferring or storing large files is a breeze.
The box also comes with a standard USB-C connector. They included a USB type A adapter to work with older ports, which is a nice touch from Crucial.
And lastly, the cable: At 25cm long, it could be a little longer. But given how it is used, this shouldn't be a real problem.
Alternatively, you can get a cable that has USB-C on one end, and USB-A on the other, which can solve both these issues. Just make sure that you are getting the Gen 2 cables for optimal speeds.
Another minor thing to note is that the cable is rated for USB 3.1, Gen 2, but it has no visual indicators like logos that say so.
Despite the cable having these minor issues, when paired with any PC, Mac, or game consoles such as the Sony Playstation 4, we still think it can be used comfortably and with relative ease.
Overall, these are more like nitpicks and don't take away from the overall positive experience we've had with the X8.
Fast Read and Write Speeds
In our stress test, we were consistently getting speeds of about 900 megabytes per second, in both read and write speeds. These speeds aren't exactly game-changing by internal NVMe standards, but lightning-fast for an external drive.
Despite going on for a few minutes, the X8 has been able to keep itself above the 900 MB/s threshold, a good sign.
This means you will get reliable bandwidth, anytime or anywhere you need it. Good for things like video capturing, video editing; general use like file storage or transfers, and even an external game drive for all your gaming needs.
For the best results, utilize devices or PCs that have the USB-C Gen 2 ports, which can support the full bandwidth of the Crucial X8. Just make sure you know what kind of cables and ports you are getting, and set your expectations accordingly.
We recommend this drive for video editing for example, as it seems pretty rugged and fast.
Portability
The Crucial X8 Portable Solid State Drive (SSD) is relatively light. But at the same time doesn't feel overly delicate and still feels like a durable, reliable drive.
Also, it can fit comfortably inside your pocket, or a small pouch or a shoulder bag, easy when bringing your laptop to a coffee shop for an afternoon of video editing.
This is something we would buy since we're looking for a portable, stylish, and robust drive we can take with us on our travels when we need that file storage solution at a moment's notice; perfect for downloading photos, videos, and other files on the go.
Abuse Resistance
As previously mentioned, the two ends of the Crucial X8 Portable SSD are rubberized, meaning shock absorption in case of impact. Additionally, being completely solid-state means that there are no moving parts inside; intricate parts that can be damaged when dropped and potentially cause data loss.
Combining these features makes sure that you have a rugged and reliable SSD to keep your data safe.
Now let's go to the specs of our Crucial X8 Portable SSD review.
Specifications
Interface
USB 3.2 Gen 2 Type-C (10Gbps)
Format
Capacity
NAND
Micron 64-layer QLC NAND Flash
Controller
Speed
Up to 1050MB/s Sequential Read
Dimensions
Weight
Compatibility
Compatible with Windows 10, 8.1, macOS, PS4 and PS4 Pro, XBOX One and XBOX One X, iPad Pro (2018 USB-C model), and Android devices.
Warranty
Now, let's go to the hands-on section of our Crucial X8 Portable SSD review!
Hands-on with the Crucial X8 Portable SSD
Before we could get our hands in the X8, we had to look around online shops. At first glance, the Crucial X8 seems pricier. But with that price comes great style, reliability, and performance.
You can get cheaper 1 TB SSDs, but these are more or less based on SATA technology. Those are unlike the X8's NVMe, which performs significantly better and with faster speeds.
You can get the X8 directly through their website. But a plethora of other online retails stores such as Amazon sell it as well. No matter which country or region you're from, the Crucial X8 Portable SSD should be readily available.
When the SSD finally arrived, we were surprised at how light it felt, and how comfortably it sits beside the laptop.
There were no jagged edges, the finish felt smooth and the rubberized ends even helped with the grip. Plugging it in our console and laptop felt intuitive, and the simple look means it can blend with just about any device one can use this with.
Crucial X8 Portable SSD Review Summary
With all the inside and outside factors we've discussed, along with the internal and external features combined, you get the complete package of using the Crucial X8 Portable SSD. You get excellent ruggedness, elegant style, and reliable performance. It is resistant to rough use and boasts premium external drive speeds.
Portability-wise, its lightweight, which means it's easy to carry around and can fit comfortably in any of your travel bags, and even your pocket. All while looking dazzlingly pretty. This comes with an affordable price as well, so you are getting a premium product for less money.
The only subtle issues we found were regarding the cable. USB 3.0 connection is required to get the optimal speeds and get great value for your investment.
For those who don't have the connection technology, the drive may perform on the same level as a SATA connected SSD. Just be aware of this and make sure you are getting the proper cables. It is easy to remedy this issue and once all is set up, it should be smooth sailing from here.
Overall, the Crucial X8 Portable SSD is a great product of the ever-changing and fast-paced tech world and can certainly keep up with the demands of modern use, even exceeding it at times.
We cannot wait for the 2TB version to come out but as it stands the 1TB is more than enough for most users. But as it stands, this is the most affordable fast portable NVMe drive in the market today.