This year, Elgato released the Wave Mice Arm to pair with your streaming microphone. It comes in two variants and today, we'll talk about the low profile version in our Elgato Wave Mic Arm LP review.
Since it's designed to be "low profile", the Wave Mic Arm LP blends easily into your background. And what's good is that it won't take up too much space on your desk. 
Know more about it in our Elgato Wave Mic Arm LP review. Here, we'll discuss everything you need to know about the product like its design, features, performance, and more. 
Elgato Wave Mic Arm LP Packaging
The product arrived in a very simple-looking flip-open cardboard box. Its name and Elgato's logo can be seen on the lower-left corner of the package. 
It's good that the company featured an image of the mic arm just to its right. This is to give you an idea how it looks before getting it out of the box.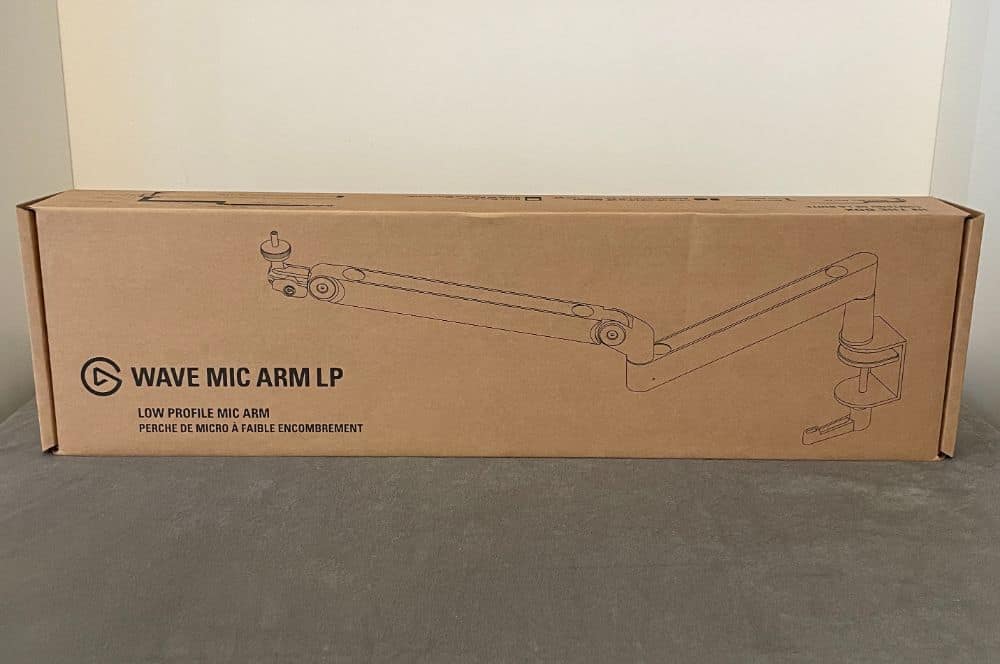 The box's flip cover displays a brief description of the product. Plus, it shows quick information of what its uses and functions are. On the sides, Wave Mic Arm LP and Elgato's logo can be seen in these areas too.
While unboxing for our Elgato Wave Mic Arm LP review, we saw the mic arm divided into three portions. This is the desk clamp, plus two separate arms. You can join these by inserting them into their respective slots without needing any screws or hooks. 
Everything was neatly, nicely, and securely packed by Elgato. So, you won't need to worry about any unnecessary damages or dents when it's being shipped to you.
Aside from the Wave Mic Arm LP, it came with other items as well. These include an Allen wrench, plus 1/4″ – 3/8″ and 1/4″ – 5/8″ adaptors.
Elgato Wave Mic Arm LP Review – Design and Functionality
When we finally unboxed it for our Elgato Wave Mic Arm LP review, we were able to see its design. The Wave Mic Arm LP is a studio-grade boom arm that's perfect for your premium microphone. 
It sits perfectly below the shoulder line, offering you an unobstructed view which is great. The product has a 360° horizontal rotation and a 90° vertical rotation that allows full maneuvering. 
You can keep your entire setup neat and tidy because of its built-in cable channels. There are even thread adapters to guarantee compatibility with regular microphone mounts.
The arm's head is a classic standard of almost every bonded product. We managed to link a camera to the Wave Mic Arm LP and it wasn't bad for dynamic shooting. 
Two adapters are present for various inputs. The two primary pieces even have holes for cables to pass through easily. These can even conceal the cables to keep your setup clean and neat. 
This is possible thanks to the magnetised metal plates that Elgato added to the product. To be honest, it's a smart idea from the company, and we appreciate Elgato for this. 
Its low-profile arm is the best solution for us since it can handle the weight of our microphone easily. When you position it to your desired spot or level, it'll stay exactly where you want it to be. 
You shouldn't worry about its longevity and durability since the whole Mic Arm LP is built like a tank. Plus, none of its parts squeaks or creak which makes it even better. 
Key Features of the Elgato Wave Mic Arm LP 
This part of our Elgato Wave Mic Arm LP review is where we focus on the features of this product. What's so cool and great about the mic arm that it's claimed as the best option around? Let's find out. 
Premium, Low-profile Mic Arm
The Wave Mic Arm LP is a studio-grade boom arm for your streaming microphone. Its low-profile keeps your microphone below your monitor, unlike its counterpart that stays above it.
Fully Adjustable with the Elgato Wave Mic Arm's Ball Head and Joints
The ball head allows for precision when positioning your mic. Aside from that, the Wave Mic Arm LP features tension-adjustable joints that fine-tune swing and fall resistance. 
For the padded clamp, this doesn't only keep your mic's setup secure. It's also expandable up to 6cm so you can adjust it based on your needs. All you have to do is add your mic and start talking.
Excellent Design 
When we tested the product for our Elgato Wave Mic Arm LP review, we noticed its great design. It frees up your desktop's space, reduces vibration and elevates your mic for the best audio quality when live streaming.
With its design, it's easy to push aside when you need the space and swing it back when going live. No matter where you move it, your view is unobstructed.
Compatible with a Wide Range of Microphones
The Wave Mic Arm LP is compatible with 1/4", 3/8", and 5/8" mic mounts. Plus, it can handle microphones as heavy as 2kg.
The Gold Standard
Elgato's Wave series of products is the optimum standard for content creators. Under this line, there are streaming microphones, audio interfaces, and the Wave Link software for digital audio mixing. This ecosystem is designed and engineered for everyone who needs premium audio solutions.
Specifications
Specifications of a product are vital. So, we're talking about these in this section of our Elgato Wave Mic Arm LP review. 
The mic arm has a 740mm horizontal reach while its lower arm desk clearance is at 70mm. For its upper arm desk clearance, it measures 160mm.
When we speak of the Wave Mic Arm LP's rotation, these can go horizontally and vertically. For the former, it can go 360° (base and elbow). For the latter, it can go 90° up and 60° down (elbow).
The desk clamp that's included can be expanded up to 60mm which we think is pretty convenient. For the Wave Mic Arm LP's maximum load, it can handle microphones and accessories weighing up to 2kg. 
Hands-on with the Elgato Wave Mic Arm LP
The most vital section of our Elgato Wave Mic Arm LP review is the product's performance. Here, we'll discuss how the Wave Mic Arm LP fared during our tests. And, we'll see just how durable and efficient it is. 
The whole process of setting up and assembling the Wave Mic ARm LP was easy. And that also goes for attaching the desk clamp. We were able to position it wherever we wanted before setting the arm in its holder. 
We were greatly impressed by how user-friendly and easy it was for us to put together. And not only that, we were surprised by how sturdy the Wave Mic Arm LP was too.
Once we were done assembling it, our microphone was able to stay in place after positioning it adequately. When we wanted to move it to a different position, we were able to do so easily. 
We didn't have any difficulties with repositioning the mic arm. And, there were no instances of squeaking, rattling, or creaking when we did. Overall, its efficiency, durability, and build just makes it like a real studio-grade mic arm. 
We tested it with a variety of microphones that we had. And as expected, it perfectly supported the weight of each mic we used. Its low profile side was ideal for us who prefer microphones that don't come from the top of our vision. 
To be specific, it was positioned nicely below the screen which allowed us to easily see what we were doing.
Speaking of its cable gutters, we greatly appreciate Elgato for including this with the product. It allowed us to manage the cables better to keep things neat and organised. We also loved the material they used for the arm's construction which was aluminium at first sight. 
As for the ball head at the end of the arm, we find it extremely useful. Why? It's because it allowed our microphones to have a wide range of positions while we were using it.
So overall, we loved how the Wave Mic Arm LP looked, and that also goes for the quality of its build. It performed excellently and its build proves that it'll surely last a long time of use. 
Also, we knew that it would be able to handle a variety of microphones. So, we didn't have to worry about any of ours dropping or falling off accidentally from the arm. 
Are we recommending the Elgato Wave Mic Arm LP? Definitely. 
Elgato Wave Mic Arm LP Review Summary
The Elgato Wave Mic Arm LP is a highly versatile tool that's excellent for your streaming needs. Changing its position is easy no matter where you want it, thanks to its fully adjustable parts. With that, you can enjoy a comfortable streaming experience.
The product's design makes setting it up a breeze, so you can get back to creating content in no time.
Some people may find the Wave Mic Arm LP pricey, but it's on par with other high-quality mic arms. It's a durable low-profile mic arm that can also hold your camera.
Overall, we highly recommend this product to all content creators wanting to upgrade their setup. The Elgato Wave Mic Arm LP is available for online purchase from the company's official site.