Let's talk about the Wave XLR in today's Elgato Wave XLR review. It's an excellent product from Elgato that does the job of multiple devices. And, it's packed with tons of features you won't see in standard audio interfaces.
These elements include a capacitive mute button, proprietary anti-distortion technology, interchangeable faceplate, and a lot more. 
If this sounds like something you'd need to enhance your mic's performance, you've come to the right place. Here, we'll give you everything you need to know about the product, from its design and specifications to its performance. 
Elgato Wave XLR Packaging
When the product arrived for this Elgato Wave XLR review, it was packed in a standard Elgato-looking cardboard container. The packaging sports the usual blue-coloured theme and an image of the product can be seen in front. 
Above the image, you'll find Wave XLR and Elgato's logo set in place. Then below the product's image, there's a brief description of what the item is all about. 
Inside, you'll find the Wave XLR along with a 3-metre USB-A to C cable and a quick start guide. 
Elgato Wave XLR Review – Design and Functionality
While we were unboxing the product for our Elgato Wave XLR review, we noticed how good its design was. On full display, you'll see its sleek and attractive design aesthetic which is something we greatly appreciate. 
It's a product that doesn't take up a lot of space on your desk. And, it adds a lot of functionality to your set-up no matter what it is.
The front portion of the product features a single knob and it comes with a couple of LED indicators. One set encircles the knob which lets you view your set levels. 
You'll also find four across the bottom area which are present to indicate which controls are selected. Plus, it will allow you to see the 48V phantom power if it's active or not. This works to power the condenser microphones. 
As expected, the knob should be turned to set your levels. Yet to switch functions, you'll only need to press the knob. 
This will switch between mic gain, headphone volume, and the monitoring mix. This lets you decide on the balance between how much of the mic you can hear. And, that also goes for how much you hear every other sound that's sent to the headphones. 
Pressing the knob for two seconds will let you toggle the phantom power on/off. You can leave it switched off when utilising a dynamic mic. We suggest that you leave it this way since some of these microphones can get damaged by phantom power. 
The top of the product is a capacitive mute sensor that allows you to easily mute the microphone. These easily turn the LED lights red to remind you of it. 
It's a small product and it doesn't feel like it's there, but it is. Plus, you won't see any wasted space on the Wave XLR which is good. 
When we were inspecting the product for our Elgato Wave XLR review, we could dismiss it as a bit basic. This was the first time we saw it, and also when we compared it to other smaller XLR interfaces around. 
Its competitors have faceplates featuring multiple mixing faders which let you control various mixing levels you need. Yet with the Elgato Wave XLR, it simply offers control over the microphone's volume and audio volume. Plus, it even gives you crossfade between the two volumes in the device. 
Key Features of the Elgato Wave XLR 
Now, our Elgato Wave XLR review will discuss everything about the Wave XLR's key features. What makes it unique and stand out from the rest? 
Compact Design
The Wave XLR will make you love your XLR microphone more than ever. This microphone interface features a compact design, allowing you to take it anywhere.
High Power
With the Wave XLR, you can enhance your microphone without an external preamp. It has an ultra-low noise gain of up to 75dB, making dynamic microphones sound clear and loud. Plus, its 48V phantom power brings condenser microphones to life.
Selectable Low-cut Filters
The dual selectable filters give you the ability to choose low-cut filters at 80Hz and 120Hz. This feature helps reduce distant low-frequency sounds that may disrupt your stream or podcast.
High-power Headphone Output
Looking closely at the Wave XLR for this Elgato Wave XLR review, it definitely offers crystal-clear and zero-latency monitoring. So, you're getting high-powered output for your headphones which makes it even better. 
Multi-channel Command
Input channels allow blending audio sources in real-time, whether it's game audio, voice chat, alerts, music, alerts, music and more.
Multifunctional Control Dial
The multifunctional control dial of the Wave XLR allows you to adjust output volume and set input gain. Also, it lets you toggle phantom power and crossfade between mic & PC mix.
Clipguard Technology
With the Wave XLR, you won't have to watch levels while you're live, nor salvage distorted audio in post-production. The Clipguard technology reroutes audio via a second signal path that runs at a lower volume when input levels increase. As a result, it produces clean audio output and it doesn't matter how loud you scream.
Choose Your Style
The Elgato Wave XLR has a beautiful black colour, but you can change its look anytime. Faceplates and dials are available for online purchase from Elgato's official website.
Specifications
This is the part of our Elgato Wave XLR review where we focus on the Wave XLR's specifications. It has a frequency response of 20Hz to 20kHz, and a dynamic range of 100dB (120dB clip guard engaged). 
The product has an equivalent input noise of -130dBV @ 60dB gain. Speaking of its gain, it ranges from 0 to 75dB while phantom power is at 48 VDC 7mA. 
The Wave XLR has a maximum input and output level of 10V @ 0dB gain and 77 mW respectively. Resolution is 24-bit then its sample rate is 48 / 96kHz. 
When it comes to its system requirements, the Elgato Wave XLR needs Windows 10 64-bit. For Apple Mac computers, it requires macOS 10.15 or later. 
Hands-on with the Elgato Wave XLR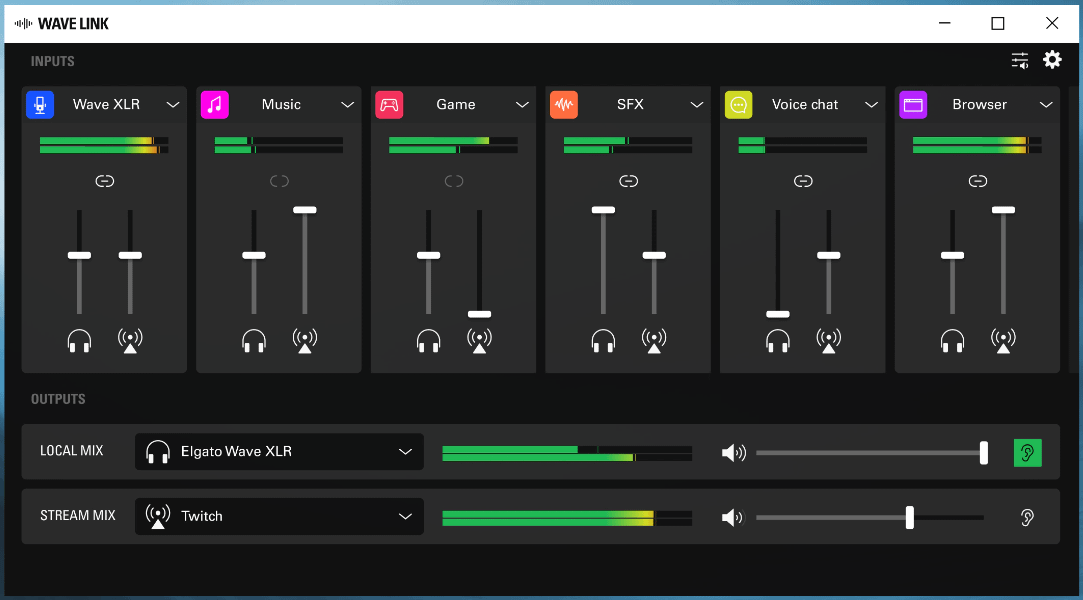 For our Elgato Wave XLR review, we tested the product to see how well it performed. We also used the Wave Link software to find out how it worked and if it truly enhances audio quality.
The Elgato Wave Link software is the utility suite made for configuring Elgato products like the Wave XLR. It debuted last year when the company release the Wave:3 USB microphone. 
When we installed this software, we noticed that it has lots of functions, providing ease of control during audio setup. We were able to reroute programs on PC to segregate audio channels. This way, we were able to separately control sounds from a browser source and a game source.
Wave Link also enabled us to set up a multi-channel mix for video creation and streaming.
The software itself easily blended and worked well with the Wave XLR. It offered more control over the mic we had plugged in too. 
This allowed us to seamlessly control and manage the microphone levels on steam. Not only that, but it even allowed us to independently control our headphones with ease. 
Since the Wave XLR was bolstered because of the company's Wave Link, we mixed via the software. This was instead of mixing through the product itself. 
It means, controlling the mix via Wave XLR than with a GoXLR Mini had opted us to do two things. We either alt-tabbed out a game to access the software. Or, we embedded more into the Elgato ecosystem then routed the controls to the Streamdeck.
Overall, the Wave Link was easy and quick to set up and use. With the software, we were able to control various settings and enhance the Wave XLR's performance with ease.
The software effectively took most of the functions we'd find on full-form audio interfaces. But what's great is that it took advantage of these and integrated them with the Wave XLR. This resulted in crisp, clean audio that sounds just as good as what some of the best mixers produce. 
This is an excellent starting point before audio gets further condensed by YouTube or Twitch streams, or via Discord calls.
The Wave XLR was able to magnificently capture the sound of our condenser XLR mic with clear highs and lows. It even ensured that the source didn't peak elsewhere during the recording. 
This was with around 40% gain from the preamp. And also, we noticed that it didn't have any issues powering the microphones we've tried with it. 
Elgato Wave XLR Review Summary
The Elgato Wave XLR is an affordable high-end solution for your streams and podcasts. Its simple design, user-friendly software, and excellent performance make this product a must-have for content creators. It offers you the freedom to utilise any XLR microphone with your computer.
If you're already using Elgato products like the Streamdeck and want to use XLR microphones, we recommend the Wave XLR. It offers great audio quality which is essential for streaming and podcasting.
With the Wave Link software, the Wave XLR has so much more to offer to enhance your stream. This XLR microphone interface can only get better as Elgato improves the software in the future.
Overall, it's an excellent and satisfying product that's easy to recommend to all content creators. To get your hands on the Wave XLR, it's available for online purchase from Elgato's official site.