The high-thermal and TDP demands are evident in many current and upcoming graphics cards and CPUs. But luckily, Fractal Design did well in timing the release of their new Meshify cases. And today,  we are discussing everything about these in our Fractal Design Meshify 2 Mini and Nano Review. 
The Meshify 2 Mini and Nano cases are classics that received optimisations mainly on their interior, design, and efficiency. These also sport a style that can handle the high-heat generating components of the year. 
Simply put, these are optimised to offer what modern cases should in terms of flexibility, modularity, and ease of use.
Fractal Design Meshify 2 Mini and Nano Packaging
For starters, our Fractal Design Meshify 2 Mini and Nano Review will discuss the packaging and inclusions of both cases. The cases arrived in simple-looking cardboard boxes without any elaborate designs or plenty of details on them. 
You will only find an illustration of the case, the company branding, and the product name. 
Meshify 2 Mini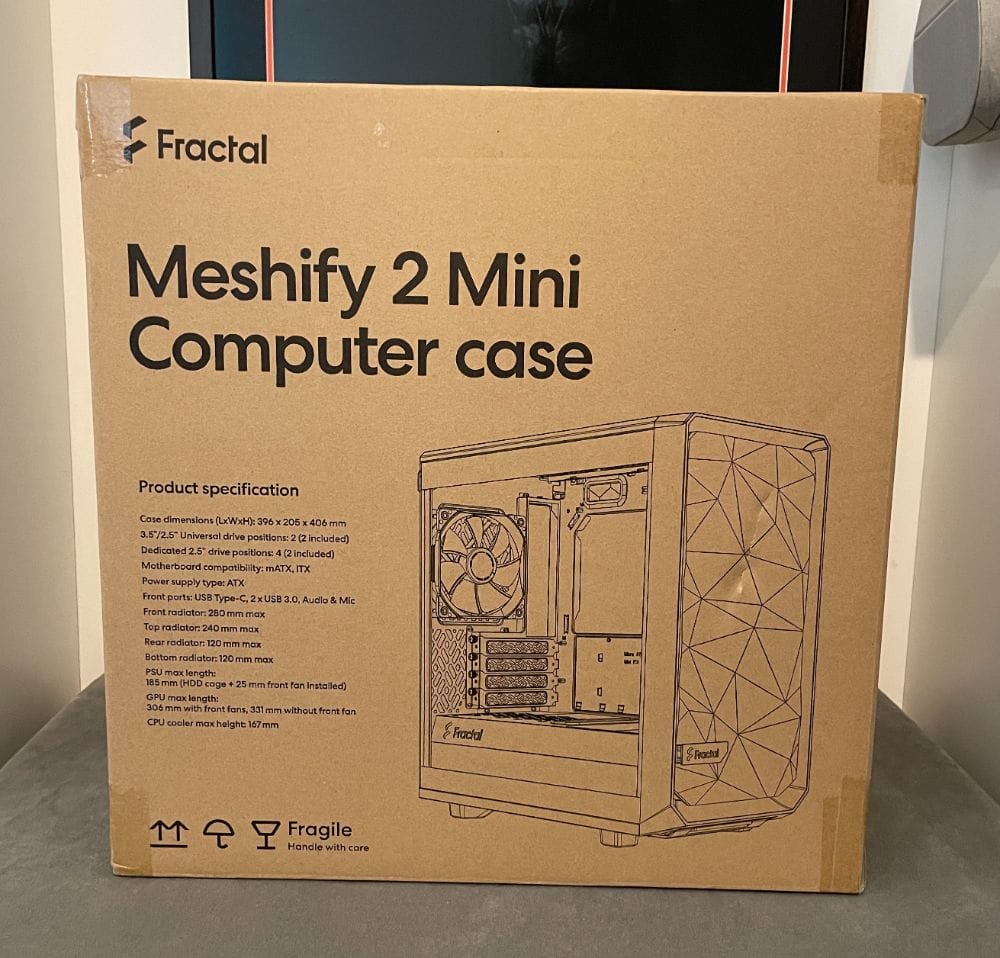 You will not find plenty of inclusions in the package, but everything inside is necessary to set up the case. Inside the box, you will find the Meshify 2 Mini case, a user manual, and an accessory box. 
The accessory box contains x3 MB standoffs, x8 cable ties, x25 SSD screws, and x8 HDD screws. There are also x4 PSU screws, a standoff tool, and x8 dampeners.
Meshify 2 Nano
Let us also look at the contents of the Nano in our Fractal Design Meshify 2 Mini and Nano Review. Other than the case, you will find a user manual and an accessory box. 
Inside the accessory box, all the necessary items are present for setting up the case. These include an MB standoff, x8 cable ties, x20 SSD screws, x8 HDD screws, and x4 PSU screws. You will also find a standoff tool, x8 HDD dampeners, and a 2.5 bracket.  
Fractal Design Meshify 2 Mini and Nano Review – Design and Functionality
Let us continue our Fractal Design Meshify 2 Mini and Nano Review and discuss the design/functions of each case.
Meshify 2 Mini
Although small and compact, the case sports a sturdy and durable steel frame combined with a windowed left-side panel. It consists of light-tinted tempered glass and makes use of latching systems.
The Mini has a front I/O panel with a USB 3.1 Gen2 Type-C port. It also has two USB 3.1 Gen1 Type-A ports and 3.5mm audio output and input ports. 
Its front filter has a plastic door with hinges for easier access. 
When removing the door, you can detach the mesh dust filter. We recommend removing the dust filter if you want more air to flow within the Meshify 2 Mini. 
The base of this case also features a mesh filter. Its bottom panel sports four screws that help secure the PSU mount plate.
The front fan of the Mini can support up to 280mm radiators or three 120mm fans. We appreciate Fractal Design for including the partitioning for various types of coolers. 
The rear portion of the case supports a 120mm fan. Then, the top area can hold two 140mm fans or a 240mm liquid cooler. 
Additionally, this case supports GPUs with a maximum of 331mm long. You can utilise the GPU if you do not want to install its front fan. 
Remember that the total clearance for a GPU is 306mm. That is if you have front fans installed in the Meshify 2 Mini case. 
Installing a GPU was quick and easy, and it did not give us any issues with clearance. Just make sure you are installing the correct size of PC components. 
For cable management, the case sports Velcro tie-downs that establish a cable raceway on the left side of the case. It will stay fixed behind the motherboard slot. Additionally, you will find Velcro tie-downs on the sides, thus, making it easier for you to build.
Meshify 2 Nano
The Nano case comes in two different colours you can choose from: these are white and black. The black coloured case has a dark tinted tempered glass, while the white version has a clear tint instead. The latter allows you to display your build and setup. 
Additionally, the Nano sports an ITX form-factor perfect for enthusiasts. It offers them enough room for creativity to design the ideal build to show off their style and aesthetics. 
The chassis has a fully detachable top, removable front mesh, and bolt-free side panels. These are excellent elements that Fractal Design included to make cable routing and building convenient and more enjoyable. 
The flush TG panel of the case complements the angular asymmetry and flexible design to display your completed build. 
Removing the side and top panels of the case is convenient. Its tool-free design makes everything more convenient since you can pull these out without having to bother with tinkering. 
To return the panels, you only need to position their base in place. It is best to do this before pushing the top to close it shut. It is good to remember that the left side panel is tempered glass, whereas the other side is steel.
On the top panel, you will find a variety of I/O ports. These include the headphone jack, USB-C, microphone jack, a power button, reset button, and two USB 3.0 type-A ports. 
Under the top panel, you will see a nylon dust filter that you can pull back to remove. We think this is a great addition to provide more access when you start building your system. 
Also, the top portion of the Meshify 2 Nano is held in place by two screws. The nice thing is the top is also removable. 
For its front panel, it features a removable door sporting a nylon mesh dust filter. You can also remove the part behind the detachable door of the case. What we like is that it is also easy to remove. 
When you look at the bottom section of the Nano, it even sports a nylon dust filter. You can conveniently pull it out, which makes it a great addition to the case.
The Nano can house mini DTX and mini ITX motherboards. For fans, the front of the case can support two 120mm or 140mm fans. Remember that the chassis has one installed 140mm Dynamic X2 GP14 fan. 
At the top of the case, you can install one 140mm fan or two 120mm fans. If you choose to install a 140mm fan, it is necessary to position it towards the front of the case. Plus, it needs to be 15mm thick. 
The rear part of the Meshify 2 Nano supports a 120mm fan. Here, you will see another installed Dynamic X2 GP12 fan, but unlike the one in front, this fan measures 120mm.
For radiators, the case can accommodate up to 280mm radiators in front. You can also set a radiator at the top since it can support 240mm radiators. However, make sure that its width is less than 120mm. 
If you plan to personalise your case and want to use a custom loop, you will love the Meshify 2 Nano. After you install a motherboard, to its right are slots to mount a reservoir and pump. 
If you want to use an air cooler, that is possible. The Nano case can fit a massive air cooler with a total height of 167mm. 
In terms of GPU, you can install one measuring 306mm long if a front fan is present. But if you remove the fan, you can install a GPU up to 331mm long. 
We appreciate the rubber grommets over the two primary cutouts on the right-hand corner of your motherboard. It also applies to the base of the GPU cables that go through. Additionally, there are numerous Velcro cable straps available for quicker cable management.
Key Features of the Fractal Design Meshify 2 Mini and Nano
Like our other reviews, our Fractal Design Meshify 2 Mini and Nano Review will discuss the features of these cases. We will start with the features of the Mini case, followed by the Nano. 
Meshify 2 Mini Features
Slick and Streamlined
Although smaller and compact, the Mini has an interior that makes the most of an mATX case. It offers high space efficiency plus sturdy component support. 
The case, even if it is smaller, has room for GPUs that are up to 306mm long. These are with front fans that have 331mm of total space. 
Additionally, the Mini comes with a ventilated PSU shroud sporting a two-port detachable cover. It is necessary for optimal front radiator support and optimal cable concealment. The shroud also offers front radiator support. 
Removable Front Filter
The front panel sports a design with a hinged-detachable mesh filter plus tether-free bezels. This feature offers better and more convenient access to the front fan mounts.  
You will also find a double-layered front filter with detachable nylon for optimised airflow.
Refined Airflow
The open interior of the case layout produces a smooth and seamless airflow path from the intake to the rear exhaust. Plus, you can install up to seven 120mm or four 140mm fans in the case. 
Bolt-free Glass
Enjoy using the top-latching tempered glass panels that make for a stylish and aesthetic exterior. 
All Out Easy Access with the Fractal Design Meshify 2 Mini and Nano
The detachable top panel and fan bracket provide outstanding interior access when building your system. You will not only have adequate access but also have cable routing for a clean and neat setup. 
At the top,  front, and base are easy-to-clean filters offering full PSU coverage. Aside from that,  plus convenient front access.
Dynamic X2 GP Fans on the Case 
The Meshify 2 Mini sports the Dynamic X2 GP fans designed to decrease turbulence and noise. It is all possible because of aerodynamic stator struts, counter pull magnet and fan geometry on the fan hub.
Aside from decreasing resistance and operating noise, the design helps the fan reach its 100,000-hour lifespan. 
Type-C Interface
The case has a USB-C front I/O that provides immediate access to quick charging and speeds of 10Gbps. 
More Features in Store for You
The case has flexible storage options with two SSD/HDD drive trays. Plus, it comes with four dedicated SSD mounts with two brackets included. 
Built-in cable guides + cable straps make cable management behind your motherboard more convenient, quick, and effortless. 
Meshify 2 Nano Features
Our Fractal Design Meshify 2 Mini and Nano Review will also discuss the features of the Meshify 2 Nano. Knowing these key features will help you determine which PC case is better between the two products we are reviewing.
Extreme Cooling Capacity
The Meshify 2 Nano offers room for six 120mm fans or three 140mm fans, plus up to 280mm front radiators.
The case also has two installed Dynamic X2 GP fans for guaranteed smooth airflow with low noise levels. One measures 120mm, while the other measures 140mm.
The Meshify 2 Nano also has up to 331mm total GPU clearance. With front fans, you can install GPUs up to 306mm long.
The Included Dynamic X2 GP Fans 
The Dynamic X2 GP from Fractal Design are true all-purpose fans that deliver excellent airflow. With their LLS (Long Life Sleeve) bearing, each fan has an outstanding lifespan of 100K hours.
Fractal designed the Dynamic X2 GP along with their high-end Venturi series. As a result, the Dynamic X2 GP fans have the same aerodynamic elements as aeroplane wing designs. With this feature, the fans operate while significantly reducing noise levels.
The trip wire technology of these fans introduces a micro-turbulent layer that eliminates elements that negatively affect cooling efficiency.
Access the Interior from All Areas Easily 
With the fully removable top panel and top fan bracket, the interior is easily accessible. Cable routing will also be a more convenient process. 
The side panels also have a tool-free design. You can pull these out if you need better access to the interior.
The front, top, and base of the Meshify 2 Nano have easy-to-clean filters. Its front filter consists of double-layered detachable nylon that allows improved airflow. Also, the case has full PSU coverage for more convenience.
Sleek and Efficient Design of the Fractal Design Meshify 2 Mini and Nano
The design of the Meshify 2 Nano is ideal for showcasing your build, but it does more than that. Its open interior layout offers a smooth airflow path from intake to rear exhaust. It is ideal for keeping the temperatures of your components low.
Guided Airflow
The two-part modular air duct allows for increased GPU airflow for better thermal performance. The bridgeless PCIe slots guarantee unrestricted GPU exhaust for enhanced ventilation.
Flexible Storage Options
When using the Meshify 2 Nano, you can install one 3.5-inch and three 2.5-inch storage drives. This PC case offers flexible storage options.
Simplified Cable Management
The Meshify 2 Nano features integrated cable guides behind the motherboard slot. These cable guides have straps to make cable management easy.
Bolt-free Glass
Like the steel frame panels, the bolt-free tempered glass panel only has a top-latching mechanism for easy removal. The front panel that features a hinged removable mesh and tether-free bezel allows quick access to the front fan brackets.
USB-C Interface
Access the front I/O USB-C ports quickly to enjoy fast charging and up to 10 Gbps transfer speeds.
Specifications
This part of our review focuses on the different specifications of both Meshify 2 cases. Knowing the specs of a PC case will help you determine if your components will work with it. Anything you install in your build has to be compatible with the chassis for your system to operate well.
We will first discuss the specifications of the Meshify 2 Mini, followed by the Nano case. 
Fractal Design Meshify 2 Mini Specifications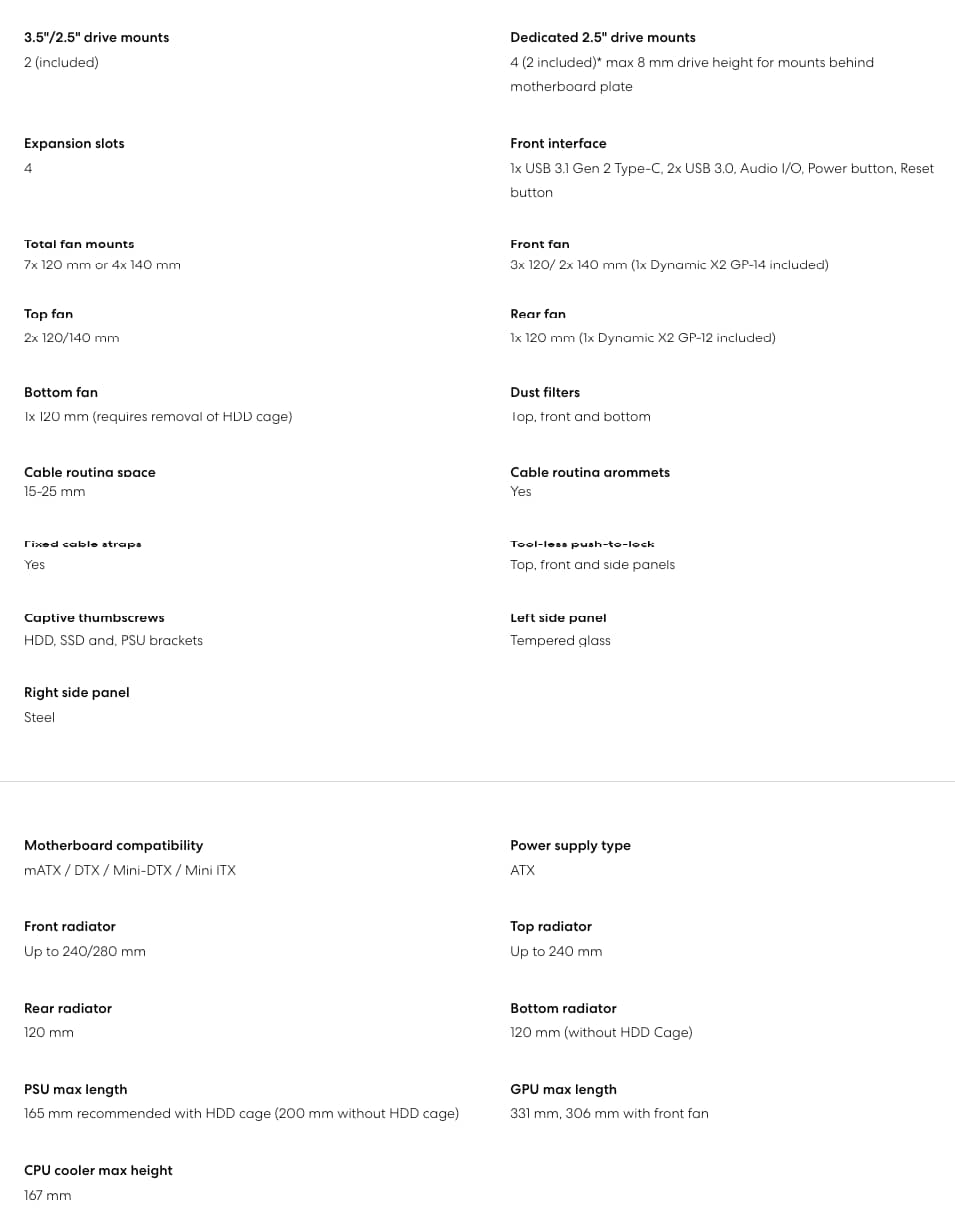 The case can support micro-ATX and mini-ITX motherboards while it can support ATX power supply too. It sports four expansion slots and includes one 140mm front fan and one 120mm rear fan. 
The case can support x3 120mm or x2 140mm front fans and x2 120mm/140mm roof fans. On the rear, it can accommodate a 120mm fan and another 120mm fan on its base. However, the latter is only possible if you remove its HDD cage. 
The Meshify 2 Mini can handle a 280mm/240mm radiator in front. It can also accommodate a 240mm radiator on its roof and 120mm on its rear.  
The maximum PSU length is 165mm with the HDD cage, but without it, you can go for a 200mm-long PSU. The recommended maximum GPU length is 331mm and 306mm for the front fan. Then, the accommodated height for a cooler should be 167mm. 
The internal drive bays have x2 3.5-inch / 2.5-inch, and x4 2.5-inch. Additionally, there are x2 USB 3.0 Type-A, x1 USB 3.1 Gen2 Type-C, and an available audio port. 
And lastly, the case measures 406 x 396 x 205mm (HxDxW) and comes with a 2-year warranty. 
Fractal Design Meshify 2 Nano Specifications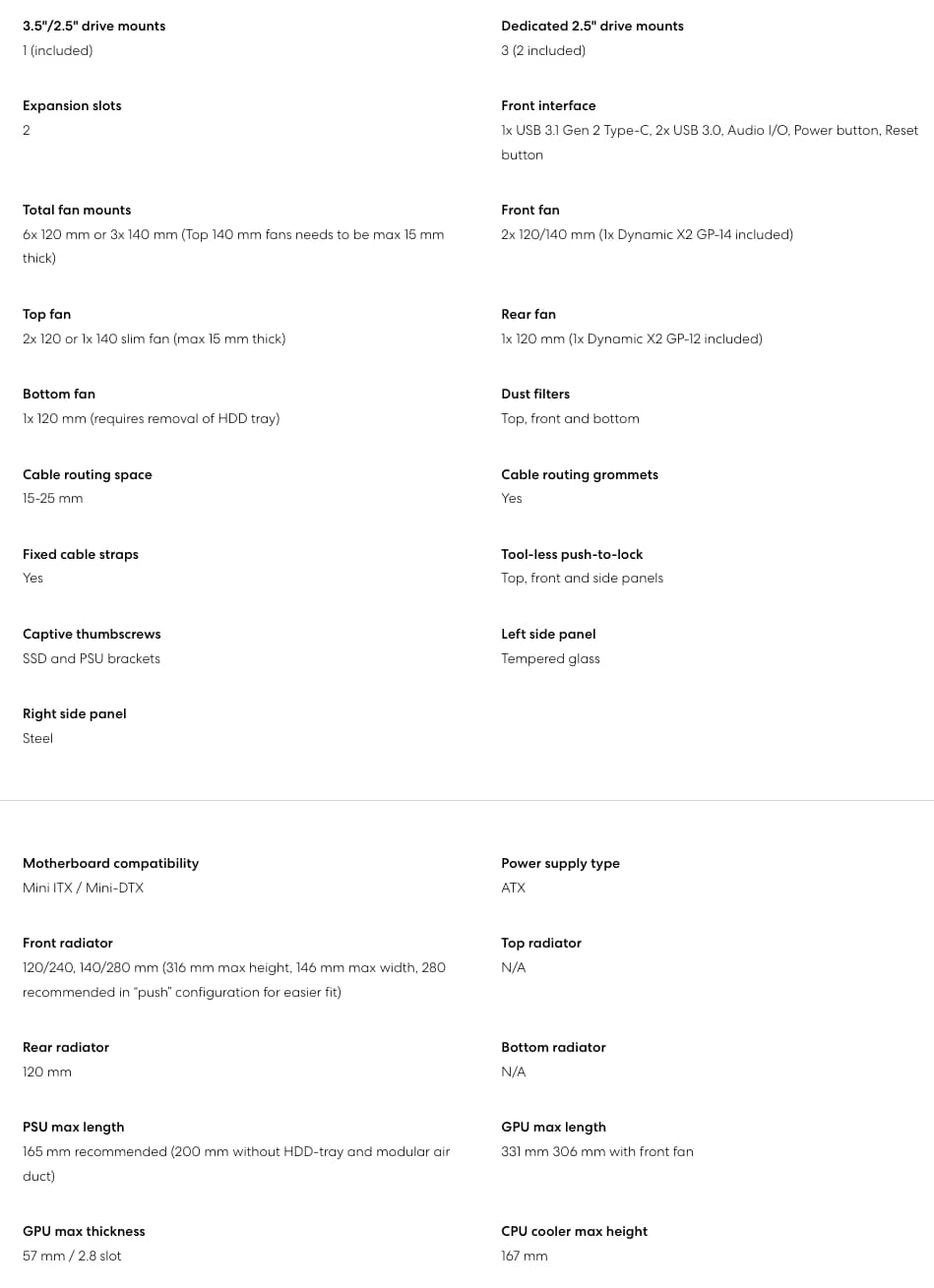 This time, let us look at the different specifications for the Meshify 2 Nano case. This case is slightly smaller than the Mini, but are there plenty of differences between them? Let us find out and check out its specifications. 
The Nano case is compatible and can accommodate a mini-ITX or mini-DTX motherboard. Like the Mini, it can support an ATX power supply. 
It features two expansion slots. Then, it has a 140mm front fan and a 120mm rear fan.
The case supports x2 120mm / 140mm front fans, and x2 120mm / x1 140mm slim fan for the top. The maximum thickness accommodated for this area is 15mm.
The rear portion can support one 120mm fan, while the base can support a 120mm fan. However, the latter requires you to remove the HDD tray to fit the 120mm fan in its slot. 
The front can accommodate 120mm / 240mm, 140mm / 280mm radiators with a maximum height of 316mm and width of 146mm. 280mm is best for the push configuration for an ideal and practical fit. Then for its rear, it can accommodate a 120mm radiator. 
The maximum PSU length it can work with is 165mm. Without the HDD tray and modular air duct, it can accommodate a 200mm-long PSU. 
The GPU should be 331mm long or 306mm with the front fan. Its thickness should be 57mm / 2.8 slot, while the CPU cooler should max 167mm high. 
This Meshify 2 Nano case has one 3.5-inch / 2.5-inch drive mount. And it also has three (two included) dedicated 2.5-inch drive mounts. 
Its I/O port has one USB 3.1 Gen2 Type-C, x2 USB 3.0, and an audio I/O. Of course, it also has a reset and a power button. 
We love that this case has a 15-25mm cable routing space and a 2-year warranty. The Nano case measures 396 x 205 x 361mm (LxWxH). 
Hands-on with the Fractal Design Meshify 2 Mini and Nano
We tried both cases for Fractal Design Meshify 2 Mini and Nano Review. We used them for our builds for over two weeks to see how well they performed. So, we will share our experience with these cases with you. 
Building with the Fractal Design Meshify 2 Mini 
We love the changes and upgrades Fractal Design made on the previous case, which resulted in the Meshify 2 Mini. We particularly appreciate how we can remove the panels and the top of its frame.
If you want full access to the interior of your system, this Meshify 2 Mini has a lot to offer. 
Under load, we had the two preinstalled Fractal case fans and two extra fans spinning at 1000 RPM. The temperature of the CPU and GPU remained nice and cool with no thermal issues.
The noise from the cooling fans was barely audible, even with increased fan speeds.
The overall performance of the Meshify 2 Mini was tolerable. The cases cooling system and the design of the case efficiently maintained reasonable temperatures. 
Based on our performance tests, we can say that the Meshify 2 Mini is most suitable for mid-range systems.
Building with the Meshify 2 Nano
Building with the Meshify 2 Nano was great and smooth on our part. When we installed our motherboard, we successfully fit the cable next to the board. The connecting wires were organised and neat, providing us with a clean-looking layout, which was pleasing to the eyes. 
Here is a quick tip to make installing easier. Before you install the motherboard, place your cables and rear fan first. This process will make it easier to work with during the build. 
Also, we appreciate Fractal Design for adding Velcro cable straps in the best areas. There were also enough of these, which allowed us to keep all cables presentable and organised for display. 
We also tested the performance and cooling capabilities of the Meshify 2 Nano. Like the Meshify 2 Mini, we performed our tests under ambient temperatures of 23 to 24°C.
Like hte Meshify 2 Mini, temperatures of for the CPU and GPU were fantastic. They remained cool under load and we saw no spikes in thermals.
Increasing fan speeds lowered the CPU and GPU temperatures by a few degrees while the average fan noise escalated. 
Fractal Design Meshify 2 Mini and Nano Review Summary
Fractal Design has expanded its line of Meshify 2 cases with the new Meshify 2 Mini and Nano. The compact size of these chassis fills a niche, especially for build enthusiasts who love building small systems.
These well-executed PC cases have an impressive design. We love the tempered glass panel for showcasing builds and the sleek design that makes them fit any setup. The excellently placed dust filters keep components clean and safe from unwanted debris.
Aside from the exterior, both chassis offer adequate clearance and versatile storage and ventilation options. Thanks to these, building with the cases for our Fractal Design Meshify 2 Mini and Nano Review was quick. The cable management features simplified the building process, making everything much better.
Overall, we highly recommend the Meshify 2 Mini and Nano. With their modern, sophisticated design, premium features and high-quality construction, these are worth purchasing.
To learn more about the Meshify 2 Mini and Meshify 2 Nano, check out their official product pages for details.