It's that time again when the latest and greatest new generation of hardware is being realised, and today we are going to take a look at the newest GPU generation. 
Launching alongside new CPU offerings from AMD and Intel, NVIDIA released their latest RTX 40 series graphics cards. These cards offer the latest in graphics technology and provide graphics performance like never before.
So the question is, are you someone that is looking to get the highest frames per second possible out of the latest and upcoming games? 
Or, are you wanting to take your gaming rig to the next level and experience video game immersion like never before in glorious 4K?
If this is something that tickles your fancy then the latest RTX 40 series graphics cards may be exactly what you are looking for. So, with that in mind, let's take a bit of a look at what these new graphics beasts bring to the table.
The Latest GPU Offering From NVIDIA
The last couple of months has been an incredibly exciting time for gamers all over. Intel released their latest 13th Gen CPUs and AMD their latest AM5 offerings. So what better way to complement those new CPUs than with NVIDIA releasing the RTX 40 series graphics cards.
To kick things off, NVIDIA released the new NVIDIA RTX 40 series GPU in a few different varieties, namely the RTX 4080 (12GB), RTX 4080 (16GB), and the RTX 4090. So, the first question asked is what exactly does these new graphics cards offer over the previous gen RTX 30 series?
Well to put it simply, the RTX 40 series offers incredible performance unlike anything you have ever seen before, and not just for gamers, but for content creators too.. The NVIDIA RTX 40 series GPUs, such as the GeForce RTX 4080 16GB GAMING OC, are the most powerful graphics cards you can get for your gaming and productivity rig.
The RTX 4080 cards offer a greater performance boost compared to the RTX 30 series graphics card from the previous generation. NVIDIA states that you will experience a 2-4x improvement with the RTX 4080 when compared to the previous RTX 3080Ti.
The RTX 4080 graphics cards are the sweet spot for those that want fast paced graphics performance but don't feel that they need the biggest and baddest GPU available.
GPUS like the AORUS GeForce RTX 4080 16GB MASTER come packed with 16GB of DDR6X memory along with a core clock speed of 2550MHz (reference cards are 2505MHz). Loaded with a NVIDIA CUDA Core count of 9728, the RTX 4080 cards offer high gaming performance, making 4K gaming finally a viable option for gamers.
The RTX 4080 is a great option for those that are also looking for something that has a bit of a smaller footprint than the RTX 4090, making installation into an existing PC setup a little easier.
The RTX 4090 GPUs are the monsters of the RTX 40 series lineup. Sporting 24GB of DDR6X memory, graphics cards such as the GeForce RTX 4090 GAMING OC 24G offer unrivalled power that is the ideal choice for serious gamers and content creators.
Boasting an impressive 16384 NVIDIA CUDA Cores, 24GB of DDR6X memory, and a 21Gbps memory clock, the RTX 4090 puts other graphics cards to shame with the raw power that these guys can put out. In fact, you are looking at around 2-4x the performance of an RTX 3090Ti with 4x the processing throughput.
Now is the perfect time to build that dream gaming rig or content creation system and take advantage of all that the new RTX 40 series GPU lineup has to offer.
A Couple Of Key Highlights From The RTX 40 Series Graphics Cards
Powering the latest generation RTX 40 GPUs is a new architecture from NVIDIA called Ada Lovelace. Ada Lovelace packs the RTX 40 series GPUs with the latest graphics technology and features to ensure that you have all of the graphics processing power that you need.
Part of what makes Ada Lovelace great is the new streaming multiprocessors. These new streaming multiprocessors provide up to 2x performance and power efficiency when compared to previous generations. 
4th generation Tensor Cores provide transformative AI technologies that provide up to 2x AI performance, while third generation RT cores offer 2x the ray tracing performance than before.
And that's not all, the RTX 4080 and RTX 4090 graphics cards also offer a slew of features that help gamers and content creators truly get the most out of their PC setup.
Life-like Lighting Thanks To Ray Tracing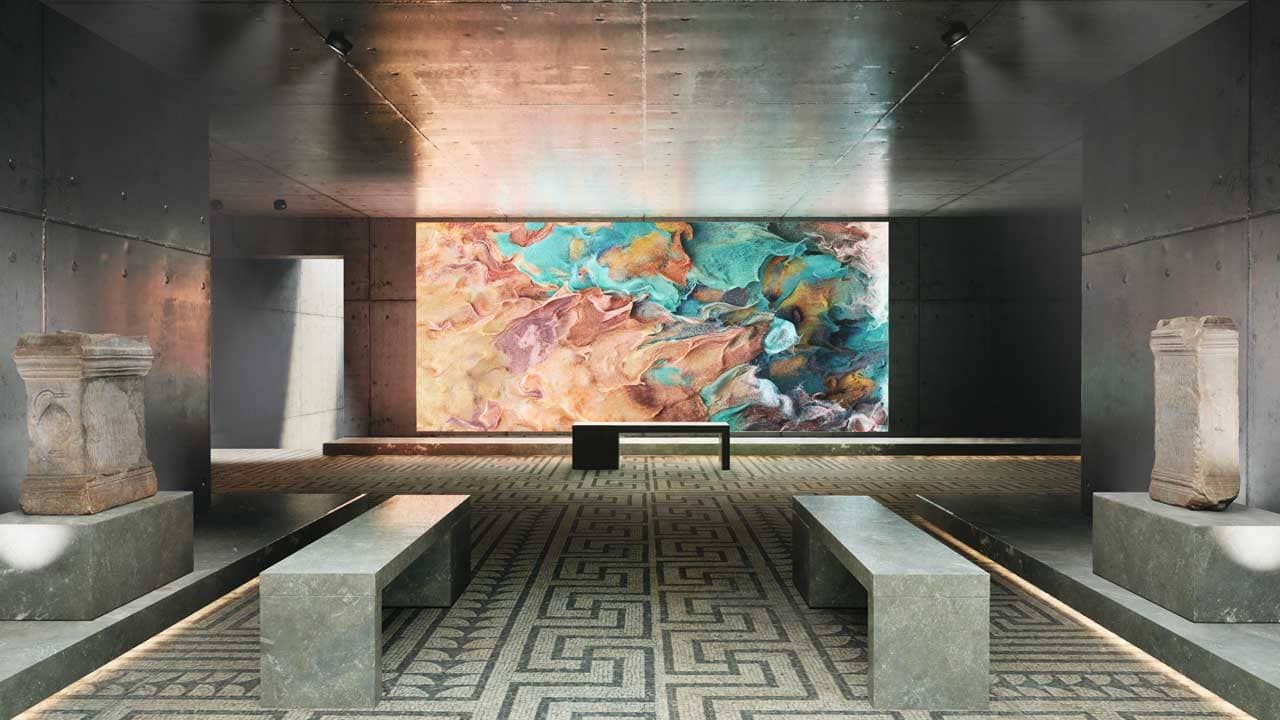 Are you someone that wants to experience a greater level of immersion in the games that you play? Well this is exactly what Ray Tracing can give you.
Ray tracing helps provide this increased immersion by providing you with incredibly realistic lighting and lighting effects whilst playing games. Ray tracing is able to simulate how light behaves in the real world which allows game developers to truly leverage the lighting that is in their games, ultimately providing you with a more engaging and realistic gameplay experience.
By using algorithms to trace the path of light within a game's scene and then simulate the way that the light would interact with the objects it passes in the game, developers are able to create games that offer environments like never before.
The RTX 4080 and RTX 4090 graphics cards make use of third generation ray tracing cores and the new RTX 40 series GPUs are able to provide you with up to 2-3 times the ray tracing performance than their previous generation cards.
Ray tracing allows for amazingly lifelike scenes to be produced in games that really draw you into the action. Games take on a new level of realism that takes your gaming experience to a whole new level.
Gain A Competitive Edge Thanks To NVIDIA Reflex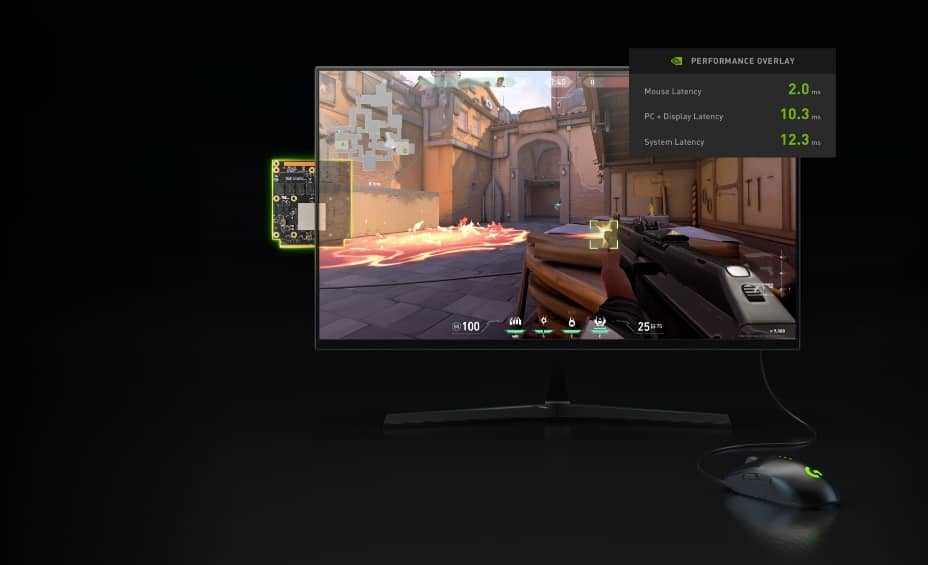 When it comes to competitive gaming every millisecond counts. A slight delay can mean the difference between a win and a loss. So, how do you get the fastest response times possible out of your keyboard and mouse? 
The answer to this is NVIDIA Reflex. NVIDIA reflex aims to reduce the amount of latency and input lag for the input devices that you are using with your computer. 
When you are playing against some of the best players and teams around there often is not a lot of difference between the skill level of the players. This means that gamers try to find anywhere where they can improve, even on a micro level, just to be able to gain that competitive edge against their opponents.
Input lag is important when it comes to competitive gaming and if you are able to get this down to a minimum you will have that slight advantage in the heat of battle. You need to know that when you perform an action in-game that the action is performed as quickly as possible.
NVIDIA Reflex is able to reduce latency dramatically thanks to the SDKs and driver optimisations that it makes use of. Reflex allows game developers to make use of a number of APis that allow them to measure and therefore reduce latency in the games that they are developing. 
Gamers are able to enable Low Latency Mode for supported games that allows Reflex to dynamically reduce system latency by using both GPU and game optimisations. This allows gamers to receive the lowest latency possible, giving them a competitive edge against their opponents in games.
Experience The Best Performance Possible Thanks To DLSS 3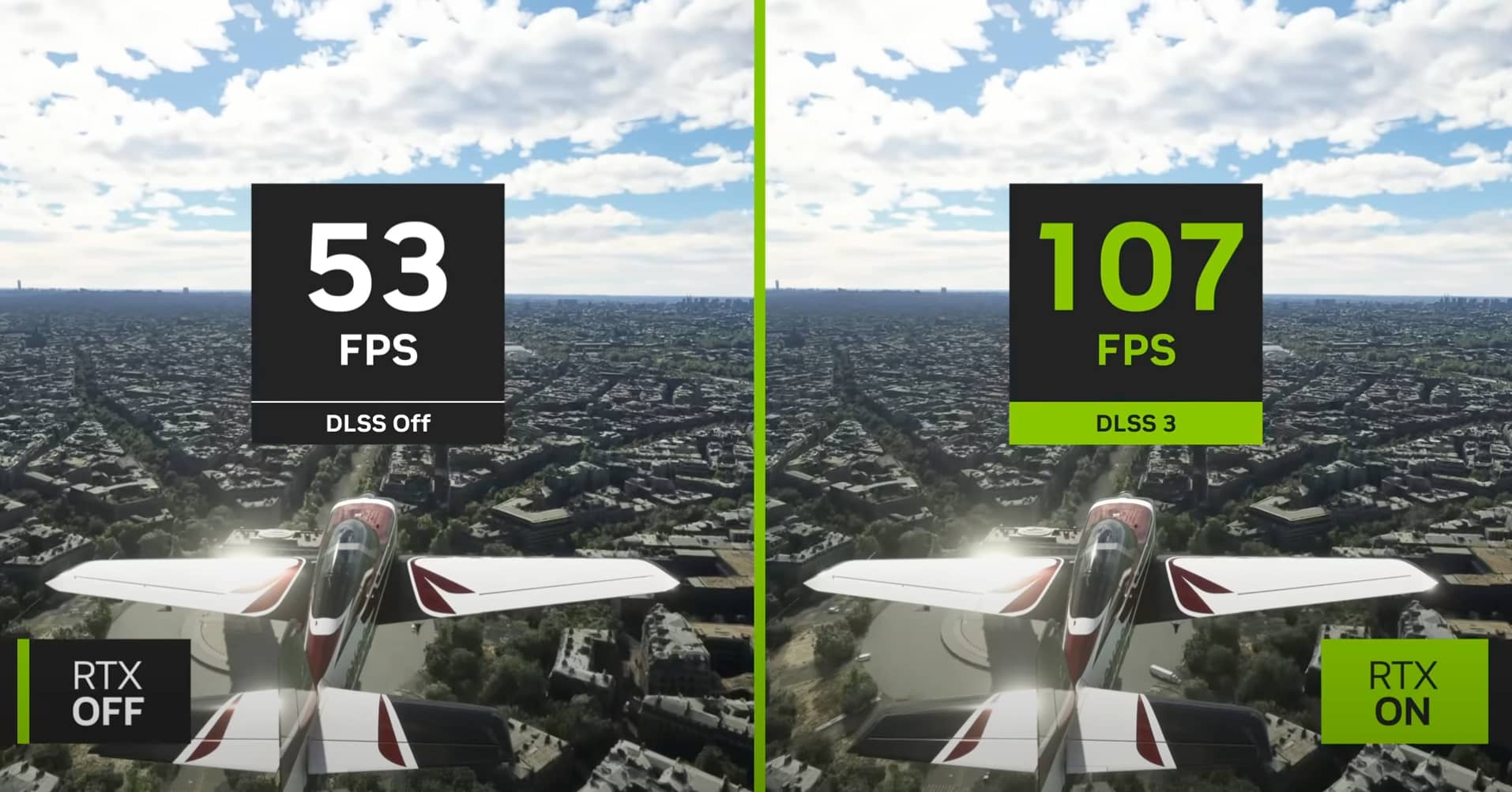 When it comes to PC gaming, it is important that we get the best frame rate possible so that we can enjoy lag and stutter free gaming. With the graphics in video games getting more visually impressive and as a result more demanding it is critical that your graphics card can keep pace.
One of the key highlights of the latest RTX 40 Series GPU offering is the inclusion of DLSS 3 (Deep Learning Super Sampling) . DLSS 3 is the latest version of DLSS which makes use of artificial intelligence in order to boost the framerate and performance in games and offers greater performance boosts over previous generations of the technology.
DLSS 3 provides up to four times the performance than standard GPU rendering. It is able to achieve this thanks to the included 4th generation tensor cores which allows the GPU to make use of something called Optical Multi Frame Generation.
DLSS 3 makes use of Optical Multi Frame Generation and artificial intelligence to automatically render frames while you are gaming. These new frames are passed through a neural network which then produce new frames and provide you with graphics that are boosted up to four times when compared to someone that is not using DLSS. 
This in turn helps take a lot of the load off your GPU as the GPU does not have to render everything by itself and allows you to play at higher resolutions than you might normally be able to.
Why GIGABYTE's RTX 40 Series Cards Are The Most Worthy Of Your Gaming PC
With the release of the RTX 40 series graphics cards, it means that there are a whole heap of RTX 4080 and RTX 4080 cards available to purchase. With so many cards being available it can be hard to choose which option is best for you. 
Thankfully however, GIGABYTE offers an incredible range of RTX 40 series cards which means that they have a GPU that is perfect for everyone. There is a reason as to why GIGABYTE is one of the most popular PC hardware brands amongst gamers and content creators.
EAGLE OC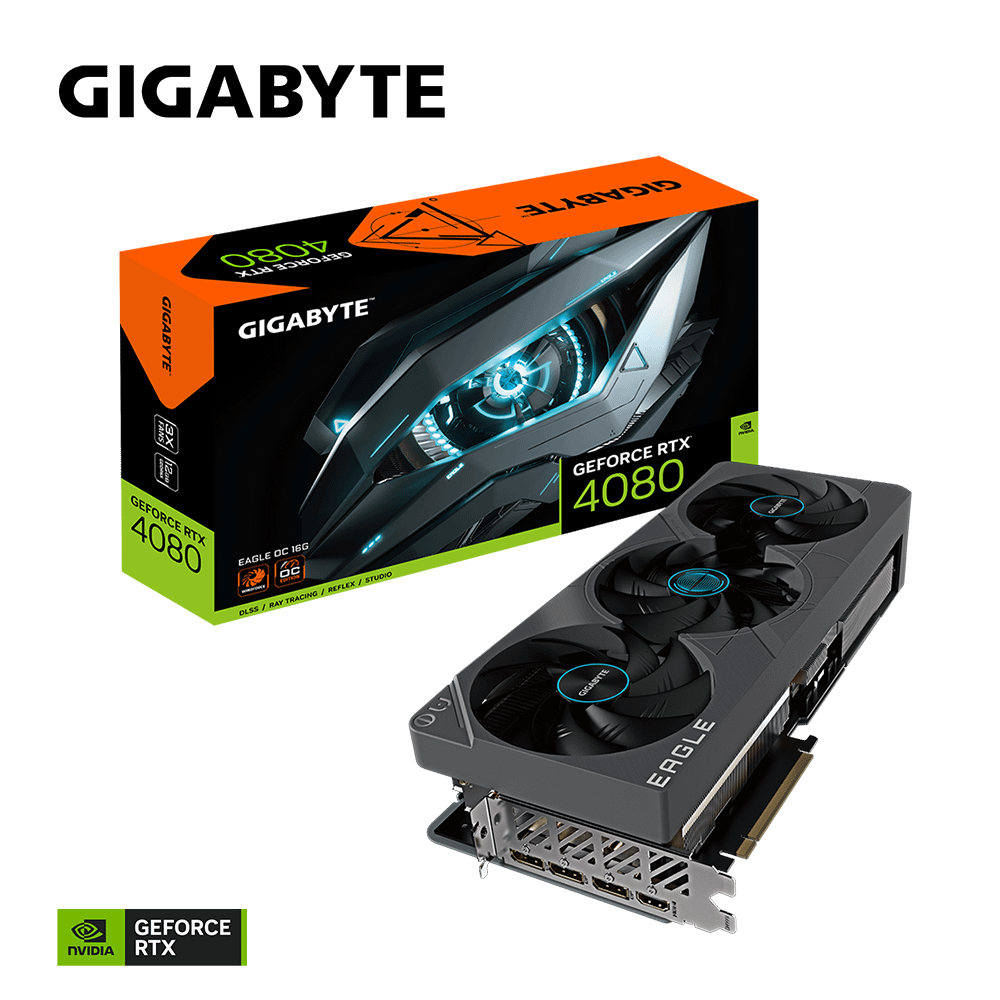 The EAGLE OC series of RTX 40 graphics cards is the first entry from GIGABYTE. This series of GPUs is the perfect entry point for gamers that want impressive performance results along with a more subtle design aesthetic. 
Sporting a grey and black design, the EAGLE OC graphics cards gives gamers a more stealthy looking card which will fit perfectly in any build. For those looking to add a little more personalisation to their rig the card also offers subtle RGB FUSION lighting which is perfect for adding a bit of personalisation without going over the top.
When it comes to performance, the EAGLE OC graphics cards come with a factory overclock to give you that added performance boost right out of the box. With the added performance boost it is important that the GPU stays as cool as possible and this is easily achieved thanks to the WINDFORCE cooling system.
The EAGLE OC WINDFORCE cooling system consists of 3x 110mm unique blade cooling fans along with 10 composite copper heatpipes and vapour chamber keeps things running smoothly, even under high loads.
EAGLE OC cards come with a DUAL BIOS option which gives you the choice of running the default factory overclocked settings for higher performance, or flick the switch to silent mode for a whisper quiet PC experience.
RTX 40 EAGLE OC series is available in the following model:
GeForce RTX 4080 16GB EAGLE OC
Core Clock: 2530 MHz

CUDA Cores: 9728

Memory Clock: 22.4 Gbps

Memory: 16GB

Dual Bios
AERO OC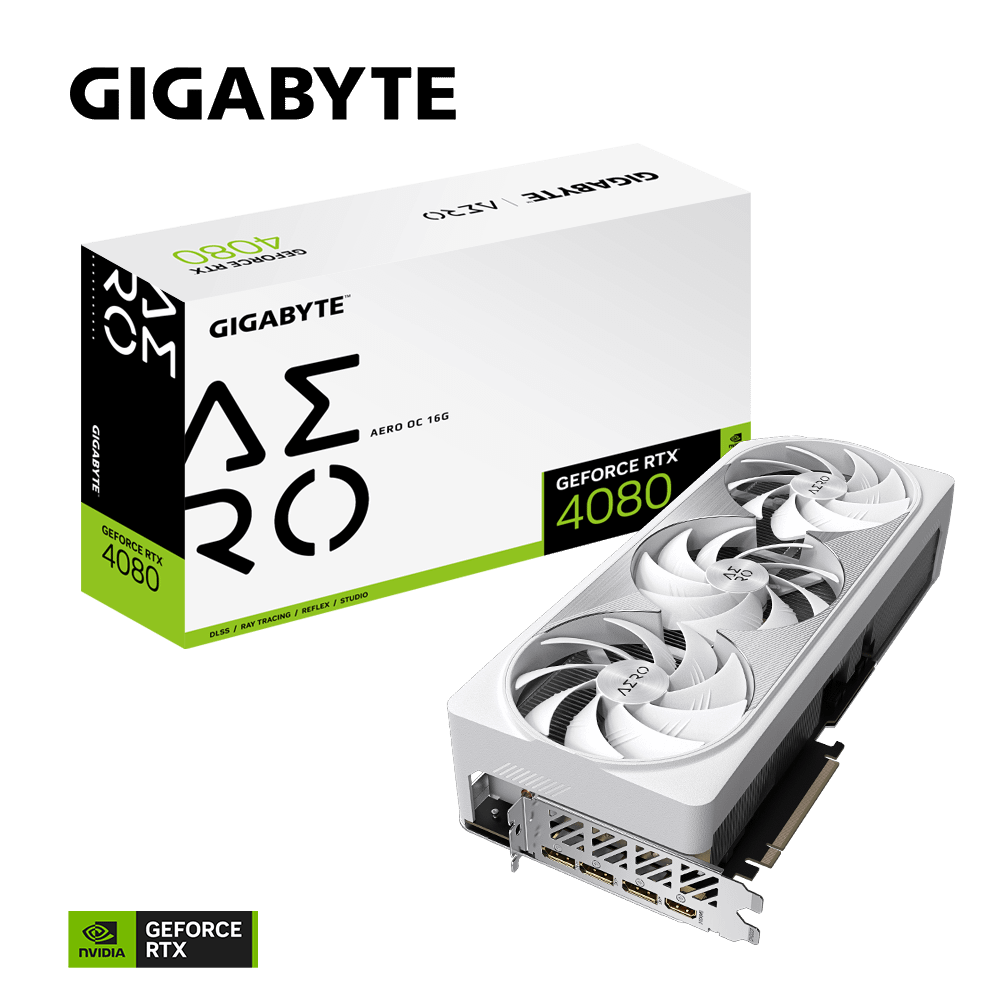 This is our personal favourite graphics card series from the RTX 40 lineup thanks to its standout look from the rest of the pack. Offering incredible performance, this card is not only great for gaming but it looks stunning.
With its white and silver design the AERO OC offering is the perfect choice if you want to go for a PC build that is different from a standard black build that you often see. Break the mould and opt for something like a white PC case with a glass side panel and this card will look absolutely baller inside. 
AERO OC is THE choice if you want to go the minimalist design route that will allow you to create a modern looking and clean PC setup.
You are not just restricted to an all white GPU, the AERO OC graphics card provides subtle RGB fusion for the AERO logo on the side of the card. To add a more unique lighting look, the AERO logo scatters the RGB lighting to provide a unique look thanks to the material that it is made of.
The AERO OC comes with a higher factory overlock than that of the reference RTX 4080 cards which brings improved performance in games. Like the EAGLE OC, the AERO OC is cooled by the leading WINDFORCE cooling system thanks to the 3x 110mm unique blade fans and 11 composite copper heatpipes. Graphene nano lubricant ensures that the cooling fans are always performing at their best and extending their life by up to 2.1 times whilst also keeping things nice and quiet.
An extended heatsink design offers screen cooling that allows for cool air to pass through the AERO OC graphics card, helping to improve thermals even further.
RTX 40 AERO OC series is available in the following model:
Core Clock: 2535 MHz

CUDA Cores: 9728

Memory Clock: 22.4 Gbps

Memory: 16GB

Dual Bios
GAMING OC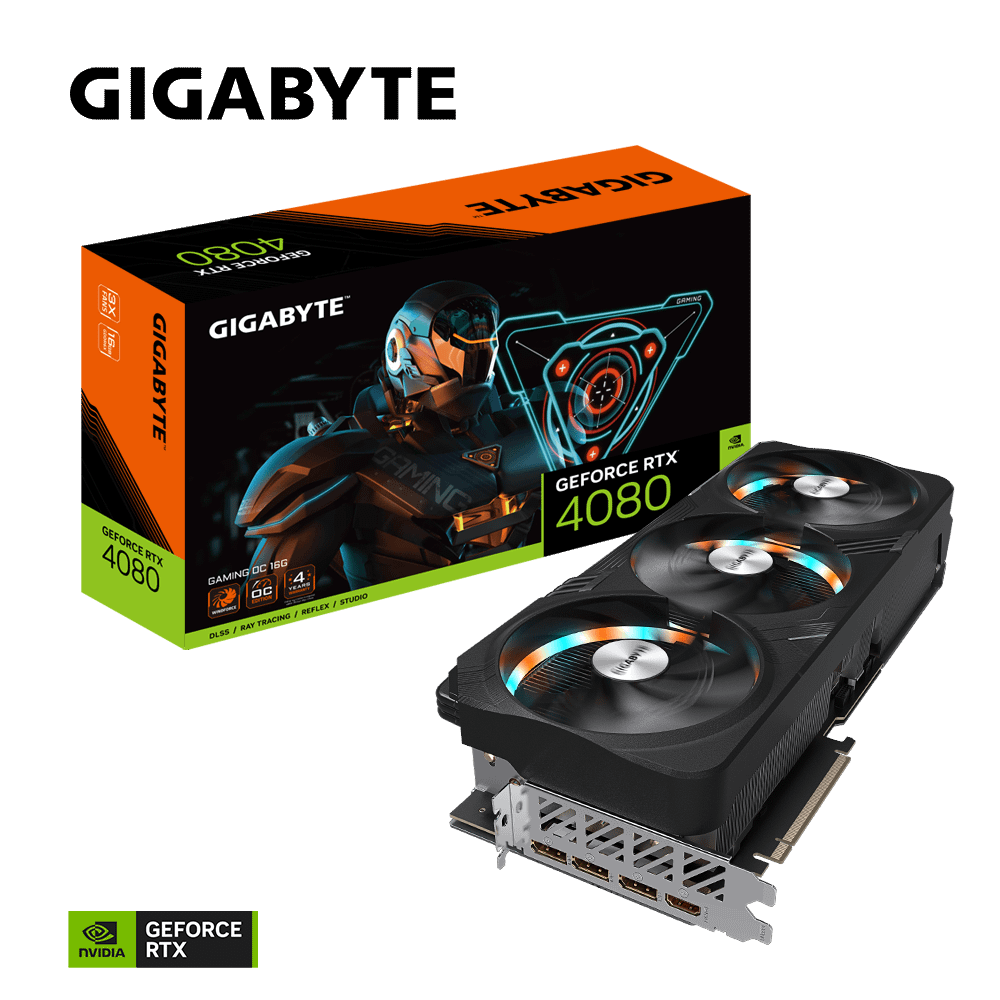 The GAMING OC line of graphics cards are ever popular amongst gamers everywhere. This is thanks to a nice balance between performance and cost. For those of you that are looking for a graphics card that provides a nice mix of high performance numbers with rock solid stability then the GAMING OC lineup is certainly worth taking a look at.
At the top of the pile in the GIGABYTE branded GPU lineup, the GAMING OC cards offer a striking design thanks to the included RGB HALO which you might have seen on the AORUS lineup.
RGB Halo gives you stunning and modern RGB lighting with the triple-ring RGB lights around the cooling fans. This lighting is fully addressable and provides you complete control of the lighting effects with the GIGABYTE CONTROL CENTER. The RGB lighting on these cards is some of the best lighting that we have seen.
Speaking of cooling fans, the GAMING OC cards are kept running nice and cool thanks to the similar WINDFORCE cooling system that we see with the AERO OC cards. Combined with its dual bios and silent mode options, the GAMING OC cards are one of the quietest cards available.
In addition to impressing cooling and thermals, the GAMING OC cards also feature a metal back plate that offers increased protection by increasing the structure of the graphics card itself, all while making it look more awesome than it already does.
The GAMING OC series of GPUs from GIGABYTE come with an Ultra Durable power design which pushes the possibilities even further. With fantastic power phase design that allows the included MOSFETs to operate at lower temperatures, you are given a graphics card that has exceptional stability. Coupled with some of the best load balancing around, overclocking this graphics to squeeze every inch of performance out of it is a very real possibility.
RTX 40 GAMING OC series is available in the following models:
GeForce RTX 4080 16GB GAMING OC
Core Clock: 2535 MHz

CUDA Cores: 9728

Memory Clock: 22.4 Gbps

Memory: 16GB

Dual Bios
GeForce RTX 4090 GAMING OC 24G
Core Clock: 2535 MHz

CUDA Cores: 16384

Memory Clock: 21 Gbps

Memory: 24GB

Dual Bios
MASTER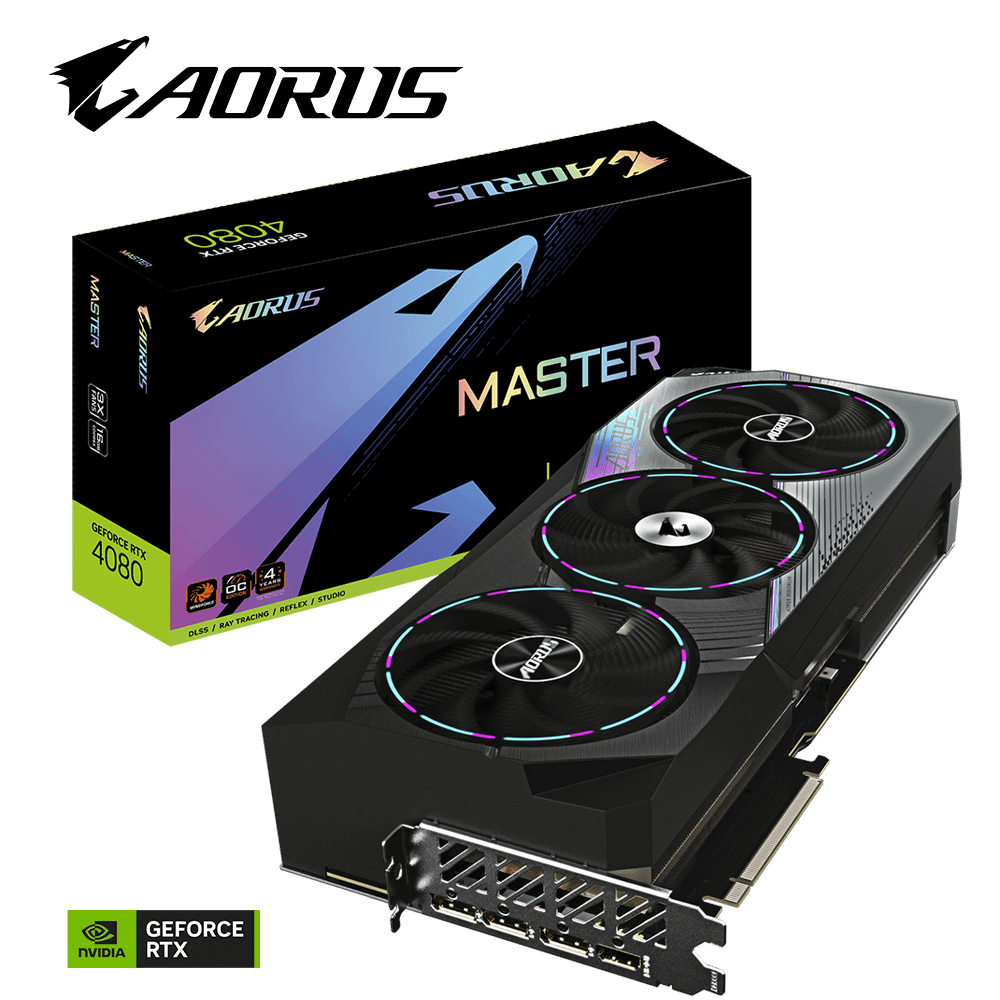 The MASTER lineup is the big daddy of them all from the AORUS brand. This is the card that you go for if you want the best darn thing going and you want every single FPS that you can get out of your game.
With one of the highest boosted core clocks of 2550 MHz straight from the factory, the MASTER RTX 40 series cards are the best option for gamers that want the best performance available, without the need to manually overclock.
With its sharp corners and almost futuristic look, the MASTER series is a card that will sure as heck make your gaming rig stand out. The included RGB Halo lighting means that you can add whatever flair you want to your build thanks to the addressable lights on the spinning fans.
Its LCD Edge View provides a high quality LCD screen on the side of the graphics card allowing you to customise the display with things such as system stats and memes.
The insanely good WINDFORCE cooling system is found once again here, but this time with upgraded cooling fans. Taking centre stage in the WINDFORCE cooling system are 3 newly designed 110mm bionic shark fans. This new fan design increases static pressure by up to 30% whilst also reducing noise levels by 3dB. This new iteration of the WINDFORCE cooling system is one of the most effective air cooling solutions available.
To put you in ever more control of the MASTER graphic cards, these GPUs also sport a dual bios so that you can easily switch between silent and overclock mode, giving you easy control over how the card runs.
The MASTER lineup is one of the most coveted series of graphics cards amongst gamers and content creators. This is all because of the sheer performance that these monster cards offer. If you want the best, look no further.
RTX 40 MASTER series is available in the following models:
AORUS GeForce RTX 4080 16GB MASTER
Core Clock: 2550 MHz

CUDA Cores: 9728

Memory Clock: 22.4 Gbps

Memory: 16GB

Dual Bios
AORUS GeForce RTX 4090 MASTER 24G
Core Clock: 2550 MHz

CUDA Cores: 16384

Memory Clock: 21 Gbps

Memory: 24GB

Dual Bios
XTREME WATERFORCE and XTREME WATERFORCE WB
Now we are at the tippy top of the mountain for the RTX 40 series cards. A true enthusiast model, the EXTREME WATERFORCE series.
The XTREME WATERFORCE series of cards are the pinnacle of high performance and low temps and this is all thanks to the fact that these GPUs are water cooled.
The benefit of water cooling is that you are able to reach new lows when it comes to thermal temps that are not as easily achieved with traditional air cooling. If you are someone that wants to get the absolute best out of their graphics card, then this is the series that you should seriously consider.
Now when it comes to water cooling, you generally have 2 options, AIO coolers which are preconfigured and assembled all in one water coolers, and closed loop custom water cooling. AORUS gives you both of these options with the XTREME WATERFORCE (AIO) and XTREME WATERFORCE WB (Custom Loop).
The XTREME WATERFORCE is the perfect choice for gamers that want to leverage water cooling but don't want the hassle of custom designing something themselves. This is an all in one water cooling solution that includes the RTX 40 series graphics card with pre-installed water cooling that simply requires you to install the graphics card and radiator and off you go. A similar process to when you install an AIO CPU cooler.
Once installed, water is then passed around all the important components of the GPU such as the VRAM and MOSFET which cools these components much more efficiently. The included 360mm aluminium radiator and 3x 120mm double ball bearing fans then actively cool everything down. This cooling process effectively keeps thermal at a minimum which allows for greater graphics performance and gives you a lot of additional headroom for further overclocking and hardware tweaking.
As for the XTREME WATERFORCE WB series, this is similar to the XTREME WATERFORCE in the sense that is uses water to cool the GPU and its components, however instead of being a complete all in one solution it is designed for custom designed water cooling setups.
The XTREME WATERFORCE WB series provides you with an RTX 40 series GPU with water block attached which you then integrate into your custom loop system.
This option is the go to choice for those of you out there that like to build a custom loop PC that is tailored to your own specifications and. The benefit of the XTREME WATERFORCE WB is that the water block is pre-installed to the GPU which means that you don't need to disassemble and modify the graphics card yourself. Simply integrate the XTREME WATERFORCE WB into your custom loop and it's done. 
Because of the superior cooling used for the XTREME WATERFORCE and XTREME WATERFORCE WB cards, the core clock was able to be pushed even further right out of the box, boasting an incredibly impressive 2565 MHz core clock.
As is common with AORUS products, they want to ensure that you have the best looking gaming PC possible, and the XTREME WATERFORCE series of cards come packed with stunning RGB lighting options that are fully customisable with the GIGABYTE software.
RTX 40 XTREME WATERFORCE series is available in the following models: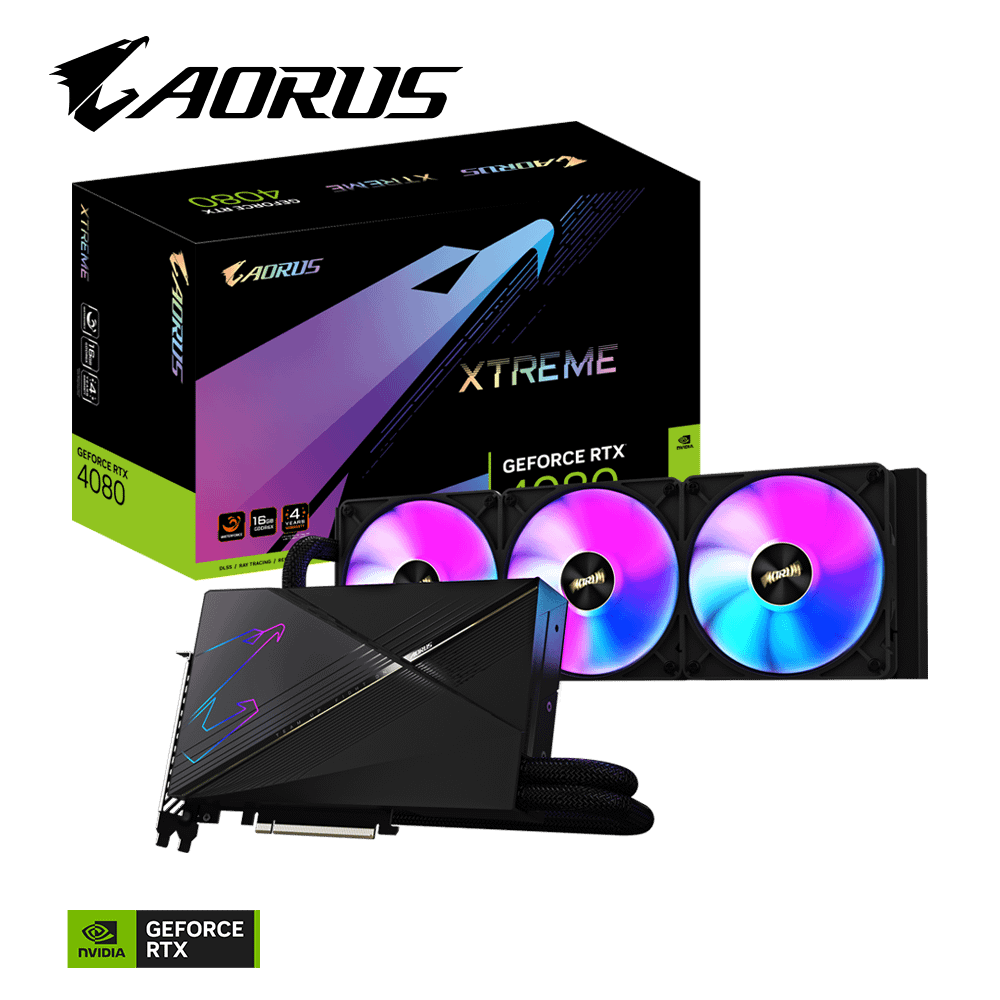 AORUS GeForce RTX 4080 16GB XTREME WATERFORCE
Core Clock: 2565 MHz

CUDA Cores: 9728

Memory Clock: 22.4 Gbps

Memory: 16GB

Dual Bios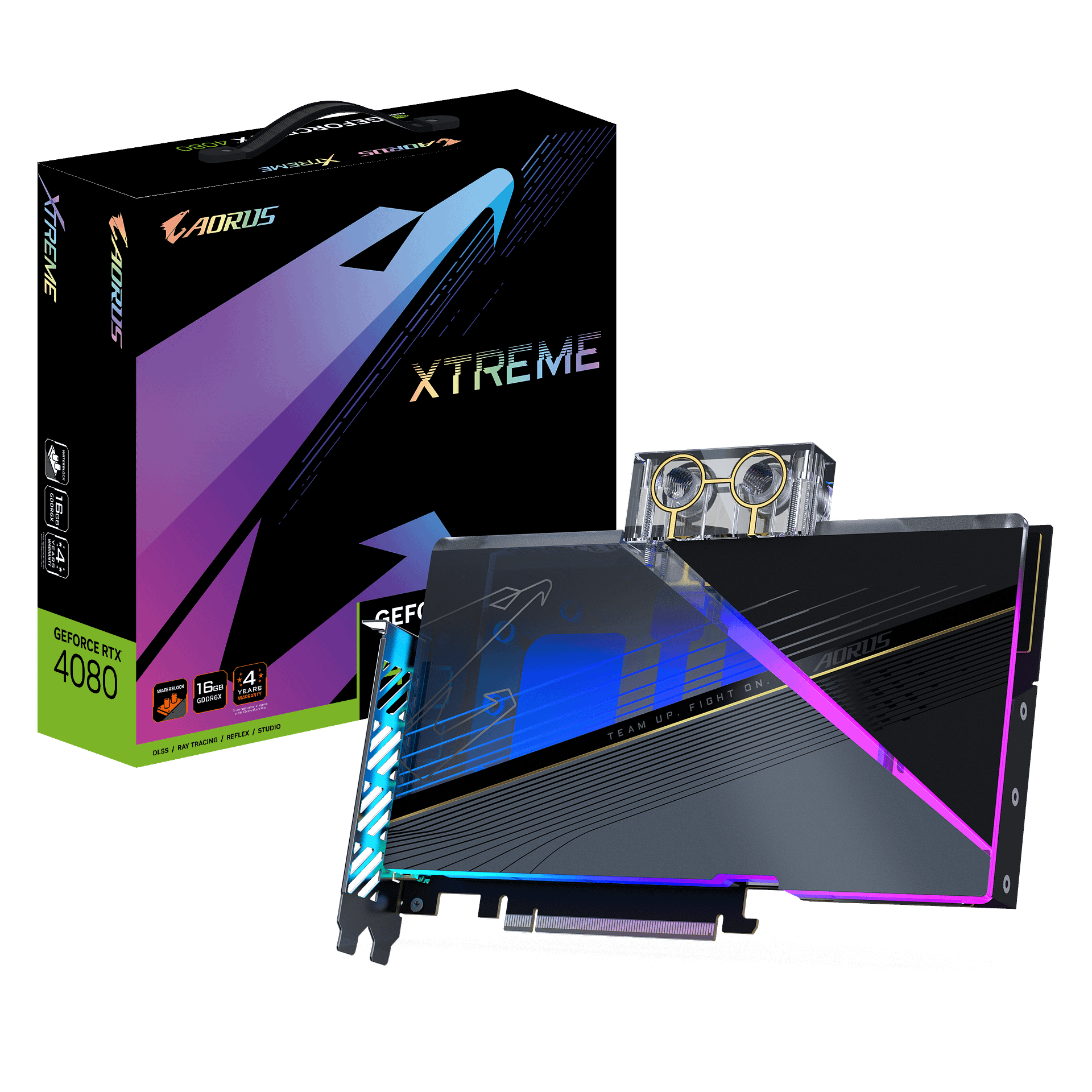 AORUS GeForce RTX 4080 16GB XTREME WATERFORCE WB
Core Clock: 2565 MHz

CUDA Cores: 16384

Memory Clock: 21 Gbps

Memory: 24GB

Dual Bios
AORUS GeForce RTX 4090 XTREME WATERFORCE 24G
Core Clock: 2565 MHz

CUDA Cores: 16384

Memory Clock: 21 Gbps

Memory: 24GB

Dual Bios