Today we are writing our GIGABYTE RTX 3050 EAGLE OC Graphics Card Review to share details about the product.
The RTX 3050 graphics cards traditionally belong to the entry-level or low-end bracket. But recently, Gigabyte released the RTX 3050 EAGLE OC, a decent 1080p performer with all the impressive features of the RTX lineup.
This graphics card could be the perfect choice for a budget-friendly option. It is also ideal for users who need a hardware upgrade that can keep up with the newest games.
Here in our review, we will discuss everything you need to know about the RTX 3050 EAGLE OC. Read further to learn its functions, design, specs, and features to find out if this is what you need.
GIGABYTE RTX 3050 EAGLE OC Graphics Card Packaging
Our graphics card arrived in time for our GIGABYTE RTX 3050 EAGLE OC Graphics Card Review. The product shipped in a standard-looking Gigabyte box with the company and NVIDIA branding on the front portion.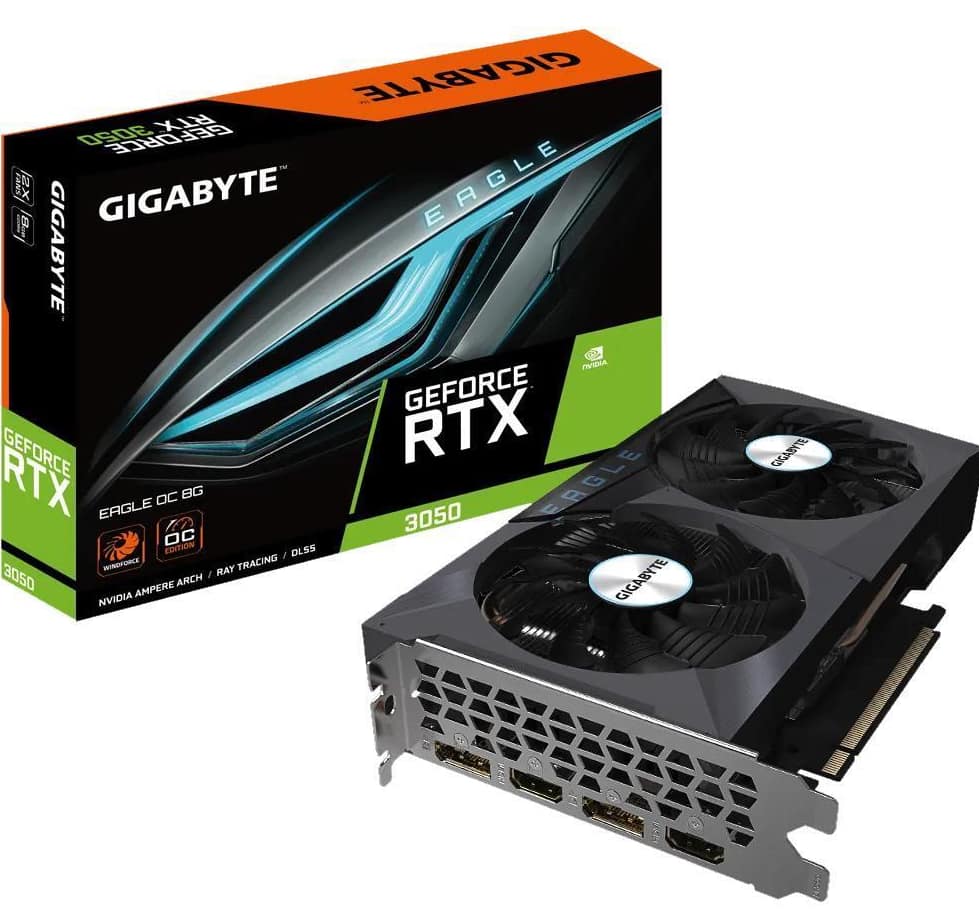 Not much detail is in front, but the rear portion of the box holds more information about the product. We appreciate Gigabyte for organising their package this way. The company kept all the essential details in one section, making it easier to read and refer to when necessary.
The rear section of the package displays details like its cooling features, backplate, screen-cooling feature, etc.
When we unboxed and checked inside, we saw that Gigabyte filled all the spaces with thick foam. We think it was a good idea since the foam helped keep the graphics card firmly in place.
The RTX 3050 EAGLE OC is kept safe in an anti-static bag. And aside from the card, the only other item present is a quick start guide.
GIGABYTE RTX 3050 EAGLE OC Graphics Card Review – Design and Functionality
This part of our GIGABYTE RTX 3050 EAGLE OC Graphics Card Review focuses on its functionality and design. And when you look at its form, you cannot mistake it for any other graphics card.
The RTX 3050 EAGLE OC is a shortened version of the GeForce RTX 3080 EAGLE. It mostly sports a cement grey colour that blends nicely with its black fans. Aside from these, Gigabyte added glossy accents and a few silver fan hubs for some contrast.
It is not the most attractive-looking graphics card. However, this is ideal if you want a dual-slot, low-profile graphics card.
On its side, you will find more of its glossy accents in its matte grey plastic. And instead of an extension, the company decided to set an 8-pin adapter at the end of its PCB. The latter is a few millimetres short of the actual end of the product.
Additionally, the backplate flows to the sides.
The entire backplate of the graphics card uses plastic, so you will not get extra cooling. However, it improves the overall aesthetic of the RTX 3050 EAGLE OC.
The rear vent of this card is also more open compared to those on higher-end GIGABYTE EAGLE graphics cards. Often, extension cables block their pass-throughs.
Overall, the RTX 3050 EAGLE OC has a build quality that impressed us. This GPU has a quality feel/weight even though this inexpensive card does not have a metal construction body or backplate.
Its I/O options are standard, and these include two HDMI ports and two DisplayPorts that are enough to satisfy everyone. Also, you will find large vents above its ports that allow warm air to pass and exit here.
Key Features of the GIGABYTE RTX 3050 EAGLE OC Graphics Card
This section of our GIGABYTE RTX 3050 EAGLE OC Graphics Card Review focuses on the product features. We listed everything this graphics card offers, so you can determine if it is perfect for your needs.
Extreme Ray Tracing and AI
NVIDIA RTX is an advanced platform for AI technologies and ray tracing, which revolutionises how everyone plays and creates. More than 150 current applications and games utilise RTX to provide realistic graphic views with fast performance. RTX also offers new AI features like NVIDIA Broadcast and DLSS, making it the new standard today.
Ray Tracing for Enhanced Graphics
The feature simulates how light behaves to create realistic, natural, and immersive graphics for everyone. The GeForce RTX 30 line sports the 2nd Gen RT Cores to provide top-notch performance with ray tracing.
Faster Performance with the NVIDIA DLSS
Take advantage of maximum FPS and quality powered by AI because of the performance boost offered by NVIDIA DLSS.
The AI-specialised Tensor Cores on the RTX GPUs boost the speed of your games without sacrificing their image quality. It enhances the resolution and settings for a more optimised visual experience.
Victory in Just Milliseconds with the GIGABYTE RTX 3050 EAGLE OC Graphics Card
Enjoy the ultimate competitive advantage with the NVIDIA Reflex with the lowest latencies and the best responsiveness. With the card, you can hit your targets faster, react swiftly, and boost aim precision with numerous technologies.
Moreover, these technologies help decrease and measure system latency, making it ideal for competitive games.
Enjoy Game-ready Drivers to Experience the Best in Every Game
The Ge-Force game-ready drivers offer the best experience while playing your favourite games. Gigabyte developed these finely-tuned drivers with the help of top-notch developers. Plus, the company tested them across numerous hardware configurations for reliability and performance.
These kinds of drivers let you optimise your game settings with one click. Plus, they empower you with the current NVIDIA technologies.
Designed for Live Streaming
Capture your audience's attention with amazing graphics and stutter-free, smooth live streaming. The product offers advanced streaming capabilities with the help of the NVIDIA Encoder. Gigabyte engineered this graphics card to deliver stunning performance and image quality.
The feature also provides exclusive optimisations to your favourite streaming apps, offering you the best every time.
AI-powered Home Studio with the GIGABYTE RTX 3050 EAGLE OC Graphics Card
The NVIDIA Broadcast application lets you transform your room into a home studio. As a result, your live streams, video conference calls, and voice chats can reach the next level. This optimisation is possible with AI effects like virtual backgrounds, noise removal, etc.
Optimise and Improve Your Creative Game
Step up your game with creative projects with the help of this RTX 3050 EAGLE OC. Enjoy AI acceleration to enhance workflows using the NVIDIA Studio platform of exclusive tools and dedicated drivers.
You can edit 4K videos, render complex 3D scenes, or live stream and collaborate with NVIDIA Omniverse. No matter what you do, the RTX 3050 EAGLE OC offers ultimate performance to create your best.
Windforce 2X Cooling System for the GIGABYTE RTX 3050 EAGLE OC Graphics Card
This cooling system sports two 90mm blade fans with heat pipes that touch the GPU directly. It offers unique alternate spinning, screen cooling, and 3D active fans, which provide high-efficiency heat dissipation when working together.
Alternate Spinning of Fans
This feature can help reduce the turbulence coming from adjacent fans while boosting air pressure. Thus, allowing for better performance even during demanding tasks.
Seamless and Unobstructed Airflow for Superior Cooling Performance
During our tests for this GIGABYTE RTX 3050 EAGLE OC Graphics Card Review, we noticed adjacent fans facing opposite directions.
This position allows the airflow direction between two fans to be the same, which enhances turbulence and airflow pressure.
3D Active Fans + Unique Blade Fan
These fans offer semi-passive cooling, so it will remain off when the GPU is on low load/low-power game.
Additionally, triangular-shaped fan edges segregate and guide airflow through the 3D striped curves on the fan surface.
Graphene Nano Lubricant
This type of lubricant can extend the life of sleeve-bearing fans further. It makes the lifespan almost close to that of double ball bearings. Plus, it keeps things quieter, even on heavy use.
Screen Cooling and Protective Backplate
The extended heatsink design lets airflow breeze through, offering better and more effective heat dissipation. This feature makes it ideal for demanding games and applications.
Additionally, the product comes with a backplate sporting an aesthetic shape to enhance the structure of this graphics card. It is essential to provide complete protection for the product.
Extreme Durability for Overclocking
The RTX 3050 EAGLE OC utilises an enhanced power phase design to ensure an optimised MOSFET operation. It can work at decreased temperatures, while the graphics card also offers protection for increased temperatures.
Additionally, each of the MOSFET has Ultra Durable and load-balancing certified chokes. Moreover, it even sports capacitors for a longer life span and outstanding performance.
Build-friendly PCB Design
Gigabyte uses a fully automated production process when manufacturing hardware to ensure top quality. As a result, solder connectors do not have the sharp protrusions of conventional PCB surfaces.
This design makes the RTX 3050 EAGLE OC a build-friendly product that prevents your hands from getting cut. It also reduces the chances of inadvertently damaging hardware while building your PC.
GIGABYTE RTX 3050 EAGLE OC Graphics Card AORUS Engine
The advanced AORUS Engine is an intuitive interface for adjusting various elements like the voltage, fan performance, clock speed, etc. With this feature, you can set everything based on the requirements of your game.
Specifications
Let us discuss the product specifications in this part of our GIGABYTE RTX 3050 EAGLE OC Graphics Card Review. It uses the GeForce RTX 3050 for graphics processing and features a core clock of 1792MHz. The product comes with 2560 CUDA Cores, a 14000MHz memory clock, and 8GB memory.
It uses GDDR6 memory while having a 128-bit memory bus and 224GB/s memory bandwidth. The graphics card also features a PCIe 4.0, four multi-views, and a 7680×4320 digital max resolution.
The RTX 3050 EAGLE OC sports an ATX form and measures 213 x 120 x 41mm (LxWxH). Gigabyte included the 12 Ultimate DirectX and a 4.6 OpenGL, making it an ideal product to consider.
The recommended PSU for the graphics card is a 450W PSU. It also works with an 8-pin power connector.
Finally, the graphics card has two 1.4a DisplayPort and two HDMI 2.1 connectors.
Hands-on with the GIGABYTE RTX 3050 EAGLE OC Graphics Card
We also checked its cooling performance for our GIGABYTE RTX 3050 EAGLE OC Graphics Card Review. And based on our tests, it worked efficiently with a total temperature of 75 degrees Celsius.
The peak hotspot temperature was also reasonable at 89 degrees Celsius.
GIGABYTE RTX 3050 EAGLE OC Graphics Card Review Summary
The RTX 3050 EAGLE OC from Gigabyte is an entry-level RTX graphics card that supports current titles. And despite being in the lower price range, it offers ray tracing and DLSS.
This graphics card is excellent with its compact build and decent exterior, blending nicely with your setup. The product can even achieve its goal of 1080p60 while pushing the latest technologies of NVIDIA in full force.
You cannot max out everything, so we recommend scaling down some options to reach a minimum of 60 FPS. If you want a product that can bridge the old and the new. But as we mentioned earlier, keep your expectations in check.
But as far as the RTX 3050 stock goes, the RTX 3050 EAGLE OC is something to consider.
For more details on the Gigabyte RTX 3050 EAGLE OC Graphics Card, visit the official product page of Gigabyte.