Today we have the HIFIMAN Ananda Headphones Review, which showcases everything you need to know about these headphones. 
HIFIMAN announced the availability of their popular Ananda Headphones. And what we have for our review is the Stealth Magnet variant. 
It is an excellent addition to the headphones, but does the product work efficiently as claimed? Continue reading our review to learn more about it and see if the Ananda headphones are worth purchasing. 
But first, let us unbox these headphones and see what HIFIMAN included inside.
HIFIMAN Ananda Headphones Packaging
The headphones arrived in time for our HIFIMAN Ananda Headphones Review. It came in a minimalist and premium-looking box that shows an illustration of the headphones in front.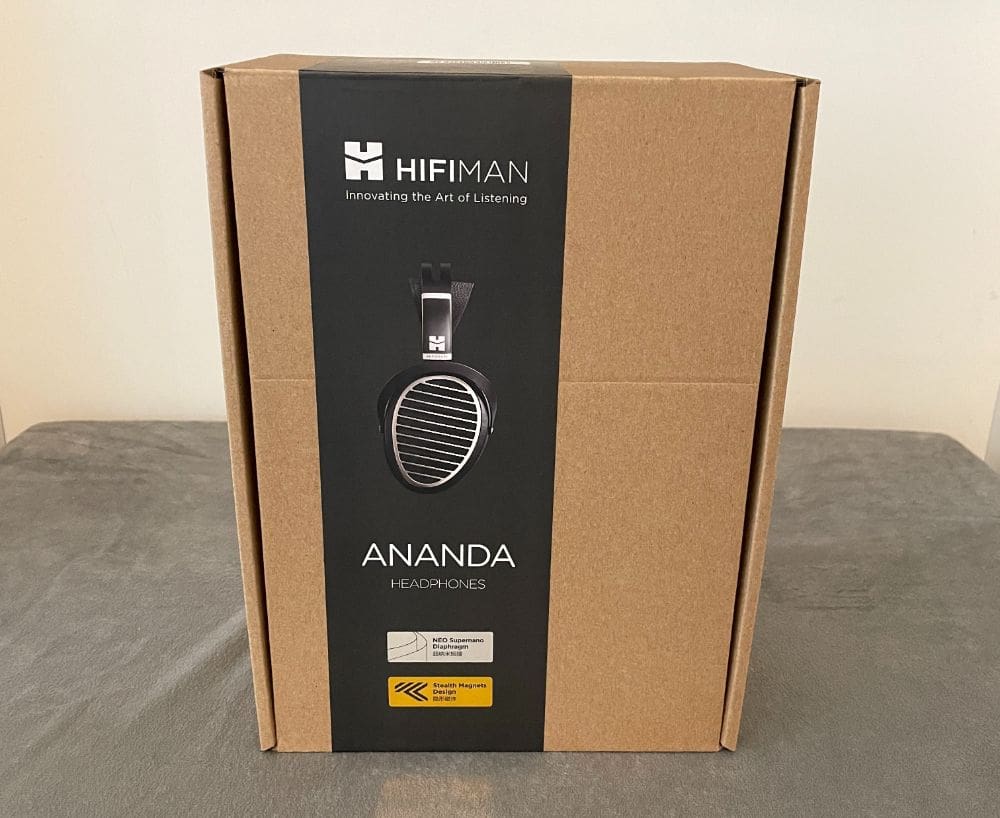 For its contents, you will find the headphones, a 3.5mm TRS to 6.3mm cable and warranty details. 
HIFIMAN Ananda Headphones Review – Design and Functionality
Let us continue our HIFIMAN Ananda Headphones Review and focus on its functionality and design. When we first opened the package, the entire experience felt luxurious and grand, perfectly fitting its price. 
The Ananda has a striking and elegant design, with large, ear-shaped earcups. Its outside panel features grilles, which add to the aesthetics.
The earcups are large enough to touch your ears while the drivers are recessed. The fit is comfy to the point of feeling odd because you do not experience this every time. These touch your jawline, temples, and the area above and behind your ears.
The Ananda's earcups have an open-back design that allows sound to pass through the grilles. Its design gives the impression of more depth and space than conventional closed headphone designs.
These are not suited for live room tracking due to the noticeable sound leakage. However, these help mix checks and mix room overdubs.
The earpads of the Ananda sport an asymmetrical form, and they have thicker pads behind the ears. In front, it has thinner padding to fit the shape of your ears and head.
This design works for us since it is comfortable and offers an excellent seal.
Its headband is made with faux leather and looks sleek and premium. Having the material under the sturdier metal skeleton is ideal for providing comfort. It also lets you wear the headphones for hours, so you will not experience any discomfort during lengthy gaming sessions.
Keep in mind that the headband links to the earcups, which prevents it from swivelling too much in different directions. The headband fit is also comfortable and secure. Plus, it comes with a thin leather strap resting at the top of your head. Its matte black band rises over the top to prevent it from making contact with your head. 
Most of the adjustments to the Stealth Magnet design are evident internally. Unlike the previous model, the Ananda headphones feature magnets with rounded edges.
According to HIFIMAN, the style of the Stealth Magnet is less distorted while its design is more transparent.
Key Features of the HIFIMAN Ananda Headphones
Continue reading our HIFIMAN Ananda Headphones Review to see the features that make it a pair of headphones to consider. 
Specially Shaped Invisible Stealth Magnets
The advanced Stealth Magnets used by HIFIMAN for the Ananda are acoustically transparent. These significantly reduce wave diffraction turbulence, allowing sound waves to pass without interference. As a result, it yields pure, full-range sonic output that is highly accurate.
HIFIMAN Ananda Headphones High-Sensitivity
Since it has high sensitivity, the Ananda headphones work virtually with any smartphone or portable audio device. They also have an impressive sound quality with minimal distortion, giving you the perfect listening experience.
New and Improved Neo Supernano Diaphragm (NsD)
The NsD is the all-new planar driver of HIFIMAN. The company used an advanced manufacturing process in creating the NsD and made it 80% thinner than previous designs. It is between one to two microns thick.
With this feature, Ananda headphones deliver a faster and more detailed response. It also retains rich musicality, setting the bar for performance-to-value ratio on a new level.
Asymmetrical Earcups and Window Shade Grill Design 
The earcups of Ananda feature a window shade grille design. It helps reduce sonic reflections while delivering clear audio. These also have an asymmetrical form to follow the natural shape of the human ear.
Hybrid Headband Design of the HIFIMAN Ananda Headphones
When checking out the headphones for our HIFIMAN Ananda Headphones Review, we noticed its carefully-designed weight-dispersing strap. It is a feature that allows the headband to achieve excellent long-term comfort. 
Its sleek matte black finish is sumptuous. Plus, it blends with an impressive metal build for increased durability. 
Robust Connectors
HIFIMAN packed the Ananda with updated 3.5mm headphone connectors that are robust for better longevity.
Unrivalled Portable Audio Performance
Ananda is your ideal companion for enjoying excellent audio and sonic bliss wherever you go.
Specifications
We discussed the product specifications in our HIFIMAN Ananda Headphones Review. Knowing these details will help determine if these headphones will meet your needs.
The headphones have a frequency response of 8Hz to 55kHz, a sensitivity of 103dB, and a 27-ohm impedance. It uses a 3.5mm cable, hence, sports a wired connector.
Lastly, the headphones measure 40.64 x 35.56 x 25.4cm and weigh 440g. 
Hands-on with the HIFIMAN Ananda Headphones
The headphones gave us everything we expected from isodynamic headphones. 
Ananda has a very organic sound. It was smooth, and with a rich, warm midrange we could listen to for hours. 
We did not get tired of its deep, punchy bass that complemented the midrange. Plus, it even offered a natural balance with it.
The outstanding detail we noticed from behind created a fantastic sensation of depth. It was also evident from the back of the headphones. Its outcome was a lovely, spacious Soundstage, and we enjoyed every produced audio.
The Ananda delivered on the low end, and despite having a good amount of bass, it was not overwhelming. It had tons of class and recognised where it belonged in the mix.
The musical presentation was slightly warm, but the lows were neutral and not over-emphasised. In addition, Ananda exhibited robust bass and evenly distributed its weight. Because of this, it resulted in good natural textures and accurate sounds of instruments. 
Its midrange, which was lively and airy, was where all the magic occurred. At some point, we could find the wide soundstage in the midrange, which also has a particular harmonic resonance.
The voices and instruments were presented precisely and accurately and we did not find any aspect of the music tedious or overwhelming.
The headphones present audio with exceptional instrument separation and detail, but everything merges seamlessly. Plus, Ananda delivered the audio as a whole with rich and warm tonality.  More expensive headphones struggle to give this type of natural presentation. 
The mids gave us an open, lively sound that will appeal to anyone who values details. It is also ideal for those who consider presentation and appropriate weight.
The sound stage was fantastic when it came to its width and depth. Because of this, the Ananda headphones are one of the best in their category.
The Ananda headphones delivered clean and slightly processed trebles. The music was enjoyable since the highs had a natural balance with the bass and mids. The frequencies were never excessive or overwhelming.
The treble was the best part of the Ananda since these headphones offered well-balanced audio. We enjoyed that the treble since did not have spikes or harshness. It only enhanced details and separation while retaining the blending of instruments.
The Ananda headphones are excellent if you want clear and realistic audio with a sense of space. 
HIFIMAN Ananda Headphones Review Summary
The Ananda delivered impressive performance when we did our product tests for our HIFIMAN Ananda Headphones Review. It had an expansive soundstage with punchiness and excellent separation of instruments. Plus, its audio resembles the sound in a concert hall.
Aside from the superior sound quality, its comfort made us forget we were wearing headphones. These headphones have adequate padding that provides comfort when worn, and HIFIMAN also improved the build quality of their headphones. 
The Ananda is a pair of top-notch headphones. Other HIFIMAN headphones may be superior in dynamics, but the Ananda offered better sound quality and resolution. Plus, it adds some middle presence and uses less amplifier power.
We were impressed with the combination of comfort, excellent build quality, and rich audio. It took many good features from its predecessors and added midrange presence to require less power from the amplifier.
HIFIMAN successfully integrated product reliability, audio quality, attractive design, durable build, and superior comfort in Ananda. It may be expensive, but it delivers everything expected from a pair of high-end headphones. With its excellent performance, we highly recommend this product.
To learn more details about the Ananda Headphones, visit the official product page of HIFIMAN. Make sure to take a look at how to Choose the Right Open-back Headphones for Gaming article for more information on how to choose the best open-back headphones.