The last time HIFIMAN offered us a DAC/AMP was about ten years ago. But today, we will discuss its latest product in our HIFIMAN EF400 Review. 
Last year, the company launched the EF400 – a desktop-class DAC/headphone amplifier. It integrates the R-2R DAC chip from HIFIMAN, which they call HIMALAYA.
Interestingly, the company keeps going back and forth on whether it opts to trademark this term. But as of writing this HIFIMAN EF400 Review, HIFIMAN seems to have used HIMALAYA. So, we are using this term to refer to the chip. 
The E400 pairs with an amplification stage to establish a more compact, all-in-one product. For this reason, HIFIMAN claims it is a punch above its form factor and price. And it is all due to the sonic experience it offers. 
Today, we will put these claims to the test and start by looking into the box and its contents. 
HIFIMAN EF400 Packaging
When we received our box for this HIFIMAN EF400 Review, we immediately noticed the style in the packaging. It appears HIFIMAN made a U-turn to the green side and dropped its classic custom method of packing products.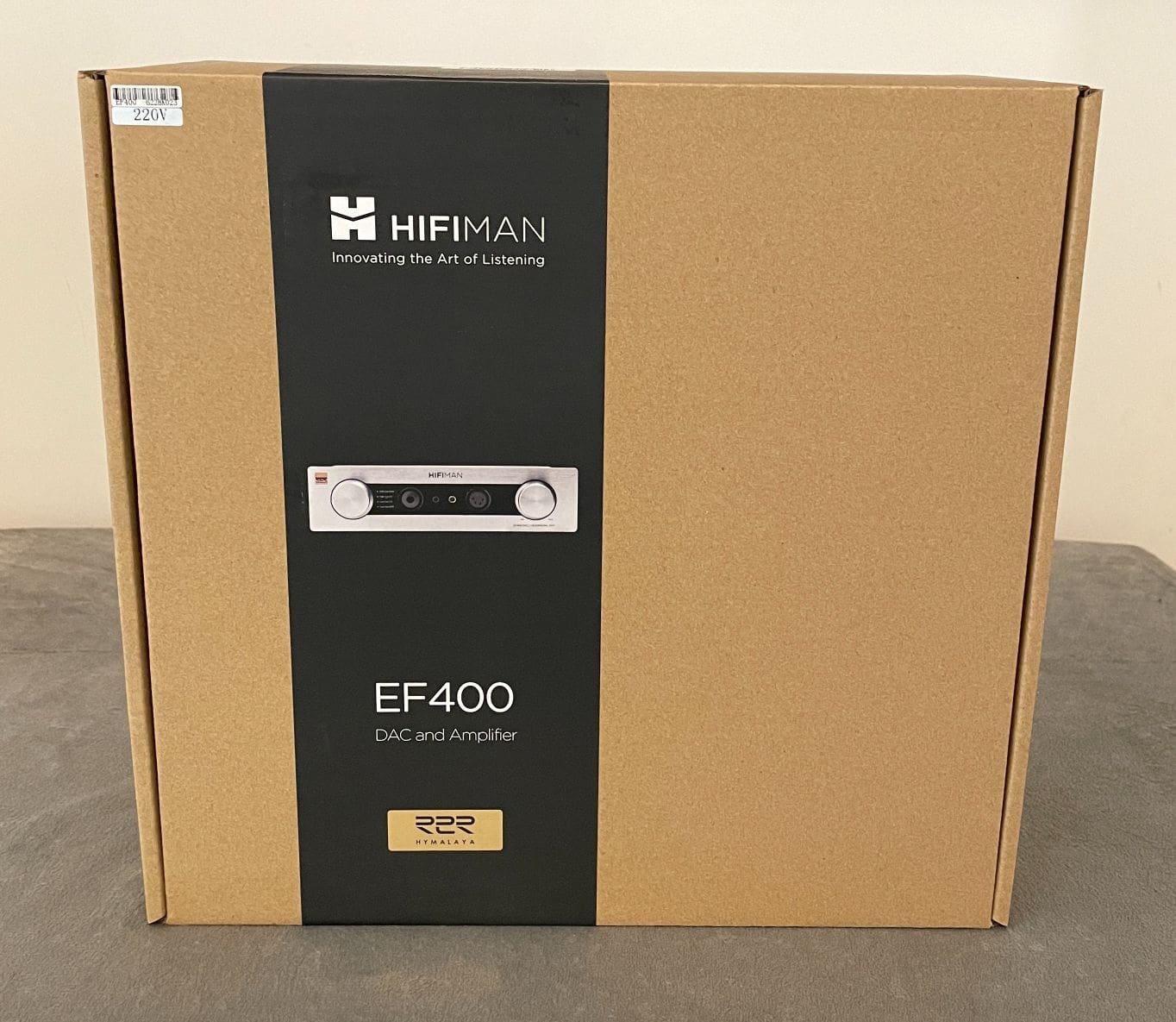 The company opted for a simple-looking cardboard box with nothing but a paper strip holding details about the product. On this piece are the company branding, product name, and a front-view image of the EF400. 
Inside the box, we saw the EF400 within a customised foam container with a thick, three-pronged AC cable. You will not find any literature in the package. But since the DAC/AMP is easy to use, we doubt you need any instructions. 
However, its accessory box has a QC sticker and power cable inside. 
HIFIMAN EF400 Review – Design and Functionality
The EF400 looks sleek and premium. It is why we could not help but notice its design while writing our HIFIMAN EF400 Review. Its body was simple yet classy, and it would blend nicely with whatever aesthetic you have in your space. 
We love that it is a black metal box with a face brushed with silver aluminium. On the left of its face is a four-position function switch, while the volume control is on its right. 
You will see its four headphone outputs within a black-coloured inlay between its potentiometers. The only lighting you will find on the EF400 is a small white LED light. It displays the position of its four-function switch.

The front panel of the EF400 houses its four headphone ports. Its XLR four-core and 4.4mm ports are suitable and well-balanced for high-sensitivity in-ear headphones. 
Note that balanced and even outputs can generate three to four times more power, unlike unbalanced outputs. Despite being uneven, the 3.5 and 6.35mm ports are suitable for low-sensitivity headphones. 
The size contradicts its weight since it is nearly seven pounds. It weighs heavily due to the solid oxygen-free copper wire-wound toroidal power transformer within the DAC/AMP.
Moreover, the product uses a series of 30000uF capacitors to work on power management. It can release up to 4.4W of output, allowing you to listen simultaneously from more than one port. 
The HIMALAYA R-2R DAC comes from five years of focused product development by HIFIMAN engineers. It is a chip responsible for much of the magic offered by EF400.
The HIMALAYA is a discrete R-2R DAC module using a custom algorithm. It automates into a field-programmable gate array (FPGA) chip. 
This algorithm removes electrical interference between the chip and its peripheral components. In addition, an R-2R DAC converts digital binary numbers into analogue output signals via a series of precision resistors.
The DAC/AMP is also perfectly-balanced. 
Its four-channel differential build sports a buffer, DAC, and active filter. This combination results in a fully-balanced output from a Class A-B DAC/AMP.
On a 36 Ohm resistor-equivalent load, its four-channel fully-differential amplifier circuit creates a maxi output of 10.8Vrms (THD 1%). 
The four-level function switch to its left front lets you select a setting for your headphones. You can choose high or low gain and over-sampling (OS) or non-oversampling (OS) (NOS).
You can easily change the settings, but remember that there will be a second of silence between these. When oversampling, the DAC/AMP employs interpolation to give a higher resolution to your source music. 
Because it accepts PCM signals with up to a 24-bit resolution, you may not have to oversample your high-resolution audio.
However, having the option is convenient.
We also checked the back panel of the DAC/AMP in our HIFIMAN EF400 Review. Here, we saw it houses a three-pin XLR and unbalanced RCA outputs. Next are the USB-C and B inputs, a receptacle for an on/off switch and a standard IEC power cord. 
On the base, you will see a voltage selector for choosing between 115V or 230V AC power sources. The outputs mean you can utilise the DAC/AMP with a pre-amp. 
The USB inputs let you link various devices to the EF400. Most current Smartphones, computers, and portable music players sport USB outputs. 
It allows you to run and use their audio output on the product. An additional bonus is that the DAC/AMP offers adequate power via the USB. 
An observation of its base reveals four large feet with rubber pads. It helps elevate the EF400 off the desk while adding friction in use. However, these also prevent scratches to the body of the DAC/AMP. 
These feet have a plastic exterior screwed into place for easy and convenient replacement. You can add your own support system/feet, making the EF400 efficient with a custom audio rack. 
You can also find the serial number and certification labels in this area. There is also a voltage selector set on default.
 It is simple to convert its voltage, allowing you to take the EF400 if you travel to another country.
Key Features of the HIFIMAN EF400
What makes this product a good DAC/AMP? Is it better than its predecessor? We will discuss its features in our HIFIMAN EF400 Review to answer these questions. Understanding these key elements will also help determine if this DAC/AMP will meet your needs.
Sleek, Stylish Chassis that Delivers High Power and Superior Audio 
The EF400 is a modern DAC/AMP solution with a compact design and unparalleled sound quality. It incorporates the latest technologies, including the advanced HIMALAYA R-2R DAC. 
This R-2R architecture utilises a ladder of resistors. It converts a digital binary number to an analogue output signal corresponding to the value of the former. 
Drives Headphones with Ease
With a maximum power output of 4.4W through its headphone outputs, the EF400 is a highly capable DAC/AMP. It can provide more than enough power to drive most headphones without difficulty.
Four-channel Structure for Full Balance
The four-channel structure includes a DAC, buffer, and active filter to increase the balance of the audio output. Also, the differential amplifier circuit offers a maximum output of 10.7 Vrms on a 36-Ohm resistor equivalent load. As a result, the EF400 delivers stunning performance from a Class AB DAC/AMP. 
Specifications
We will not skip on the product specifications in this HIFIMAN EF400 Review. So we are sharing these details for your reference before purchasing the product. 
If you have limited space, you will need to know its measurements. The EF400 is 246.5 x 228 x 61mm (LxWxH) and weighs 6.79 lbs. 
The DAC/AMP has a USB Type-C and B power input. Its outputs are an RCA and balanced 3-pin XLR line-out. These also have a 3.5 + 6.35mm single-ended and a 4.4mm + XLR balanced headphones-out. 
Moreover, the output functions include high-gain OS/NOS and low-gain OS/NOS. 
This DAC/AMP has a 118 +/-3dB (A-weighted) SNR and a THD+N line-out between 0.002% and 0.004%. The EF400 also has a 125 +-3dB channel separation and a max power output of 4.4W per channel. 
Lastly, it comes with a one-year standard warranty plus an additional six months upon registration. 
Hands-on with the HIFIMAN EF400
As expected, the EF400 is a simple and user-friendly DAC/AMP. We only plugged it into our PC, Smartphones, and other digital sources, and it worked efficiently. 
There were no problems when used on our devices since the EF400 was recognised immediately as a DAC/AMP. 
The DAC/AMP was powerful, and we had no problem using it during our tests for this HIFIMAN EF400 Review. It was easy to drive our headphones in the low-gain setting, and we did not reach half its volume range. 
Our headphones are not difficult-to-drive, but we are sure that the DAC/AMP can adequately power these product types. 
Despite being silent, the EF400 was inappropriate for sensitive IEMs. The reason is excessive power and increased gain factor of the lowest setting.
Under the low gain setting, sensitive earphones become too loud, with less usable range for adjusting volume.
Overall, its performance was excellent, and the combination of the amp and DAC was perfect.  
So using an external amplifier is unnecessary. That is unless you want to add some tube flavour or control power for sensitive earphones.
Using EF400 as a stand-alone DAC retained all the sound qualities. We used the line outputs to an active speaker and an external amplifier, which delivered the same audio performance.
It made a big difference to plug a good headset into the 3.5mm output first. We also connected it to the 6.35mm output. With the small port, the bass went deeper while the soundstage appeared wider at the expense of sheer power.
The HIFIMAN EF400 made every pair of headphones we own sound good, and the good ones sounded better. These released more inner detail than we expected when driven by the EF400 in its high-gain oversampling mode. 
The soundstage vastly improved, making it an excellent and unexpected upgrade to a mid-priced pair of headphones. It had a flat frequency response curve and was full of dynamics.
This DAC/AMP delivered excellent sound quality with a linear frequency response and brilliant presentation. We loved the smooth, musical, and engaging audio, which shone over the competition.
Another thing that impressed us was the realism that the EF400 delivered. The vocals and each instrument had excellent tonality, and the natural timbre was close to reality.
We will also discuss more details about its frequencies to give you an idea of its audio quality.
We enjoyed listening to the deep and powerful bass of the EF400. It was impressive, especially when we set the DAC/AMP on balanced mode.
Vocals and acoustic tracks were easy for the EF400, resulting in open and linear mids. The audio quality was even better with higher-quality headphones, giving us a broad soundstage.
The highs were clean without any added colour. We did not notice any harsh sounds like sibilants, no matter the genre. Even electro music was not aggressive on our ears.
HIFIMAN EF400 Review Summary
As expected from HIFIMAN, the EF400 is a high-quality successor of the EF6 from 10 years ago. It is an excellent DAC/AMP that retains the quality of its predecessor. 
The EF400 offers high-quality audio and can power most headphones, making it worth the purchase. It is also versatile and easy to implement with any computer or portable platform with a USB output. This DAC/AMP delivers satisfying audio without fail, especially when paired with high-quality audiophile headphones.
With its excellent sound, durable build, and high versatility, the EF400 makes the perfect match for your audio sources. You can enjoy superior audio whether you use it with macOS, Windows, or a smartphone. Overall, we highly recommend this product.
Visit the official product page of HIFIMAN to learn more about the EF400.