When it comes to gaming keyboards, people search for aesthetics and efficiency. And if you're one of them, then our HyperX Alloy Origins Core review's got something in store for you.
Until today, HyperX is expanding their line of gaming keyboards and just released their Alloy Origins Core. Like its bigger brother, the Alloy Origins, Core sports the same HyperX Red switches.
The difference between the two is that the Core is more compact and smaller because of its ten-keyless design. Plus, it has enhanced features that every gamer would require for their needs.
Today, we're covering the HyperX Alloy Origins Core to learn more about the keyboard. Also, we'll see how efficiently it performed, and we're giving you our overall impression after utilising it for some time.
But before anything else, our HyperX Alloy Origins Core Review will check out its packaging and what's inside the box.
HyperX Alloy Origins Core Packaging
The first section of our HyperX Alloy Origins Core Review is all about the packaging and included contents.
The Alloy Origins Core came in a long durable cardboard box, sporting the usual HyperX red and white theme. The front of the package features an image of the keyboard, while its name is on the upper left corner. HyperX is seen on the lower right section, whereas the opposite area displays compatible consoles for the Alloy Origins Core.
In addition to these, you'll also find a list of equipped switches in front.
The back of the box highlights the equipped switches, detachable USB Type-C cable, plus the keyboard's full metal body.
Opening the package, you'll get the standard thank you note from HyperX, support cards, and a quick start guide. Other than those, you'll find the Alloy Origins Core itself, and a braided 1.8m USB Type-C to A cable. This cable is needed to link the gaming keyboard to your PC or console.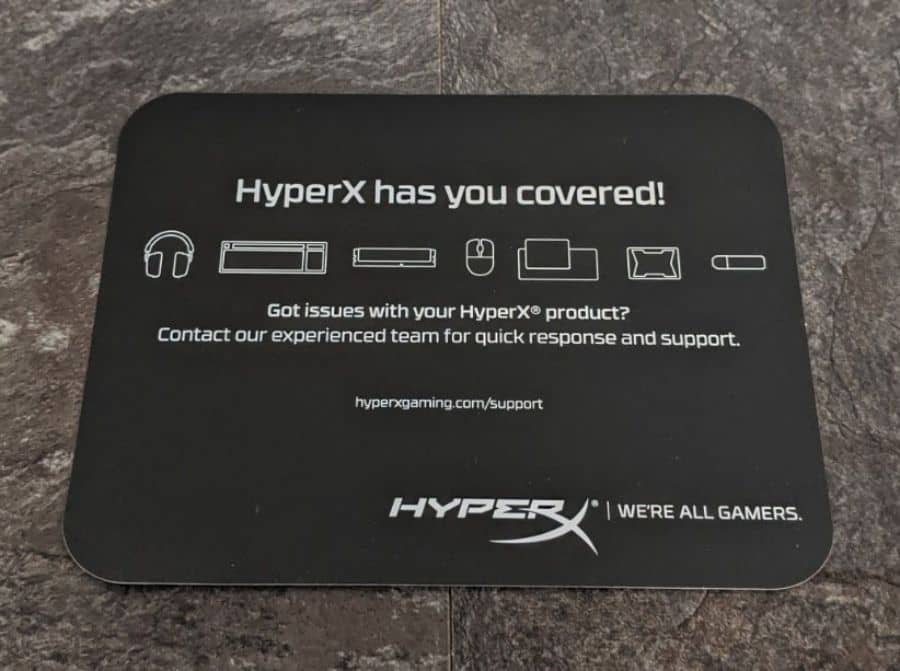 HyperX Alloy Origins Core Review – Design & Functionality
Next on our HyperX Alloy Origins Core Review will focus on the design and functionality of the Alloy Origins Core.
The HyperX Alloy Origins Core is an extremely compact, ten-keyless keyboard that uses custom HyperX mechanical switches. Designed specifically for gamers, these switches provide them with the best combination of performance, style, and reliability.
The key switches feature exposed LEDs for vibrant lighting. Not only that, but it has travel distance and actuation force that's adequately-balanced for accuracy and responsiveness.
Alloy Origins Core is integrated with a full aluminium body, keeping it rigid and stable when keystrokes are flying. It also features keyboard feet that allows you to select from three tilt levels.
With its compact TKL design, the keyboard offers space for proper mouse movement in desktop setups where space is vital. For optimised portability, the Alloy Origins Core utilises a detachable USB Type-C cable.
HyperX Switches, Exposed LEDs, and Adjustable Design
The Alloy Origins Core uses HyperX's mechanical switches. These have exposed LEDs to illuminate vivid and vibrant RGB intensity.
You can adjust the Alloy Origins Core to three different angles depending on how you want it. The keyboard is kept within an aircraft-grade aluminium chassis, making it feel like a tank.
Because of its design, it showcases excellent weight and durable build quality.
Onboard Memory
There's built-in memory for three separate profiles on the Alloy Origins Core. This specific feature is handy for customising the appearance and effects via the updated HyperX NGENUITY Software. It links to your computer and is powered using the included Type-C braided USB cable.
Compact Design
This ten-keyless keyboard designed for gamers sports a compact style with lots of technical features like the original Alloy Origins. The Core now features a game mode, N-key rollover, and full anti-ghosting functions.
The HyperX mechanical switches come with an actuation force of 45g whereas its traveling distance is 1.8mm. The feedback from each keystroke is responsive, solid, and has adequate amounts of resistance and weight.
They're rated for 80 million keystrokes, so you don't need to worry about the keyboard's performance from dwindling. With that, you know that the Alloy Origins Core can display excellent performance for years to come.
Key Features of the HyperX Alloy Origins Core
This part of our HyperX Alloy Origins Core review is all about the product's features.
HyperX Mechanical Key Switches
The mechanical key switches of the HyperX offer a balance between accuracy and responsiveness. It's a reliable keyboard rated for 80 million keypresses without compromising its quality.
Maximum Aircraft-Grade Aluminum Body
The aluminium casing of the HyperX Alloy Origins Core maintains the keyboard's stability when the action gets intense.
Compact TKL Design + Detachable USB Type-C Cable
The keyboard's sleek ten-keyless layout offers more space for fast mouse movements. It's great for desktop setups that lack space for full-sized keyboards. With its detachable cable, you can easily take the keyboard on the go.
RGB Backlit Keys + Vibrant Lighting Effects
HyperX Alloy Origin Core's mechanical switches have an exposed LED. These display more vibrant and luminous RGB lighting.
Advanced Customisation with the HyperX NGENUITY Software
With HyperX NGENUITY, you can customise Game Mode, control over your keyboard's lighting, and set up your macros.
HyperX NGENUITY is an intuitive software application where you can manage your compatible HyperX products. Set and store macros, customise button bindings and personalise the RGB lights. This program lets you control almost everything.
Additionally, you can choose from a library of presets to install before using your keyboard.
Game Mode, N-key Rollover and Full Anti-Ghosting
HyperX Alloy Origins Core features complete Anti-Ghosting to ensure that all keypresses will register. With that, you can play your games smoothly and win every battle.
Specifications
This time on our HyperX Alloy Origins Core Review, we're going to look at the specs for this gaming keyboard.
Keyboard
The Alloy Origins Core mechanical keyboard uses the HyperX switch. It features RGB backlights with a total of 16,777,216 colours, and its effects per key have 3 and 5 RGB levels.
Alloy Origins Core has an onboard memory of three profiles, and it utilises a USB Type-C to A connection type. What's more, the keyboard has 100% anti-ghosting features, an N-Key rollover mode, LED indicators, and media controls.
Compared to the original Alloy Origins, the Alloy Origins Core comes with a gaming Mode. Plus, it's compatible with Windows 10, 8.1, 8, and 7.
Key Switches and Cables
Alloy Origins Core uses the HyperX Red and HyperX Aqua switches; plus, it uses a linear and tactile operational style. Its actuation force is 45g, key travel distance is 1.8mm, and its total travel is 3.8mm. When it comes to the lifespan of the keyboard's keystrokes, it totals to 80 million keystrokes which is great.
For its cables, the Alloy Origins Core uses a detachable braided cord that is 1.8m long.
Dimensions
For the measurements of the Alloy Origins Core, it's 360 x 132.5 x 34.5mm (W x D x H). Together with the cable, it measures 900g.
Hands-on with the HyperX Alloy Origins Core Review
Now in our HyperX Alloy Origins Core Review, we'll get more hands-on with this gaming keyboard. Here, we'll see if it's a great performer and if it's as good as what HyperX claims.
Customise your craft macros, lighting, and adjust Game Mode with the HyperX NGENUITY Software. It's a powerful and straightforward software that lets you layer lighting effects and set per-key lighting. You can even include scores of other personal touches to NGENUITY-compatible devices.
The software comes with a set of effective tools for customising lighting, effects, macros, and button bindings. Aside from these, you can also enable/disable keys based on your preferences.
Generally, we had a lot of fun playing around with different colours, transitions, speed settings, and opacity. Not only that, but it gets even better with every update HyperX does.
This time, we'll talk about our experience when we used the HyperX Alloy Origins.
When we tried typing with this keyboard, everything was excellent, which was something we liked. The keys remained stable, and since these were well-spaced, our typing was accurate throughout.
For the key switches, these were light and responsive, which allowed us to play longer without experiencing fatigue. We tried different games to see how the keyboard would perform and respond to this.
To our surprise, it handled all titles excellently, and it provided keystrokes for almost every in-game action. From fast-paced FPS games to MMO's titles with demanding skill rotations this keyboard will help you win.
Overall, the HyperX Alloy Origins Core performed excellently, and because of that, we're giving five stars for this keyboard.
HyperX Alloy Origins Core Review – Summary
HyperX Alloy Origins Core is one of the best mechanical gaming keyboards for those who need a compact model. It has a small form factor, but it doesn't compromise features, build quality and performance. It's an excellent option for those working on smaller spaces and those who travel with their keyboards.
Additionally, its software is user-friendly, and we didn't experience any problem with it, which is another something we appreciate. Having a lot of customisation options available is another plus for this keyboard.
Most importantly, it delivered an excellent performance. It's a great keyboard to use for typing and gaming since it's quick and responsive.
To conclude our HyperX Alloy Origins Core review, this keyboard has everything you'd need, and we highly recommend it.
If you want to have the HyperX Alloy Origins Core, it's available for online purchase from the company's official website.