If you're not into AirPods, check out our Jabra Elite 75t review for a cool, or even better alternative. The reason is, there's a growing debate between earbuds and headphones enthusiasts about which is the best. Other than that, the market has seen a flood of audio peripherals that make it difficult for consumers to choose.
Yet one pair of earbuds sand out from the rest, and that's the Jabra Elite 75t. It comes with adequate improvements and enhancements such as improved battery life and design. With that, it makes for a top wireless pair of earbuds today.
But how efficient is it? We'll check out these Jabra earbuds and fill you in with all the details in our Jabra Elite 75t review.
Jabra Elite 75t – Packaging
First up on our Jabra Elite 75t review is the packaging. Our pair of earbuds arrived in a premium-looking cardboard box that sports a greyish-silver theme.
The front of the box shows us an image of the earbuds. You can find its name on the lower right corner of the package. Below the image are a couple of other details about the earbuds.
Opening the box, you will find the Elite 75t immediately, and it's set nicely and securely in place. Underneath, other accessories are present such as the charging case and USB Type-C cable. There are also three sets of silicone ear gels, plus warranty & warning leaflets.
Next on our Jabra Elite 75t review, we're checking out the earbuds' design and functionality.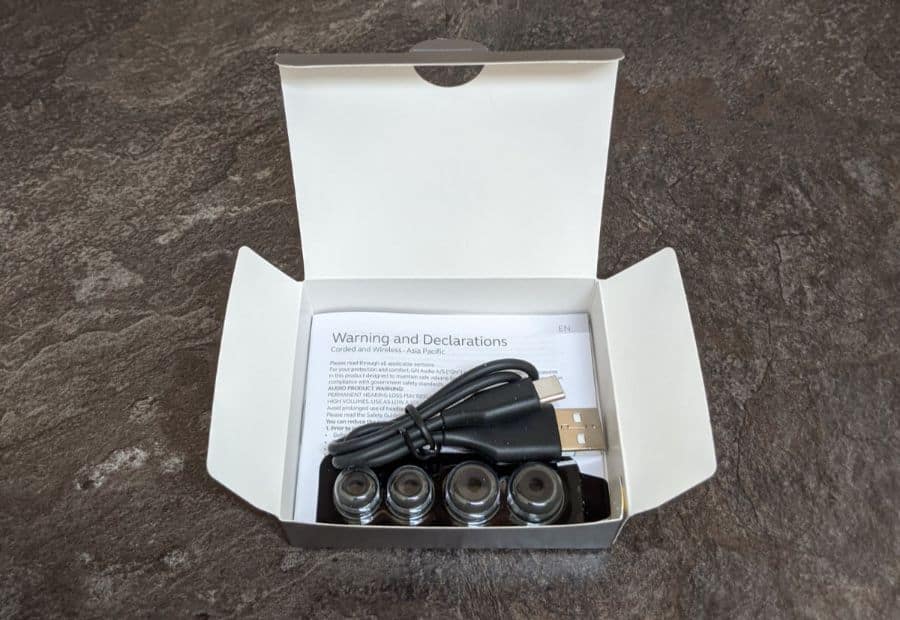 Jabra Elite 75t Review – Design and Functionality
One of the most evident differences there is between the Elite 75t and 65t is their size. Even the new charging case is smaller compared to the previous model's. The bottom and top portions are also flat, so the case can stand alone when opening it. For people like us who test a ton of things including earbuds, the 75t has a nice touch. Its LED-charging notification is at the back, and to the left of the USB Type-C port.
As for the Elite 75t, these are drastically smaller, and the company states that the buds are about 20% smaller. But if you put these next to the older earbuds, it appears to have a more significant change.
The arm-like extensions on the Jabra Elite 65t are gone, and instead, Jabra chose a smaller triangular elbow. It's to house the device's available microphones. Its main earbud housing is also smaller, yet it stays just as deep.
Despite the lessened diameter, the Elite 75t still protrudes from the ears. Not having the microphone extending downward makes a huge difference since you can feel them when worn. Now, the Elite 75t are comfier and much better to wear.
When it comes to its microphone, the earbuds still sports a total of four of these. The difference is that its position changed, and you'll find microphones at the back and front section of each earbud.
You'll still find onboard controls on the Jabra Elite 75t despite these being smaller. However, there's only one button on each side: on the left, press then hold to shift the volume up or down.
Here, you can press on the button to make the HearThrough transparency on or off. Double pressing the button skips forward, while three presses bring you back. While on a call, one press on the left button mutes / unmutes the microphone. Double pressing on the left button activates the sidetone – the ability to hear yourself while on calls.
On the right, the buttons will answer or end calls with one press. If you press twice, it rejects the call. If there's music or any other audio playing, pressing the button pauses or resumes play.
If you want to activate the voice assistant, you'll need to double press on the button. Voice assistants that it can use include Alexa, Siri, or Google Assistant.
Generally, it seems like a ton, and you'd need a lot of getting used to. The thing is, these are physical buttons, so they're more reliable than other true wireless earbuds that we've tried.
Key Features of the Jabra Elite 75t
Designed for Secure and Comfortable Fit
Jabra designed and tested the Elite 75t to ensure its fit and security. It's smaller than its predecessor, the Elite 65t, to fit every type and size of ear. Also, it comes with an ergonomic shape to provide high levels of comfort.
4-Mic Call Technology
The 4-microphone call technology filters out disruptive noise in your surroundings when you make and receive calls. With the Elite 75t, you can confidently take calls even if it's noisy around you.
Long Battery Life
A single charge provides up to 7.5 hours of talk time. With the charging case, you get a total of 28 hours. Charging the earbuds for 15 minutes gives you additional power that lasts up to an hour.
True Wireless Connectivity
With the company's 4th gen true wireless connectivity, your music and calls will be more stable even without wires. You won't experience interruptions and audio drop-outs.
IP55 Protection and 2-year Warranty
The Jabra Elite 75t has IP55-rated protection, making it safe against dust and water. Along with that, it comes with a 2-year warranty.
Access Voice Assistant in One Touch
Jabra Elite 75t lets you connect to Google Assistant, Siri, and Alexa for quick access to the information you need. With Bluetooth 5.0, you can enjoy seamless connectivity between the earbuds and your smartphone.
Customize Your Music
Adjust the equalizer via the Jabra Sound+ app for your music to sound the way you want. Enhance the treble, boost the bass, and customize the other options until you get what's perfect for you.
Specifications
On this part of our Jabra Elite 75t review, we will talk about the technical specifications of the earbuds.
The Jabra Elite 75t comes with passive noise-cancellation and wind noise protection. It also has a 4-microphone technology to reduce noise for outgoing calls, while supporting SBC and AAC audio codecs. The microphone bandwidth ranges from 100Hz to 10kHz.
The speaker measures 6mm, and it has a bandwidth ranging from 20Hz to 20kHz for music playback. When it comes to calls, it goes from 100Hz to 8kHz.
The main unit measures 21.9mm x 19.4mm x 16.2mm (L x W x H). For the charging case, its measurements are 62.4mm x 36.6mm x 27mm (L x W x H). The charging case has a total weight of 35g, while the left and right earbuds weigh 5.5g each.
Hands on with the Jabra Elite 75t
This portion of our Jabra Elite 75t review will focus on the product's performance. We'll give you an idea of its sound quality, connectivity, and how long its power lasts. More details about the software are also something we'll provide here.
The Elite 75t utilizes the same drivers as the previous 65, which isn't bad since the sound was still great. The earbuds delivered high-quality audio with balance and nice bass response.
Also, the tight fit of the earbuds makes a significant difference in sound quality. Our music sounded more dynamic and detailed, while calls were clear and audible. Its noise cancellation was excellent since we didn't pick up a lot of environmental noise. In terms of audio performance, the Jabra Elite 75t was excellent, and it stood out compared to other earbuds.
With Bluetooth 5.0, the Jabra Elite 75t didn't only have an excellent wireless connection, but it also improved battery life. We didn't experience any hiccups on the Bluetooth connectivity.
Not only that, but we tried using the earbuds while in busy streets. It worked notably compared to previous models where Bluetooth was a common issue. With the Elite 75t, we were able to make and receive calls, and we didn't encounter any problems on this.
Jabra Sound+ App
The Sound+ app, Jabra's companion application, has various features for you to personalize your audio. On the home screen, you will find the music presets, custom equalizer, and toggle settings. The presets include Default, Energize, Bass Boost, Smooth, Speech, and Treble Boost. The toggle settings let you choose from HearThrough and Soundscapes.
Jabra Elite 75t Summary
The Jabra Elite 75t is an impressive pair of wireless earbuds. Although small, these are comfortable and secure when worn, and they deliver excellent performance. The earbuds do not only come with a range of useful features, but it also has long battery life. Moreover, its true wireless connectivity remains stable, providing a great user experience.
To conclude our Jabra Elite 75t review, we recommend it for high-quality calls and outstanding music. If you want to have these earbuds, it's available for online purchase from the company's official website.