Today in our Jabra Elite Active 75t review, we will focus on these true wireless earphones from Jabra.
We all know that the company already produces some of the best true wireless earphones. One of these is the Elite Active 75t which boosts features and aspects when it comes to comfort and durability.
With these, you can expect a stronger and more durable pair of earphones. These are ideal for anyone searching for waterproof earphones that come with a secure fit design.
As for everything else, they remain the same. You still have the same bass-heavy and powerful signature sounds. There's also the adjustable EQ through one of the best companion applications around.
If you're interested in these earphones from Jabra, then continue reading through our Jabra Elite Active 75t review. But first, let's check out its packaging and what's inside the box.
Jabra Elite Active 75t Packaging
This part of our Jabra Elite Active 75t review talks about the packaging and contents of the Elite Active 75t's box. We received our earphones in your typical-looking Jabra package.
It sports a grey and yellow theme that's quite simple yet pleasing to the eyes. The front displays an image of the earphones at the centre, while Jabra is written on the upper-left corner. The earphones' name is on the lower-right corner of the box. Basic features and details are written on the opposite section.
Inside, you will find the Elite Active 75t and a charging case. It also comes with three sets of silicon ear gels, a USB-C cable, plus the warning and warranty leaflets.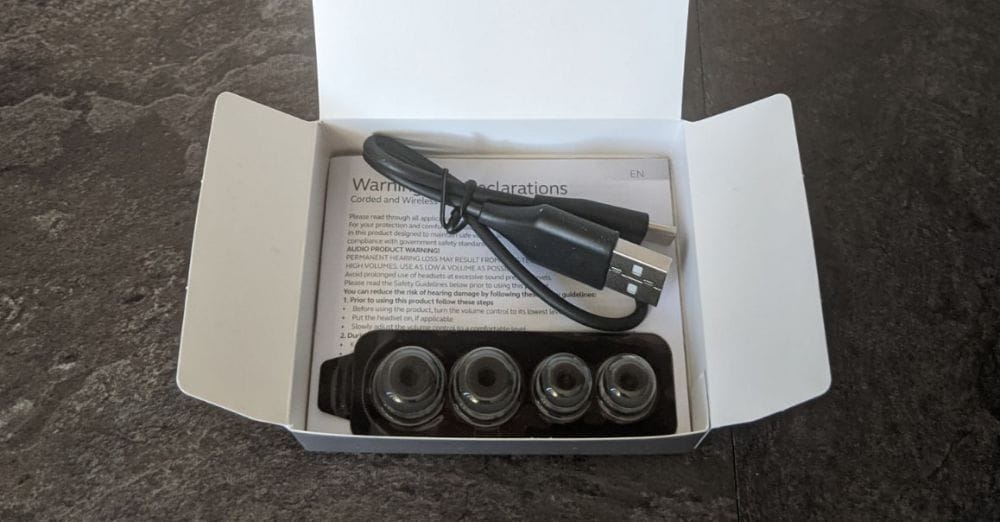 Next on our Jabra Elite Active 75t review, we will talk about the earphones' design and functions.
Jabra Elite Active 75t Review – Design and Functionality
This part of our Jabra Elite Active 75t review focuses on the functions and style of the Elite Active 75t.
To begin, the design of these earphones are identical to Jabra's non-Active Elite 75t. Its charging case and earbuds are the same. However, the one for the Active version has a rubberised coating to prevent slips and drops.
Also, the charging case comes with a rubberised texture and has the standard Elite 75t's same USB-C charging port.
Since it has the same design as the Elite 75t, the Active version features a great fit and finish. Controls are handled via physical buttons on each earbud, yet it'll take some time to memorise the shortcuts.
For the volume controls, you'll need to press then hold the buttons to decrease/increase the volume.
Key Features of the Jabra Elite Active 75t
Now, our Jabra Elite Active 75t review will showcase the different features of these true wireless earphones from Jabra.
Waterproof and Sweatproof
Elite Active 75t sports a design that's ideal for people with an active lifestyle. It comes with an IP57-rating, making them completely water and sweatproof.
The Best Fit for Higher Performance
Jabra scanned thousands of different ears and ran these through their advanced algorithmic simulator. The process developed the best-fitting and high-performing earbuds for everyone's comfort.
With the help of the latest miniaturisation techniques, they integrated all their excellent tech into this compact new design. Additionally, they came up with three different sizes for their smooth, silicone EarGels. It's to provide you with an immediate comfortable fit for prolonged use.
Keep on Going and Going
Get up to 7.5 hours of continuous use, or up to 28 hours with its charging case. This case is highly compact and comes with effective magnets that easily lock the earbuds in place.
Because of a smart power management system and low-power Bluetooth 5.0 chipset, you can utilise the earbuds during long runs. With that, you won't need any to make any stops to recharge the earbuds.
Real World – Optional
You definitely want to hear more of what you want, and less of what you don't. This is why Jabra designed their HearThrough feature. It acts as a volume button for the real world.
If you want to relax and indulge in your music, the earbuds' noise-isolating fit keeps the real world noises controlled. It leaves you free to feel and experience your music's powerful bass.
Big Things Come in Little Packages
These little pieces of technology have four integrated microphones, combined with Jabra's digital signal processing algorithm. Also, they included the pioneering beamform technology to make your calls sounding clear no matter where you are.
Personalised Just for You
Jabra packed 6mm speakers into the earbuds to give it powerful bass. It comes with smart volume controls, a reliable wireless connection, and a customisable equaliser. It's the best way to get personal with your tunes.
Assistance in a Snap
Alexa, Siri, as well as Google Assistant, works well with the Elite Active 75t. Hit up your preferred and favourite assistant with the touch of a button.
Specifications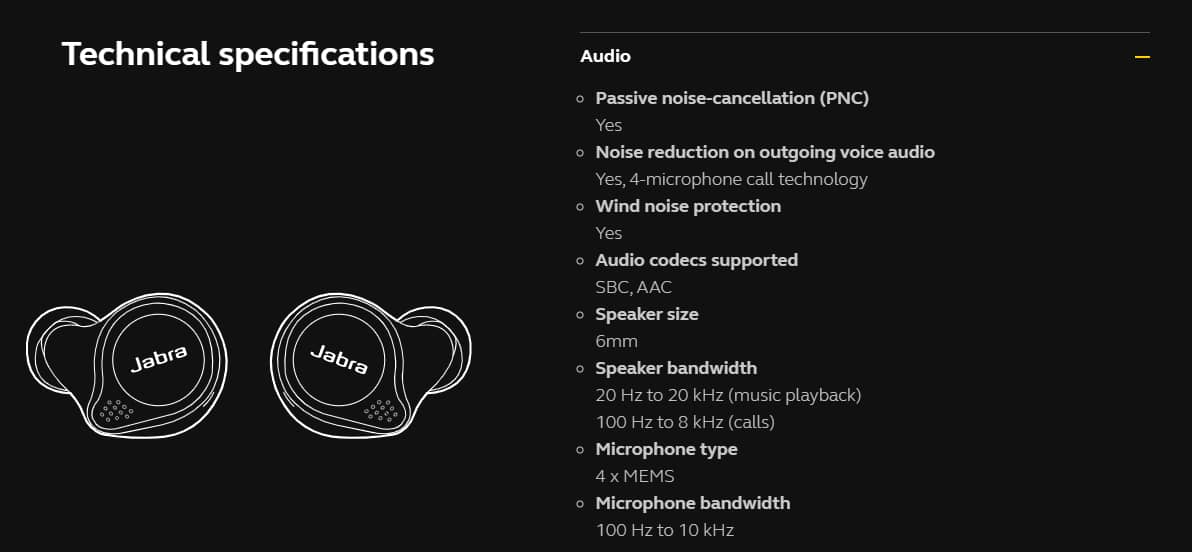 The Elite Active 75t supports AAC and SBC audio codecs. It has 6mm speakers built into it and has a bandwidth of 20Hz to 20kHz for music playback. For calls, it has 100Hz to 8kHz.
There are four integrated MEMS microphones in the earbuds, with a bandwidth of 100Hz to 10kHz.
These earbuds use Bluetooth 5.0 for connectivity. And the profiles it supports include the HSPv1.2, HFPv1.7, AVRCPv1.6, A2DPv1.3, and SPPv1.2.
Its operating range goes up to 10 metres, and you can pair up to eight devices in total. Multi-connection is possible, so two devices can be connected simultaneously.
The unit measures 21.9 x 19.4 x 16.2mm (L x W x H). Its charging case weighs 35g, while both earbuds weigh 5.5g each. Operating temperature is -5°C to 45°C.
It comes with a USB-C charging plug, as well as an IP rating of IP57. In addition, these earbuds come with a 2-year warranty against water and dust.
Hands on with the Jabra Elite Active 75t
This part of our Jabra Elite Active 75t review talks about the performance and efficiency of the earbuds.
Jabra Sound+ App
Jabra has a great mobile application for customising user experience. The app comes with adjustable EQ and sound profiles.
Plus, it's the only method to download firmware updates to your Elite Active 75t.
The app also allows for several personalised settings. These include one-touch access to Google Assistant, Alexa, and Siri. Or you can select if you plan to pause/play automatically when removing one earbud.
These earphones are compatible with Bluetooth 5.0 and support both AAC and SBC Bluetooth codecs.
With that, you won't have to speak louder to hear yourself.
Moreover, you'll never miss a call or a beat with seamless switching from calls to music.
Performance
The Elite Active 75t delivered great sound quality. We were able to hear more detail and nuances that other headsets didn't have. It also delivered fully rendered low, mid, and high frequencies.
In terms of sound signature, it was evenly balanced. Although it was customisable via the Jabra Sound+ app, the default setting was good enough for most music genres.
We tested the Elite Active 75t's mic and recorded our voice via smartphone. To our surprise, each word we recorded was clear and clean, with no Bluetooth distortion.
During calls, the earbuds' mic performed excellently, and we didn't have to talk louder to be audible.
With the charging case included, you'll have a total of 28 hours to use the earbuds. Also, its fast charge of 15 minutes already gives an hour of playtime, so we think it's more than enough.
Overall, we were impressed with the Jabra Elite Active 75t's excellent performance. It delivered high-quality audio, its microphone captures sounds well, and its battery life was long. Because of these, it's easy to recommend these earbuds.
Jabra Elite Active 75t Review Summary
The Jabra Elite Active 75t is a high-quality pair of earbuds. It's secure, comfortable, dustproof and waterproof, and it delivers high-quality audio. These make it ideal for your daily commute and workouts.
If you're not looking for massive battery life or active noise cancellation, these earbuds are an excellent choice. For most people, the Elite 75t is enough, but the IP rating is only IP55.
The Elite Active 75t's increased rating leaves you worry-free even in the most intense workouts. Also, the new rubberised grips allow for easier gripping when your hands are sweaty. With the retained features plus the enhancements, we think that the price of these earbuds is worth paying for.
In conclusion to our Jabra Elite Active 75t review, we highly recommend this product. If you want to purchase these earbuds, it's available from the company's official website.