Headsets from Jabra are popular because of their top-notch quality. They offer a plethora of both wireless and wired headsets for office and business environments. In fact, the company provides a full line of products for any telephony app that you may require. These products will give you an innovative, clear, and reliably enhanced call quality for your business needs. In this Jabra Engage 75 review, we'll talk about the Engage 75 headset and what it has to offer.
If you're someone whose time is consumed by a ton of business phone calls, then you're in for a treat. Thanks to the Engage 75 from Jabra, calls will be much better and clearer every time.
Want to learn more about this headset from Jabra, or you think it's something necessary for your office or business? We've got you covered. Because today, our Jabra Engage 75 review will provide you with all the details you need about the headset. These include what it can do, what it offers, and if it's adequate for all your needs and preferences.
Jabra Engage 75 Packaging
This section in our Jabra Engage 75 review focuses on the packaging and the contents of the box. If you take a look at the package, it's a simple-looking cardboard container that's thick enough to protect the headset inside.
It's a flip-open box with an illustration of the headset on the flap. Above it, at the centre, you will find "Jabra Engage 75" written there. Jabra kept things clean and simple, so you can go and put all your attention on the headset instead.
Inside, you won't find additional bags with screws or clips around. The items you'll find there include the Jabra Engage 75 itself and a base unit for the headset. Aside from these, you'll find an AC power adapter, RJ-9 cable, and a USB Type-B to Type-C cable.
Next on our Jabra Engage 75 review will be all about the headset's functionality and design.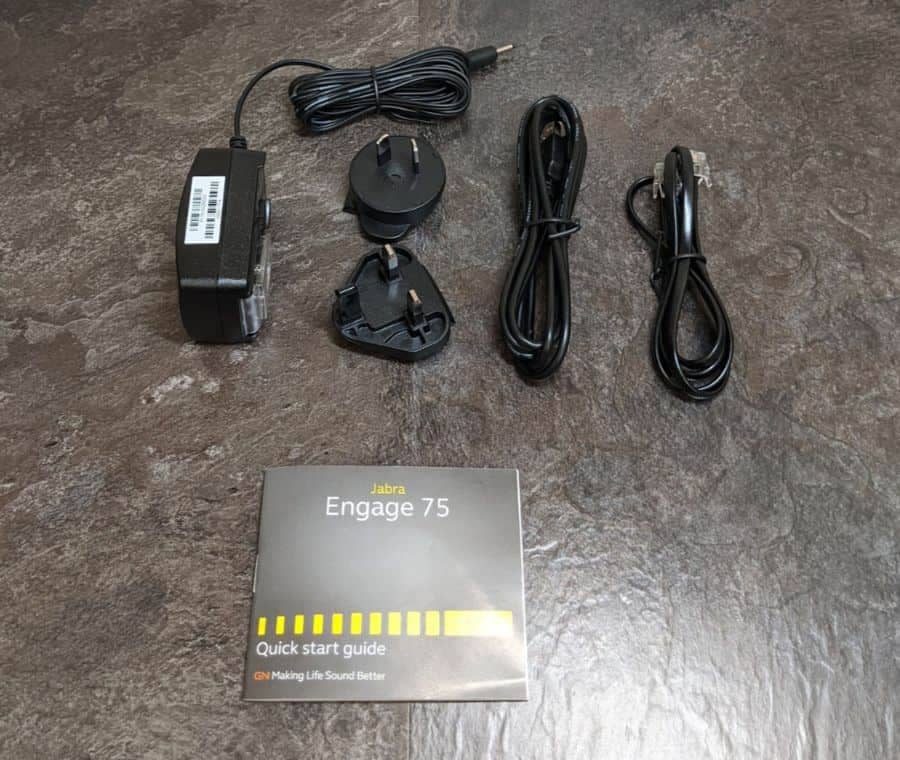 Jabra Engage 75 Review – Design and Functionality
Our design and functionality portion in this Jabra Engage 75 review features two sections. The first one will be about the Engage 75 itself while the next is about the headset's base.
The Headset
The Engage 75 itself is an impressively-built and designed product since it's assembled with a solid-build quality. You won't find any noticeable seam markings of plastic nor protruding screws or hardware as well. There are also no seams or gaps in any of the headset's panels which is great.
With this product, you can link as many devices to it since the Engage 75 is one of the most flexible headsets around. You can connect a smartphone, desk phone, analog phone, and even Bluetooth devices. And with its small build plus minimal design, the headset is lightweight and easy to wear. The little on-ear padded headphones are comfy and easy to adjust to get the perfect angle.
The Engage 75 is lightweight because of its plastic build, though it does come with cushioned ear cups for comfort. It has a detachable piece of soft plastic that rests on your head nicely. Plus, it features a boom microphone that you can set either on the right or left ear.
There are a few controls on the headset, plus an indicator light at the point of the boom microphone. It's a useful feature since it lets others know when you're taking a call.
You'll find a little mute button at the tip of the boom mic. It is necessary for muting outgoing audio when you need to converse with someone close by.
Additionally, the Engage 75's microphone can swivel in both directions to enjoy ambidextrous wear. Not only that, but you can also adjust the size like every regular band-style headphones today.
The Base
Since the Jabra Engage 75 is a DECT-connected device, it needs a physical base for pairing to other devices. The headset also requires this for charging. Its base unit is a finely-designed product that has a solid and premium feel to it. This base can hold the headset securely with just a single earphone even making contact.
Underneath the base unit is a soft foam pad. It is necessary to avoid any slips when the device is on the desk. When you look at the back, you'll see all the connections and ports available. When it comes to the front portion of the device, it sports a tiny Jabra logo and a gloss-black touch screen.
The top part of the base sports a USB Type-B plug where you can dock the headset for storage. It's also where you connect the Engage 75 for charging. What's more, the base unit has digital control buttons. These include an end, answer, and volume control.
Next up on our Jabra Engage 75 review are the essential features of the Engage 75.
Key Features of the Jabra Engage 75
Top-Notch Wireless Performance.
With the industry-leading wireless connection, you can stay connected even while working away from your desk. Jabra Engage 75's high-performance connectivity won't let you and your customers down.
Crystal Clear Calls
An advanced noise-cancelling microphone and improved speakers allow you to make crystal clear calls even in noisy surroundings.
Premium Construction and Easy Controls
With the intuitive controls of the Engage 75, you can answer or end calls, adjust the volume, or mute audio.
Hearing Protection
Heavy users need high levels of hearing protection. Because of that, Jabra integrated PeakStop on the Engage 75. This technology eliminates sudden sound spikes that are potentially harmful.
The headset also has Intelligent Acoustic Shock protection to remove sounds that may damage your hearing. Another technology is the IntelliTone 2.0 to maintain normal sound levels lower than preset thresholds.
Consistent Sound Levels Throughout the Day
Set your preferred volume level on the Jabra Engage 75, and it will consistently maintain it for the entire day. The volume of every call will be at your desired level for long-lasting comfort.
Power for the Entire Day
The Engage 75 provides power for 13 hours of talk time. With fast charge features, you can recharge the headset in 30 minutes to get 40% of the power.
Modern Base with Small Footprint
The Jabra Engage 75 comes with an intuitive touch screen base for added convenience. It displays all devices connected to the headphones, the battery life, as well as call controls.
Specifications
Now, our Jabra Engage 75 review will focus on the headphones' specifications. The Engage 75 has a speaker frequency range of 40Hz to 16kHz while its microphone is at 100Hz to 10kHz. For the headset's speaker bandwidth – music mode, it ranges from 40Hz to 16kHz.
Talk time lasts up to 13 hours while the charging it for 30 minutes gives you 40% of charge. If you charge it for 90 minutes, you'll get a full 100% charge for the headset.
Connectivity of the headset is via desk phone, softphone, USB desk phone, 2x mobile Bluetooth. For its connection, it makes use of a mini-jack, USB, and the like. The Engage 75 uses 2x micro USB, RJ-9 for desk phone audio, RJ-9 for handsets, and the RJ-45 for AUX.
The headset measures 5.5″ (W) x 1.2″ (D) x 6.6″ (H) and weighs a total of 82g. For its base unit, it is 3.6″ (W) x 3.5″ (D) x 4.2″ (H). It's good that the base only takes up minimal room on your desk. With that, you won't have any issues finding a spot for it.
Hands on with the Jabra Engage 75
As expected from Jabra, the Engage 75 delivered excellent sound quality. The mono and stereo options are both high-quality, and these meet the strict requirements of Skype or Businesses Open Office.
The headset comes with a directional noise-cancelling mic and superb speakers. These automatically switch to adjust the sound of music when you're not on a call. While doing these optimizations, it also provides hearing protection against sound spikes.
For the speaker frequency rate, it ranges from 40Hz to 16kHz for music and voice. We didn't experience any issues, and everything was clear. The balance between high and low frequency was great, and we were able to easily hear everything during our calls. The microphone's frequency ranges from 100Hz to 10kHz, and our voices were also audible for those on the other line.
In terms of connectivity, Jabra claims that Engage 75 can cover a distance of 150m. This range is more than enough to stay connected while moving around in your office.
To test its connectivity, we tried going to the printer to retrieve documents. To check further, we walked around the area to see if the headset would stay connected to our devices. The Jabra Engage 75 maintained a stable connection, and we didn't experience any disconnected calls, which was great.
Additionally, Jabra's connectivity had a Physical Assisted Pairing function, an authentication feature between the headset and docking bay. It ensures that no passerby with the same headset can connect to your base. With the results from our tests and this security feature, we can say that the Engage 75's connectivity is excellent.
The Jabra Engage 75 has an impressive battery life since it's enough for an entire day of continuous calls. Depending on how often you use it, the headset may even last longer.
Jabra Direct Software
Jabra Direct is a free downloadable application which you can use to further customize your Jabra Engage 75. It's a user-friendly software that provides an overview of all active USB headsets and the paired softphones. Another function of this app is for configuring settings. It's also where you can update your firmware and softphone call control. You can download Jabra Direct from the company's official website.
Overall, we were satisfied with the Jabra Engage 75's performance. Its audio quality, connectivity, and battery life were excellent, and it comes with a user-friendly software. Because of that, we're giving five stars for this headset.
Jabra Engage 75 Review Summary
Headsets like the Jabra Engage 75 are excellent for open office environments or situations where call privacy is essential. It delivers superior sound quality for calls, and its excellent connectivity makes it a greater device.
The headset is perfect for individuals in a home office or business setting who require superior call quality. It's perfect for providing the flexibility that speakerphones give, but with the privacy offered by one-on-one communication.
While a lot of DECT devices come with standard 64-bit security, we highly appreciate the Engage 75's 256-bit encryption. Some products have a slight security upgrade that jumps to 128-bit encryption, but it doesn't have DECT's range and consistency. Jabra combined the best features of both security features by creating the 256-bit encryption. Together with other unique features, it's able to provide an impressive range while keeping a highly secure connection.
Another thing we liked about the Jabra Engage 75 is its comfortable fit. We didn't experience discomfort even after using the phone throughout the day. The comfort it provides makes it an excellent choice for people who spend a lot of time on the phone.
To conclude our Jabra Engage 75 review, we highly recommend this headset, especially for people who make calls often. If you want to have the Jabra Engage 75, it's available for online purchase from the company's official website.