Jaybird is a company that focuses on manufacturing wireless earphones for those who like to do sports activities. Today, we're going to focus on our Jaybird Vista Review, which was released last year.
Jaybird was founded in 2006, and they've started developing earphones that don't fall off randomly when you run. Introducing the Jaybird Vista, a direct competitor to Apple's AirPods Pro, but is priced a bit lower and offers better aesthetics.
Jaybird Vista is a truly wireless earphone designed for athletes; it has a long battery life for long sessions.
Many people in the gym use earphones and these earphones are a perfect fit for them. With the Jaybird Vista, you're getting a pair of earphones with excellent comfortability that helps you go through your gym sessions smoothly.
The Jaybird Vista comes with three different colours, which are Mineral Blue, Nimbus Gray, the standard Black colour and a newly-released Planetary Green.
We have the Mineral Blue variant, and this suits people who prefer dark colours but isn't too familiar.
For $179.99, is the Jaybird Vista worth your money? Let's find out by starting it with the packaging.
Jaybird Vista Packaging
On this part of our Jaybird Vista Review, we're going to discuss the product's packaging. Most premium wireless earphones come with its charging case, and the Jaybird Vista has that. We'll be covering everything included in the package.
The box has a plastic wrapping and comes in a sturdy design. On the front, you get the key features of the Jaybird Vista. Depending on which variation you chose, it shows on the front side of the box.
The Jaybird logo is on the lower-left side of the box, and it looks excellent. On the left side, you'll discover the inclusions with the earphones. On the opposite side, this is where you can download the app for manual tuning.
On the backside, there's a picture in which you can see the product's purpose. Most smartphones would easily connect to Jaybird Vista, as it uses Bluetooth.
Inside the box, you get another table that slides up, which gives a more premium feel. As you flip the top cover like a book, you get a beautiful message which indicates that these earphones are for athletes.
On the top, you'll get the case that has a clip in which you can put on a bag's zipper.
For the accessories, you'll get extra ear rubbers depending on the size of your ears. There's also a USB Type-C Cable inside, which isn't that long but charges your earbuds perfectly fine.
Now, let's go to this cool earphone's design and functionality.
Jaybird Vista Review – Design and Functionality
On this section of our Jaybird Vista Review, we'll talk about the design and the product's functions.
The Jaybird Vista comes in four different colours. These are Black, Mineral Blue, Nimbus Gray, and a new Planetary Green.
Jaybird offers angled nozzles, where it sits in your ears without any discomfort. It has a soft & flexible ear tip that locks into your ears perfectly.
The Jaybird Vista offers IPX7 certification and can be fully submerged in the water for 30 minutes, which most wireless earphones don't have. This earphone is durable and is sure to offer a long lifespan without much care.
While there are many water-resistant earphones out there, this is one of the best wireless earphones to have these unique features that most people find.
Jaybird's Vista supports quick charge and offers up to an hour of battery life when charged for only 5 minutes. If fully charged, it offers up to 6 hours of battery life, with an extra 10 hours if docked into the case.
If you travel a lot, this comes in handy. There's not much of a need to bring a power bank, especially when you're hiking.
Seeing that these earphones don't have noise-cancelling features, the isolation is surprisingly high.
As stated on the right side of the box, the software can adjust the equalizer manually. Not only that, but it also supports firmware updates, where they give additional features or enhance older features.
Check out their website here to download the software.
Specifications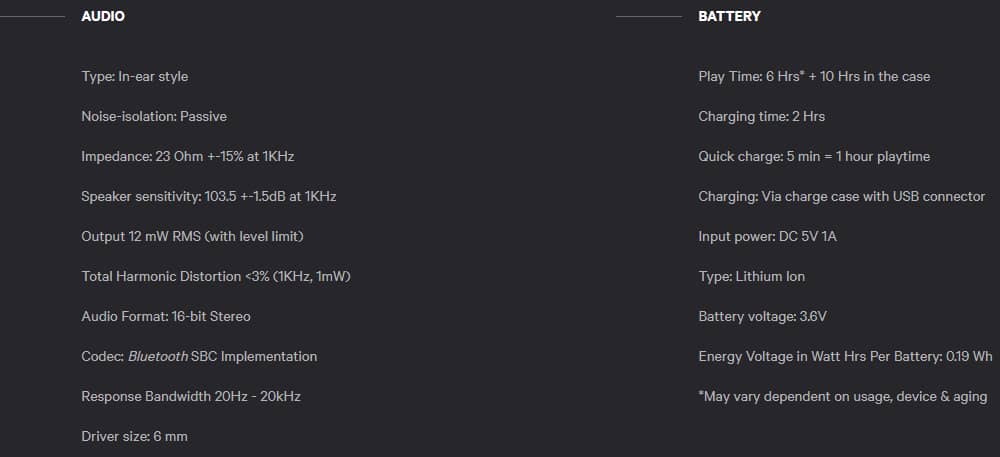 In this section of our Jaybird Vista Review, we're going to discuss the specifications briefly.
The Jaybird Vista is better suited on Android users, as the iPhone users can quickly grab the Apple AirPods. But this doesn't mean that the Jaybird Vista won't support iPhones.
As written on their website's technical specifications, the Jaybird Vista supports passive noise-isolation. The drivers' sensitivity is 103.5 +-1.5dB at 1 kHz, with an impedance of 23 Ohm +-15% at 1 kHz.
The case is 74mm wide, 36.5mm on height, and has a 24mm depth. The earbuds have a width of 2mm, height of 24mm and a thickness of 18mm. The total weight is only at 6g.
It only supports the basic Bluetooth SBC Implementation, but there are no problems found using it on any platform.
Pairing it with Bluetooth is smooth, place the earphones on the case, and wait until the light blinks. It has a frequency band of 2.4 GHz on Bluetooth version 5.0.
The battery charges fully for 2 hours, and it will give a battery life of 6 hours. The case provides an extra charge of 10 hours, so keeping it inside the case when not in use is ideal.
The earphones charge through the case through USB Type-C, and a cable is included as you purchase it.
Now, let's get more hands-on with the Jaybird Vista earphones!
Hands-on with the Jaybird Vista
This part of our Jaybird Vista Review focuses more about using the earphones.
Using the Jaybird Vista is very comfortable. It sits right into your ear without problems, as long as you make sure that you choose the right rubber. If you're quickly sweating as you exercise, these earphones are pretty much indestructible.
The Bluetooth functions correctly, and the signal is also excellent. When you're in an outside environment, we did not experience any interference.
When listening to music, the clarity is excellent as you can hear all the musical instruments. The bass is also punchy, but if you'd like to get more out of these earphones, make sure to utilize the software.
The rubberized plastic provides excellent grip for them not to randomly leap from your hand; the cord loop on the small case is useful, and the neon yellow interior of the casing is excellent for finding the earphones on a morning run. Everything is designed specifically for morning runners.
Using their software, it is very user-friendly and genuinely enjoyable. You'll first get a guide about Bluetooth pairing, and then you can adjust or select an EQ preset afterwards.
Included in the software is sound optimization, which means that you can adjust it according to your preference. You can manually adjust and save this personal preset to the headphones' internal memory after closing the app.
Another impressive feature with the software is that you can easily tweak the function of the buttons. Depending on how you press the buttons, you can assign a task.
The best option is to set the single press to pause the track or answer calls, and to hold the button queues for the next track.
Since we've finally covered its excellence and convenience, let's close our Jaybird Vista Review here. Let's head to our summarization.
Jaybird Vista Review Summary
Overall, Jaybird Vista did not disappoint us. Although the price is a bit high, it provides essential features suitable for athletes. Still, we think it's worth it for people with an active lifestyle and are looking for convenience and cool features.
Moreover, Jaybird has significantly improved in terms of design and functions throughout the years. They made sure that the advertised features are right, and expectations are valid. While most earphones come in black or white, Jaybird offered different colours that make it very unique.
Jaybird is an absolute success when it comes to achieving their goal, and that is to make the best fitting earphones. Jaybird Vista is the best solution for those who are sick of their old earphones that randomly falls out while exercising.
The sound quality isn't as impressive, but it also isn't too mediocre. If you're looking forward to working out, this is the best option.
In conclusion, if you're not an audiophile but like earphones that have punchy bass, the Jaybird Vista is an excellent option whether you're exercising or not. It supports Bluetooth 5.0, which mostly eliminates delay.
Jaybird has been improving their products ever since, and it's great to see that they're focusing on their products, not on competing with others.
Thank you for reading our Jaybird Vista Review. If you're interested in grabbing one of these, click here. They offer free shipping on all orders, so you don't have to worry about extra expenses.