Other than providing great entertainment, JBL's latest in-ear sport headphones helps you manage those important calls and keeps you safe on the road. In our JBL Reflect Mini NC True Wireless review, we'll talk about a set of earbuds that does more than providing quality music.
With features like ANC, Smart Ambient technology, Virtual AI support and more, you will learn to love this device and all the things that come with it. With that, let's jump right into our JBL Reflect Mini NC True Wireless review.
JBL Reflect Mini NC True Wireless Packaging
Before we get right into our JBL Reflect Mini NC True Wireless review, we will go over the items that come with the product.

The JBL Reflect Mini NC True Wireless comes in a small white and black/blue themed package. You will see the image of the product and the branding on the front of the package.
At the back of the package, you will see more of the product as well as several features and functions. Here, you will be provided with descriptions of those features. With that said, let's check inside.
To open the package, just simply lift the cover from the side like a book. There, you will find the earbuds and their respective charging case held in a mould that is covered in plastic.
The purpose of the mould is to prevent the items from moving around. This protects it from scratches. Apart from that, the plastic shields the items from unwanted substances that may enter the packaging.
There is a small black box containing the different ear tip sizes, different earfin stabilisers, charging cable and instruction manual. The charging cable is a USB Type-C which is common for most people to have.
JBL does an excellent job in securing the safety of its products, and it's seen here. You are sure to have your product safely intact when purchasing this product.
JBL Reflect Mini NC True Wireless Review – Design and Functionality
Alright, now let's go over the product's physical properties in our JBL Reflect Mini NC True Wireless review. Understanding the physical characteristics tells us more about the product.
The JBL Reflect Mini NC True Wireless earbuds is one of JBL's latest in-ear sport headphones. It is perfectly made for your athletic endeavours. They offer an amazing set of features for your physical activities.
JBL wanted to keep you active in your workouts while at the same time keep you in touch with your music. The earbuds also have an ANC, which helps you zero in on those intense training sessions. Other than that, a Smart Ambient technology that helps with your spatial awareness.
Besides working out, they work just as well for entertainment purposes like listening to or watching movies. There is also a microphone embedded in the earbuds that let you receive or make calls.
Our Reflect Mini NC earbuds start us off with a black modernistic design. You will see the logo on the sides of each earpiece. On each earbud, you can attach an ear tip and earfin stabiliser. These help keep the device locked in on your ear hole and prevents them from falling. 
On the circle around the logo, that is the touch sensor. The touch sensor is used for adjusting volume, managing calls and more. Plus, there is a tiny hole right next to it that is used for the microphone. 
For the inner part of the earbud, you will find the proximity sensor, three charging pins and an LED. The proximity sensor is responsible for determining whether the earbud is inside the ear or not. As for the LED, it notifies you regarding the battery level and the Bluetooth connection status.
These components are small but they play big roles on the earbuds. Besides those components, the earbuds are waterproof and sweatproof thanks to the IPX7 rating. 
This determines whether the device can be submerged or not. For the IPX7 rating, only about 1 meter for 30 minutes can it be submerged. 
Lastly, the earbuds offer in-ear independence. This means that you can take a call with one of them and the other can be assigned for other tasks. By that, your connections are more stabilised and reliable. 
With all that's been said, the Reflect Mini NC earbuds are an outstanding set of headphones that highlights versatility in their capability.
Key Features of the JBL Reflect Mini NC True Wireless
Going away now from its looks, we will discuss the features of the product in our JBL Reflect Mini NC True Wireless review.
JBL Signature Sound
As most people can tell, JBL is well-known for providing quality sound in their products. So when a new product comes up, they expect nothing less. That's their signature, bringing quality entertainment in the form of music to people's environment.
In the Reflect Mini NC earbuds, they offer first-class sound for both outside and inside listening. With that in play, you can focus on the tasks before you. They set the right motivation for any given circumstance, whether that be indoors or the great outdoors.
Multi-AI
One of the best things about this product is that it offers more than just one cool feature. The Reflect Mini NC earbuds give you Active Noise Cancelling, Smart Ambient technology, and support both Hey Google and Amazon Alexa. Let's start with Active Noise Cancelling.
Active Noise Cancelling is a feature in a lot of Bluetooth headphones that actively block unwanted background sounds from coming into your ear. This eliminates distractions and disturbances when doing heavy workouts that require a large amount of focus.
For the Smart Ambient technology, it works as a notifier. Let's say you're jogging around a street; what it does is that it lets you hear certain sounds to keep you aware of where you are. This also informs you whether something is approaching you or not.
It acts as a safety feature that enhances your spatial awareness by allowing sounds that will inform you. With that running, you can get home safe and sound.
Lastly, the Reflect Mini NC earbuds support both Hey Google and Amazon Alexa. These are intelligent AI programs that offer a multitude of functions at home. If you happen to have this AI software at home, you can connect it to the earbuds to fully utilise the device and its features.
Fits, Sizes and More
Other than the main product, which is the earbuds and the charging case, you are given earpiece sets. These sets are the ear tips and earfin stabilisers. JBL wanted to focus on the quality of the sound and the experience of the user as well.
They offer comfort with a snug fit in various sizes made to size any ear. This also secures the earbuds in place and prevents them from falling off during those intense workouts. Feel free to go all out, all the while enjoying the pleasures of your own entertainment from your phone.
Keep In Touch
It can be distracting to take calls while doing workouts, having to pause your music and manage your phone. What JBL has done for this issue is that they have come up with a hands-free stereo call system in the earbuds.
What this does is that it allows you to take calls, adjust volume and use even a voice assistant to handle the situation. There are microphones placed in both earbuds that will pick up your voice and put you on stereo.
Moreover, JBL wanted to allow independent earbud activity for each earbud. By that, it doesn't matter which earbud you remove from the case; they function independently and harmoniously. This literally means that you can use one earbud for listening to calls, while the other acts as a microphone.
With this in play, you can manage your calls, entertainment, system and more without forfeiting your hands.
My JBL Headphones
Apart from all this, JBL has an application that offers even more personalisation and control over your earbuds. With this application, you can reconfigure and fine-tune your setting to fully maximise the potential of the earbuds.
This also allows you to optimise the earbuds to your device's specifications and other aspects of the system and its settings.
21 hours Total
When we look at the amount of time total, we get 21 hours. How does this work? Well, with its long battery life, you get 7 hours. You also have the charging case, which gives you 2 extra lives, which is 14 hours, since the case can hold a 14 hours maximum charge.
That makes a full 21 hours total. With that, you have an extensive amount of playtime with the earbuds.
Specifications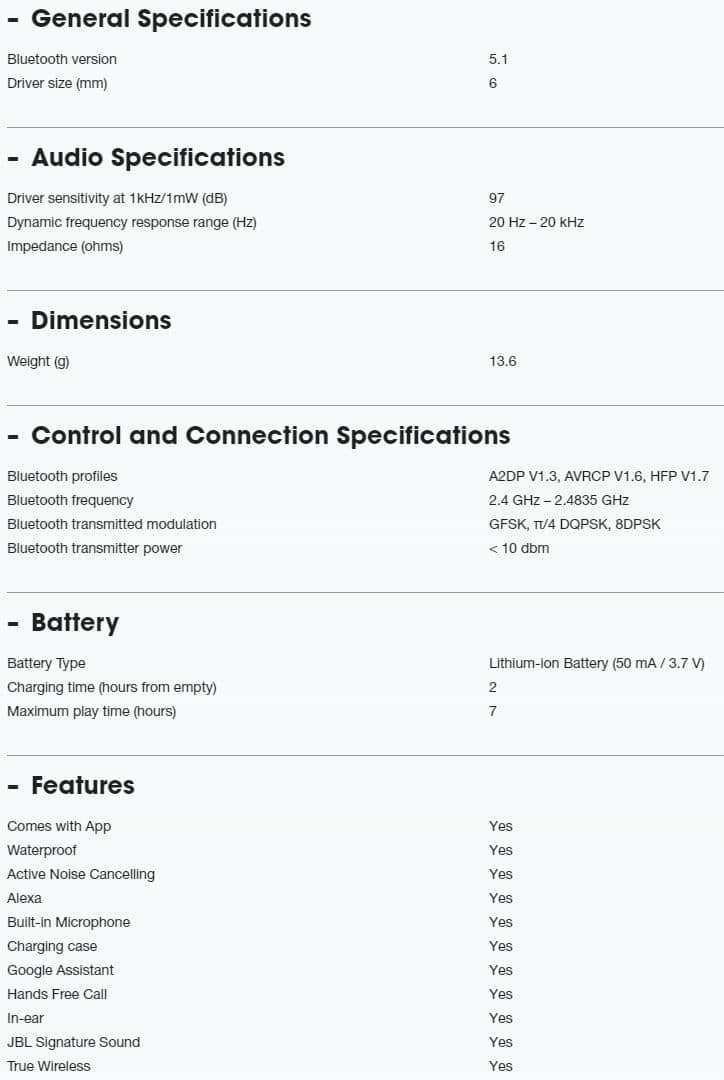 Our JBL Reflect Mini NC True Wireless review will now look into the fine prints of this wonderful product.
General Characteristics
The JBL Reflect Mini NC True Wireless earbuds is a small, lightweight device that only weighs 13.6 grams. Its charging case weighs 46 grams. Inside, you have a driver size of 6 millimetres which is also a dynamic driver.
On the driver, it contains a sensitivity level of 97 dB at the 1k Hz / 1mW ratio, but its total SPL is 94 dB. Other than that, a dynamic frequency response range of 20 to 20,000 Hz. For the Impedance, you get 16 Ohms.
Regarding the battery of the earbuds, it features a Lithium-ion battery with a 50 mA / 3.7 V. For the charging case, it also uses a Lithium-ion battery but a 300 mA / 3.7V.
You can charge it up to 2 hours from being empty. The maximum run time is around 7 hours. With the ANC feature on, it will last 6 hours. That's just 1 hour away from its maximum capacity.
Control and Connection
The Reflect Mini NC earbuds use the latest Bluetooth version, 51. It contains several Bluetooth profiles, which are A2DP V1.3, AVRCP V1.6 and HFP V1.7. For the frequency, it goes about 2.4 to 2.4835 GHz.
Plus, its transmitted modulation is GFSK, π/4 DQPSK, 8DPSK and transmitter power is less than 10 dBm. In terms of the microphone, it offers a sensitivity level of -32 dBV / Pa at 1k Hz. So the microphone is pretty standard for a Bluetooth device.
Hands-on with the JBL Reflect Mini NC True Wireless
So far, we've just discussed the product's looks, functions and materials. Now, we go into learning more about the product by using it.
In our JBL Reflect Mini NC True Wireless review, we have to use the product to determine its authenticity. We want to find out if the product stays true to what it claims to be.
Regarding the tests, we want to figure out how good the quality JBL says it to be. Other than that, we want to check on the multi-AI functions and its keep-in-touch feature. Let's start with the sound quality.
When we wanted to test the Reflect Mini NC earbuds, we had to know if it lives up to JBL's signature sound. JBL is known for the sound they produce, and they always produce refined acoustic details in their products.
For this product, even with its 6-millimetre driver, we could hear the audio clearly. It may be small, but it packs a punch with its high-end components and materials. JBL did not cut off any of its class.
It was clean and acoustic-wise, realistic and kept to its promise. JBL truly stayed true to what it advertised in terms of its sound.
The Reflect Mini NC earbuds with their Active Noise Cancelling and Smart Ambient technology sound too good to be true. When we were testing this feature, we found the Active Noise Cancelling to be reliable and efficient in blocking outside interferences.
It made it much easier for us to concentrate on our tasks without having to be disturbed. What it does is that it creates this bubble, and everything inside is separated by a barrier. It was as if we were in our own little world and away from the worries and troubles of reality.
When we tested the Smart Ambient technology, we were surprised to actually experience it. It was something definitely different from the usual. You could hear specific sounds and noises outside the earbud. It made us more conscious of where we were.
The Reflect Mini Nc earbuds also support virtual assistant AI technology which are Hey Google and Amazon Alexa. When we checked this feature, we found out that it was much easier to call out the AI through the earbuds.
Thanks to the voice assistant, we could give our AI's commands such as control lighting, volume settings, manage music, entertainment and more. It even came to a point where we had just started playing with the AI.
The keep-in-touch features acted as a tool for us in managing our settings, calls, and entertainment. It made it easier for us to do other things without having to hold our phone during calls. Other than that, we didn't need to alter anything on our phone when using this feature.
It was a support program that reduced the hassle of going into our phones.
All in all, the JBL Reflect Mini NC True Wireless earbuds goes beyond being just another Bluetooth listening device. It is smart, efficient and reliable when it needs to be.
JBL Reflect Mini NC True Wireless Review Summary
Before we conclude our JBL Reflect Mini NC True Wireless review, we will now give you our final thoughts.
The JBL Reflect Mini NC True Wireless is a pair of earbuds that goes past the limits and expectations of a regular headphone. It can handle and manage calls, entertainment and more.
Thanks to its ANC and Smart Ambient technology, it keeps you concentrated with the right motivation to finish those intense workouts.
Basically, we had a wonderful time reviewing and learning about this product. We observed and concluded that this product is worth recommending to anyone looking for a better, more reliable set of headphones. If you are interested in buying this product or any of JBL's products, click here.