Everywhere you look, there are new earbuds available. However, the go-to place is JBL, and they have their latest offering under the Tour series. We will discuss this product in our JBL Tour Pro 2 Review and share everything you need about it. 
JBL applied quality innovation to these earbuds, including reduced size, optimised audio, and longer battery life. The Tour Pro 2 also has a touchscreen display to access tools and settings without using its application. Moreover, these earbuds are feature-packed with plenty of options for hearing assistance, audio customisation, and more. 
JBL Tour Pro 2 Packaging
These earbuds arrived in time for our JBL Tour Pro 2 Review. It ships in a classic JBL-looking package that sports an orange-black colour scheme.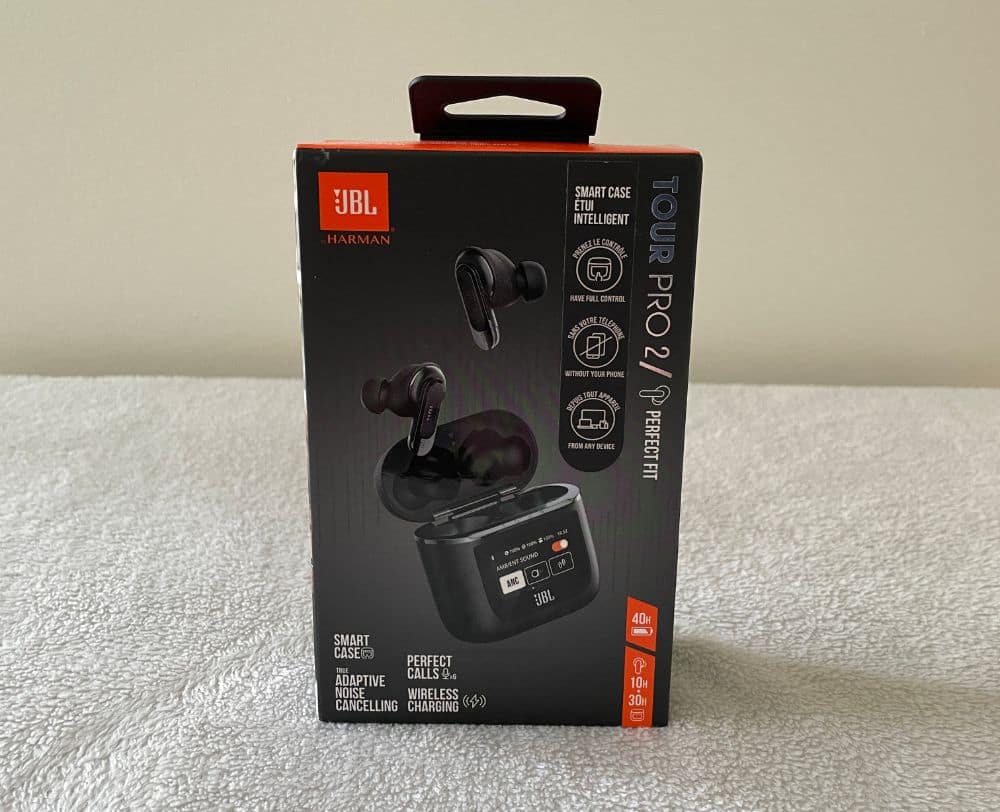 Plenty of information is present on the box. The front shows an image of the product, along with its name, company branding, and key features. If you need more details on these earbuds, the sides and rear of the package provide you with these. 
Here is a quick list of all the items you will find inside the box:
JBL Tour Pro 2 

One USB-C charging cable

A charging case

Eartips in three different sizes

A warranty card
JBL Tour Pro 2 Review – Design and Functionality
Writing this JBL Tour Pro 2 Review gave us insights into the design and functions of the Tour Pro 2. 
The product fits in the middle category featuring a design similar to the AirPods from Apple. In addition, it has a refined look, combining glossy black and matte plastic. Even the shape of its earbud is similar to the AirPods, which sports an oval form.
Its curves and the lower weight combine to provide a comfortable fit, allowing you to wear the earbuds for hours. Plus, the outer portion of the earbuds has a touch panel that can accept double, single, and triple taps. It also works with long presses to execute various on-board controls. 
Additionally, you can reconfigure the functions to your preferences using the JBL Headphones app. The earpiece has a capacitative touch control panel to adjust these through its companion app.
By default, one tap on the left earbud shifts between Ambient Aware and ANC modes. Executing the same gestures on the opposite earbud controls playback.

Double-tapping on the left earbud gives you the TalkThru Ambient Mode. If you double-tap on the right, it will take you to the next track. 

Out of the box, there are no actions when you make triple traps on the left earbud. However, doing so on the right earbud brings out the voice assistant. 

The charging case of these earbuds has a customisable touchscreen. It lets you navigate various playback options, control volume, activate ANC, and browse different EQ presets. It is an extra interactive feature complementing the multiple functions of the Tour Pro 2 earbuds.
A USB-C port on its rear lets you charge using the USB-C to A cable. Alternatively, you can set the case on a Qi wireless charger to recharge its battery.
Key Features of the JBL Tour Pro 2 
These are excellent earbuds from JBL. However, before you purchase one, look at its features in this JBL Tour Pro 2 Review.
It is essential to look into these elements before buying anything. So we made a list of its features to help determine if it is a product for you. 
Smooth Experience with the JBL Tour Pro 2 Smart Case
Control the audio and earbuds settings, manage playback & calls, set alarms, and check battery levels without using your phone. You can manage and set everything via the screen of its case, which is a convenient feature. You can enjoy a smooth experience thanks to the Smart case of these earbuds.
True ANC with Smart Ambient
Listen to your favourite songs wherever you go. The True ANC uses four noise-sensing microphones to adjust surroundings. It helps minimise distraction whenever focus and optimisation for better performance are necessary. 
Get Perfect Calls with Voice Controls
With its advanced 6-mic crystal call algorithm, you can enhance your conversations in noisy or windy surroundings. Plus, you can seek assistance from your favourite voice assistant effortlessly.
Moreover, the VoiceAware feature lets you adjust the mic level input into your earbuds. It will enable you to control the amount of your voice during calls.
Smart Ambient Technology
With Smart Ambient, you can immerse in your favourite music while staying aware of your surroundings. A single button press allows you to toggle between two modes. Also, you can further customise and refine these settings via the JBL Headphones app.
Professional JBL Sound Curve
JBL did extensive research and tests to produce a precise sound curve with minimal distortion at any volume or frequency. With its 10mm dynamic drivers, you can enjoy JBL Pro Sound-powered deep bass.
JBL Spatial Sound for Immersion
JBL Spatial Sound makes your audio more immersive. The sound feels like you are at a concert, theatre, or studio with the performer. This proprietary technology makes sound come from all directions regardless of the audio source.
Personal Sound Amplification
The Personal Sound Amplification of the Tour Pro 2 adjusts the left and right balance. Also, it amplifies the volume of conversations by 15 to 20 dB.
Hands-free Control
Use Google Assistant or Alexa to control your earbuds with voice prompts. 
JBL Headphones App – Stay in Control
JBL Headphones App changes your listening experience significantly. Customise the EQ and achieve the ideal sound profile, enable Adaptive Noise Cancelling, or adjust the ambient sound settings. In addition, the application lets you find your earbuds, customise gestures, select your preferred voice assistant, and many more.
Bluetooth 5.3 LE Audio
The Tour Pro 2 uses Bluetooth 5.3, the latest technology, for increased wireless security and stability. It also makes the earbuds a future-proof product.
Specifications
Our JBL Tour Pro 2 Review will provide you with product specifications. Check these out to see if the earbuds work for your needs. 
Driver Size:

10mm Dynamic Driver

Earbud:

6.1g per piece (12.2g when combined)

Power Supply:

5V 1A

Charging Case Weight:

73g

Battery Type (earbuds):

Lithium-ion polymer (70 mAh / 3.85V)

Charging Case Battery:

Lithium-ion polymer (850 mAh / 3.8V)

Charging Time:

2 hours from empty

Adaptive ANC On:

up to 6 hrs

Frequency Response:

20Hz – 20kHz

Bluetooth Version:

5.3

Maximum SPL:

95dB

Impedance:

16 ohm

Sensitivity:

100dB SPL@ 1kHz

Microphone Sensitivity:

-38dBV / Pa@1 kHz

Bluetooth Transmitter Power:

Less than 15dBm (EIRP)

Bluetooth Transmitter Frequency Range:

2.4GHz – 2.4835GHz

Maximum Operation Temperature:

45°C
The battery lasts up to specific hours based on the modes of the earbuds. For example, music playtime with the BT switched on while ANC is off lasted up to 10 hours. On the other hand, if BT and ANC are on, your battery will last up to 8 hours.
On its talk time, having ANC switched off will last up to 6 hours. But if you have ANC on, it lasts 5.5 hours.
Hands-on with the JBL Tour Pro 2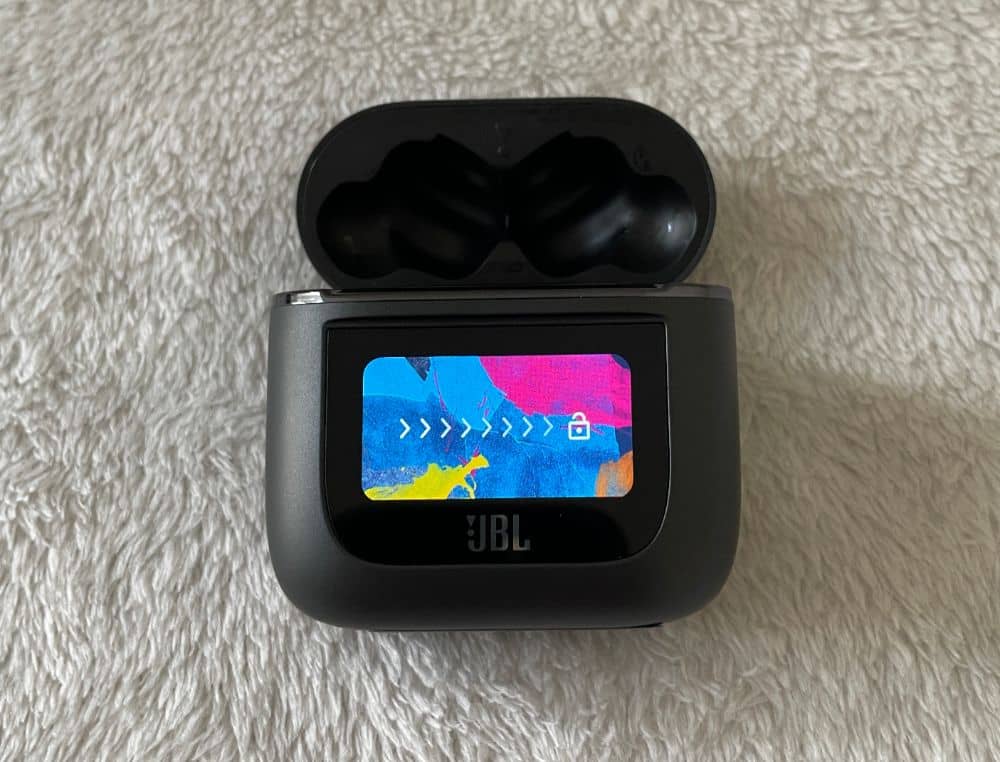 We will discuss our experience with these earbuds in this part of our JBL Tour Pro 2 Review. But first, let us discuss how it sounds when playing our favourite tunes. 
The Tour Pro 2 offers a delightful music-listening experience overall. Smoothness is noticeable in instrumental music, jazz, easy-listening, and soulful tracks. 
We are pleased with the remarkable sound quality of the recent products JBL have been delivering. One contributing factor is the enhanced soundstage, where audio feels less crowded. It is also more expansively distributed between the left and right channels.
JBL always has an excellent bass response, and the Tour Pro 2 makes it enjoyable with its relaxed timbre. Although it does not have the same depth and energy as other JBL headphones, it is rich in detail. Plus, it offers adequate clarity for the separation of instruments.
The mid frequencies of the Tour Pro 2 are good and the instruments come through smoothly.

The Tour Pro 2 also has a noticeable expansion to the bass and upper mids that colourise various sound elements. As a result, it makes the overall profile more enjoyable.
The treble is expressive with a slightly dull timbre. Fortunately, adjusting the EQ can enhance the audio. 
After customising, the sound had a noticeable pop on the highs, which impacted the sound signature. The overall treble response became favourable, but results may vary for every user.
We were satisfied with the overall performance of these earbuds during our tests for this JBL Tour Pro 2 Review. It is easy to recommend due to its high-quality audio and touchscreen that provides easy access to many features.
JBL Tour Pro 2 Review Summary
JBL continues strengthening its Bluetooth product line with the Tour Pro 2. It is the most innovative and unique JBL product since it has a touchscreen charging case. Plus, it has multiple features that offer different listening experiences.
Although it is a pricey pair of earbuds, it is an excellent product worth purchasing. We enjoyed different features and sound profiles when we tested the earbuds for our JBL Tour Pro 2 Review. 
Although pricey, the Tour Pro 2 is an excellent pair of earbuds, and we highly recommend it. It has an enjoyable sound signature, efficient noise cancellation, and a unique multi-purpose touchscreen on its charging case. 
Visit the official product page of JBL for more details about the Tour Pro 2.