In this KEF Mu7 Headphones Review, we will discuss the Mu7 headphones from KEF. It is a highly-popular product from the company, thanks to the help of designer Ross Lovegrove. 
The Mu7, like other products from KEF, is packed with plenty of notable features. Other than these, we will also discuss its design, functions, specs, and performance later in our KEF Mu7 Headphones Review.
So, continue reading to learn more about this excellent product from KEF. 
KEF Mu7 Headphones Packaging
KEF shipped the Mu7 in a classic, premium-looking black box with the company branding and product image on top. The other sides of the package show several details about the headphones.
Inside the box is a slim travel case that houses the Mu7. You will also find a USB charging cord and a 3.5mm cable.
KEF Mu7 Headphones Review – Design and Functionality
The Mu7 is a pair of attractive headphones. So, we will discuss its design and functions here in our KEF Mu7 Headphones Review.
Crafting headphones that capture attention and distinguish themselves from the competition can be challenging. To optimise the allure of the Mu7, KEF has once more joined forces with esteemed designer Ross Lovegrove. Doing so resulted in an unparalleled aesthetic for this pair of over-ear headphones. 
The Mu7 exhibits an unmistakable aesthetic, evoking a sense of liquid metal that permeates its entirety. The elegantly-contoured earcups, reminiscent of delicate teardrops, exude an air of refinement and sophistication. These match perfectly with a smooth surface that offers tactile pleasure to the discerning user.
The construction of the KEF Mu7 headphones exudes durability and quality. The aluminium casing boasts a sturdy and high-end feel, precisely what you would expect from headphones in this price range. 
The arms linking the headband to the earcups demonstrate solidity, ensuring a secure fit while allowing for optimal adjustability. This flexibility enables the 40mm full-range drivers to stay at a perfect angle. It encompasses the entire ear without gaps that might compromise sound leakage or external noise infiltration.
For this KEF Mu7 Headphones Review, the product we have is a lovely silver shade. However, you can also opt for charcoal grey, which is close to black.
At the top of each earcup, you will find a slot-shaped mic opening that handles ANC and telephony. It works with a mic-hole located along the base of the right earcup.
You can control the main functions of the headphones via the right earcup. Here, you will find the USB-C port, a 3.5mm analogue input, and other buttons for operation. 
These buttons let you toggle between three different ANC modes: power the device on/off and Bluetooth pairing. To optimise use during travel, KEF gives us USB-A to USB-C and 3.5mm-to-3.5mm cables.  
Moreover, the company also gives us a flight adapter, neatly packaged within the carry-case of the headphones. While the Mu7 can be folded flat, they do not fold inward, so remember that.
But despite not being able to fold these inward, the headphones are compact and easy to carry around. You will not have difficulty bringing these in your bag when heading out. 
The right earcup has a recess that serves as a capacitive touch surface. It offers a responsive interface to control various functions. You can effortlessly adjust the volume, skip tracks forwards/backward, and pause playback with it. 
Additionally, a long press on the ANC button allows you to activate/deactivate the touch surface according to your preference.
The headphones feature leatherette memory foam earpads attached to each earcup. These provide a comfy, soft, and relaxing feel. 
The Mu7 also has a strong clamping force to ensure a secure fit; however, it is still comfortable for prolonged use. Moreover, even during extended listening sessions, our ears did not experience excessive warmth or discomfort.
A pair of cutaways close to the top serve as microphone openings on each earcup. The right portion features a smaller mic opening towards the bottom with a small LED indicator. 
This LED indicator informs you of the various states the headphones are in. These include charging, pairing, and power.

The headband of the Mu7 headphones is currently equipped with additional material, providing better coverage for the central part. The company added aluminium to the arms and yokes, ensuring durability and a sleek appearance. Moreover, you can fold the earcups allowing for convenient storage in the semi-rigid carry case from KEF.
Weighing in at 309g, the Mu7 is light and sturdy thanks to the clever design of the headband and hanger.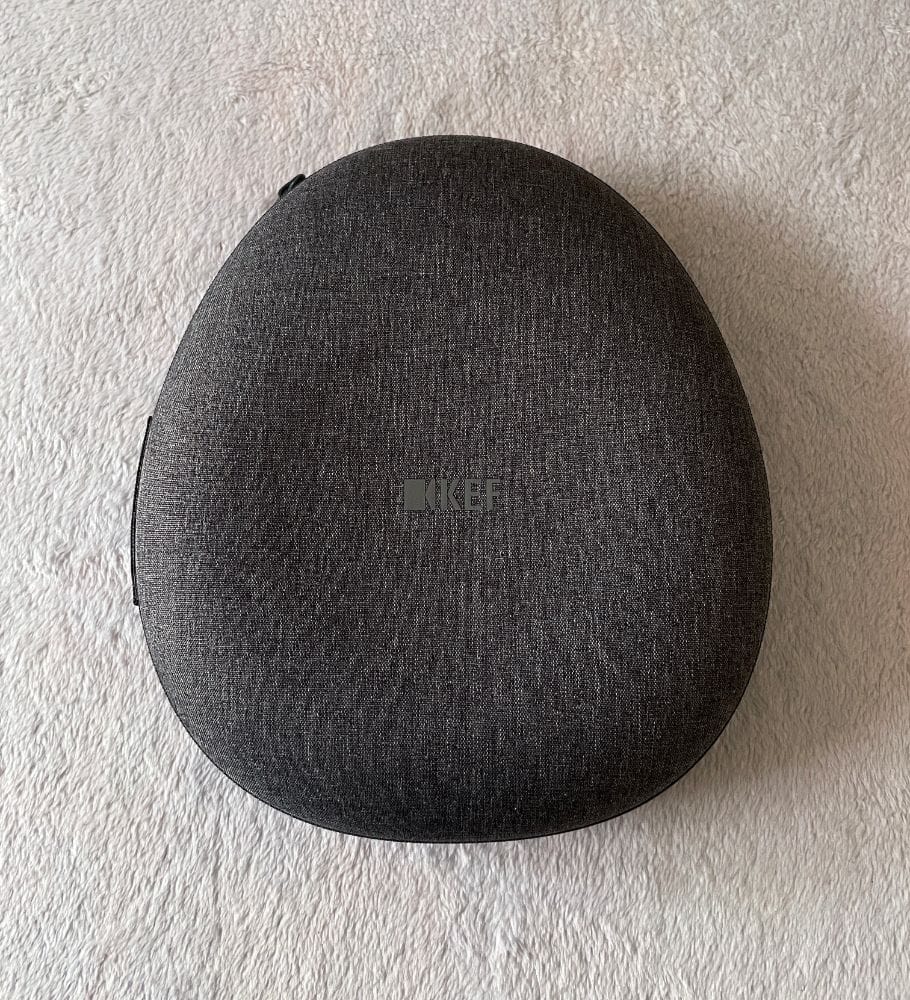 The travel case includes a dedicated compartment to store the USB charging cable and 3.5mm cable. It is a cleverly designed accessory featuring stylish magnetic covers, keeping the wires secure during travels. Its exceptional industrial design adds a touch of elegance to the overall aesthetic.
Key Features of the KEF Mu7 Headphones 
High Resolution, Purity, and Accuracy
The experts from KEF engineered the Mu7 to deliver accurate and pristine audio. Its custom-tuned acoustics allow the headphones to offer consistent voicing, making each word, note, and detail audible in high resolution.
Reveals Every Musical Detail
The Mu7 uses 40mm full-range dynamic drivers tuned by experts to reveal all nuances and subtleties of recordings. 
Love Your Listening Experience with the KEF Mu7 Headphones
With Qualcomm aptX HD technology that offers sample rates up to 24-bit/48kHz, you can enjoy high-resolution sound.
Comfort and Performance in a Single Package
The Mu7 has an ergonomic design that provides absolute comfort. These headphones have memory foam ear cushions that mould to the shape of your head. Plus, the clamping force of its headband forms an acoustic seal without applying excessive pressure on the ears.
Comprehensive and Intuitive Controls
The right ear cup of the Mu7 features a capacitive touchpad for answering calls, adjusting volume levels, skipping tracks, etc. More controls are available through a series of intuitive swipes and taps.
Listen All Day with the KEF Mu7 Headphones
The Mu7 has a high-capacity battery with a quick-charge function. As a result, you can use it for up to 40 hours, even when connected via Bluetooth or using ANC. Quick-charge lets you enjoy eight hours of listening time after 15 minutes of charging.
Later in our KEF Mu7 Headphones Review, we will discuss how long the battery lasted during our product tests.
Smart Active Noise Cancellation
The Smart Active Noise Cancellation blocks unwanted sounds and noise in your surroundings for a perfect listening experience. These headphones use multiple filters for the ANC to capture environmental noise while cancelling various frequencies.
Wireless and Wired Connectivity
You can use the Mu7 with or without a cable. Listen with the 3.5mm audio jack for uncompressed, high-resolution playback or Bluetooth for wireless freedom.
Design by Ross Lovegrove
Industrial designer Ross Lovegrove designed the Mu7 to reflect its pure and clean audio. He is well-known for his sculptural forms and innovative approach to creating aesthetics that represent beauty and technological ingenuity. Also, the Silver Grey and Charcoal Grey colours perfectly complement the KEF-tuned audio.
Specifications
Frequency Response:

20Hz to 20kHz

Bluetooth Version:

5.1

Bluetooth Codec:

AAC, SBC, aptX, aptX HD

Drivers:

40mm

Battery Type:

Lithium-Ion

Battery life:

40 hours

Charging:

USB-C

Weight

309g
Hands-on with the KEF Mu7 Headphones 
KEF used specially developed and tuned 40mm full-range Neodymium drivers for the Mu7. The company aims to reproduce every detail in recordings and make all nuances and subtleties audible. 
The Mu7 presents a grand, yet meticulously structured soundstage. It excels in distinguishing vocals and instruments, yet maintains a harmonious and cohesive auditory experience. Furthermore, these headphones masterfully accentuate every minute detail, thereby enriching the immersion in the music.
Although spacious, the Mu7 unifies all the audio elements and presents everything as a single entity. As a result, the most complex recordings and dense mixes are also easy to listen to.
These headphones deliver crisp audio with fantastic spaciousness around the vocals and instruments. It also offers adequate detail with well-balanced tonality, and its frequencies do not overpower.
Whilst listening to some of our favourite tracks we were greeted with a bass that felt vibrant and full of life. The bass was notably robust and potent, delivering a pleasing auditory experience.
The sub-bass was impressive, providing a superbly resonant base for the overall sound. It produced a well-regulated and balanced rumble that enhanced specific auditory elements.
Instruments within the bass range were distinct and harmoniously integrated with the mid-bass, exhibiting both agility and delicacy.
The treble range during music playback is clear and accurate. We could discern every detail in the higher vocal ranges of the tracks, capturing every subtle inflection of the singer.
This level of clarity extends to instruments like the lead guitar, as well as brass and woodwind instruments. The lucidity offered by the treble range made it easy to dissect the music.
The headphones manage the treble range effectively. They readily deliver the high-frequency range necessary to encompass the full breadth of the track, yet they begin to taper off just before reaching an overpowering level.
The treble range never became overly sharp, and we didn't experience any fatigue when listening to tracks with a heavy treble presence.
The audio quality of this device is remarkable, providing a harmonious and intricately detailed listening experience. Although it might be slightly less aggressive compared to other headphones in its class, this characteristic serves as a benefit.
The understated sound profile ensures a laid-back and enjoyable listening session. Even during prolonged use, there was no noticeable discomfort or fatigue to the ears.
The sound quality is perfectly suited for leisurely music appreciation. Much like KEF loudspeakers, these headphones deliver non-exhausting audio, thereby elevating the overall listening experience.
The clamping force of the headphones provides a secure fit. Thankfully, over time, the headphones adapt and conform to the user's head shape, resulting in an increasingly comfortable fit.
The noise cancellation of these headphones works excellently and makes our listening experiences more enjoyable. With this feature, the Mu7 achieves impressive voice quality since it effectively cuts background noise. Plus, it cancels unwanted frequencies like sounds from air conditioners.
The three noise cancellation modes of the Mu7 include Smart ANC, ANC, and Off.
The Mu7 also has Clear Voice Capture (CVC), which uses unique algorithms to separate voices and background noise. Based on our tests, this technology works well even in noisy environments. Plus, the headphones offer more fullness to our speech.
As mentioned earlier, the Mu7 uses wireless and wired connectivity. The headphones use Bluetooth 5.1 for signal transmission and work with the aptX HD codec for optimal sound quality. Alternatively, AAC and SBC are also available on the Mu7.
As KEF promised, the Mu7 offers a stable connection without latency when using Bluetooth. We had no connectivity issues during our product tests, but the audio was best when using aptX HD.
These headphones also allow wired connectivity, which some users prefer for zero latency. With the 3.5mm connection, we enjoyed its maximum potential using a digital audio player.
KEF Mu7 Headphones Review Summary
KEF has been one of the go-to brands for audiophiles, especially for high-end sound systems. The products from this company have guaranteed top-notch audio for the past few decades.
The Mu7 proves that KEF can transfer its sound signature to personal audio devices. These headphones offer impressive audio quality, reflected by their design by Ross Lovegrove. Also, it has impeccable build quality while delivering unparalleled comfort and intuitive operation. 
When we tested the product for our KEF Mu7 Headphones Review, it delivered excellent performance. From audio and noise cancellation to connectivity and battery life, these headphones never failed to satisfy us. Overall, we highly recommend these top-notch headphones from KEF.
Learn more about the Mu7 headphones by visiting the official KEF product page.