Today, we'll discuss all about the NZXT H510 in our NZXT H510 Mid Tower Case review. We'll talk about its design, features, specifications, and overall performance.
The brand's PC cases are some of the most recommended and best in the PC-building community. They're classy, sleek, premium, and are popular for their top-notch build quality. Also, these chassis are user-friendly when it comes to building, making it ideal for everyone to use.
The H510 case is considered the base model, but we can tell you that it's far from basic. It's essentially an upgraded and updated version of the H500 but with a USB Type-C. Not only that, but NZXT considered the H510 as the series' "middle child".
The H510 is a mid-tower case that's in-between the bigger H710 and the mini ITX H210 chassis. Thus, it's grown to be one of the most favoured options coming from NZXT.
What we have here is the matte-white version, which features a gorgeous, clean, and premium-looking finish.
Before anything else, let's talk about its packaging and other contents here in our NZXT H510 Mid Tower Case review.
NZXT H510 Mid Tower Case Packaging
Let's start discussing the packaging and contents here in our NZXT H510 Mid Tower Case review.
The NZXT H510 Mid Tower Case came in a simple-looking cardboard box that provided great protection of the case whilst in transit.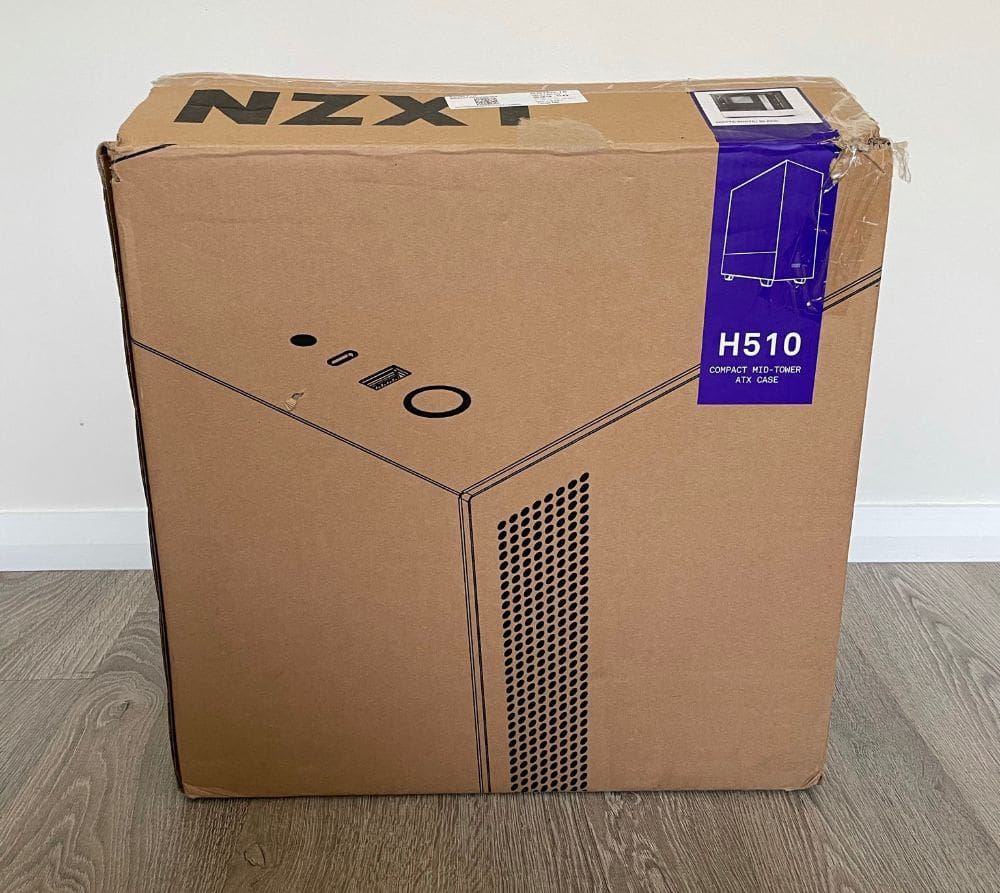 The front has an illustration of the chassis, while the top flip cover has a huge bolded "NZXT" written. There's a blue strip of sticker that's set on the package that has another, yet smaller, illustration of the case. Plus, there's also H510 written on it.
Inside the box, the NZXT H510 Mid Tower Case is secure and protected. You won't have to worry about dents or the like when it's being transported to your home or office.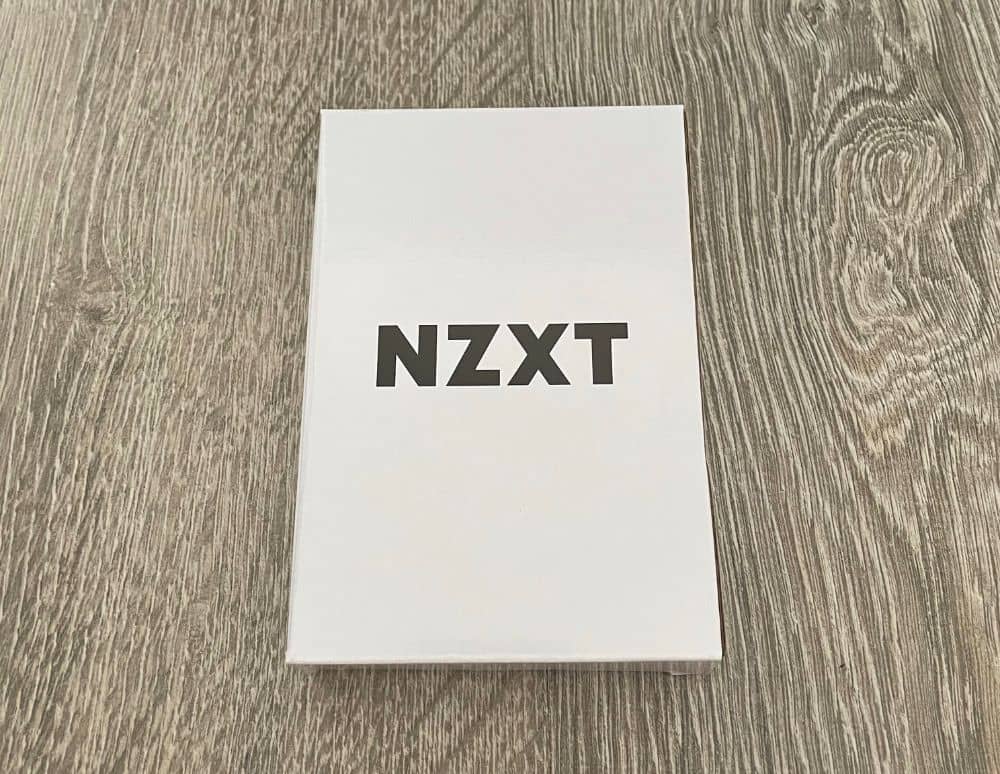 Next on our NZXT H510 Mid Tower Case review, let's take a look at the chassis' design and functionality.
NZXT H510 Mid Tower Case Review – Design & Functionality
Now, let's talk about the design of the H510 Mid Tower Case. The H-series from NZXT has been known for its clean and sleek style, and the H510 is not an exception. Let's begin with the chassis' exterior.
For the case's exterior, we'll talk about the different features on each of its panels.
The H510 sports a tempered glass front, allowing you to show off how you designed your rig.
We love the design because the tempered glass is set directly onto the case's side. That said, there aren't any screws to ruin the sleek and premium look of the H510.
A lot of PC cases today simply lump the tempered glass on the side. However, NZXT made sure to engineer the H510 Mid Tower Case to a higher and more premium standard.
Do note that the tempered glass doesn't go all the way to the chassis' base. It's nicely set into a small section of the case, specifically the PSU shroud's side. You'll find this at the base of the H510 Mid Tower Case.
The other side panel of the case is where you'll find the ventilation area. Here, indirect airflow will be highly efficient for decreasing fan noise, if any.
It may appear slightly restrictive. However, this section features a big airflow channel and a dust filter on the side panel's right side. Other than these, the H510's side panel is extremely clean-looking, keeping the aesthetics with the rest of the chassis.
Back Panel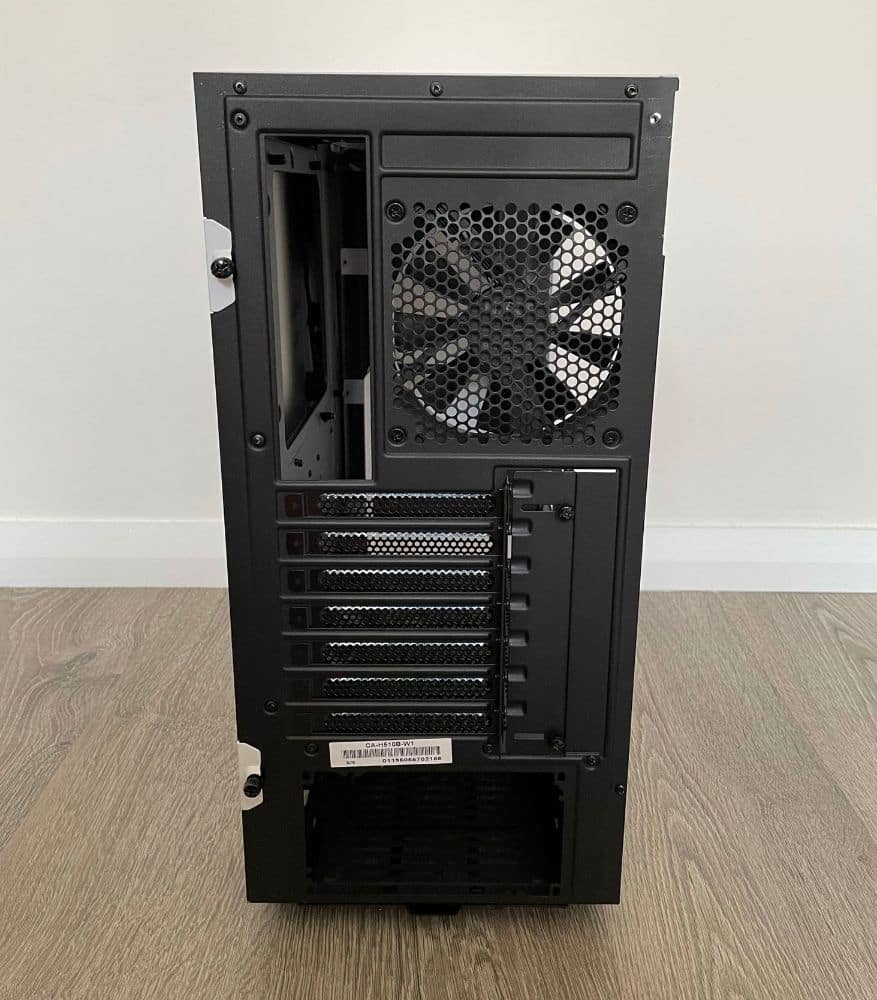 For its rear, the colour of the case shifts to black, and that also includes its interior. This specific design and choice of colour will help keep most of your fittings and cables hidden through contrast.
The top section of the chassis displays a simple-looking I/O panel. Here, you will also find the dual audio jack, the USB Type-C port, and one exhaust fan.
What's great about the fan is that it's one of the brand's proprietary premium quality fan. With that, these keep the theme and aesthetics with the entire build.
Although it doesn't have an intake fan, the case has been pre-configured for installing a front-mounted AIO. You can also place the top fan in front if you want to.
Below, you will find a total of seven expansion slots, which are all fitted with reusable metal coverings with ventilation. Even in this area, NZXT kept things simple and didn't go for the snap-off covers for the case.
Lastly, the bottom of the chassis showcases the ATX-PSU mount, which features a slide-out dust filter. With this, you can guarantee to have clean airflow for the power supply.
Underneath, you'll see four little feet that offer good and sturdy ground clearance for the PSU's air intake. The good thing is it still lets you move the drive mount's position. Or you can easily withdraw it to directly install the drive at the case's bottom section.
Interior
Getting into the H510 Mid Tower Case's interior is easy since its overall build and design allow for easier access. If you're familiar with its predecessor, you won't be surprised with this current refresh.
The layout of the case's interior is rather logical and has a great amount of room for a mid-tower chassis.
With the H510 Mid Tower Case, you won't see any unnecessary cutouts with pieces like rubber grommets. Instead, you'll find a large cable slot for routing, and we think that it's smartly concealed by NZXT's cable bar.
This cable bar has a contrasting colour since the H510 that we chose was the matte-white version. Basically, all the models that aren't black sport a contrasting cable bar. It's a typical style for NZXT, and we find it fantastic and appealing in its own way.
With that said, the H510 Mid Tower Case doesn't only offer all looks and aesthetics. Its cable bar nicely conceals the cables while simultaneously acting as additional space. This is to set your reservoir for your choice of water coolers.
If you require extra space within the H510, the cable bar can be removed entirely without any issues.
If you're planning to, it's also extremely easy to mount fans or an AIO along the front panel.
The whole area of the front wall bracket is secured in place with two thumbscrews. This design will allow you to easily lift this out whenever necessary.
Additionally, you'll find an HDD cage along the base. That also includes a pair of SSD mounts that you'll find directly behind the board. We love the branding on these parts, as well as those on the cable straps.
These little details are the features that give the NZXT H510 a classy and highly premium look to it. That also goes for the case's overall feel and aesthetics.
When it comes to the PC case's PSU shroud, it'll conceal all the cable mess and gore. It only means that all these will be out of sight to keep your rig looking great. In addition to that, there's a vertical pass-through for CPU and motherboard cables which is pretty convenient.
Not only that, but the NZXT H510 Mid Tower Case comes with two integrated fans as a standard. Both of them are set-up function as exhausts.
The whole layout and concept may be strange to some since they'd expect intake fans. However, this PC case is designed to take and fit an AIO along with its front panel.
What's good about it is that you can easily move and reposition the fans around. This is most ideal if you prefer an air-cooled rig.
Key Features of the NZXT H510 Mid Tower Case
This spot in our NZXT H510 Mid Tower Case review focuses on the key features of this chassis.
The PC cases by NZXT always come with impressive features and also make the building process easy and straightforward. When it comes to the H-series, the cases have the cleanest designs compared to other models on the market.
Type-C USB Connector
The H510 Mid Tower Case's front panel features a USB 3.1 Gen2-compatible USB-C port. With that, connecting smartphones, high-speed external storage devices, and the newest peripherals to your PC has become easier than ever.
Type-C connectors are quite common among the new cases on the market. But with the H510 Mid Tower Case's price, this is another feature that makes the case a bargain.
Clean, Modern Design
Usually, cable management takes more time than assembly. With this case's sleek, modern design, cable routing kit, and cable bar, wiring has become easier than ever.
Additionally, its side panel features a tempered glass so you can showcase your build. This simple layout makes cable management easier than ever, unlike with usual PC cases.
Aer F-120mm Fans and Removable Filters
The NZXT H510 Mid Tower Case comes with two Aer F-120mm cooling fans, which provide excellent airflow. Its front panel and the Power supply intakes have removable filters that keep components protected from dust and other particles.
It's good to note that when we're speaking of airflow set-ups such as this, expect dust to build up. Specifically, you will find the build-up in unwanted gaps or spaces throughout the chassis. With that, it's best to be prepared.
Regardless, there are a lot of detachable dust filters and a bracket around. It's primarily to simplify and make the whole installation of a radiator easy.
Additionally, the chassis has a removable bracket made for radiators up to 280mm. This makes it easier to install custom-loop or closed-loop water cooling systems.
Specifications
This time in our NZXT H510 Mid Tower Case review, we will focus on the H510's specification.
To begin, the chassis measures 210 x 435 x 428mm (W x H D) without the feet. With them, the only changes will be in the case's height, which will be 460mm from 435mm. When it comes to its weight, the case is 6.6kg in total.
For motherboards, the case supports mini-ITX, ATX, and Micro ATX. There are three available drive bays for 2.5" and 3.5" drives.
There are seven expansion slots available where the front supports two 140mm or two 120mm radiators with pull.
Fan Support
For fan support, the case allows for two 120mm or two 140mm fans in front. The top has space for a 120mm or 140mm fan; specifically, it's the Aer F-120 case version that's included.
Looking at its rear, the H510 Mid Tower Case also features a slot for one 120mm fan. Pre-installed on this portion is the inclusive Aer F-120 case version as well.
Fan Specs
The integrated fan for the H510 is the Aer Fd-120 case version. It has a speed of 1,200 ± 200 RPM, an airflow of 50.42 CFM, and 28 dBA noise. Also, the fan sports a rifle bearing as well.
Clearance
For the case's clearance specifications, there are allotted space for 19 to 23mm cables for management.
As for the GPU, there's up to 381mm available clearance without the front water cooler installed. If it's installed, there's up to 325mm clearance available.
The chassis has enough space for a CPU cooler that measures up to 165mm. The front and rear radiator allow 60mm for each.
This case can also accommodate a reservoir and pump that's up to 180mm along the cable bar. When it's along the bottom panel, it allows up to 86mm.
Lastly, the NZXT H510 comes with a 2-year warranty which is something we appreciate.
Hands-on with the NZXT H510 Mid Tower Case
Here in our NZXT H510 Mid Tower Case review, we'll see how things fared when getting hands-on with the chassis.
Setting-up the NZXT H510 Mid Tower Case
To begin, the NZXT H510 Mid Tower Case was extremely easy and user-friendly to work with. Its huge cable routing bar that's positioned on the right is great and does its work well. Plus, it also frames the entire build quality just as nicely.
The company spent time and effort to ensure that every builder will be satisfied. And honestly, you'll definitely feel the difference once you start building with the H510 Mid Tower Case.
Additionally, the case's vertical GPU power cable pass-through is an excellent extra to any PC case.
There's a lot of space even if you leave the rear and top fan installed. You'll get tons of space around your CPU cooler, which is great. Clearly, you'll be able to easily fit a hefty air cooler in the chassis.
Moreover, if you're opting for a customised loop or AIO solution for your rig, there are enough options for you.
Airflow
This time, let's take a look at the airflow within the case. Surprisingly, there's an adequate amount of airflow in this NZXT case.
Although it appears like there won't be enough airflow due to the minimal intake, it's the other way around. With its strategically positioned & designed gaps, the case allowed us to cool our system perfectly. This is us comparing the H510 to a case with visibly excellent airflow.
We honestly have no idea how NZXT thought of this entire design and layout. However, we're extremely happy with the outcome while they were able to maintain a sleek, classy, and premium-looking design.
NZXT H510 Mid Tower Case Review Summary
The NZXT cases are some of the strongest and most durable ones on the market. Although other popular brands aren't lagging behind, this doesn't stop them from producing award-winning products.
The designs of the company's cases have changed over the years, but we appreciate the clean and modern aesthetics. Although there are no big additions to their products, they've made changes on the small details, making them more refined.
When it comes to the NZXT H510 Mid Tower Case, everything about this case is excellent. Although simple, it has a durable body, is easy to set up, and it allows for optimal airflow.
Another thing we appreciate is the thick metal panels that make the case more sturdy and durable.
The chassis also comes with two installed high-quality cooling fans.  Also, the single-screw mounting for the glass panel makes it easier to access the case's interior. Moreover, it has well-designed cable routing channels for easier management and removable clip-in filters.
For its price, it's great to see that it comes with a combo audio jack and a USB Type-C connector. The unique dust filters are also another thing that we expected to increase the case's price. But surprisingly, we get all these features for a bargain.
Everything about the NZXT H510 Mid Tower Case is excellent. Its sleek aesthetic allows you to showcase your components, plus its solid body shows that it was carefully constructed.
As we end our NZXT H510 Mid Tower Case review, we're highly recommending this product to anyone. If you want this PC case, check out the company's store locator to find available retailers in your area.