We're writing our Phanteks Eclipse P600S Case review today to let you know all about the Eclipse P600S Case. 
It's a case designed to offer the best, giving you a hybrid product forged between a high-performing and quiet chassis. The Eclipse P600S is designed to let you find the best configuration by simply shifting between performance and quiet mode. 
Not only that, but Phanteks integrated efficient soundproofing panels with their new high airflow material. Basically, the product gives you the full potential for an excellent build with minimum noise and great airflow. 
If you're interested in this chassis, continue reading our Phanteks Eclipse P600S Case review for more details about it. But first, let's check out what's inside the box. 
Phanteks Eclipse P600S Case Packaging
Like always, we were excited to receive our package for this Phanteks Eclipse P600S Case review. Why? Because we'll get to check and try out the product and see how good it is for building your system. To note, the version we got was the white Eclipse P600S that sports a tempered glass side panel.
The chassis was packed safely and securely in a brown cardboard box. Although plain and simple, it was thick enough to protect the case inside.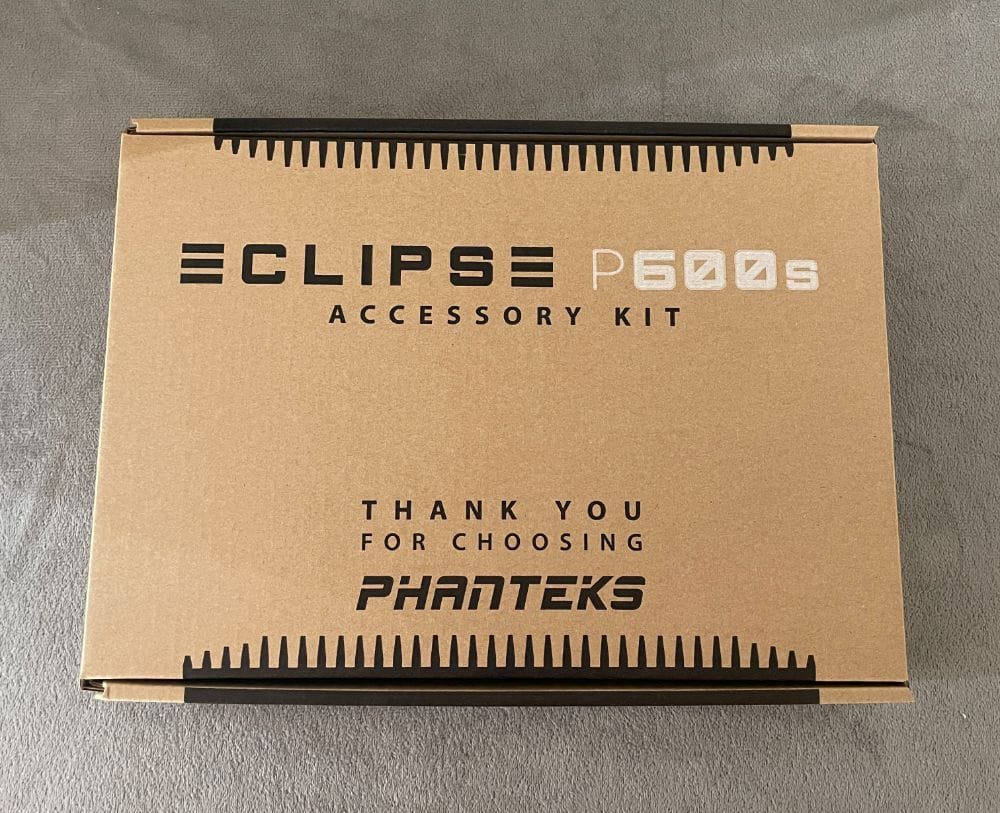 Additionally, the box also displays all the important features, specs, and even an image of the case for your reference. To note, the product's image is printed in black or white depending on what version you get. 
In the box, you'll find the chassis wrapped in both a soft plastic foam and black fabric bag. To avoid unwanted scratches, the company also added a protective film on the outer portion of the tempered glass side panel.
We love that the company included accessories which are all packed in a separate cardboard container. This keeps everything neat and well-organised, something that we greatly appreciate. 
The additional cardboard container includes all necessary screws, a detailed user manual, plus an airflow cover for the case's lid. There's a detailed user manual, some cables, a vertical GPU-mounting holder, and four mounting frames in the package too. The latter is specifically for 3.5" data carriers. 
The company also included three pre-installed case fans, a PWM-capable control board for up to eight fans, and pre-installed spacers. These are needed for the mainboard that you'll be using for the setup. 
And lastly, you'll find a holder to prevent your graphics card from dangling unnecessarily. 
Phanteks Eclipse P600S Case Review – Design and Functionality
To continue our Phanteks Eclipse P600S Case review, this is where we focus on the chassis' style and uses. The Eclipse P600S is a beautifully-designed mid-tower case with a number of features that make it unique from the crowd.
The case isn't all just aesthetics and functionality. It also has a great mix of RGB effects to match your setup's aesthetics. 
Overall, the chassis' exterior has a simple and low profile. In front, it's almost entirely closed and mainly has matte white-lacquered steel. 
Do note that only the upper portion and side of the case's air inlets are painted black. And specifically, these are for the front fans. 

Phanteks concealed the I/O panel along the upper area of the case. And to be exact, it's behind a flap while being equipped with a couple of connectors. These are a USB 3.1 type-C connector, two USB 3.0 type-A, a microphone, headphone, and the reset button. 
At the bottom section of the front panel, you'll see subtle branding with "Phanteks" written in silver letters.
This removable magnetic front panel has three configurations including slightly open, fully closed, and completely removed. When you leave the panel fully attached to the case, it will provide silent operation. For slightly opened and removed configurations, these allow for higher airflow but compromise soundproofing.
Behind the front panel, you'll find the sound dampening foam that retains silent operation. It works by preventing sound from exiting from the chassis' front.
This portion of the case sports a detachable centre panel which is lined with sound-dampening elements. The removable top is part of its dual-mode layout which allows you to receive adequate ventilation when things get hot. It's also necessary for when you add a radiator to your build.
The Eclipse P600S has enough room on the top for two 140mm fans or three 120mm fans. It can also handle 360mm and 280mm radiator support. 
Its thumbscrews located at the back of the chassis allow you to easily remove the top. Underneath it is a detachable mounting bracket for easier installation. 
Alternatively, you can utilise the Eclipse P600S' dual-system compatibility including space for one ITX board on the upper-rear corner. You can also add room for a magnetic cover for filling an empty slot when using smaller rads. 
You'll find the power button on the top portion which is pretty convenient for us. Generally, we think the case's entire features and construction display the company's consideration when it comes to its premium cases. And we're definitely not complaining about it. 

The side panels of the Eclipse P600S are mounted on hinges, and when opening these, they swing to the side. The left side is made of tempered glass, while the right side is completely made of steel. The latter also has an insulating mat and a fabric flap that works as a pull-out aid.
To ensure the security of the side panels during transport, each of these have two strong magnets. These are actually a good addition since you won't be worrying about things falling apart. 
Further optimising the product's silent properties and enhancing the airflow within the case, both side panels feature rubber seals. Additionally, the company included an opaque border that adds more aesthetics in our book. 
For the glass panel, it has a bit of a tint that enhances the visuals of your finished build. This is while still allowing you to view some of the extras such as the modded cables. 
So once you start with your build, you can remove its tempered glass by simply pulling off the hinge. When you do, you'll notice that it has four foam strips on each side. These will help decrease noise while providing enough cushioning when closing its panel. 

The rear portion displays the same look as the Enthoo Evolv X from Phanteks. Its power supply unit is set at the base, while above it, you'll find 10 PCI slots apertures. 
Seven of these are horizontal, while the rest are vertical. The latter is utilised for vertically mounting graphics cards. 
Also, you can find the pre-installed 140mm fan and the I/O shield's opening in this area. If you're attentive, you'll see a cover plate that's further attached to the upper portion of the case. To note, this is the assembly section for a second system that's in ITX format.
When looking at the bottom of the Eclipse P600S, there are four rubberised feet with detachable PSU intake filters available. 
The major feature of the Eclipse P600S is its switchable modes that range from acoustic pleasure to high-performing airflow. When it comes to its default settings, it's fairly quiet. And to change it, you need to remove the magnetic central panel from the front area.

The exterior's white theme and black accents continue on the Eclipse P600S' interior. It has a full-length PSU shroud which is great since it offers a lot of room to work with. 
If you've built PCs in multiple mid-tower cases, you'll notice the Eclipse P600S' extra space above the motherboard tray. This will allow you to install an ITX system in the case's roof section. Instead of using plastic grommets, Phanteks went for a plastic sliding panel that looks better than the conventional grommets.
Down to the PSU shroud are multiple cable cutouts near its rear for your motherboard wire. There's also a covered cutout for your GPU and another toward the front if you want a push/pull configuration. Near the shroud's front is a bevelled edge with "Phanteks" inscribed on it which adds to the case's aesthetics.
You'll also find two pre-installed 140mm fans in front and another one on the rear.
Fans of cable management will love the rear portion of the Eclipse P600S' interior. It has a lot of tiedown points on the left and bottom, all of these including Phanteks-branded Velcro straps. Below the motherboard cutout, there are three 2.5" drive brackets as well.
Two cable channels are held in place with double-looped Velcro strips on the left portion of the case.
Key Features of the Phanteks Eclipse P600S Case
Let's check out the different key features of the case in this section of our Phanteks Eclipse P600S Case review. All these elements are what make it unique and different from other similar products on the market. 
Keeping Things Silent
The Eclipse P600S' silent mode allows you to enjoy peace and quiet even under heavy loads. With the presence of its weight-reinforced acoustic panels, you can enjoy and take advantage of decreased noise. So, you won't have to think about unnecessary distractions when using your system. 
High-performance Chassis
Switch to the high-performance mode in just a snap by removing the acoustic panels on the chassis. This will reveal the High Airflow Fabric Mesh from Phanteks to provide ultimate airflow for your needs. 
Effective and Optimised Soundproofing
You can set the Eclipse P600S in silent mode to considerably dampen the internal hardware sound. This is while allowing adequate case airflow which is all thanks to the efficient soundproofing panel design. 
It has multiple layers of sound insulation that prevents high and low frequency sound waves. Then, its effective soundproofing panel breaks down the inner sound waves in multiple sections before exiting the case. At the same time, it allows enough airflow to pass through. 
Outstanding Cooling Capacity
The Eclipse P600S uses its chassis' size and form to offer a number of possibilities when installing fans and radiators. The case supports 120mm +140mm fans and radiators in specific arrangements; plus, it's flexible to easily mix and match sizes. 
Excellent Storage of the Phanteks Eclipse P600S Case
The product has the capacity to install up to ten 3.5″ hard drives and more than three SSDs. That means, you'll never have problems with storage space. And with all this flexibility and convenience, you're free to customise your build even more. 
Specifications
Let's continue this Phanteks Eclipse P600S Case review and discuss the different specifications of the Eclipse P600S. 
The Eclipse P600S is a mid-tower chassis that supports E-ATX, mATX, ATX, and Mini-ATX motherboards. It measures 240 x 520 x 510mm (W x H x D), and weighs 13.5 kg. 
It utilises steel, plastic, and tempered glass which helps give off that premium and sophisticated vibe to the product. 
The case's front holds a USB 3.1 Type-C, two USB 3.0, a speaker, and one mic connection. Then, it has 10x 3.5" / 2.5" (4x included), and 3x 2.5" (3x included) drive bays. 
For its extension slots, there are a total of ten available. And to break it down, there are seven horizontal and three vertical ones. 
Fan Support and Pre-installed Fans
It supports three 140mm or 120mm front fans and a 140mm/120mm rear fan. For the roof, it supports two 140mm or three 120mm roof fans. Then, it has two 140mm front and one 140mm rear pre-installed fans. 
Additional Specifications of the Phanteks Eclipse P600S Case
It supports 240|280|360|420mm front radiators, 240|280|260mm top radiators, and 140mm rear radiators.  
The total CPU cooler height it can work with is 190mm while the graphics card length it can accommodate is 435mm. Then for the space for its front radiator, there's 85mm available, while space for the top radiator is 65mm. 
Maximum power supply length is 195mm with the HDD cage then without it is 250mm. Lastly, its cable management space is 30mm. 
Hands-on with the Phanteks Eclipse P600S Case
This is the most important section of our Phanteks Eclipse P600S Case review since it focuses on how it performed. But before that, we will share how the whole process went when it came to the installation of components. 
Generally, it was a quick and easy process wherein we had a lot of fun installing these. With the generous space and pre-installed spacers, we were able to install and wire all the primary components easily. 
The well thought-out and finely equipped cable management system needs to be mentioned too. Its available Velcro strips, smartly-positioned opening, and the movable plastic plates allowed us to readily create a neat system. And even along its rear, the case had a clear arrangement of its cables which was great. 
It was extremely effortless to establish a clean and organised build with the Eclipse P600S. And it was all thanks to the help of its specific features. These include the cutout sliders and the cutouts below and above the motherboard.
Some of our favourite features were the vertical GPU mount and detachable side panels. We also loved that all the panels were magnetically attached to the case. 
It's very easy to work with, and compared to other cases we've tried using, it was more convenient. The additional plastic covers plus modular drive bays were easy to move around. And for its water-cooling support, it was just as great.
Additionally, we also didn't experience any issues with the CPU or graphics card cooler's limits.  
If we'd compare the Eclipse P600S to another similar product, we'd say it's quite comparable to the Define R6. But in our opinion, we'd definitely go for this Eclipse P600S instead. 
Thermals and Fans
When it comes to the thermals, we can't deny that the Eclipse P600S excelled in this department. We simply had to configure it correctly and it performed amazingly and quietly too. 
It provided us with great cooling which eventually became exceptional when we removed the magnetic panels. This allowed the new mesh material to do its thing. Simultaneously, it was still able to provide adequate airflow that was enough to deal with our overclocked system. 
We could hear the pre-installed fans at full speed because of the air turbulence coming from the case. But when we linked the PWM board to the mainboard and decreased fan speeds to 70-80%, it was amazing. We experienced a very quiet system, but remember that this also depends on the installed components in the case. 
Phanteks Eclipse P600S Case Review Summary
Phanteks continues to bring PC cases with excellent design and quality with the Eclipse P600S. When we built our PC on this case and tested it, we couldn't find any flaw with the product. It was easy to work with and it delivered impressive thermal & acoustic performance.
The Eclipse P600S is a well-designed versatile case that supports air or water-cooled builds. It also has a spacious interior and accommodates a lot of components, so you have a lot of options. That's why we were looking forward to building and testing the case for our Phanteks Eclipse P600S Case review.
Overall, this is a superior PC case that delivers everything in a single package. So if you want to know more about the Eclipse P600S case, check out Phanteks' official product page for these.