We are writing our NZXT H7 Flow Case Review to discuss everything necessary about the H7 Flow Case. It is a mid-tower chassis made to bring the cool since it sports perforated top and front panels. It even comes with other neat features that help keep any build cool while offering adequate space. 
Continue reading our NZXT H7 Flow Case Review to learn more about the case's design, functions, specifications, features, and performance. And for starters, let us look at its packaging and contents. 
NZXT H7 Flow Case Packaging
The chassis box is not fancy at all. It is a simple yet thick cardboard container with an illustration displaying one part of the product. It has a blue sticker on one side that shows H7 Flow. Then, a big NZXT displayed at the top of the box is present.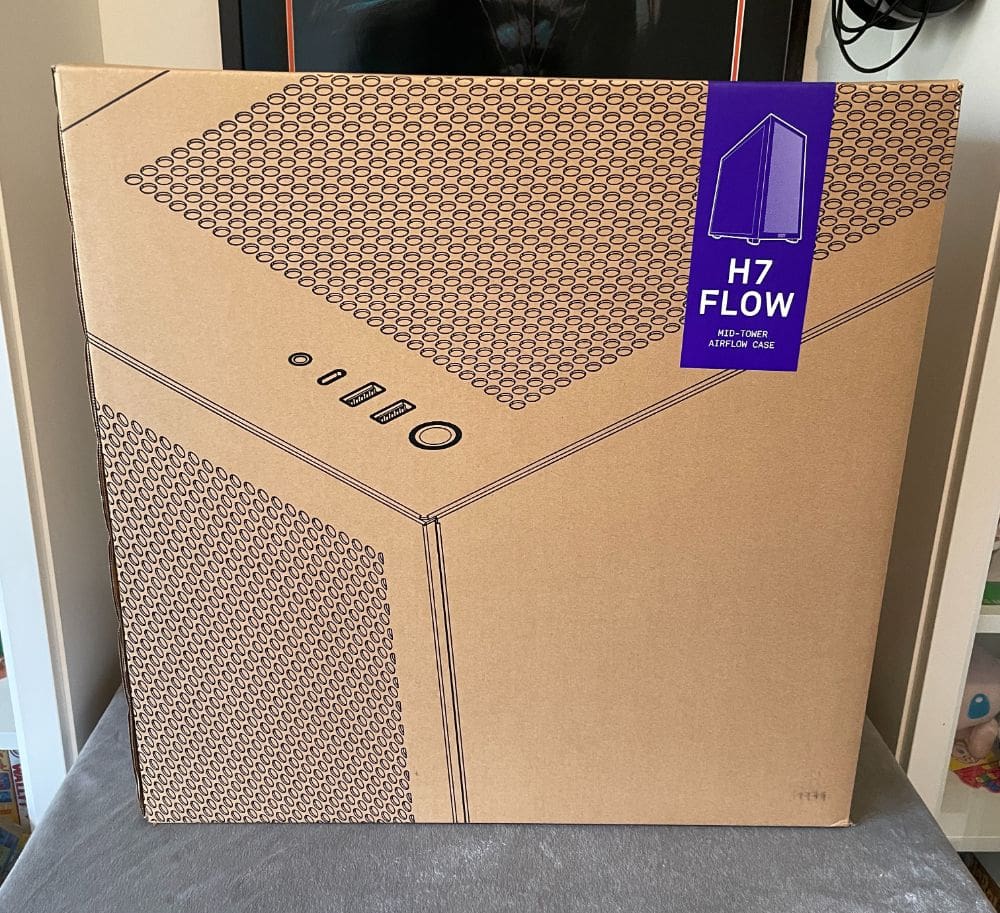 We also looked at the contents of our NZXT H7 Flow Case Review. Aside from the H7 Flow case, the package contains all the necessary installation accessories and a user manual. Of course, NZXT included two 120mm Quiet Airflow Fans to complete the H7 Flow. 
NZXT H7 Flow Case Review – Design and Functionality
What we have for our NZXT H7 Flow Case Review is the H7 Flow in matte white/matte black. It is a nice mix of colours and fits perfectly for our build. You can also go for matte white or matte black if the matte-white/matte-black combination is not your thing. 
NZXT revamped the iconic design of the case, making it more focused on cooling performance. It does the job of keeping temperatures under control while also maintaining its low-noise levels despite heavy loads. Its design provides an effective, efficient, and excellent PC case.
It sports a steel side panel opposite the glass on the left panel. However, remember that its rear is less ventilated than the front.
Here, you will find a standard mix of a dual pattern full-ATX power supply mount and seven expansion slots. There is even a 120mm exhaust fan that supports 140mm fans. Its slot area does not support slot separators that let you optionally install vertical-mount graphics card kits. 
Remember that the graphics card kit is not with the H7 Flow, so purchase it individually instead. 
We love its ventilated snap-on top panel, which is similar to that on the front portion. The front edge of its top section houses a mic/phone combo jack. Aside from that, other elements it carries include the following: 
Two USB-A ports on one internal Gen-1 USB 3 interface

A Type-C port with Gen-2 internal USB 3 interface

One power button that surrounded by a LED power indicator ring
Additionally, its panel showcases slide-out filters for the intake gap and power supply.
Interior of the NZXT H7 Flow Case
The company equips the H7 Flow with a snap-off front with a plastic-framed snap-in filter that conceals the ventilated area. 
Its snap-off top panel also features a filter that links to the area under the case. The filter even conceals a mount that holds three 120mm or two 140mm fans and even other radiators with corresponding sizes. 
Layout
The interior features a gap enough to support a 10.6-inch-deep board behind a detachable cable-concealing shroud. It also has room to set a 60mm mix of radiator and fans over the board. 
An extra 30mm/50mm horizontal offset between its standoffs, plus the space for fans measuring 120mm/140mm, is ideal. These are perfect if you want to utilise additionally-thick radiators.
Then, over 400mm divides the front fan mount from the slot panel.
The front part of the power supply is large enough to hold a 60mm radiator with mounted fans. A little rectangular hole located further behind lets you access the release screw of the drive cage. And you can do it using a screwdriver. 
Along the rear are two large cable management brackets and two little 2.5-inch snap-in drive trays. Additionally, a semi-concealed 3.5-inch drive cage positioned far from the power supply mount is present. 
Additionally, its thumbscrew securing the drive cage limits the length of the power supply to 233mm. Then, the second batch of screw and tab holes allows you to shift it about 19mm forward. But the thing is, placing it in that area decreases the lower section of the radiator mount. 
When removing all the panels of the H7 Flow, you will see the spaciousness of its interior. 
Ports of the NZXT H7 Flow Case Review
The H7 Flow has several ports and a single front-panel LED/button connector. Other ports that complete the front panel are HD audio and USB 3 Gen-1 (for Type-A ports). Then lastly, you will find a USB 3 Gen-2 (for Type-C port).
Key Features of the NZXT H7 Flow Case 
Aside from design and aesthetics, the number of product features often dictates the price of a chassis. When choosing a suitable case for your PC, looking for the elements you need is best. 
We are discussing its features in our NZXT H7 Flow Case Review to see if it offers good value.
Improved Ventilation 
The H7 Flow offers better thermal efficiency with the perforations on its front and top panels. These holes allow for increased ventilation.
Aside from the perforated design, the case has room for multiple fans to provide more ways for air to flow. The top and front portions can support up to 360mm radiators for maximised cooling.
Pre-installed F Series Fans in the NZXT H7 Flow Case
The H7 Flow comes with the F120Q cooling out of the box. These fans offer high-quality cooling to keep your component temperatures low.
Simple Cable Management 
Cable management is one of the most tedious and frustrating parts of building a PC. With the H7 Flow, you can use the space for keeping cables and not worry about an unorganised build. The chassis also has channels/hooks to make cable management easy.
Routing cables is a simple process with wider cable channels, while the hooks increase stability.
Modern Look of NZXT H7 Flow Case 
The H7 Flow combines the modern aesthetics of the H series cases with new colour options to fit any aesthetics. We have the matte-white/matte-black combination, but you can opt for the all-black and all-white variants. These also have a matte finish.
The white chassis has clear glass panels that allow you to showcase your components, while the others have tinted glass.
Tool-less Access 
You can easily access the front and side panels of the H7 Flow with its toolless design. It is ideal for builders who often change and try new PC components.
Supports Vertical GPU 
If you use the vertical GPU mounting, you can install your GPU vertically in the H7 Flow. Note that you can only purchase this separately.
Versatile Motherboard Support
Finding an aesthetically pleasing case that will support your motherboard can be challenging. Fortunately, the H7 series supports all consumer desktop boards and several E-ATX boards. You can choose from a range of motherboards, and you will not run out of options to add more fans.
With the H7 Flow, you can enjoy excellent ventilation, aesthetics, and versatility.
Specifications
To continue our NZXT H7 Flow Case Review, our focus on this section is the specifications. The H7 Flow is a mid-tower case supporting Mini-ITX, ATX, Micro-ATX, and EATX (up to 272mm) motherboards. It measures 505 x 230 x 480mm (HxWxD) and weighs 10.05kg.  
The H7 Flow has a total CPU cooler clearance of up to 185mm. Then, its maximum GPU clearance is up to 400mm. Its front and top radiator clearance is 60mm and 30mm, respectively, while cable management is 18-22mm. 
The available front I/O ports on the case include two USB 3.2 Gen1 Type-A ports. There are also two USB 3.2 Gen2 Type-Cs and one headset audio jack. 
The H7 Flow can hold 4+2 2.5-inch and two 3.5-inch drive bays. It supports three 120mm/three 140mm fans in the front and three 120mm/two 140mm fans at the top. Also, it can hold one 120mm/one 140mm fan on the rear.
For the radiators, the front of the case can handle up to 360mm radiators with the push/pull function. For the top and rear sections, it supports up to 360mm and 140mm radiators, respectively. 
Lastly, the case uses two F120Q fans that run at 1200 ± 240 RPM. It has 62.18 CFM airflow, static of 1.05mm-H2O, 25.1 dBA noise, and a 3-pin fan connector. 
Additionally, NZXT included a 2-year warranty for the H7 Flow. 
Hands-on with the NZXT H7 Flow Case 
We also tested the product to share our experience with it in our NZXT H7 Flow Case Review. Doing so will help you determine if it performs well and is suitable for your PC parts.
But before focusing on its performance, we will discuss how the building process went.
Before using our PC, we had to install our components first. The first thing we loved about this case was its motherboard versatility since it supported the one we used. 
Installing the radiators was also easy since it had room for the top, rear, and front. Plus, it can support radiators up to 360mm. We also used extra fans aside from the included F120Q fans to maximise the cooling capacity of this case.
The available hooks and channels made cable routing an easy task for us, so we spent less time on this. We also loved how these features kept our entire build organised.
As mentioned earlier, the H7 Flow has a perforated top panel and enough room for three 120 or two 120mm fans. It also provides additional fan support in the front than the H710,  allow140mm fans. Plus, the rear supports one 120 or 140mm fan.
While using the product, we tested its thermal performance and noise.
The first thing that impressed us was the included F120Q Airflow case fans with the H7 Flow. They were silent even when we set them at their maximum 1200 RPM. While operating quietly, they also provided adequate air for our PC components.
For 3-pin fans, they delivered performance beyond our expectations.
With standard fan configurations, our CPU temperature was only 59°C under the optimised idle mode, and the GPU was 64°C.
We liked the mostly-perforated design of the H7 Flow since it allowed for adequate airflow. None of us expected it to be quiet since it was an airflow-focused chassis. But to our surprise, it delivered an impressive acoustic performance even with our components under full load. 
Although not whisper-quiet like other PC cases on the market, we were pleased with the results. It efficiently maintained low temperatures with minimal noise.
NZXT H7 Flow Case Review Summary
The H7 Flow from NZXT is a well-designed case with a sleek matte finish. The company offers three colour choices, so everyone can choose which works best for their build.
Aside from aesthetics, the H7 Flow delivered satisfying performance when we tested it for our  NZXT H7 Flow Case Review. NZXT continuously enhances their H series cases by making various changes over the years. And the H7 Flow only proves it can continue to impress and meet the thermal demands of high-end hardware.
After seeing our test results, we were happy and had no complaints about the H7 Flow. Aside from having good looks, it delivered impressive thermal and acoustic performance. We also liked the unique approach to airflow by using perforated panels instead of the usual fine mesh.
Another thing we liked about this case from NZXT is it comes with everything you need. It has two fans and a range of accessories necessary for building your PC. Also, its cable management and support for numerous fans and radiators of different sizes make it highly versatile.
The H7 Flow delivered an excellent performance at a reasonable price. Combining superior aesthetics and advanced features makes it something we highly recommend. It will please newbies and experienced builders and work for mid-budget to semi-high-end PC builds.
To learn more about the H7 Flow Case, visit the official product page of NZXT.