Incredible performance with reliable optimisations built for you and your computer. NZXT introduces their newest line of coolers, the Kraken X series. In our NZXT Kraken X53 RGB CPU Cooler review, you'll learn about this cooler and how efficient it can be. 
The Kraken X series line of coolers brings in a set of new features to look into. They offer better and bigger LED lighting, high-performing fans, radiators and pumps, as well as a user-friendly software interface. 
With that said, let's jump right into our NZXT Kraken X53 RGB CPU Cooler review. 
NZXT Kraken X53 RGB CPU Cooler Packaging
Before we get into our NZXT Kraken X53 RGB CPU Cooler review, we look at the items that come with the product. 

The NZXT Kraken X53 RGB CPU Cooler comes in a medium-sized white and violet package. You will see the image of the product and its brand on the front. 
On the sides, you will find some technical details about the product. These are the factual information such as the material, dimensions and more. 
At the back, you will notice a diagram of the product installed in a PC set. There, you will be provided with more information regarding the functions of the product and its features. 
To open, just remove the latch and lift the top cover up. Inside, you will be greeted with an NZXT card, the product itself, cables for the product, mounting equipment, 2 AER RGB fans and the instruction manual.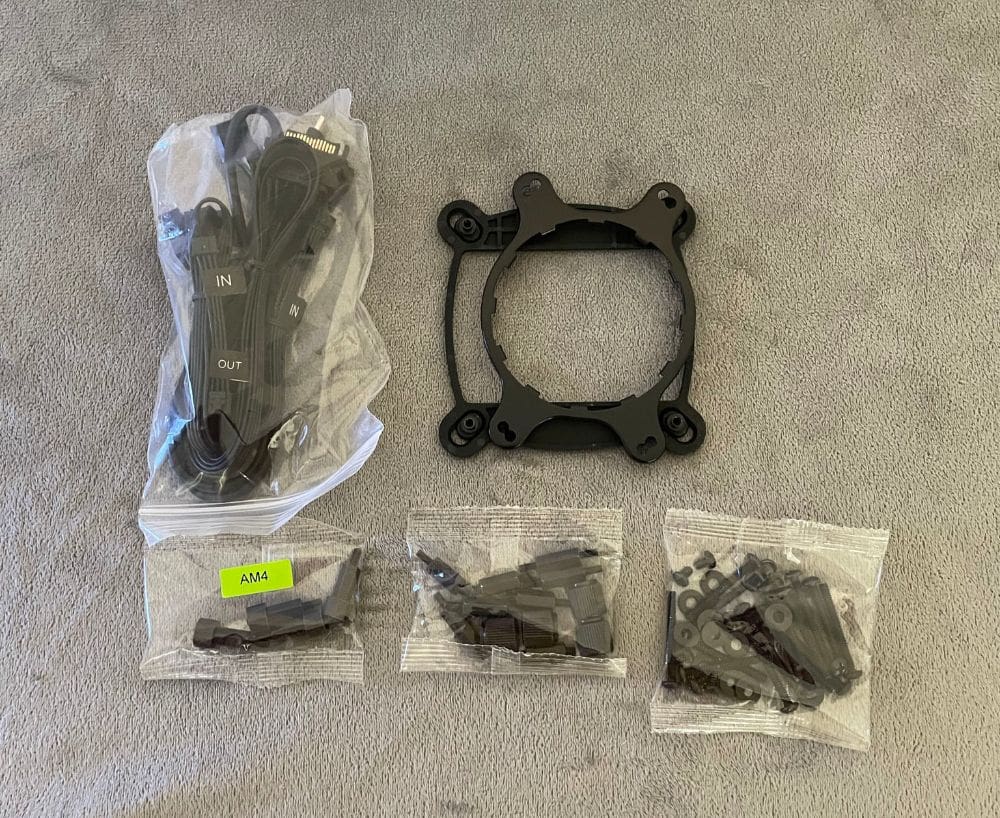 All of the items listed are carefully placed in a cardboard mould. This is to hold the items in place to prevent damages. Other than that, they are wrapped in plastic to shield them from unwanted substances that may enter. 
As you can see, NZXT caters to the safety and security of its products. 
NZXT Kraken X53 RGB CPU Cooler Review – Design and Functionality
Alright, now let's go over the product's physical properties in our NZXT Kraken X53 RGB CPU Cooler review. Here, we study the design and functions of the product.
The NZXT Kraken X53 RGB CPU Cooler comes from NZXT's latest Kraken X cooler series. It is made brilliantly for even the most demanding PC systems. They provide an extensive range of functions that boost efficiency and quality in your play. 
With the Kraken X series, you can fine-tune the settings to best fit your PC rig. It also offers a visually stunning RGB colour style and provides a series of optimal performance-enhancing features.
Our Kraken X53 comes in the classic all-black theme, which is a common design for most coolers. Other than that, the cooler is paired with 2 AER RGB fans on its radiator together with a 400-millimetre tubing attached to the cold plate.
Thanks to the Kraken X series, it has a fully customisable RGB lighting and silent operation. It also has an RGB connector for additional RGB options. It also features a remade cap with a wider infinity mirror ring LED. 
The latest Kraken X offers an excellent experience with RGB liquid cooling with a six-year warranty. 
Key Features of the NZXT Kraken X53 RGB CPU Cooler
Going away from the design, we will now check the features of this product in our NZXT Kraken X53 RGB CPU Cooler review. There are specific characteristics the product has that makes it distinct from similar products. 
Kraken X Series
NZXT's latest line of coolers brings new options to the table. It provides a must-have versatility of functions for anyone looking to build elite gaming rigs. You can expect efficient cooling, outstanding visuals, alternative intuitive installation and more. 
It brings up an extensive setting system with CAM's software interface. This allows you to reconfigure the system to maximise its potential on your computer. By that, you are ensured of the quality you will get from this product. 
Bigger and Brighter
On the Kraken X series, you are provided with a 10% bigger LED ring light on the cold plate. This is also true for the Kraken X53. With a bigger LED ring, you can see more clearly the inside of your computer. 
Other than the light, it offers a rotatable top that accommodates the re-orienting logo. This brings NZXT's style and theme to your gaming rig. 
CAM
CAM allows the user a wide variety of controls for the lighting effects. Its sophisticated controls allow an intuitive interface ready to be used and managed. Thanks to CAM, you can sync your lighting effects with other NZXT RGB products. 
This integration also provides the user full control over Kraken's performance in terms of precision, temperature, efficiency and more. You can easily make these adjustments thanks to the software provided. 
Specifications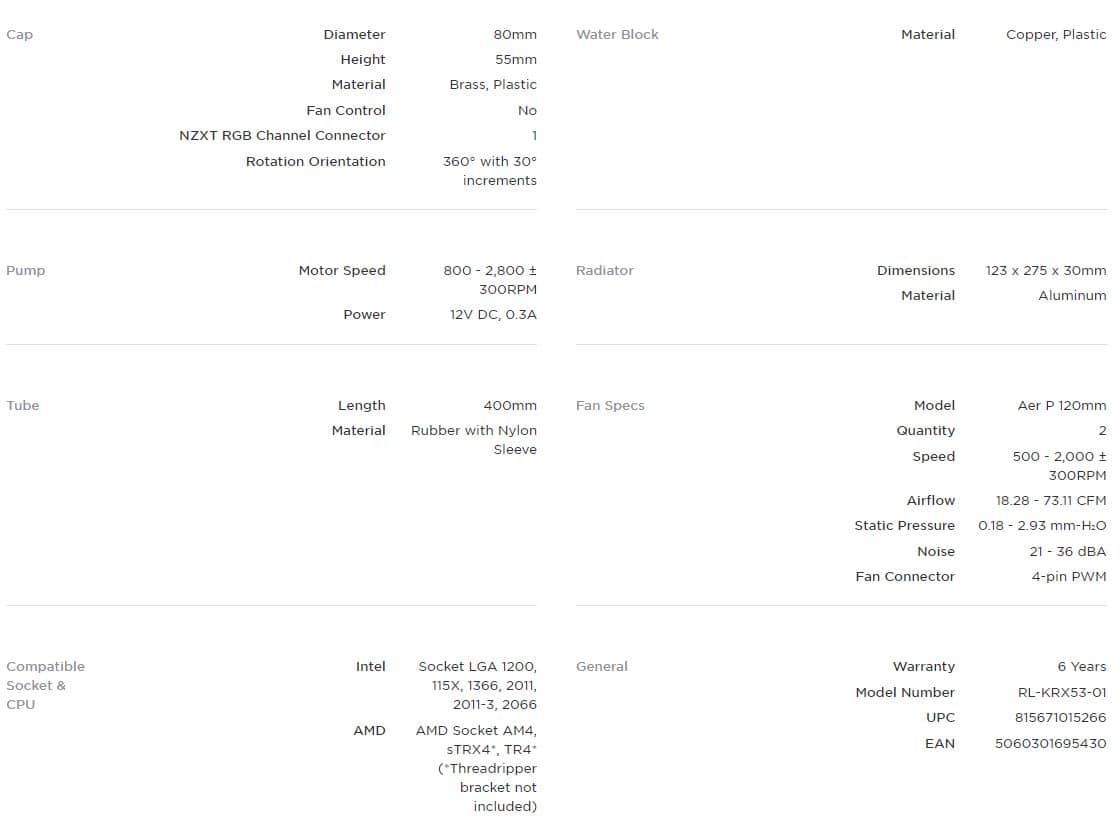 Additionally, our NZXT Kraken X53 RGB CPU Cooler review checks out the product's technical information. 
Water Block
The Kraken X53 cooler comes with a water block that sizes 80 millimetres in diameter and 55 millimetres in height. Regarding the materials used, the block is copper and its housing is plastic. 
Copper is the most common material used for cold plates as it is very versatile and durable. 
Pump
The pump is also attached to the cold plate. This makes it easier for water to flow and provides more space for the tubbing. Its motor speed goes about 800 to 2,800 plus 300 rotations per minute. 
Its power requirement is only 12VDC, 0.3A, which is relatively low for a CPU cooler.
Radiator
This is the biggest part of the whole product that takes up the most space. Its dimensions are 123 by 275 and 30 millimetres. For the material used, they kept it Aluminum. 
Tube
Regarding the tubes, they connect the pump to the radiator. Its length is about 400 millimetres with a braided nylon sleeve and ultra-low evaporation rubber for its material. 
Cap
Apart from that, the cap is made up of plastic and brass with a 360-degree rotation orientation. It also comes with 30-degree increments. 
On the cap, there are 9 LEDs with a channel output voltage of 5V DC. It also has LED quantity of up to four LED strips with 10 LEDs per strip. The AER RGB fans go up to five and six with the NZXT RGB accessories.
Fans
The fans used for this product are the AER RGB 2 120 millimetre model. For this product, you are provided with two fans. Its dimensions are 120 by 120 and 26 millimetres. 
Aside from that, the speed ranges from 500 to 1,500 + 300 rotations per minute. It also has an airflow of 17.48 to 52.44 cubic feet per minute and an air pressure level of 0.15 t o1.35 millimetres. 
For all you silent-product enthusiasts, the noise level goes around 22 to 33 dBA. This should be quiet enough for your gaming rig. 
One of the features of this fan is the fluid dynamic bearing. This is responsible for the silent operation during usage. 
It has a power consumption of 12V DC, 0.18A, 2.2W and a 4-pin PWM connector, making the fan spin faster for stronger and cooler airflow. This fan has a total 60,000 hours or 6-year life span.
Compatibility
The Kraken X53 cooler is compatible with a number of processors. For Intel sockets, the LGA 1200, 1151, 1155, 1150, 1156, 1366, 2066, 2011 and 2011-3. These are Intel Core i9, i7, i5, i3, Pentium and Celeron. 
Regarding AMD sockets, AM4, sTRX4*, TR4* and its processors AMD Ryzen 9, Ryzen 7, Ryzen 5, Ryzen 3 and Threadripper. 
Hands-on with the NZXT Kraken X53 RGB CPU Cooler
NZXT is well-known around the globe for the world-class quality of its products. They are most familiar with the AIO or all-in-one liquid CPU coolers. For that, our expectations are always high when we review their coolers. 
When the product first arrived, just by looking, we knew that we expected nothing less from NZXT. Its classic aesthetic look topples other products that have also used a similar design.
Other than that, we had no trouble at all installing the product to our PC rigs. It was easy enough to place, and the tubes were flexible in maneuvering inside the computer. 
Regarding its performance, the cooler effectively stabilised the temperature levels of the processor and heat levels inside the computer. The AER RGB 2 fans, helped in circulating the air inside the computer. 
Furthermore, it kept the processor at an average 50°C temperature. This wasn't too high or too low and made our PC perform well even during extreme conditions. Additionally, it boosted the PC's overall performance and our experience, thanks to its silent operating fans.
Overall, the NZXT Kraken X53 RGB CPU Cooler does well in keeping your PC safe and stable as well as efficient and reliable.
NZXT Kraken X53 RGB CPU Cooler Review Summary
Before we end our NZXT Kraken X53 RGB CPU Cooler review, we go over the product and provide our final thoughts.
The NZXT Kraken X53 RGB CPU Cooler is a cooler that features excellent visual effects, quiet operations and performance-enhancing functions. These help your computer to go beyond its limits and increase game performance and more.
Thanks to the CAM software, you can reconfigure all the settings and even fine-tune them to your heart's content. With that, we can easily say that we recommend this product to anyone looking for a good cooler. If you are interested in NZXT's Kraken X series, then click here for more.