Are you searching for an efficient memory module with quality build and efficiency? We've got you covered, and we're giving you that in our Patriot Viper RGB 32GB DDR4 RAM review.
The Viper RGB Series memory modules from Patriot have a design and build made for extreme performance. They're compatible with the latest AMD and Intel platforms to provide a seamless and efficient connection to any build.
The Viper RGB 32GB DDR4 RAM offers enhanced stability and performance, plus vibrant dimensions present with RGB lighting. The memory kit includes different lighting zones that are entirely customisable using Patriot's proprietary Viper RGB Software.
It features high-quality heatshields made from aluminium that sports a distinctly aggressive design. The modules are also made to be durable, exhibiting the efficiency that Viper Gaming can offer. Plus, its design enhances and improves the appearance of any build.
The memory has a captivating-looking heatshield offering enhanced heat dissipation. It's to guarantee quality performance even in the most demanding applications. You'll find them either in black or white heatshields on 16GB dual kits, speeding up to 4,133MHz.
Patriot Viper RGB 32GB DDR4 RAM Packaging
This time on our Patriot Viper RGB 32GB DDR4 RAM review, we'll focus on its packaging, and the contents included.
The Viper RGB came in a flat, small, yet flashy box. The box's front displays an image of the modules, the necessary data regarding the product, and its support.
There's also information that it works with ASUS Aura Sync, Gigabyte RGB Fusion, ASRock Polychrome Sync, and MSI Mystic Light. Generally, the memory's package has a lot of information, so you won't only see the logos and product's name there.
Aside from those, you'll also find a Gamer Certified monogram on the box's front portion.
The top portion of the package displays all the boards that can control the memory kit's RGB lights with speed. Below these details, you'll find the RAM's speed, colour, and density.
When you flip the box, its rear features a couple of other details about the memory module. Additionally, it's also where you'll see that it comes with a lifetime warranty. Inside the package, you'll find the two memory modules, two Viper stickers, plus a user's manual.
Patriot Viper RGB 32GB DDR4 RAM Review – Design and Functionality
This section of our Patriot Viper RGB 32GB DDR4 RAM review talks about the functions and design of the memory.
At the centre of each module, you'll find the silver Patriot Viper logo on it. If you take a good look at it, these are cut-outs for eyes where the RGB lights will shine through. Other than these highlights for the design, the main portion of the modules appears plain and simple.
When you flip the memory modules, you'll find a sticker on them featuring the speed, timings, part numbers, and more. Looking at the module's sides, you can see the RGB diffuser and heatspreader extending past the modules. Remember the modules are about 45.4mm thick, especially when you have bigger CPU coolers extending over the memory slots.
The memory modules' heatsinks are tall, which is another reason why you should remember the CPU cooler's size. Lots of manufacturers take care of this. However, some brands still produce huge cooling solutions that don't fit with the RAM.
RGB LEDs
When looking closely at the Viper RGB, you can see that it has five LED lights on each memory. Patriot isn't concealing the small quantity of LED lights since you can individually set up each zone via Patriot's software.
The RGB LED lights of the RGB 32GB DDR4 RAM are the primary highlights of the modules. Generally, the LEDs of these memory modules are highly pleasing in an aesthetic manner. The RGB diffuser utilised by the company angles up to each edge, adding the usual Viper effect.
In all honesty, we're all for this since flat plain RGB modules are abundant today.
When you look at the diffuser, you'll find Viper written at the centre. It's basically there to let everyone know that you're utilising the Patriot Viper 32GB DDR4 RAM.
The next part of our Patriot Viper RGB 32GB DDR4 RAM review is all about the memory's key features.
Key Features of the Patriot Viper RGB 32GB DDR4 RAM
On this part of our Patriot Viper RGB 32GB DDR4 RAM review that talks about the module's essential features. These are some vital aspects to help you decide if it's something you'd need for your build.
XMP 2.0 Support for Automatic Overclocking
The Viper RGB 32GB DDR4 RAM features Extreme Memory Profile or XMP 2.0. With that, your system can perform automatic overclocking. XMP 2.0 makes overclocking easier and more accessible to beginners by providing predefined overclocking profiles.
Enabling XMP 2.0 enables you to take advantage of maximum performance that is both fast and stable. This feature makes the Patriot Viper RGB 32GB DDR4 RAM one of the most competitive sets of RAM modules.
5 Customisable RGB LEDs and User-Friendly Software Application
Each module of the Viper RGB 32GB DDR4 RAM has five RGB LEDs. The RGB LEDs are individually controllable. All of these are customisable via the Viper RGB Software, which is downloadable from Patriot's official website.
Compatible with the RGB Sync Apps of Leading Motherboard Partners
The Patriot Viper RGB 32GB DDR4 RAM is compatible with a variety of RGB Sync Apps. These include Gigabyte RGB Fusion, ASUS Aura Sync, ASRock Polychrome Sync, and MSI Mystic Light.
With that, matching the RGB effects with hardware components and accessories connected to your motherboard is now easier.
Just keep in mind that you shouldn't have multiple applications installed at the same time. Otherwise, these won't work as intended, and your RGB configurations won't function as well.
Hands-On with the Patriot Viper RGB 32GB DDR4 RAM
Now on our Patriot Viper RGB 32GB DDR4 RAM review, let's get more hands-on with the Viper RGB 32GB. But before anything else, let's take a quick look at Patriot's light control software.
Patriot RGB Lighting Software
The memory modules come with  software that controls and manages the RGB lighting. These include the LED brightness, lighting mode, and LED speed. The application is downloadable from the company's official website.
Before utilising the software, keep in mind that it may have some conflict with other motherboard RGB control software applications. If you want to run it, make sure that you don't have apps such as Aura Sync running simultaneously. Also, note that you can set up and configure up to five profiles using the Patriot RGB Lighting Software.
When opening the software, you'll be taken to a screen displaying your modules. It also lets you switch the heatspreader's colours, giving you a better idea of what these hues look like.
Here, you can choose from a list of modes, including Breathing (default), Dark, Heartbeat, Viper, Marquee, Raindrop, Neon, and Aurora. For people who aren't into fancy and decorative lighting, you can simply disable the RGB lights by selecting Dark mode.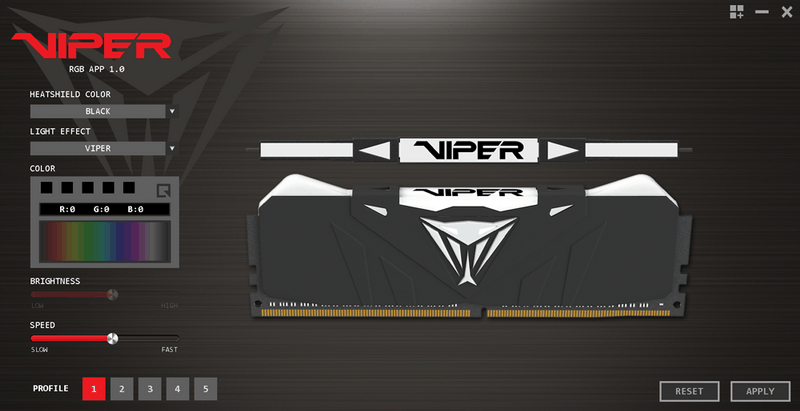 The memory module has zero issues running and functioning at its rated speed. There were also no problems with its compatibility with Gigabyte, ASRock, or ASUS boards.
During our tests, we can say that file compression is where the Patriot Viper shines. It was able to beat similar products with its XMP profile active.
Compared to other RAM we've seen, the Patriot Viper RGB was able to stand its ground during our tests. its speed is great and does not cause any bottleneck issues and the RAM handled everything smoothly. With the Patriot Viper RGB, it was able to deliver more than what we expected and it also provided more headroom for increased performance in our system.
When it comes to overclocking, it was very easy since the most convenient way to do this is by altering the frequency set in the Bios. Overclocking is not something that is necessary for this RAM as it performs fantastically at stock, but it is always nice to have the option to squeeze a little more out of it should you want to.
Right out of the box without anything controlling the RGBs, the Viper RGB defaults to the Rainbow mode. Here, LEDs continue cycling through the colour spectrum.
If you're someone who has motherboard RGB controls using the software or BIOS, the memory is entirely compatible. Here, the whole system can be set to a specific theme where the cooler, chassis, board, and memory sync.
But if you don't have this specific feature, you don't have to worry at all. You still have the option to readily customise these simple flat black sticks using the Viper software. And even if others don't consider this, we think that the eyes featured on Viper logos are illuminated quite nicely.
Of course, we attempted to match the module's RGB lights with other devices we had. Surprisingly, these were able to detect the memory without any problems or issues. We successfully matched all our effects but did not achieve the per-LED customisation that was present via the Patriot software.
After the tests for our Patriot Viper RGB 32GB DDR4 RAM review, we can say that the module performed well. We didn't encounter any issues or problems, and everything worked seamlessly.
With that, we're giving the Patriot Viper RGB 32GB DDR4 RAM 5 stars for it.
Patriot Viper RGB 32GB DDR4 RAM Review Summary
The Patriot Viper RGB 32GB DDR4 RAM is one of the best hardware components we've used. There's nothing to dislike about this RAM since it's complete with aesthetics, reliability, and excellent performance.
This memory kit is an interesting product that's highly recommendable for all users. It's a great product, especially for gamers who are looking to step up their system's performance. In fact, it comes with essential features that are specifically designed for gamers.
Appearance-wise, the Viper RGB DDR4 RAM has an impressive design that can enhance the overall look of anyone's rig. The modules feature individually customisable RGB LEDs allowing users to have a more unique and personalised gaming system.
Additionally, it's compatible with most RGB sync programs, so you can match the RAM with other components and peripherals.
When it comes to the software application used for customising the modules' RGB lights, this is absolutely user-friendly. Also, you won't have to pay for anything to get this program since it's downloadable for free from Patriot's website.
Overall, this memory kit has everything that gamers look for nowadays. Aside from its excellent design and performance, it's also affordable, so it's definitely worth the purchase.
To conclude our Patriot Viper RGB 32GB DDR4 RAM review, we were satisfied, and we highly recommend this memory module. If you want to have this for yourself, check out Patriot's store locator to know where to purchase it.